7 Slumping NBA Stars Who Will Turn Slow Starts Around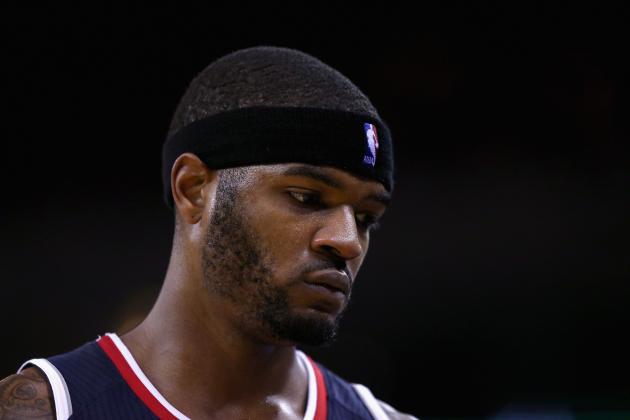 Ezra Shaw/Getty Images

Less than one month into the 2012-13 NBA regular season, we have discovered lasting truths about each and every NBA team and player. We've also seen players who are struggling to reach the form we know they are capable of performing at.
Not all will be limited to their early-season struggles, however, as the following seven slumping stars will turn their slow starts around.
Whether they are performing at an inadequate level statistically or simply underwhelming with their on-court effort, there are several stars who can only be described as disappointments. No matter what the reason may be, there is hope.
Each of these players will return to their expected level of play in due time.
*All statistical information is updated through 12 games as of Nov. 23, 2012
Begin Slideshow

»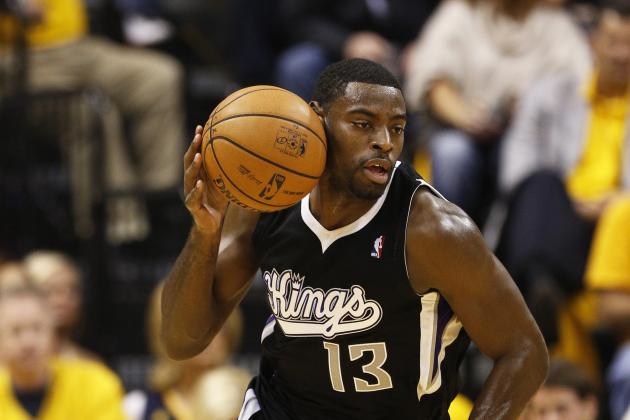 Joe Robbins/Getty Images

Position: Combo Guard
Age: 23
Experience: 3 Seasons
Tyreke Evans has been on a decline ever since winning the Rookie of the Year award in 2010. His points-, rebounds- and assists-per-game numbers have gone down in each of the past three seasons—all building up to a slow start in 2012-13.
Evans continues to struggle in finding a defined position. Although head coach Keith Smart has moved him to shooting guard, Evans has not responded to any efforts made by his coaching staff to accommodate his skills.
He continues to struggle with his jump shot and is becoming less effective in the half court. In turn, he is doing nothing but holding Marcus Thornton back.
With that being said, Evans continues to be in prime position to turn things around.
Evans is a phenomenal ball-handler whose greatest strength is his ability to penetrate off of the dribble. In the Kings' system of revolving guards, this allows Evans to take the rock from all areas of the perimeter to work his magic.
In order for Evans to discover his true potential, however, Coach Smart must draw up schemes to bring Evans off of curls and into secondary screens. This will enable the former Memphis Tiger to work his way to the basket and either score or facilitate.
As long as he's being forced into jump shots, however, he will continue to struggle.
2012-13 Season Averages
14.63 PER, 13.0 PPG, 5.1 RPG, 3.4 APG, 1.2 SPG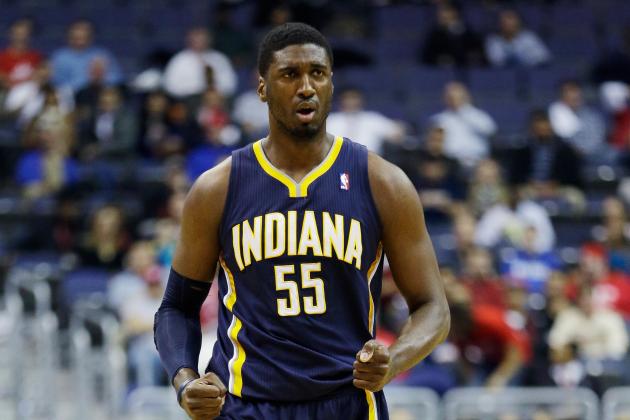 Rob Carr/Getty Images

Position: Center
Age: 25
Experience: 4 Seasons
If a triple-double isn't going to spark a turnaround, what will?
Thus far this season, All-Star center Roy Hibbert has posted averages of 9.5 points, 8.5 rebounds and 1.5 assists per game on 39.3 percent shooting from the floor. He's also averaging 3.3 personal fouls per game, proving the previous notion that Hibbert entered this season unprepared for what was soon to come.
Fortunately for the Pacers, Hibbert turned things around in a major way against the New Orleans Hornets. Didn't he?
The former Georgetown Hoya put up 10 points, 11 rebounds and 11 blocks against New Orleans. He also shot just 3-of-12 and fouled out.
Just don't let the bad outweigh the strides that Hibbert has made.
With Danny Granger expected to be sidelined for three months, the Pacers will continue to look Hibbert's way on offense (via ESPN). This produces the opportunities necessary for Hibbert to increase his point-per-game production.
An opportunity he will make the most of.
2012-13 Season Averages
15.07 PER, 9.5 PPG, 8.5 RPG, 1.5 APG, 3.2 BPG, 39.3% FG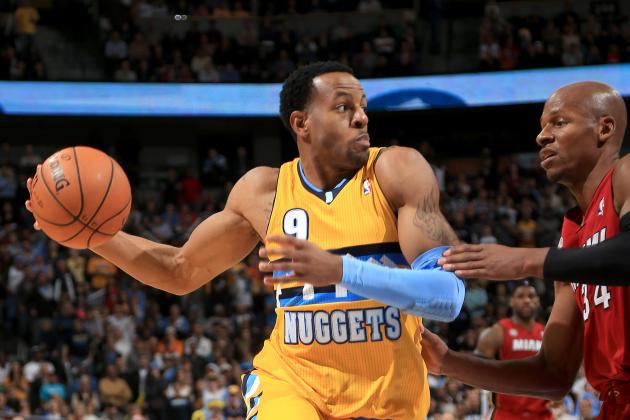 Doug Pensinger/Getty Images

Position: Shooting Guard
Age: 28
Experience: 8 Seasons
In terms of season averages, Andre Iguodala isn't doing too poorly. With 13.9 points, 6.7 rebounds and 3.7 assists per game, Iggy continues to be one of the better all-around performers in the NBA.
Unfortunately, he's shooting just 43.3 percent from the floor and has been as inconsistent as any from performance to performance.
For instance, Iguodala has shot greater than 45.0 percent in just four of his first 12 appearances with the Denver Nuggets. He's committed at least three turnovers in eight of 12 games and grabbed five or less rebounds in six of 12.
In other words, his efficient numbers don't tell the tale of his play. Iguodala has been underwhelming, to say the least.
The fortunate truth of the matter is every issue Iguodala has is fixable. His shot selection has been poor, which Philadelphia 76ers fans can attest to, while his work as a facilitator has been damaged by the Nuggets' poor shooting as a team.
Danilo Gallinari shooting 36.9 percent from the floor is a major reason why. Although Gallo will likely shoot no better than 42.0 percent for the year, as his talent is rather overrated, he will grow to understand Iguodala's passing tendencies.
As a result, Iggy will see a rise in assists and discover lanes to dive for a Ty Lawson feed. Iguodala will be just fine.
2012-13 Season Averages
13.79 PER, 13.9 PPG, 6.7 RPG, 3.7 APG, 43.3% FG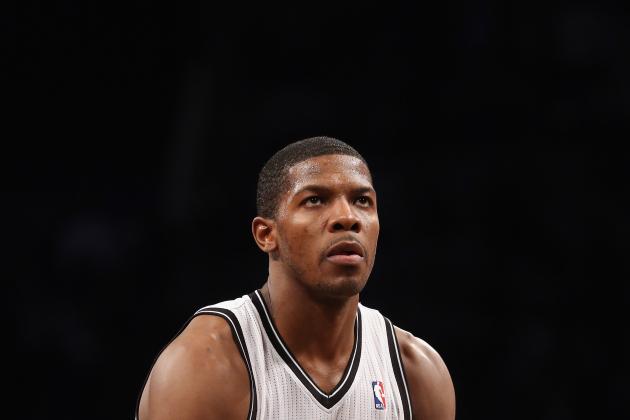 Bruce Bennett/Getty Images

Position: Shooting Guard
Age: 31
Experience: 11 Seasons
Has any player's struggles been as surprising as those of Brooklyn Nets shooting guard Joe Johnson?
Johnson has a history of starting slow. To say that shooting 36.4 percent from the floor is a slow start, however, would be a strong understatement.
That is nothing short of an overwhelming struggle.
The reason that Johnson has been struggling early on has been the Nets' tendency to run him in three-point shooting and isolation plays. They rarely run anything else for the former Arkansas Razorback, which brings him back to his days in Atlanta.
As beneficial as it may be to work Deron Williams off of the ball, they need to have Johnson do the same. Considering Johnson is the more lethal shooter, allow D-Will to facilitate until Johnson develops his rhythm as an all-around player.
Which will happen.
Johnson is far too talented a player to struggle this mightily. He is shooting 37.3 percent from beyond the arc and contributing reasonably well in other facets of the game, but his ability to score from two-point range will be key to the Nets' potential success.
As soon as he finds his rhythm, there would be very few teams that could slow down the Brooklyn Nets.
2012-13 Season Averages
13.38 PER, 14.9 PPG, 4.0 APG, 3.3 RPG, 0.8 SPG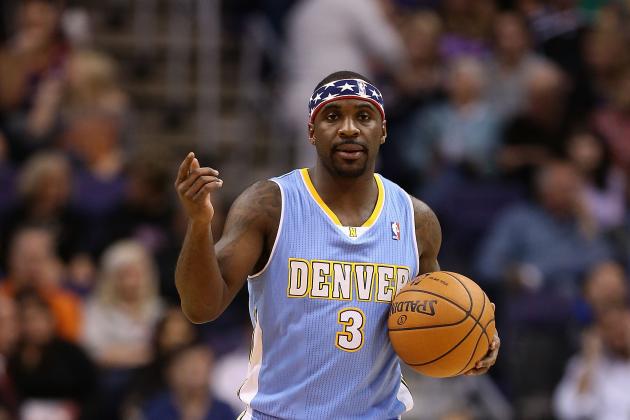 Christian Petersen/Getty Images

Position: Point Guard
Age: 25
Experience: 3 Seasons
Ty Lawson is the type of player whose numbers do not quite reflect his quality of play. The issue is Lawson's immense talent cannot compensate for one unfortunate truth.
The former UNC Tar Heel is attempting to do too much.
Lawson has had moments of brilliance when you just want to stop the Nuggets' star point guard in his tracks. No matter how talented Lawson may be, when one individual tries to take on an entire team, the results will never be as expected.
As the regular season progresses, expect Lawson to learn that.
With numbers of 7.3 assists and 2.0 steals per game, one might be inclined to believe that Lawson already has. The issue is Lawson is averaging 3.3 turnovers per game and has posted a slash line of .377/.286/.585.
Each of those numbers is concerning considering Lawson has career averages of 1.9 turnovers and .490/.382/.772.
In order to turn things around, Lawson will need to return to the pace he had played at through each of his first three seasons. He is one of the best in the NBA at controlling the level in which the game is played, which will be the key to Denver bouncing back from a disappointing 6-6 start.
The only question is: How long will it take?
2012-13 Season Averages
11.74 PER, 12.3 PPG, 7.3 APG, 2.4 RPG, 2.0 SPG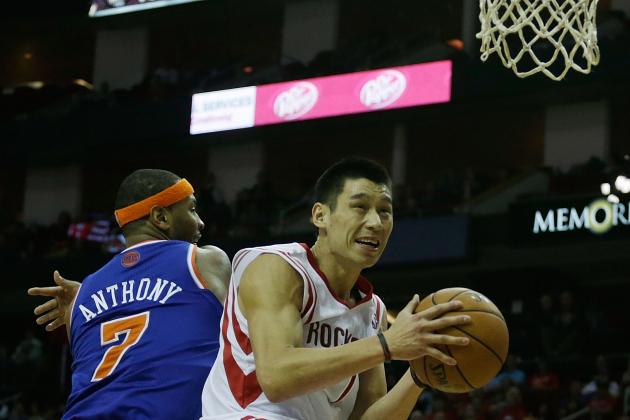 Scott Halleran/Getty Images

Position: Point Guard
Age: 24
Experience: 2 Seasons
Thus far this season, Jeremy Lin has done everything that his detractors have asked of him. He's playing more of a pass-first style, working harder on defense and limiting the turnovers.
Averages of 6.3 assists, 4.4 rebounds, 1.9 steals and 2.8 turnovers offer evidence for such a claim.
Unfortunately, Lin is also averaging 10.0 points per game on a slash line of .333/.229/.875. Until Lin begins to make a higher percentage of his shots, there is no other way to describe his quality of play but underwhelming.
Walking away with 13 points and seven rebounds on 6-of-12 shooting during a 131-103 blowout of the New York Knicks in Game No. 13 is a perfect way to start. It's also a taste of sweet revenge.
Lin does not need to create a second period of Linsanity to reach the level he should be performing at. He simply needs to play more responsibly when attempting to score.
Lin is facing an elevated level of defensive pressure, no matter what the presence of James Harden may suggest. In response, Lin is taking far too many contested shots for his own good.
Until that changes, his numbers will continue to suffer. Fortunately for Lin, that level of consistency will be found in due time.
2012-13 Season Averages
11.98 PER, 10.0 PPG, 6.3 APG, 4.4 RPG, 1.9 SPG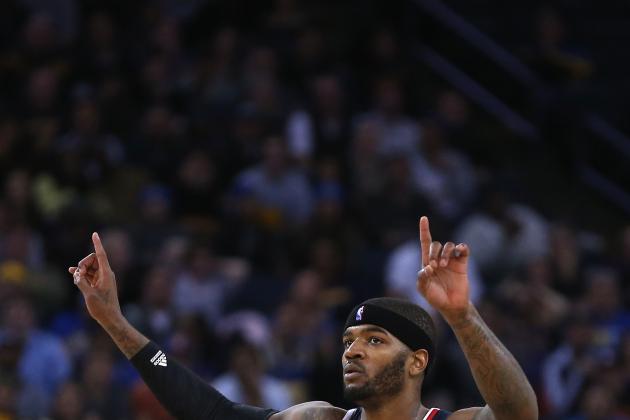 Ezra Shaw/Getty Images

Position: Power Forward
Age: 26
Experience: 8 Seasons
You know you're an incredible player when averages of 15.6 points, 8.0 rebounds, 3.1 assists, 2.1 blocks and 1.2 steals per game have you in a slump. With that being said, it doesn't matter how nice your statistics are when you shoot 42.7 percent from the floor.
Especially when you're committing 3.3 personal fouls and 3.3 turnovers per game.
As Al Horford finds his way and the Atlanta Hawks' elite three-point shooters get their shots to fall, Smith will find his game. As of this moment, he is the top priority of every opposing defense he will be tasked with facing.
In turn, he will not score at the pace expected of him.
What's encouraging about Smith's play thus far is that he's averaging the same amount of shots per game in 2012-13 as he did in 2011-12. What this displays is Smith's maturity in the sense that he is not forcing shots as often when he slumps.
An elite player like Smith will see his shots fall. It's simply a matter of when that happens.
2012-13 Season Averages
12.93 PER, 15.6 PPG, 8.0 RPG, 3.1 APG, 2.1 BPG, 1.2 SPG