Notre Dame vs. USC: 5 Big Mistakes the Irish Must Avoid vs. USC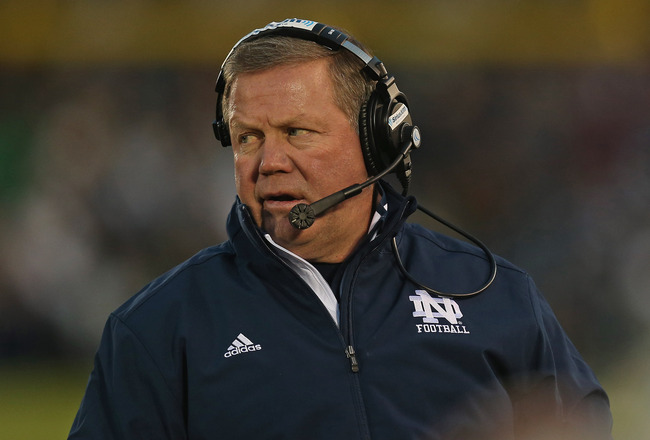 Jonathan Daniel/Getty Images
After 24 years and their fourth head coach, Notre Dame is just one win away from playing for a national championship.
But after what we saw last week, the Fighting Irish better realize that they don't have it in the bag just yet.
After all, Notre Dame would have had little to no chance to play for the national championship if it weren't for both Kansas State and Oregon falling flat last week. Knowing how crazy college football can be, the same thing can certainly happen to Notre Dame against USC.
So, what are the five biggest mistakes that Notre Dame could make against their rival this week? Read on.
Letting the Rivalry Mess with Their Head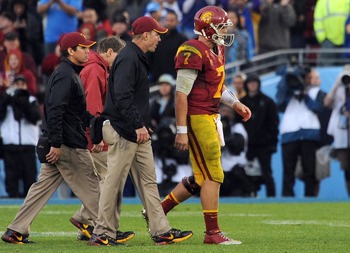 Jayne Kamin-Oncea-US PRESSWIRE
Probably the worst mistake Notre Dame players can make is not taking USC seriously.
Yes, the Trojans are far from what we thought they would be when the season started. Star QB Matt Barkley won't be available for this one and USC will have to start a redshirt freshman.
But this team has been guilty of looking past mediocre opponents. They beat BYU by just three and needed three overtimes to get the win against Pitt.
And anyone who watch the Pitt game knows that the Irish were lucky to come away with that win.
It's all too easy to let your emotions get the better of you in these big rivalry games. That leads to choppy football, penalties and mistakes.
The Irish can't afford to play chippy football. They've got to run on the field with clear heads and just play their game.
Let the Pressure of Being No. 1 Get to Them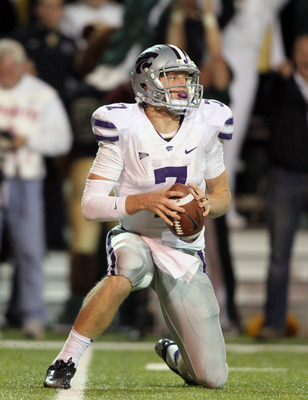 Tim Heitman-US PRESSWIRE
Note Dame watched Baylor take down former No. 1 Kansas State, but they would do well to also learn from Kansas State's mistakes.
Namely, not being able to deal with the stress of being No. 1.
It's easy to get yourself psyched out in this situation. Instead of playing to win, players being playing to not lose. That attitude makes it easy for things to snowball if things start going against you.
And it's exactly what happened to the Wildcats against Baylor.
While Notre Dame has been No. 1 plenty of times in their storied history, this will be the first time that these players will have to deal with this pressure. They just need to approach this game like they still need to earn their way into the BCS National Championship Game.
Not Covering Those Big Wide Receivers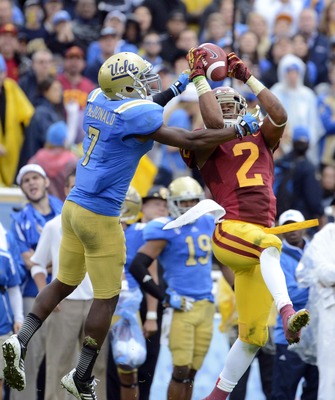 Richard Mackson-US PRESSWIRE
Matt Barkley may not be under center, but USC still has the best pair of wide receivers in the nation.
Marqise Lee has an astonishing 1,605 yards and 14 touchdowns while Robert Woods has 721 yards and 10 scores of his own.
Make no mistake: Despite the fact that USC is starting Max Whittek instead of Matt Barkley, Notre Dame's secondary is going to get tested against the Trojans.
Mismanaging Their Quarterbacks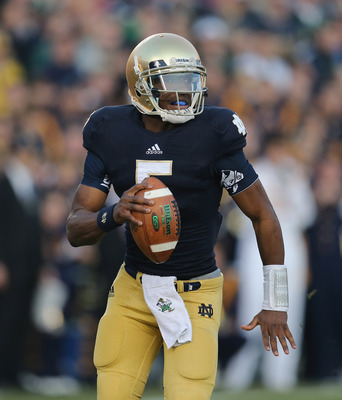 Jonathan Daniel/Getty Images
Notre Dame has an interesting quarterback situation. While Everett Golson is their starter, backup QB Tommy Rees has been called upon to finish a game more than once when Golson lets things get away from him.
This is an important dynamic of this team to get right.
Pulling Golson too early or too late could be the difference in this game. Both quarterbacks need to bring their A game and head coach Brian Kelly needs to make sure that he handles his quarterbacks properly.
Depending Just on Their Defense
Mark L. Baer-US PRESSWIRE
Notre Dame has the No. 1 scoring defense in the nation, allowing only 10.1 points per game. They also have LB Manti Te'o, who in my humble opinion should be the first linebacker in college football history to win the Heisman.
But the Irish can't afford to be mediocre on offense and just hope that the defense gets the job done.
The best defense is to keep the Trojans' offense off the field.
Notre Dame needs QB Everett Golson to step up and help the Irish hold onto the ball. If they can do that, the Irish should win handily.
If not, well, we may see another the third No. 1 team in the BCS fall in three weeks.
Keep Reading

Notre Dame Football: Like this team?