Pittsburgh Steelers vs. Cleveland Browns: Live Score, Highlights and Analysis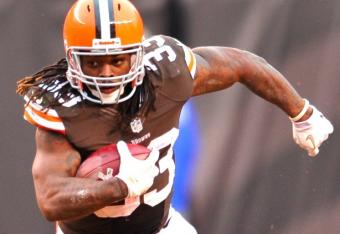 It wasn't a pretty game, but for Browns fans, beating the archrival Pittsburgh Steelers was a thing of beauty.
The Browns forced eight turnovers in the game, and held the Steelers to just 231 total yards. Only 49 of those yards came from Steelers running backs—a unit which combined for four lost fumbles.
Cleveland's offense didn't exactly play a great game, but it did just enough to protect the football and eat up clock. The Browns turned over the ball just once, which came in the form of a pick-six to Lawrence Timmons on their first drive.
Trent Richardson paced the offense for the Browns. He carried the rock 29 times for 85 yards and a touchdown. The Steelers stifled Richardson for most of the game, but he managed to churn out enough yardage to make fantasy owners happy.
The Steelers, on the other hand, did nothing for fantasy owners. No Pittsburgh running back topped 20 yards in the contest, though Chris Rainey did scamper into the end zone for Pittsburgh's only offensive touchdown. Charlie Batch finished the game 19-for-33 for 188 yards and three interceptions.
Brandon Weeden left the game in the fourth quarter after being sacked. Early indications point to a possible concussion, but no official comments have been made at this time. Should Weeden miss any time, Colt McCoy should take over for the rookie signal-caller.
The Browns improve to 3-8 on the season and take on the Raiders next week in Oakland. Pittsburgh falls to 6-5. They will travel to Baltimore in Week 13, and could be without Ben Roethlisberger again.
That's going to do it, folks. The Steelers turned the ball over seven times and the Browns played fantastic defense all day long. Pittsburgh drops to 6-5 on the season. Cleveland improves to 3-8.
Final: Cleveland 20, Pittsburgh 14
So thats it? All you have to do to beat the Steelers is force 7 turnovers? Why didnt they do that sooner?

— Will Burge (@WillBurge) November 25, 2012
That final turnover will do it. You can't fault Rainey, though. He got smacked by T.J. Ward and looks to be hurt. He's walking off the field under his own power, however.
Four Steelers backs fumbled today. Four. Credit the Browns for swarming the ball and hitting hard. Mike Tomlin will not be a happy man, and I wouldn't want to be a Pittsburgh running back after this game.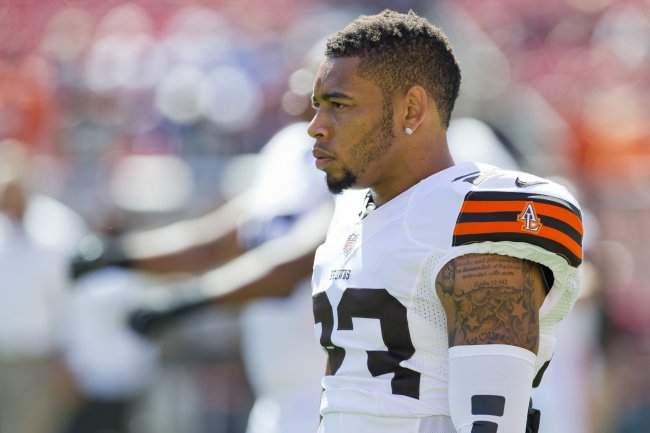 Jason Miller/Getty Images
That's probably going to be the icing on the cake.
Charlie Batch tossed up a floater to Mike Wallace, but Joe Haden went up and got it. His presence is always felt in Cleveland. The kid can play football.
Less than three minutes to go, and it's looking like the Steelers may hobble out of Cleveland with a loss.
Brandon Weeden taken to locker room, Colt McCoy warming up

— Marla Ridenour (@MRidenourABJ) November 25, 2012
Is there a more consistent tight end in the NFL? He may be the best all-around tight end we'll see.
Charlie Batch has 5:13 to move the Steelers down the field and find the end zone.
This could prove to be a signature game for the Browns if they manage to hold the Steelers. Cleveland's defense has looked terrific today. It deserves a ton of credit.
The AFC North is a strange division. The Ravens' defense has been porous this season, while an "aging" Pittsburgh defense is ranked near the top of the league. Cleveland's defense looks like a top-five unit right now too.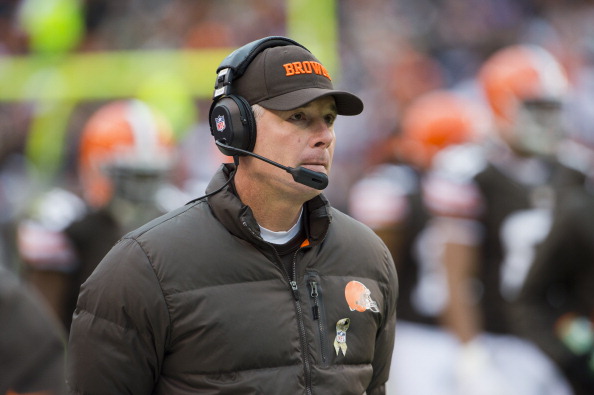 Jason Miller/Getty Images
This game—like so many this season—will boil down to how Pat Shurmur manages this game down the stretch.
Browns fans haven't been too pleased with Shurmur and his late-game play-calling. The Browns look good right now, and another late collapse would look very bad for Shurmur.
Steelers playing awful, 3rd QB, on road. If you can't beat them now, you never can...

— Aaron Goldhammer (@HammerNation19) November 25, 2012
There have been 380 total yards in this game. That tells you all you need to know.
This one has been all about turnovers, penalties and defense. The first team to allow a big play is going to lose this game.
As the flags fly, the entire pressbox breaks out into laughter

— Will Burge (@WillBurge) November 25, 2012
Can the Browns close? They led Dallas last week 13-3 going into the 4th quarter! Today they're up 6.

— Kenny Roda (@roadmanwknr) November 25, 2012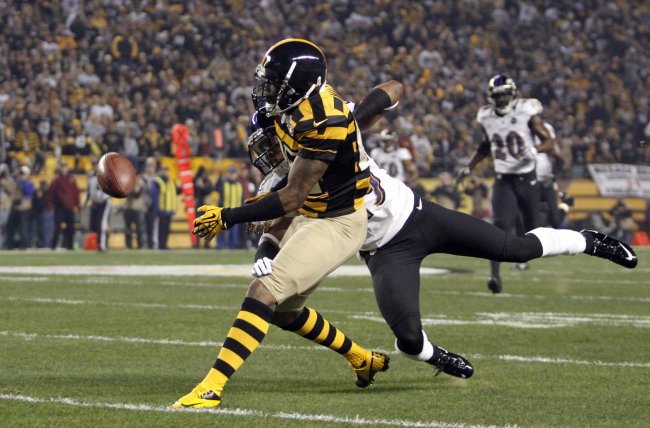 Justin K. Aller/Getty Images
That's now five turnovers for the Steelers and another blown opportunity. They started with good field position and a chance to put some points on the board, but Charlie Batch threw the ball behind Mike Wallace and it was tipped and snagged by Billy Winn.
This one feels more and more like a game the Steelers weren't meant to win. They simply cannot get a successful drive together.
Where are all the white flags? Browns fans were given white flags for the game today, but apparently no one is in the mood to surrender.
Trent Richardson took some heat last week for not being able to seal the game for the Browns in the fourth quarter against the Cowboys. It will be interesting to see how much Pat Shurmur relies on him down the stretch today.
Also, how many holding calls are we going to see today? That's five in the last five or six minutes. Sloppy play from both teams right now.
It's going to end very poorly for the Steelers if Batch has to keep throwing the ball.
He's 12-for-23 for 177 yards and an interception so far today. Batch looks like a guy who rarely sees the field anymore.
#Steelers RT Mike Adams helped off field (ankle). Steelers O-line down to bare bones.

— Tony Grossi (@TonyGrossi) November 25, 2012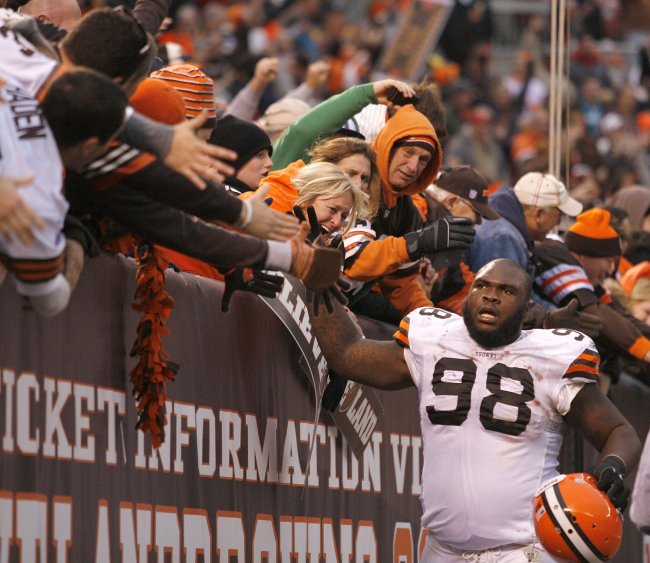 Matt Sullivan/Getty Images
As I said earlier, the Browns' defense is a whole different animal with both Phil Taylor and Ahtyba Rubin healthy.
Taylor notched Cleveland's first sack of the game, setting up the Steelers with a lot of ground to cover for a first down.
There's a new feel to this game. The Browns have found a lot of creative ways to blow leads this year, but this game feels different.
Last time Browns scored 20 vs Pit was 11/11/07. Lost 31-28

— Aaron Goldhammer (@HammerNation19) November 25, 2012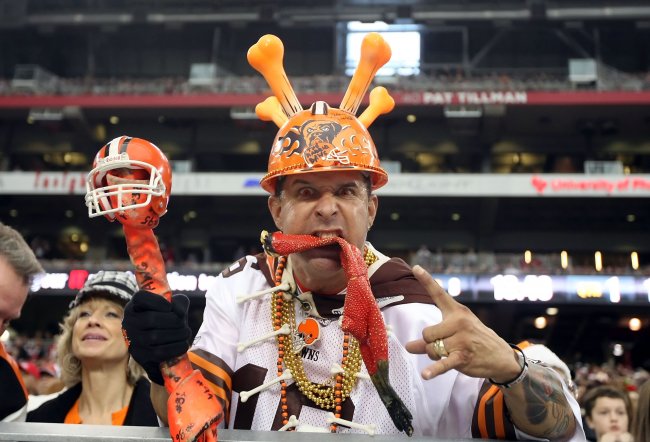 Christian Petersen/Getty Images
Dawson will have to wait for another field goal chance. That's a touchdown for Cleveland, and a HUGE swing of momentum.
Richardson is so good in space, and no one was going to catch him on that run. Browns now lead 20-14, and the Steelers are in trouble yet again.
That was a huge play by Sheldon Brown.
Brown undercut Batch's out throw to Plaxico Burress, and Cleveland takes over in Pittsburgh territory.
That's four turnovers by the Steelers, but Cleveland only parlayed the first three into 10 points. Let's see if the Browns can capitalize on this one or just give Phil Dawson another chance to be awesome.
Batch finally goes up top to Wallace but under-thew it a bit. The ball banged off T.J. Ward's helmet for an incomplete pass. Lucky break for both teams.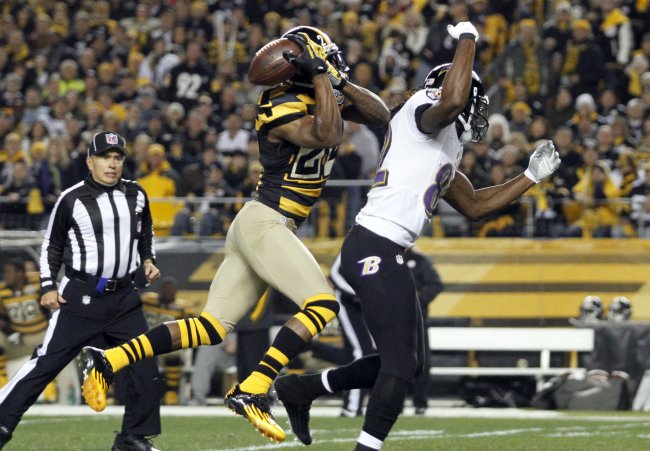 Justin K. Aller/Getty Images
Ike Taylor catches a lot of flak for giving up big plays. And not making big play when he has the opportunity.
Taylor dropped a sure pick, but the incompletion resulted in a punt anyway. It was a horrible throw by Weeden, and he's lucky it's not an eight-point game right now.
Luckily for the Browns, the Steelers are back on offense...
This article is
What is the duplicate article?
Why is this article offensive?
Where is this article plagiarized from?
Why is this article poorly edited?