Michigan vs. Ohio State: What Brady Hoke Must Do to Out-Coach Urban Meyer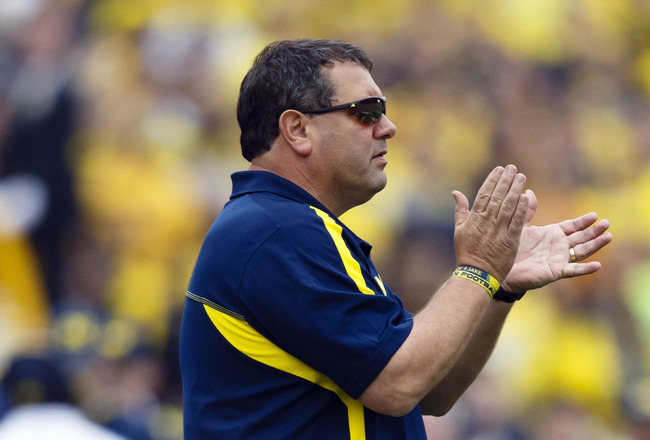 Rick Osentoski-US PRESSWIRE
Michigan head coach Brady Hoke made quite an impression last season as he led his Wolverines to victory over hated rival Ohio State for the first time since 2003. But the Buckeyes were playing under interim head coach Luke Fickell and still recovering from "Tattoo-Gate" and the firing of Jim Tressel.
This season, the Buckeyes are unbeaten under former Florida and two-time national championship-winning head coach Urban Meyer. In addition, the Wolverines have to make the trip to Columbus this year.
Hoke is definitely going to have his work cut out for him.
So, what will Hoke need to do in order to upstage the likes of Meyer and get the big rivalry win? Read on.
Use Denard Robinson Effectively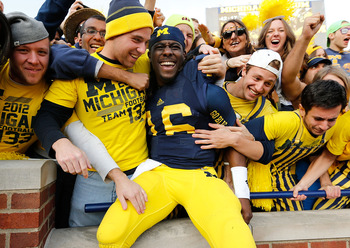 Gregory Shamus/Getty Images
Denard Robinson's injury will probably prevent him from starting or getting the majority of snaps under center. However, if the Iowa game is any indication, Robinson will still get plenty of playing time against the Buckeyes.
Robinson filled up the stat sheet with 98 yards rushing on 13 carries, as well as two catches for 24 yards.
Let Devin Gardner throw the ball. He's the better passer, even when Robinson is 100 percent, with seven passing touchdowns in just three games plus six more on the ground.
But Robinson is too good of an athlete to leave on the sideline, and Michigan is going to need him if they want to beat the Buckeyes.
Limit Braxton Miller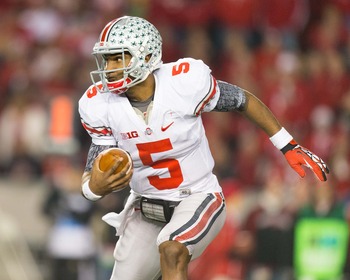 Jeff Hanisch-US PRESSWIRE
Easier said than done, but Michigan is going to have to stop Braxton Miller in this game if they want to win.
If I were Brady Hoke, I'd pay close attention to what Wisconsin did. The Badgers held Miller to under 100 yards passing and only 48 yards rushing on 23 attempts and no touchdowns. It's no coincidence that the Badgers almost won that game as Ohio State came away with the 21-14 overtime win.
So I'm sure Hoke has shown his defense a lot of film from this game.
Prepare His Players Emotionally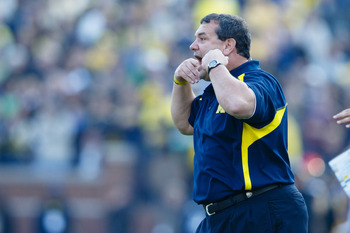 Rick Osentoski-US PRESSWIRE
It's all too easy in a big rivalry game for players to let their emotions get the best of them.
And this isn't your typical rivalry game. This is "The Game."
Travelling on the road to Ohio Stadium makes thing that much more difficult. Worse, the Buckeyes can't play for a Big Ten title or in a bowl game this year thanks to "Tattoo-Gate." That means that Ohio State is going to throw everything they've got at the Wolverines.
Brady Hoke would do well to prepare his players for this.
Finish the Game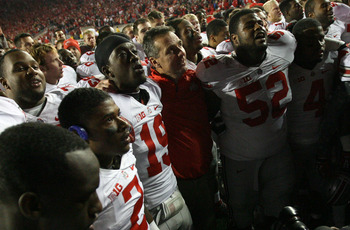 Mary Langenfeld-US PRESSWIRE
Urban Meyer and Ohio State have been in plenty of close games this season, and to their credit, they've won all of them.
Five of the Buckeye's wins have been by a touchdown or less, and two of them were overtime wins.
This game will probably be close, which means that Brady Hoke has to get his players to finish strong. I'd have the offense ready to execute that two-minute drill. They may need it.
Manage the Game Effectively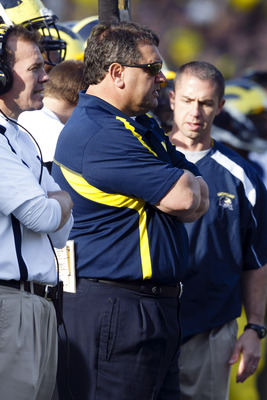 Rick Osentoski-US PRESSWIRE
If you're going to beat a national championship-caliber coach like Urban Meyer, Brady Hoke is going to have to manage the game well.
These are the things that most fans don't pay attention to unless a coach really messes things up. Namely, Hoke must make sure to make the most of his timeouts, have his players ready to move in any given situation, make appropriate in-game adjustments and coach up his players as needed.
In short, Hoke just needs to make sure that things run smoothly on the sideline. Meyer will no doubt do the same on his side.
Keep Reading

Michigan Wolverines Football: Like this team?