Nebraska vs. Iowa: 10 Things We Learned from the Huskers' Win over the Hawkeyes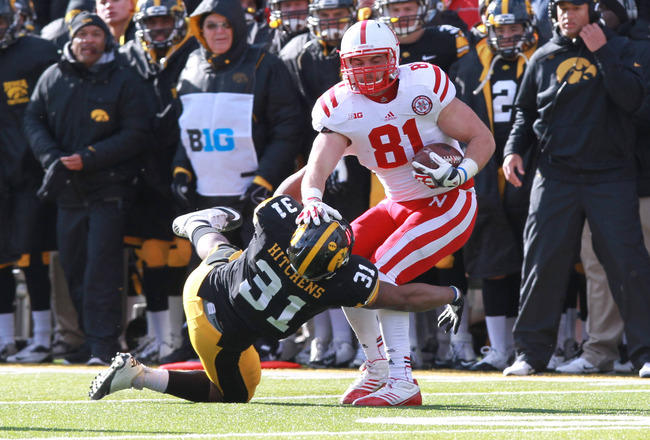 Reese Strickland-US PRESSWIRE
The No. 14 Nebraska Cornhuskers defeated the Iowa Hawkeyes, 13-7, at Kinnick Stadium with yet another second-half rally, which was sparked by previously injured running back Rex Burkhead.
The Cornhuskers clinched the Big Ten Conference Legends Division title and will take on the Wisconsin Badgers in Indianapolis for the league crown, but what else did we learn from Nebraska's victory over the Hawkeyes on Friday?
Click ahead to find out!
Nebraska Is a Second-Half Team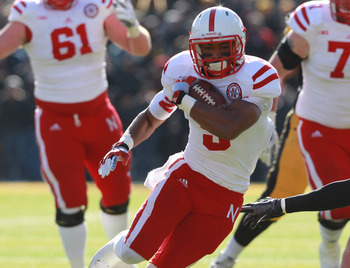 Reese Strickland-US PRESSWIRE
For the fifth time this season, the Nebraska Cornhuskers were able to overcome a first-half deficit and rally for a victory.
The Cornhuskers only mustered a field goal on their opening drive and did not score again until the third quarter. Nebraska also turned the ball over twice in the first half, which allowed the Iowa Hawkeyes to maintain a 7-3 lead.
Whatever head coach Bo Pelini told his guys at halftime clearly worked, because the Cornhuskers responded with 10 points in the third quarter, including a three-yard rushing touchdown from senior running back Rex Burkhead.
Nebraska's defense came up big in the second half as well by forcing two turnovers and did not surrender a drive longer than 24 yards.
Iowa's Offensive Woes Cost Them Another Game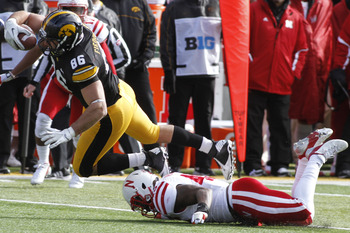 Matthew Holst/Getty Images
The Iowa Hawkeyes could not get anything going offensively after driving 62 yards in 12 plays on their opening possession of the game.
The strong wind did not help Iowa's offense, which is ranked less than No. 100 nationally in just about every category, but the Hawkeyes were not able to sustain a drive longer than 24 yards after taking a 7-3 lead in the first quarter.
Time after time, Iowa crossed midfield and were the beneficiaries of some Nebraska mistakes, and it amounted to zero points.
Senior quarterback James Vandenberg did all he could in the passing game, and sophomore running back Mark Weisman got bottled up by Nebraska's loaded boxes on defense, which led to a grand total of 200 total yards by the Hawkeyes.
Even at Less Than 100 Percent, Rex Burkhead Is an All-Big Ten Running Back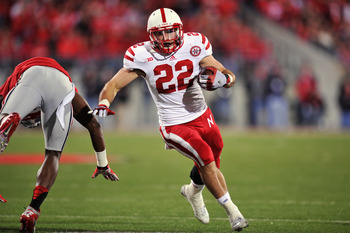 Jamie Sabau/Getty Images
Despite missing four straight games with a left knee injury and not being 100 percent on Saturday, senior running back Rex Burkhead still managed to look like an All-Big Ten running back behind a Nebraska Cornhuskers offensive line that struggled to block the Iowa Hawkeyes' defensive front for much of the afternoon.
Sophomore I-back Ameer Abdullah only managed to rush for 50 yards on 14 carries through two quarters, which forced Burkhead into action for the second half.
Burkhead did not have an impact on his first few carries, but returned to form with a great cutback for a two-yard gain on 4th-and-inches to give Nebraska a much-needed first down near midfield.
The Cornhuskers went on to finish that drive with a three-yard touchdown rush from Burkhead.
Overall, Burkhead finished the game with 69 rushing yards and one touchdown on 16 carries for the Cornhuskers.
Greg Davis Should Be Let Go This Offseason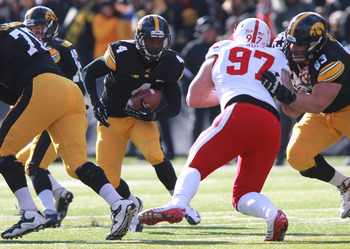 Reese Strickland-US PRESSWIRE
One of the reasons for the Iowa Hawkeyes offensive struggles on Friday was the conservative play-calling by offensive coordinator Greg Davis, who should be replaced over the offseason.
The Hawkeyes only had one drive longer than 24 yards against the Nebraska Cornhuskers and have been one of the worst offensive teams in all of college football this season.
The play-calling at the end of Friday's game was completely inexcusable as well. The Hawkeyes had the ball near midfield in what would be their next to last possession of the game and opted to run three straight halfback dives.
Thanks to a defensive stop, the Hawkeyes got the ball back with one final chance to make something happen on offense, but a short pass play was called after a rush by Mark Weisman ran more than 30 seconds off of the clock.
Alonzo Whaley jumped the short pass and hauled in the game-winning interception.
The Hawkeyes needed to take more chances in the fourth quarter with the wind at their backs, and the man to blame for the ultra conservative play-calling is Davis.
Eric Martin Is a Beast
Bruce Thorson-US PRESSWIRE
With defensive tackle Baker Steinkuhler on the bench with an injury, someone had to step up for the Nebraska Cornhuskers along their defensive line and Eric Martin did more than just fill the void by applying constant pressure on James Vandenberg.
The Iowa Hawkeyes offensive linemen had no answer for Martin, who often changed from the left and right sides of the defensive line to confuse the Black and Gold's front five.
Martin could not be blocked by anyone on the field and added to his team-leading sack total on Friday.
Nebraska will need Martin to have another big game next weekend in order to slow down the Wisconsin Badgers' rushing attack in the Big Ten title game.
Mark Weisman Is Easily Contained
Reese Strickland-US PRESSWIRE
Sophomore running back Mark Weisman has never been regarded as a speedster and is known for his ability to push the pile rather than his shiftiness, which made it too easy for the Nebraska Cornhuskers to contain him on Friday.
The Iowa Hawkeyes did not help Weisman out much with predictable play-calling, which allowed Nebraska to put eight or nine men in the box and be overly aggressive.
Even a running back as strong and tough as Weisman simply can't get anything going when there are nine defenders in the box all pursuing the run and not even thinking about dropping into pass coverage.
If teams do not have to respect Iowa's passing game next season, Weisman is going to see more loaded boxes and have a tough time turning in big games on the ground.
Nebraska Has Some Problems to Address in the Return Game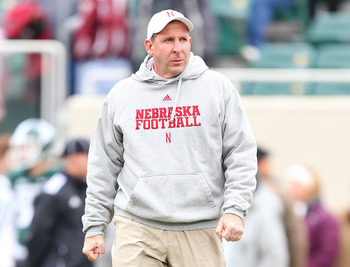 Mike Carter-US PRESSWIRE
One of the critical mistakes the Nebraska Cornhuskers were able to get away with against the Iowa Hawkeyes on Friday was a muffed punt near midfield in the second quarter.
Ameer Abdullah muffed Iowa's first punt of the game, and this has been a common trend for the Cornhuskers this season.
A muffed punt against the Penn State Nittany Lions two weeks ago nearly cost the Cornhuskers, and you can bet that the Wisconsin Badgers will make Nebraska pay for turnovers on special teams at Lucas Oil Stadium next weekend.
Nebraska has to shore up its issues in the punt return game before making the trip to Indianapolis if it hopes to win the 2012 Big Ten title.
James Vandenberg Never Had a Chance to Succeed This Season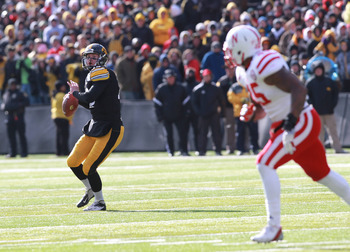 Reese Strickland-US PRESSWIRE
After an impressive 2011 season, senior quarterback James Vandenberg was expected to have another sensational season for the Iowa Hawkeyes, but a lack of playmakers and predictable play-calling doomed the Keokuk, Iowa native this year.
None of Iowa's receivers were able to get any separation this season, because none of them commanded double coverage like Marvin McNutt or some of the other talented wideouts the Hawkeyes have had in the past.
The injuries to Iowa's stable of running backs did not help Vandenberg's cause either, as the Hawkeyes could not consistently run the ball against many opponents this season.
Vandenberg finished the 2012 campaign with 2,157 yards, seven touchdowns and six interceptions.
The Cornhuskers Are Heading to Indianapolis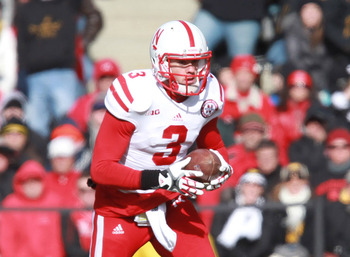 Reese Strickland-US PRESSWIRE
With the victory over the Iowa Hawkeyes on Friday, the Nebraska Cornhuskers clinched the Big Ten Conference Legends Division and are heading to Indianapolis to take on the Wisconsin Badgers next weekend.
The Cornhuskers finished the regular season with a 10-2 record and went 7-1 in Big Ten games. Nebraska's only loss in conference play came against the Ohio State Buckeyes in early October.
Nebraska definitely earned its spot in the Big Ten title game with numerous comeback victories this season, and I expect the Cornhuskers to beat the Badgers and head to the Rose Bowl to face the Pac-12 Conference champion.
Kirk Ferentz's Tenure May Be Finished at Iowa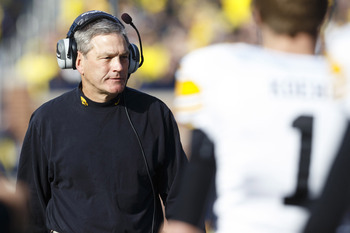 Rick Osentoski-US PRESSWIRE
The Iowa Hawkeyes finished the 2012 season with a 4-8 record, lost their final six games of the season and looked completely inept offensively in what should be head coach Kirk Ferentz's final season in Iowa City.
Iowa will not be going to a bowl game for the first time since 2007, and there is no justification to keep Ferentz at the helm of this team any longer after three straight seasons of mediocrity in a Big Ten Conference that has only gotten weaker over the past few years.
Ferentz has had a great run with the Hawkeyes, which includes three seasons with more than 10 wins, two Big Ten titles and two Orange Bowl berths, but it is time for Iowa to make a change and see what someone else can do with the Black and Gold.
Keep Reading

Nebraska Huskers Football: Like this team?