49ers vs. Saints: Final Report Card, Grades for New Orleans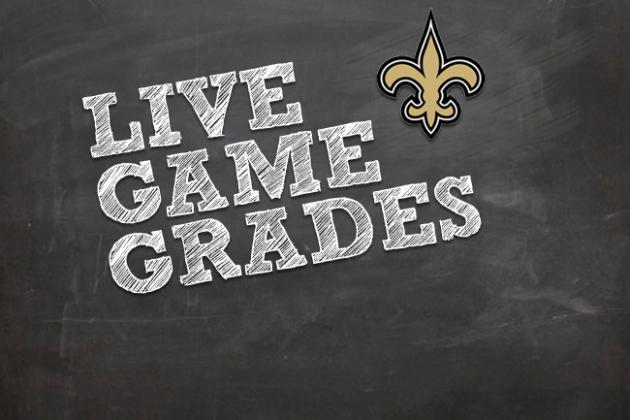 Final
San Francisco 31
New Orleans 21
The San Francisco 49ers, behind two pick-six touchdowns from Ahmad Brooks and Donte Whitner, and the solid play of second-game starter Colin Kaepernick outplayed the New Orleans Saints Sunday in front of the national televison audience on Fox.
Drew Brees struggled often in the game. The Saints' offensive line was a major reason. At least the Saints defense played well. Unfortunately, the defense's effort was not matched by the offense.
Begin Slideshow

»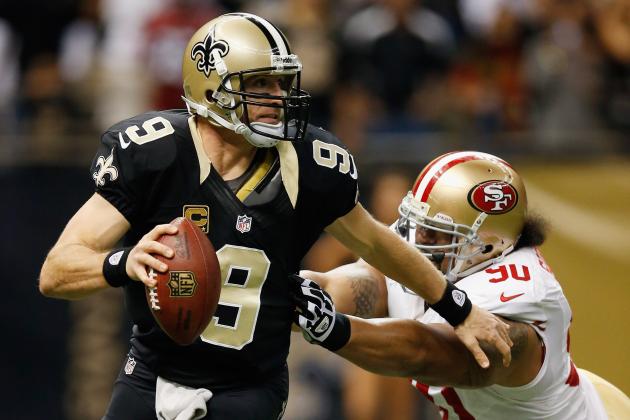 Chris Graythen/Getty Images

Overall Game Grade--B-
When Drew Brees wasn't throwing bonehead interceptions, he was actually pretty good. That is until the pressure started getting home. Then it was basically, good night! Except the night wasn't good.
All in all, Brees will look back at this game and wonder what could have been had he not thrown the ball right to Ahmad Brooks and then almost killed Marques Colston on a forced pass up the seam. It wasn't Brees' finest game. It also wasn't all his fault for that.
Fourth Quarter Grade--C
It would be hard to blame Drew Brees for the offense's struggles in the fourth quarter. The temptation is to put some blame on the officials and the rest on the offensive line.
As realistic as that might be, Brees needed to step his game up at the end of the game. He really did not. His pocket presence was not as good as it normally is. That was true both in the fourth quarter and all game.
Third Quarter Grade--C+
I'm almost certain this is the first grade Brees has garnered a grade under a "B-" this season. Granted his interception in the first half was worse than the one in the third quarter, but his constant seam throws were bound to hurt either Jimmy Graham or Marques Colston.
It is the grace of God alone that would allow for Colston to get up from the brutal hit on the seam throw there. Still Brees was magnificent on the subsequent scoring drive in the middle of the quarter. His downfield passing and work on play-action keyed the offensive effort.
Second Quarter Grade--B+
If not for Drew Brees' bonehead interception that resulted in a pick-six for San Francisco, Brees would have had possibly a perfect QB Rating in the second quarter. His throw down the sideline on the play preceding the interception to Devery Henderson was perfect.
It's a shame that Henderson could not get both feet in bounds. Perhaps the game would be totally different. Aside from that, Brees' play against San Francisco has been beautiful in the first half.
First Quarter Grade--A
Drew Brees knew coming into this game he would feel some pressure against an aggressive and scary San Francisco front seven. He also knew if he could avoid their wrath, he would have time to make some throws down the field.
He did a wonderful job of staying clean in the pocket and making accurate throws down the field. He made smart decisions once again.
His command of the plethora of personnel groupings and formations put together Pete Carmichael seemed to calm down the offensive unit around him and made some big plays.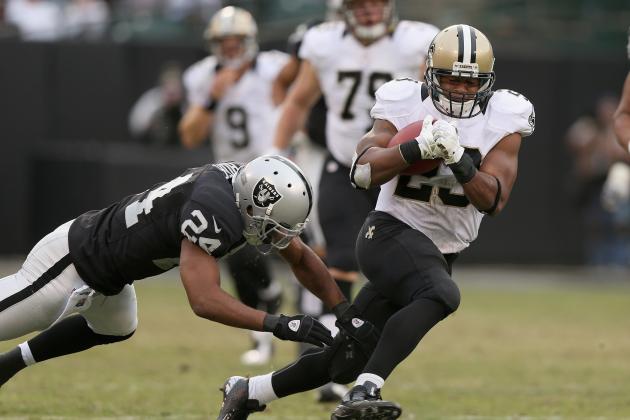 Ezra Shaw/Getty Images

Pierre Thomas—Grade—C
I'm not even sure how often Pierre Thomas saw the field in this contest. It was odd to see one of the team's MVPs of the first half of the season hardly see any time on the field. When he did touch the ball, he was effective. Those opportunities were simply way too few and far between.
Mark Ingram—Grade—C
Mark Ingram ran with power through holes that practically didn't exist. He didn't get too many opportunities, though. We've quickly learned that Ingram gets better with more opportunities. They weren't there to be had with the Saints trailing for basically all of the second half.
Darren Sproles—Grade—B
Darren Sproles had a nice game when given his opportunities. Fans will look back fondly on his dead lift of Aldon Smith, and rightfully so. Unfortunately, Sproles was beat bad in a pass protection situation late in the fourth quarter when the team was desperately trying to put together a drive. Sadly that is what I'll remember the most.
Chris Ivory—Grade—B
Chris Ivory was the Saints' best running back in this game. Unfortunately, the opportunities were again too few and far between. When he had the ball, he ran with power and created space out of nothing.
Travaris Cadet—Grade—B
Travaris Cadet made some hay in the return game. Aside from his 75-yard return last week at Oakland, this was Cadet's best effort in the return game. He did little on offense, though.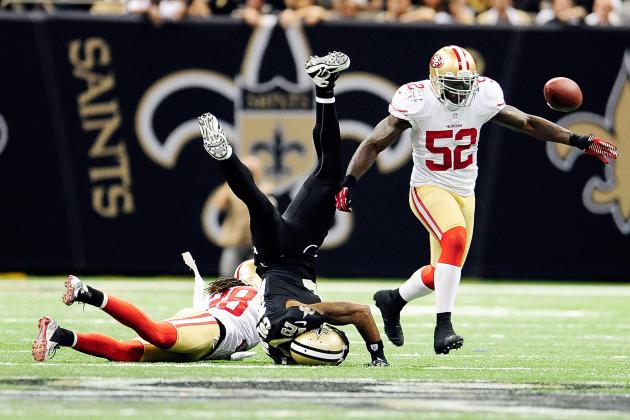 Stacy Revere/Getty Images

Marques Colston—Grade—B-
Obviously it wasn't Marques Colston's fault that he got murdered going over the middle. I genuinely thought he might be paralyzed as he sullied on the Superdome field turf as Donte Whitner took off towards the Saints' end zone. When healthy, though, Colston was a key target. He often got open. Brees often didn't have enough time to get him the ball though.
Lance Moore—Grade—B
Lance Moore's effect on the game could have seemingly been more positive had the officials done their job. Multiple times he drew contact on what could have been a pass interference call. The officials failed to make such calls. Moore made some other spectacular catches at times as well.
Devery Henderson—Grade—C
Devery Henderson almost made a key catch to put the Saints in position for a key touchdown near the end of the first half. It was not to be. His impact was limited beyond that.
Joseph Morgan—Grade—C+
Joe Morgan made a spectacular catch to set up the Saints' first score in the first half. It was a well thrown ball but a better catch by the second-year rising receiver. He didn't do much else in the rest of the game, despite seeing his most snaps of the season—by my count.
Courtney Roby—Grade—A
Courtney Roby rebounded from a mediocre effort a week ago at Oakland to provide a much needed boost to the Saints' special teams units. His effort on the muffed punt was crucial. And he made a few other really nice plays as well. He didn't see much time as a receiver though.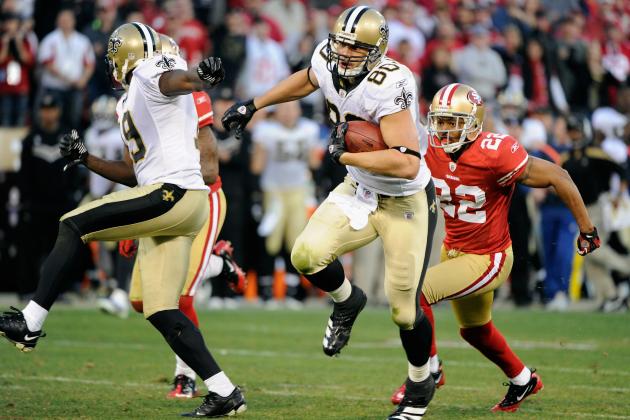 Thearon W. Henderson/Getty Images

Jimmy Graham—Grade—B-
Jimmy Graham did not impress with his performance today against the 49ers—odd given the way he played in last season's playoff contest against this team. He had his weekly drop and struggled to get open against a defense that was clearly set up to stop, or slow him down.
David Thomas—Grade—A
This was the most action Thomas has seen as a receiver this season. Even the Tampa Bay game, when he was the starter, did not feature him as much in the passing game. He was also active and successful as both a run blocker and pass protector. Unfortunately, the same could not be said of most of the next unit.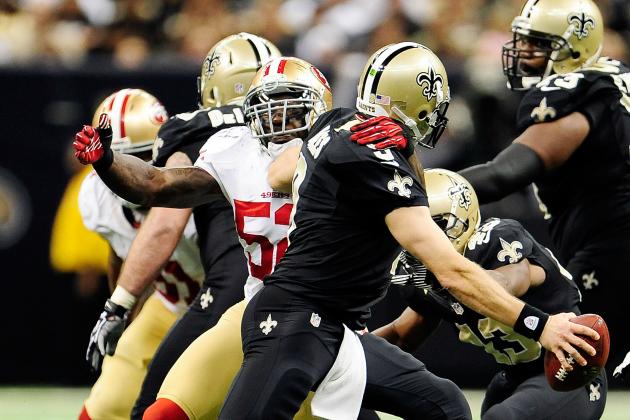 Stacy Revere/Getty Images

LT Jermon Bushrod—Grade—C-
The play of the entire offensive line was terrible in the second half. Granted, the Saints were one-dimensional and that has to be factored into each players' grade. For that reason, a "C-" is appropriate. There was a lot of pressure coming from the left side, though. We can't blame all the units' struggles on playing a fourth-string right tackle.
LG Ben Grubbs—Grade—C-
The thought process behind Ben Grubb's grade is similar to that of Bushrod above. Grubbs was a little more solid, but also didn't open too many holes in the run game—which is the primary reason he was brought to New Orleans. And he struggled against the quickness of the Niners' interior line at times too.
C Brian de la Puente—Grade—C-
Brian de la Puente was by no means a major culprit for New Orleans and their offensive line struggles Sunday. But he also was not an answer to the problems.
RG Jahri Evans—Grade—C
Jahri Evans was by far the prominent player on the line in this game. He was the only whose play could be considered average. His play in the run game and in pass pro was fairly solid. But the line still gave up too much pressure in pass pro. He cannot garner too high of a grade.
RT Zach Strief—Grade—N/A
Strief did not play due to a surgery. He is expected back on Thursday night. We can only hope.
Charles Brown—Grade—N/A
Charles Brown did not play in this game either.
Bryce Harris—Grade—B+
When Bryce Harris was in the game he actually played really well. Granted the Saints were scheming to give him a lot of help. But he performed his role on each assignment admirably, given the conditions. Unfortunately he left early with an injury.
William Robinson—Grade—C
Much like Harris, given the circumstances, it is hard to place much, if any, blame on William Robinson. He held up pretty well against San Francisco's physical and aggressive front seven pass rush.
Eric Olsen—Grade—B
Olsen was always intended in this game to be the sixth lineman in the jumbo packages. He performed his role really well in the first half. Unfortunately, it wasn't advantageous or wise to use him in the second half when the Saints were forced into more spread personnel groupings to push the ball down the field.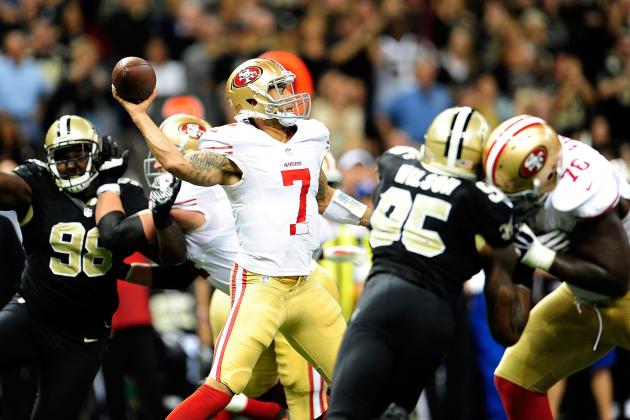 Stacy Revere/Getty Images

DE Will Smith—Grade—B-
Will Smith did not appear to play a real key role in this contest. He was there, and did a really good job in the running game. It was disappointing, though, to not see him near Colin Kaepernick more often.
DT Brodrick Bunkley—Grade—B
Brodrick Bunkley played a pretty good game, until he decided he would rather not finish the game and committed a misconduct penalty. His play was definitely key in pretty much shutting down the 49ers' running game.
DT Sedrick Ellis—Grade—C
Sedrick Ellis actually showed up on the day. Sure, he was still getting pushed four yards beyond the line of scrimmage. But at least he exhibited effort at that point to find the ball and tackle the guy with it.
DE Cameron Jordan—Grade—A
Cameron Jordan had another underrated game (as always I am stealing from the previous week). Jordan was seemingly in the offensive backfield on every play. Unfortunately for him, Colin Kaepernick was wearing ice on his entire body, making him impossible to tackle. Still Jordan was borderline outstanding in this contest.
DT Tom Johnson—Grade—B
Tom Johnson also regularly found himself in the backfield. Steal much of the comment about Jordan from above—re: Bringing Kaepernick down—and apply them to Johnson. His play was also very good against the run.
DT Akiem Hicks—Grade—B
Akiem Hicks did not make a ton of plays in this game. But his play was consistent. That's about all you can ask for from a young rookie defensive tackle (also taken from last week). I wouldn't say his play improved this week, but it was again solid.
DE Junior Galette—Grade—N/A
Galette did not play in this game.
DE Martez Wilson—Grade—B
Martez Wilson had a bit of a bounce-back game. He wasn't bad last week, but he was better this week. He created a good amount of pressure on Kaepernick and played solid in the run game as well.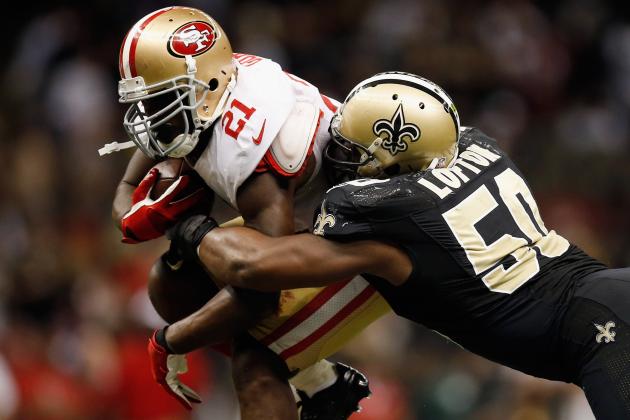 Chris Graythen/Getty Images

MLB Curtis Lofton—Grade—B
Curtis Lofton was burned badly on the Niners' opening scoring drive of the third quarter by Delanie Walker. That matchup on third down was one of the few I felt was a mistake on the assignment from Coach Spagnuolo. Other than that, Lofton played pretty well.
OLB Scott Shanle—Grade—N/A
Scott Shanle did not play in this game, as he was officially inactive.
OLB Will Herring—Grade—Incomplete
Herring didn't play enough to warrant a grade.
Jonathan Casillas—Grade—B
Casillas stepped his game up this week. He quickly diagnosed plays in this one and slithered through open gaps in the running game. He didn't always make the tackle, but he slowed 49er ball carriers enough to allow another Saints defender to make the play.
Jon Vilma—Grade—C+
Jon Vilma had, in my opinion, his worst game since returning from his league-mandated suspension. He overpursued on a number of runs and had a few gaffes in coverage. It's reasonable to think, given his play this season, that he'll bounce back.
David Hawthorne—Grade—B-
David Hawthorne was often put in a bind where he was the only defender in a zone which the 49ers brilliantly occupied by alignment and or play concept. Hawthorne held up reasonably well, but was abused on a few occasions.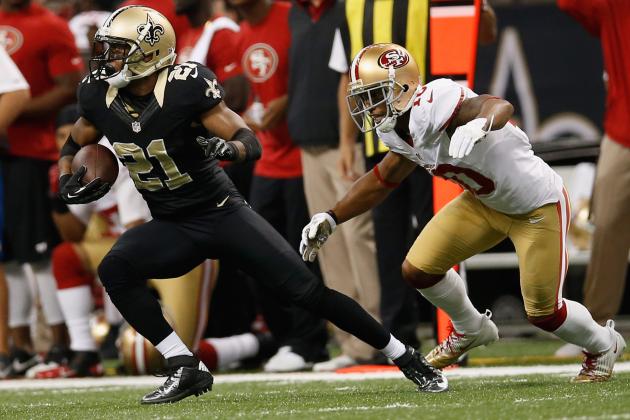 Chris Graythen/Getty Images

CB Jabari Greer—Grade—C-
Jabari Greer was burned by Mario Manningham a few times. It wasn't pretty. In fact, I felt myself feeling sorry for Greer, as age has clearly crept up on him. His best days are definitely behind him.
CB Corey White—Grade—N/A
White did not play due to an injury sustained a week ago against Atlanta.
CB Patrick Robinson—Grade—A+
Patrick Robinson was the defensive star of the game, in my opinion. I know it's easy to say that when he had an interception. No doubt that played a role in this grade. But Robinson was otherwise in great position on every throw, and made several key plays on the ball to prevent 49er completions. It was probably P-Rob's best game as a professional.
CB Elbert Mack—Grade—N/A
Unfortunately Mack missed this game due to injury.
S Roman Harper—Grade—B+
Roman Harper was pretty quiet in this game. But he did come up to make a few plays on the ball in the run game and otherwise provided nice support in pass coverage. He certainly was not victimized by Vernon Davis, as he was in last January's playoff game.
S Malcolm Jenkins—Grade—B+
Malcolm Jenkins could have had an interception in the end zone, had Randy Moss not interfered with him. Somehow a flag was not thrown against Moss. And the Saints' opportunity to tie the game was effectively thwarted as David Akers hit the insurance field goal to put the Niners ahead 31-21. Otherwise, Jenkins' effort was solid.
S Isa Abdul-Quddas—Grade—C
Quddas wasn't on the field a ton in this game. Then he left the game with an injury in the fourth quarter. It wasn't Quddas' most memorable day, and certainly any memories he has will not be fond.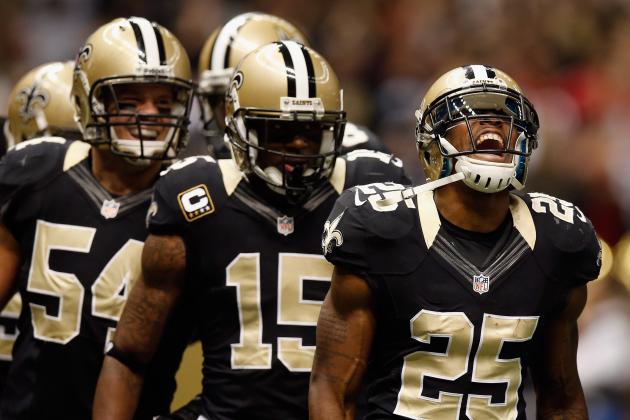 Chris Graythen/Getty Images

Overall Game Grade--A
What an effort by the Saints' special teams unit! Truthfully, the Saints won in two of three phases in this contest. It's really strange to say, but true.
From the muffed punt caused by Thomas Morstead's hangtime and directional punting and Courtney Roby and Rafael Bush making the play to the blocked punt at the end, the Saints dominated in the area of special teams.
P Thomas Morstead—Grade—A-
Thomas Morstead was outstanding in his few punting opportunities. And his kickoffs were key to the team's positive advantage in field position (see last week, again). His hang time was also crucial in this one.
K Garrett Hartley—Grade—B
There isn't much to say about Hartley. He was perfect on his extra point attempts, as he should be. He could have put the Saints ahead by 10 at half. It didn't happen, which of course was not Hartley's fault.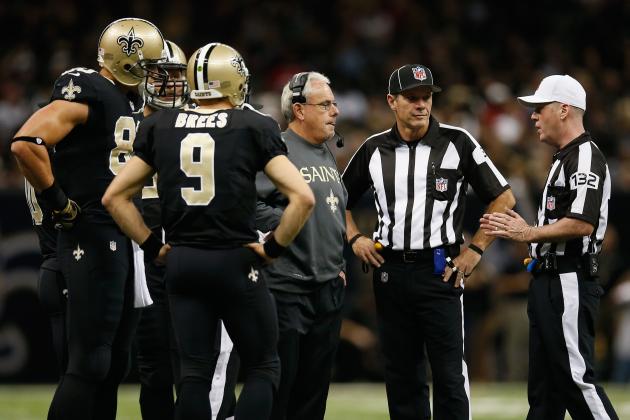 Chris Graythen/Getty Images

Overall Game Grade--B+
In my estimation, the Niners are one of the finest coached teams in the league. Overall, I thought the Saints matched the Niners in the coaching realm. It was execution that let the Saints down, especially on offense.
Adjustments were made. Play-calling was all in all good. Execution was a problem.
Fourth Quarter Grade--B+
Perhaps Steve Spagnuolo could have done something different to get the 'Niners off the field in the fourth quarter. Maybe not, we'll never know for sure.
What we can know for sure is Pete Carmichael was forced into calling continual passes in that quarter. His calls were good. The depth he faced at the tackle spot was unbearable, and ultimately too much to overcome.
Finally, what a classy move by Joe Vitt at the end of the game to kneel down. It was also smart in light of the fact the team plays Thursday night. Why give the Niners any more opportunities to hurt one of your key offensive players?
Third Quarter Grade--B
Joe Vitt apparently wanted more Chris Ivory in the second half. To some extent the Saints realized that goal. But not to the point I would have liked. But the run game was used to open up the pass, almost old-school-like.
Defensively, the Saints made the adjustments to stop the running game, most of the time. Third down defense, though, has not been as good. Multiple looks in the front should have confused Colin Kaepernick, but really did not.
Second Quarter Grade--A-
The Saints' defensive staff made some wonderful adjustments in the second quarter. Those adjustments led to better overall pass coverage on the back end.
And increased blitzes and twists caused the unit to get pressure on nearly every Colin Kaepernick dropback.
Offensively, Pete Carmichael stayed aggressive yet wise in sticking with the power running game. The only adjustment I might make in the second half is to give Chris Ivory more carries. Pierre Thomas might also be used in the screen game from time to time.
First Quarter Grade--B+
Some fans may acceptably be critical of the Saints' initial two drives, in regards to play-calling. The unit was a bit conservative. But the unit avoided mistakes and began setting up some of their game plan in a wise manner.
Defensively, Steve Spagnuolo's unit has played conservative at times, but also tried to create pressure with the blitz. The result has been a relatively solid defensive effort.