On November 20, the New York Knicks extended their record to 8-1 with a win over the New Orleans Hornets. The previous two times in franchise history that the Knicks had won eight of their first nine contests, they went on to win the NBA championship.
Less than 10 games into the season, the Knicks were near the top of many power rankings and flying high.
Then they lost a close game to the Dallas Mavericks. They followed that by getting blown out against Jeremy Lin and the Houston Rockets (although most of the credit goes to James Harden and Chandler Parsons).
As quick as the Knicks had become part of the NBA elite, armchair coaches began carping about how to fix the stumbling squad—and most of these laymen expressed their opinions on Twitter.
In the democratic era of new media—where everyone from an expert to a couch potato can offer their opinion almost instantaneously for the world to see—recent tweets about the Knicks have astutely identified some problem areas that need to be fixed sooner rather than later.
Rebounding
Jared Zwerling of ESPN New York pointed out on Twitter that the Knicks were badly outrebounded (44 to 26) by Omer Asik and the Houston Rockets in the blowout loss. This also occurred in the team's first loss of the season against the Memphis Grizzlies and Zach Randolph.
Jared Durbin, who contributes to ESPN and elsewhere, noted that the Knicks' rotation was limited against the Grizz because they were so dominated on the glass.
And Chris Herring of the Wall Street Journal tweeted a quote from Rasheed Wallace about how the Knicks' poor rebounding could affect them throughout the season, linking to his article on the same subject:
"It will catch up with us.": A look at how the #Knicks chronic rebounding struggles could impact their chances this yr: online.wsj.com/article/SB1000…

— Chris Herring (@HerringWSJ) November 24, 2012
Entering the season, the Knicks were confident about their abilities on the glass, especially after bringing in Marcus Camby, last year's league leader in rebounding percentage (per ESPN's John Hollinger).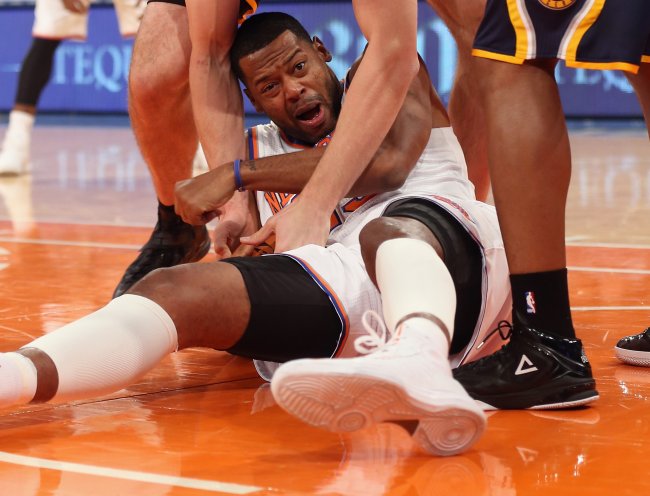 Bruce Bennett/Getty Images
But Camby has played a grand total of zero minutes in the Knicks' three losses. The Twitter world puzzled at this during the loss to the Rockets, speculating a rift between Camby and coach Mike Woodson, as tweeted by Knicks blogger Jonah Kaner and MSG analyst Wally Szczerbiak, among others.
Former New York Giants linebacker Carl Banks commented on the ineffectiveness of Tyson Chandler, tweeting to the Knicks' official account, "Tyson Chandler is on a milk carton."
Another person observed that Chandler ended up with as many rebounds as Lin. Ouch.

The Knicks' presence on the boards will have to improve through better effort, better shot selection and more size in the rotation. Camby can be a panacea for the team's rebounding woes, so Woodson will have to come to terms with the veteran.
Inconsistent Defense
The Knicks began the season playing very strong defense, yielding just 87.8 points per game on their way to an 8-1 start. Since then, they have fallen to a pair of up-tempo Western Conference teams by allowing too many points in the paint, ceding easy buckets in transition and getting mismatched on switches.
Essentially, they looked outpaced and outclassed in the losses to Dallas and Houston. Frank Isola of the NY Daily News caught the troubling trend:
Knicks have given up 35, 30 and 35 points in their last three quarters. That's a Jets-like pace.

— Frank

Isola

(@FisolaNYDN) November 24, 2012
And Jared Durbin highlighted the Knicks' tendency to play poor defense in the first half of games:
Knicks gave up 106.5 D-Eff in the first half, continuing a season-long trend of subpar 1st half D. Let's see if the lock down in 2nd again.

— Jared

Dubin

(@JADubin5) November 22, 2012
But against Houston, the Knicks failed to ramp up the defensive effort in the second half, getting blown out by 28 and allowing the most points in the Mike Woodson era. Even Mike D'Antoni would have been ashamed.
Per ESPN's Tom Haberstroh, the Knicks' defensive ranking dropped eight places on the basis of giving up 131 points to Houston. NBA analyst Ric Bucher noted that the 39-year-old Jason Kidd was the most energetic Knicks defender on the court versus the Rockets, which is a trend that cannot continue (via Sulia).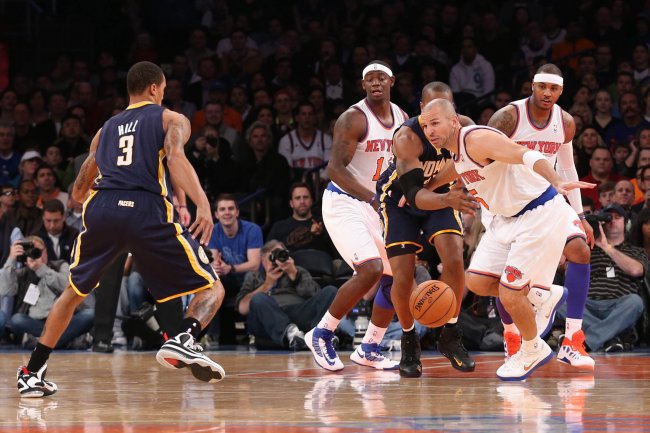 Anthony Gruppuso-US PRESSWIRE
Woodson is known as a defense-oriented coach, but he seemed perplexed by his team's failure to execute on the defensive end in Houston. He will have to inspire better effort and smarter play from his charges through all 48 minutes.
They especially need to close down perimeter shots and avoid getting mismatched on switches. And the Marcus Camby mystery will need to be solved, as the Knicks are getting out-muscled with their small-ball lineup.
Too Many Perimeter Shots
Early in the season, the Knicks were raining down three-pointers and draining them with surprising frequency. J.R. Smith was shooting nearly 70 percent from beyond the arc, and even Ronnie Brewer was proficient from long range.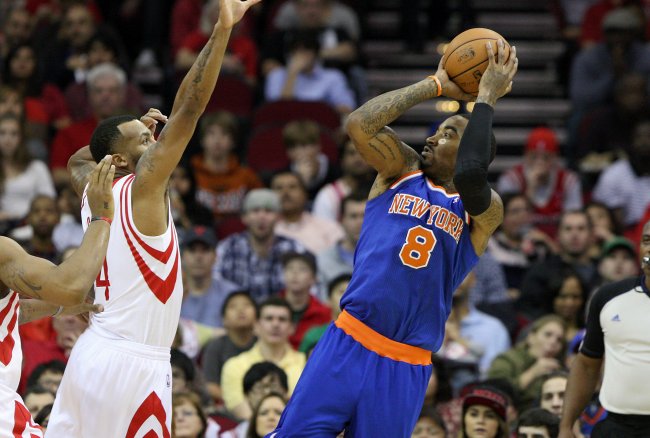 Troy Taormina-US PRESSWIRE
However, that is not a sustainable tactic, and it has also come to disrupt the Knicks' ball movement and offensive consistency. As B/R's own Ethan Strauss observed, the Knicks hit a ton of threes in Houston and still got their doors blown off:
Hard to hit 17 3's and get blown out, but the Knicks did it

— Ethan Strauss (@SherwoodStrauss) November 24, 2012
The Knicks must return to the excellent ball movement and savvy shot selection they largely showed through the first three weeks of the season. They can't fall back on isolation and settling for too many threes. Three-pointers must be one component of a dynamic offense, not a hopeful crutch.
Lack of a Secondary Scorer
Do the Knicks have enough offense without Amar'e?
The Knicks didn't seem to miss Amar'e Stoudemire for the first nine games, but the fact is that they have no solid second scorer.
J.R. Smith is great when he's hot, but he's far from a model of offensive efficiency. Steve Novak was practically automatic from downtown last season, but he has run hot and cold so far this year.
They also should not expect Raymond Felton to shoot 44.4 percent from the field all season, as he's a career 41.3 percent shooter.
MSG's own Alan Hahn pointed out the bench's offensive struggles:
When Melo went to the bench, #Knicks were down 2. They're now down 10 and offense is coming up empty. Anyone miss Amare now?

— Alan Hahn (@alanhahn) November 24, 2012
This lack of bench scoring may have been exactly why Woodson shortened his rotation against Dallas, but it just resulted in a sluggish second half from the starters, again noticed by Hahn:
Calls or no calls, Mike Woodson put the loss in Dallas on himself and explained why he went with 8-man rotation: sulia.com/c/new-york-kni…

— Alan Hahn (@alanhahn) November 22, 2012
By the time the Knicks stepped up their game in the waning minutes of the fourth quarter, it was too late, and they fell by three points (Carmelo Anthony missed the winning shot in the waning seconds).
The kinks in the rotation are still being worked out, but Woodson will have to find the right balance between scoring, size and rest to keep stacking up wins.
Like him or not, Stoudemire can produce consistently on the offensive end, but the Knicks will have to make due with what they have for now.
Too Much Complaining
A troubling trend began in the Knicks' first loss of the season at Memphis: whining.
Granted, their were several puzzling calls and some fouls where the refs should have just swallowed their whistles, but complaining does little to no good. It only serves to undermine the officials and accrue technical fouls.
This trend continued in the Knicks' loss at Dallas, and then came to a head in Houston. Frank Isola noticed it:
For all the talk, myself included, about veteran leadership the Knicks sure lose their cool pretty easily.

— Frank

Isola

(@FisolaNYDN) November 24, 2012
Even if it is occasionally justified or warranted, whining is harmful and it trickles down. The Knicks are the most experienced team in the league, but they looked downright petulant against the Rockets. A coach needs to reprimand his players for acting out, as tweeted by one commentator.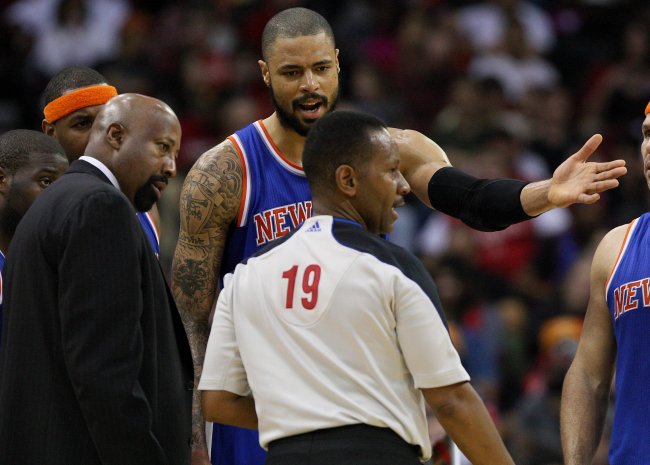 Troy Taormina-US PRESSWIRE
As ESPN New York's Ian Begley noted, Melo and Chandler's actions were especially egregious. The former argued a non-call to officials as his man flew through the lane for an uncontested dunk, and the latter threw an elbow into Omer Asik's skull which could possibly bring a one-game suspension.
The Knicks have to keep their composure—even Frank "The Tank" in Old School knew that much. These Knickerbockers have too much experience to play like amateurs. They need to elevate their game back to the level seen through the first two weeks.
The rebounding and ball movement will have to improve, and the defense must become more consistent. This is largely reliant on effort and focus, but Woodson will have to put a bullet next to these items in practice and fine tune the rotation to boot.
The dearth of scoring options in the second unit could be an issue, but any way you slice it, the Knicks need to shut their mouths and stop complaining.
Excuses won't cut it. As Sheed can tell you, ball don't lie.
Follow me. I have Letterman's recipe for Jeremeat sauce with Linguine.