LSU vs Arkansas: Live Scores, Analysis and Results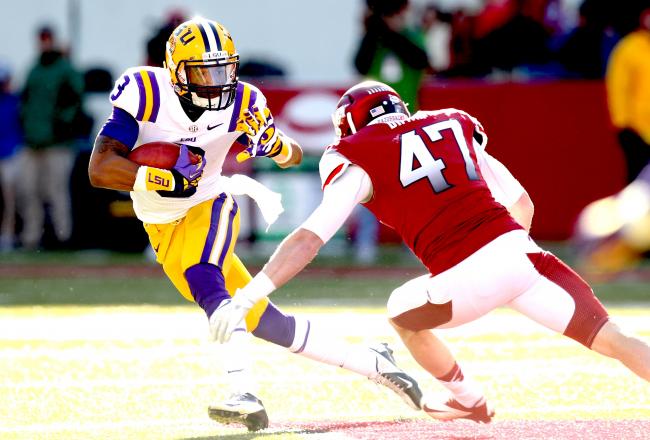 LSU 20, Arkansas 13, Final
Welcome everyone to today's live blog for the LSU vs. Arkansas game.
About 25 minutes away from kickoff.
This should be a great SEC battle as LSU fights to keep alive in the BCS conversation.
Keep the latest scores, updates and analysis, right here, right now.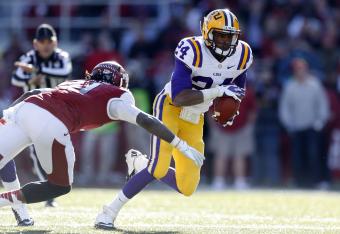 Final: LSU 20, Arkansas 13
Tyler Wilson led a great final drive but came up empty on the final play of the game as time expired and LSU edged out a 20-13 win over Arkansas.
LSU's wide receiver duo of Jarvis Landry and Odell Beckham Jr. were the stars in this one.
Landry caught a team-high eight passes for 75 yards and that outstanding touchdown grab late in the second quarter. That play will certainly hold a spot in Sportscenter's Top 10 plays tonight.
The other star of the game, Beckham Jr., hauled in four passes for 112 yards. His 47-yard reception set up the final score of the football game.
With the win, LSU improves to 10-2 on the season and 6-2 in the SEC.
With the loss, Arkansas falls to 4-8 overall and 2-6 in the SEC.
Tyler Wilson hits that one spot on.
The Razorbacks now have one shot at the end zone with six seconds left in the game from about the 20 yard line.
Arkansas driving here as the clock continues to click. There are 14 seconds left in the game from mid-field.
Drew Alleman's field goal is up and good for LSU, giving the Tigers a 20-13 lead with 1:26 remaining in the game and no timeouts left for Arkansas.
Can Tyler Wilson and Arkansas tie it up here?
We will see right now.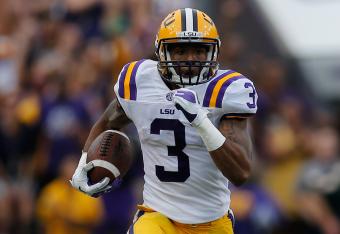 Odell Beckham Jr. with a huge 47-yard reception late in the game puts LSU in scoring position.
Beckham Jr. has been great in this game, but Mettenberger has not been. However, because of that pass, Mettenberger's stat line is looking pretty darn good now.
With just under two minutes remaining, Mettenberger now has 217 yards and a touchdown.
But don't let those stats fool you, he was been average to below-average throughout this second half for LSU.
LSU goes three-and-out, Arkansas with the ball on its own 38-yard line with 7:32 left in the 4th. LSU up 17-13.

— LSU Football (@LSUfball) November 23, 2012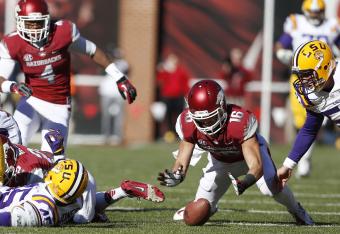 They just showed a replay of some of the big hits we have seen today in this football game.
It's true, this has been a hard-hitting SEC smashmouth football game.
It really is a different breed of football.
Found this to be rather comical.

#Arkansas goes for the FG on the 1 while down 7 --> One confused Riverboat Gambler. #LSU

— Gordon Voit (@GordonVoit) November 23, 2012
Zach Mettenberger dropped back and fumbled the football, but a false start before the play allows LSU to keep the football.
Wow, what a break for the Tigers.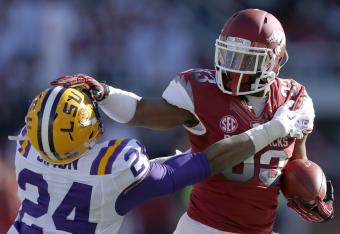 Arkansas fans let out the boo birds as Arkansas decides to go for a field goal after being stopped on 3rd and inches from the goal line.
This really blows my mind here.
This team is 4-7 and have underachieved throughout this entire season.
Why in the world would Arkansas not go for it there? What does this team have to lose?
If that ends up costing the Razorbacks in this game, I can't begin to imagine how outraged these fans would be at John L. Smith, as if they don't have enough reason to dislike the guy as it is.
Anyway, that field goal was good and it makes the score 17-13, LSU.
10 play drive, 79 yards, 3:36 off the clock.
Fasten your seat belts ladies and gentlemen.
We are headed to the fourth quarter and LSU is hanging on to a close 17-10 lead.
Somehow, as poor as Arkansas has played at times, they are very much so in this football game.
This should be a great finish to what really has been a great football game thus far.
As I said, buckle up.
A 2.88 GPA makes Tyler Wilson a scholar athlete?
Wait what?
I feel like that is a pretty sub-par grade point average. Certainly not one that should make one considered a "scholar athlete".
Am I wrong here?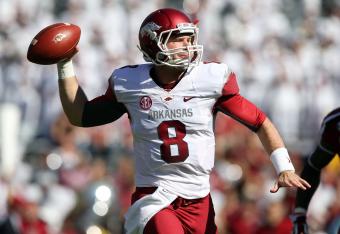 TD5:52Tyler Wilson pass complete to Mekale McKay for 28 yards for a TOUCHDOWN. John Henson extra point GOOD.
Scoring summary compliments of ESPN.com
Tyler Wilson was great that drive, hitting Henson. for the TD score.
This game is far from over now. What was a defensive shootout early on could turn into an offensive explosion now.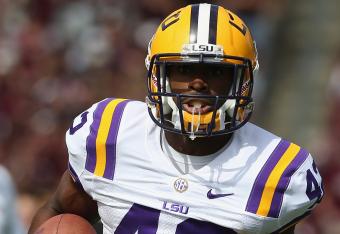 Michael Ford had a huge 87-yard kickoff return and Jeremy Hill finished off the short drive with a 1-yard touchdown run to give LSU a 17-3 lead.
Ford has been near invisible this season, but that was a huge return and completely shifted momentum and took this Arkansas crowd out of the game.
That might have been the play of the game from Ford and it really took away any chance Arkansas had of keeping momentum. You could feel the air being taken out of their sails with that return.
Let's see if seniors Tyler Wilson and Cobi Hamilton can stage a comeback.
Arkansas finally gives these fans something to cheer about as John Henson came in and hit a 25-yard field goal to put the Razorbacks on the board.
It looked like Wilson was going to lead the Razorbacks to a touchdown on that drive, but this LSU defense came up big once Arkansas got into scoring position.
Look for LSU to come out and pound the football on the ground in this upcoming drive.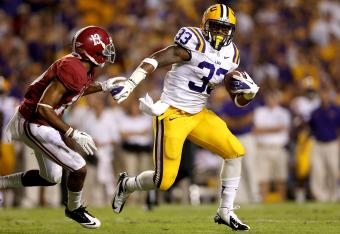 Expecting LSU to come out and have a good offensive drive to start the second half, but that was anything but.
LSU needs to get the running game going in this game.
Freshman Jeremy Hill has been so good throughout the second half of the season, but for some reason, he hasn't gotten the ball a ton today against an average Arkansas defense.
As it stands right now, Hill has 62 rushing yards on just 10 carries, an average of 6.2 yards-per-carry.
Hey Les Miles, feed this guy the ball, what do you say?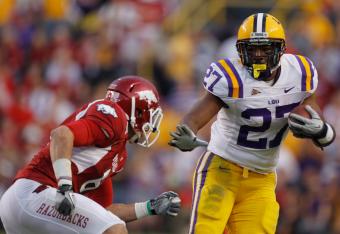 First Half Stats:
Total yards: LSU- 165, Arkansas 165
Rushing Yards: LSU- 71, Arkansas 50
Passing Yards: Arkansas 115, LSU 94
First Downs: Arkansas- 12, LSU 9
Turnovers: Arkansas- 0, LSU 2
Halftime Score: LSU 10, Arkansas 0
Arkansas pushes that field goal at the end of the half and come up with no points on the final drive of the half.
This team looks like a mess and can't get anything positive happening on the offensive side of the football.
LSU will go into halftime with a 10-0 lead now.
Arkansas forced to take its final timeout there before they wanted to.
This team is an absolute train wreck as Tyler Wilson comes off the field yelling at his coaches.
Terrible coaching.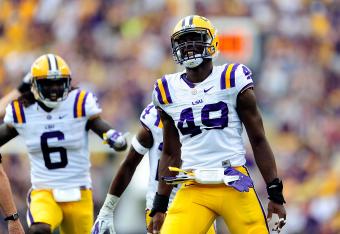 LSU defensive end Barkevious Mingo called for roughing the passer there as he just drilled Tyler Wilson.
If you didn't see this hit live, you need to press that DVR and back it up.
Mingo went in Superman style and just laid the wood to Wilson.
I think that fans are actually impressed by the fact that Wilson even got up after that one.
I said before the game started that LSU needed to get after Wilson in this one. They sure got to him there, but a tad too late.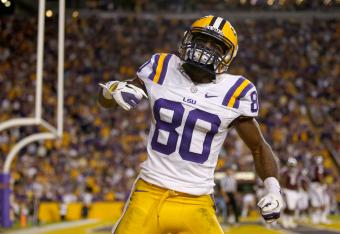 Touchdown LSU.
Wow.
You can bet that this will be on Sportscenter Top 10 today. In fact I would be shocked if it isn't No. 1 on the highlights.
Jarvis Landry went up and snagged a touchdown pass in the back of the end zone with just one hand. He hauled it in, the play is reviewed, and it is indeed a touchdown.
What a remarkable touchdown grab by Landry.
One of the best catches I have seen in college football this year.
10-0 LSU on top.
Arkansas field goal attempt is up and no good.
Pretty incredible that the Razorbaks are out-gaining LSU in total yards, in passing yards, in rushing yards, and in first downs, and still trail this game.
Not only do the Razorbacks' trail, they don't have a single point on the board midway through the second half.
Will there by any more points scored in this first half?
Let's find out.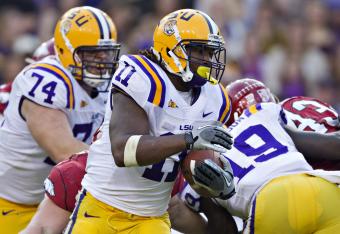 LSU went for it on fourth down and the Razorbacks stuffed them.
The Tigers put RB Spencer Ware under center and had him take a direct snap and then pitch to running back Michael Ford.
However, the trick play didn't fool the Arkansas defense at all as they sniffed it out and hit Ford behind the line of scrimmage for a loss of yards and downs.
Arkansas now takes over with good field possession.
It was the right call for Les Miles to go for it, not sure about the play call itself through.
Did we just see a drop by Arkansas' do-everything wide receiver, Cobi Hamilton?
We did indeed, and it ended a drive for the Razorbacks and forced them to punt.
Odell Bechkham Jr. returns the 54-yard punt to the 40-yard line as Zach Mettenberger and this LSU offense now takes over on possession.
Let's see if the Tigers can get it going here on offense.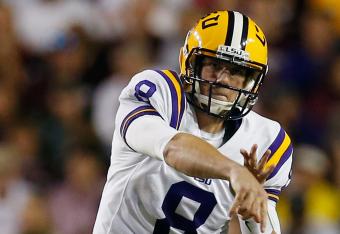 End of the First Quarter: LSU 3, Arkansas 0
Total yards: Arkansas- 104, LSU- 45
Zach Mettenberger (LSU) 1-2, 4 yards
Tyler Wilson (Arkansas) 10-11, 80 yards, one interception
Turnovers: LSU- 0, Arkansas 2
This article is
What is the duplicate article?
Why is this article offensive?
Where is this article plagiarized from?
Why is this article poorly edited?

LSU Football: Like this team?