Oregon Football: How Ducks Can Have a Perfect Weekend
Thearon W. Henderson/Getty Images
This Thanksgiving Weekend, the Oregon Ducks football team would like to give thanks to quite a lot of people for helping the Ducks enjoy a perfect weekend.
Oregon's chances at achieving a fourth straight conference title hit quite a snag after last week's lost to Stanford.
With the loss, the Ducks are now on the outside looking in for another berth in the Pac-12 title game, and are on the outskirts of a possible bid in the National Championship Game.
So, you're saying there's still a chance, right?
Of course. But the Ducks need these five things to happen first to achieve their perfect weekend.
Oregon Defeats Oregon State in the Civil War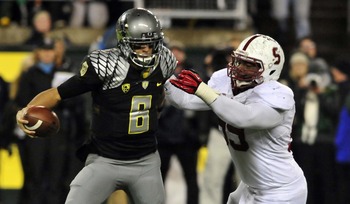 Steve Dykes/Getty Images
You need to win if you want to have a perfect weekend, but there's so much that could make a victory over the Beavers as sweet as sugar.
Not only would a win possibly allow them to return to Autzen, one last time this season, to host the Pac-12 title game, but the game is against your archrival Oregon State.
It'll be the most dramatic rendition of football since Friday Night Lights.
If Oregon wins, they'll be undefeated against their rivals for the fourth straight season, proving that the Beavers have been an overrated team all-season long, and it could possibly give them a Pac-12 North division title.
Stanford Falls to UCLA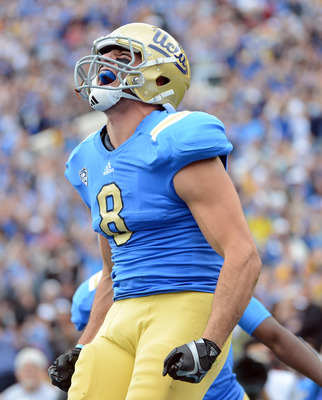 Harry How/Getty Images
Stanford is, unfortunately, in the driver's seat right now for the Pac-12 North, but that can all change very quickly.
Nobody thought that UCLA could defeat USC at the beginning of the season, yet they somehow did that.
Who's to say that Jim Mora couldn't lead his team to another victory over the Cardinal.
If Stanford loses and Oregon wins, then it'll be a rematch for the Pac-12 title between UCLA and Oregon.
Step two achieved.
USC Takes Home the Jewled Shillelagh Against Notre Dame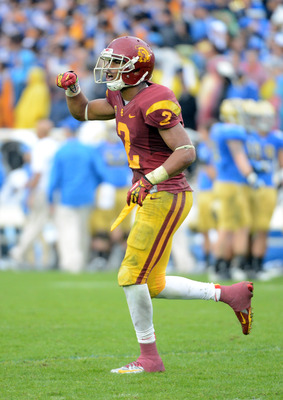 Harry How/Getty Images
Now, things start to get tricky.
Notre Dame is the last remaining undefeated team that is bowl-eligible. With the SEC bias that college football is forced to live with, it's going to be very hard for Oregon to make it to the BCS National Championship Game if Notre Dame remains undefeated.
If USC beats Notre Dame, and either Georgia or Alabama loses in the SEC championship; and Florida loses to Florida State(see next slide), then Oregon will be No. 2 in the nation if, they too, can beat UCLA.
Note: The Jewled Shillelagh is the trophy given to the winner of the USC-Notre Dame game.
Florida State Defeats Florida
Rob Carr/Getty Images
After Notre Dame, Florida is the only team standing in Oregon's way of making it to the title game.
Alabama and Georgia will be forced to take care of each other in the SEC Championship game.
But if Notre Dame loses, than Florida could be this year's Alabama despite not getting to play for their conference title.
Florida State is already out of title contention, meaning a victory over the Gators would only help Oregon's case of making it down to Miami to play for a national championship.
Johnny Manziel Is Shut Down by Mizzou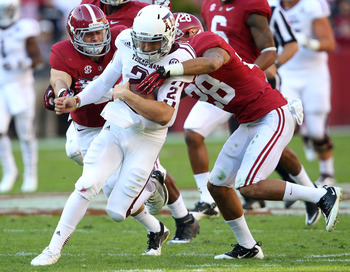 Mike Zarrilli/Getty Images
Admit it, Oregon fans, you would all love to see the Heisman Trophy come to Eugene.
You can all believe in Chip Kelly's mentality of team first, but you're lying if you say that you never hoped that Marcus Mariota or Kenjon Barner would win the Heisman Trophy.
Right now, the race is between Notre Dame linebacker Manti Te'o and Texas A&M quarterback Johnny Manziel.
Te'o probably won't win the award because he is a defensive player, and Manziel, unfortunately, has the freshmen bias going against him right now, but if he has a terrible game against Missouri, then the door opens for Mariota and Barner.
If either has a huge performance against the Beavers, there's a great chance a Duck returns to New York City.
Keep Reading

Oregon Ducks Football: Like this team?