10 Under-the-Radar Spanish Players Who Should Be Considered for World Cup Squad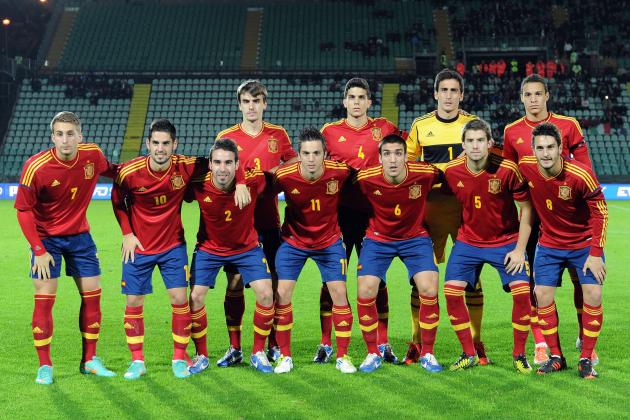 Giuseppe Bellini/Getty Images

Spain will travel to Brazil as one of the favorites to lift the 2014 World Cup.
If La Furia Roja win and retain their title, they will put themselves at the top of any discussion about the best and most dominant teams in the history of football.
Vicente del Bosque will take Spain to his third major tournament and will have little work to do in terms of squad selection.
Thankfully for him, most of the positions in the squad are already known and experienced. Most of his core stars will either be entering their prime or at the back end of it.
However, no team can predict things like injuries or great drops in form. Del Bosque should have no problem selecting a starting XI outside of his striker, but depth could actually be an issue.
This list will look at 10 players who should warrant strong consideration from the Spanish coach and actually have a realistic chance of being taken to Brazil.
The list will not include guys like Isco who will struggle to find a spot, but are already being widely recognized for their great play. Nor will uncapped players like Mikel Arteta be mentioned.
The players here are either young or only recently hitting great form. They have so far earned comparatively little international attention and have a few barriers preventing them from assured selection in Brazil.
After reading this list, I encourage you to discuss these selections as well as any other that you think not only deserve consideration, but also actually have a good shot at being selected for the 2014 World Cup.
Begin Slideshow

»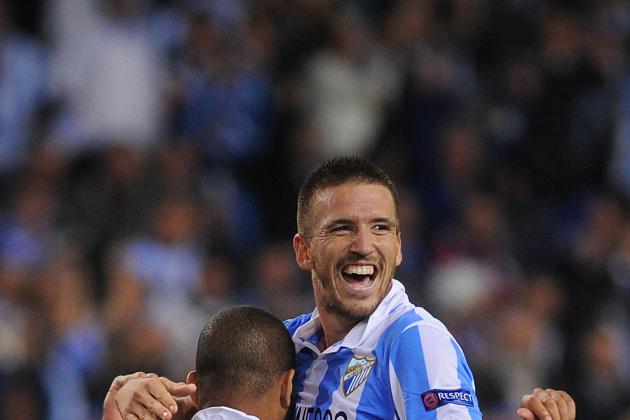 Gonzalo Arroyo Moreno/Getty Images

Isco continues to get all the international attention, but he hasn't even been Malaga's best midfield this season—at least, not domestically.
That honor goes to Ignacio Camacho. As is far too typical for a defensive midfielder, the 22-year-old goes rather unnoticed for most general fans.
Camacho is in the middle of a breakout campaign and has not only been Malaga's best player this season, but also the best defensive midfielder in all of Spain.
Why he could feature in 2014
While the Spanish midfield is virtually impenetrable for 2014 with most of the selections already known, defensive midfield is the one area that could see a couple of surprises.
Sergio Busquets is guaranteed the starting job if fit, and Xabi Alonso would have to decline a fair bit over the next two years to be benched—unlikely since he is playing some of his best football right now.
After those two, the best options are Javi Martinez, who could be used more as a defender, and Beñat, who is better as a creative central midfielder or a double pivot.
It would take some consistently great form to outshine his older peers, but Camacho certainly has a strong chance to feature in Brazil.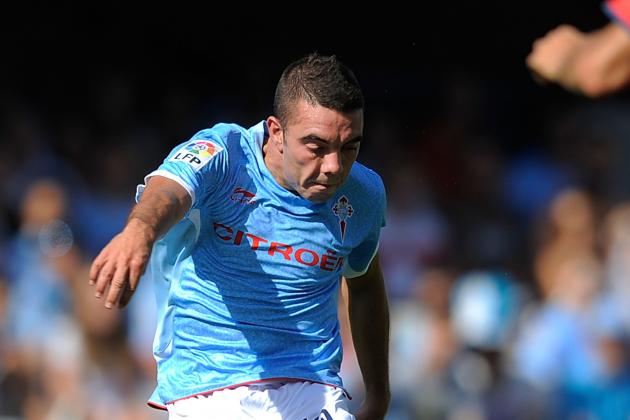 Denis Doyle/Getty Images

Before the season started, I listed Iago Aspas as one of the players to watch and my pick for breakout player of the year.
So far the Spaniard has proven me right and has been one of the stars of the league this season.
Aspas has been truly elite and one of the most exciting players to watch in all of Spain.
He is fouled more than Lionel Messi, but is dispossessed far less despite being the best and most targeted player for Celta.
Why he could feature in 2014
The 25-year-old has been sensational this season and should be in his prime by 2014.
The biggest point in Aspas' favor is his versatility as an attacker.
Of all Spanish players, including those that took part in the 2012 Euros, Aspas is the most suited to playing the false nine role and really excels there.
He averages more keep passes than any other Spaniard besides Joaquin, and is a better finisher than Cesc Fabregas or any other player Vicente del Bosque would use in that role.
Aspas would definitely have to be at a bigger and better team by then, but if he keeps this play up, he will likely have many suitors in the coming months.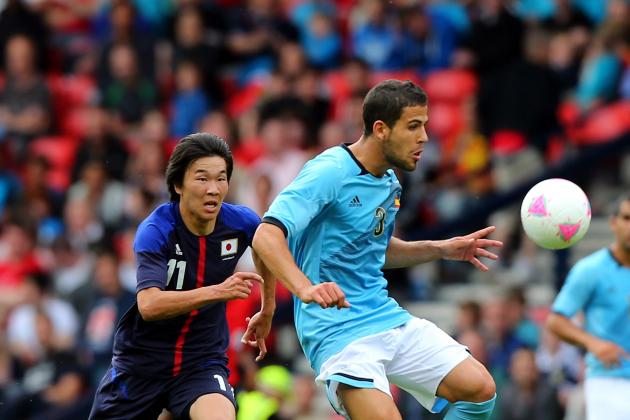 Stanley Chou/Getty Images

His move to Germany could hurt him with Vicente del Bosque historically favoring La Liga stars, but Alvaro Dominguez still has time to reach the great potential he shows early in his career.
When he was first promoted at Atletico Madrid, the young defender had many thinking he would be the eventual heir to Carles Puyol.
His size, strength, poise and early performances had fans buzzing and eager to see his growth. Last season was supposed to be his breakout campaign.
Inconsistent play and Atleti's financial problems force his sale and hurt his reputation a bit, but Dominguez is still only 23.
Why he could feature in 2014
In a recent article discussing how Spain's defense would look in 2014, I explained how central defense was the biggest concern for La Roja at the moment.
Depth will be a major concern for Vicente del Bosque, and Dominguez is as good as any other central defensive option at the moment.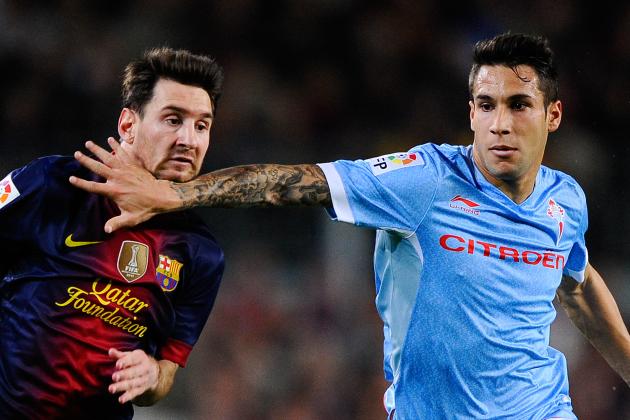 David Ramos/Getty Images

While Iago Aspas basically carried Celta Vigo to promotion last season, Hugo Mallo quietly became one of the best young defenders in Spain.
After three months of play, the 21-year-old has proven to be just as capable in the Primera Division as he was in Segunda.
Why he could feature in 2014
See the slide about Alvaro Dominguez. Sergio Ramos and Gerard Pique will certainly be starting in Brazil if fit, but after those two there is no clear choice for depth.
Mallo is younger than guys like Alberto Botia and Iñigo Martinez, but is not significantly far behind his older peers in terms of development.
The big advantage for him is his ability to play right-back or in the middle, much like Ramos.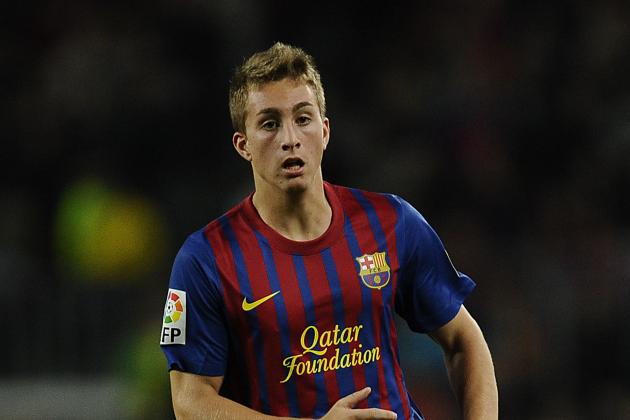 David Ramos/Getty Images

Today Spain is the hardest team in the world to break into as a young star, especially in midfield and on the wings.
With the likes of Pedro, Juan Mata and Santi Cazorla able to play on the left wing, it will be very hard for any left-winger to be capped in the next half decade.
With that said, there is still a chance that Gerard Deulofeu could be one of the few to do that. He brings something to the table that few others do.
Why he could feature in 2014
At the moment, the best scoring threat from La Roja's is Pedro. He will probably be at his peak in 2014, but an injury could open the door for Deulofeu.
Mata and Cazorla can play on the left of Spain's 4-3-3, but neither would be fully used there because both are more creators who excel in the false winger role or with a false nine employed.
If Barça B's brightest star ends up being half as good as his potential shows, he could be starting for Barcelona beside Lionel Messi in a couple of years and will have a strong case to be selected for Brazil.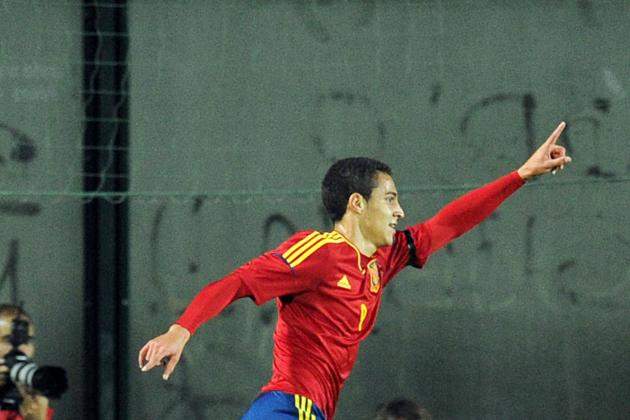 Giuseppe Bellini/Getty Images

While Spain is unquestionably the best team in football right now, they are not at all the most balanced.
In truth, the historic success of the current Spain team is a result of their unrivaled midfield that dominates possession, limits chances against the back line and creates plenty of chances for their forwards to score.
Teams like Germany not only have a midfield nearly as good as Spain and defenses that are a tad more reliable, but also have far better attacking options.
Why he could feature in 2014
Let's be honest, there is a strong chance that Spain will have bigger problems scoring goals in Brazil than they did at this summer's Euros.
David Villa will be 32 years old, Fernando Torres is already past his prime and there are no other clear choices to be the first-choice striker for Spain.
While Del Bosque has never been one to trust young attacking players, Rodrigo Moreno may be too good to leave off the squad.
The Benfica forward has been sensational at the youth levels and should get even better in the next two years.
If Moreno can match the likes of Roberto Soldado and Fernando Llorente, he could be a surprise selection in 2014.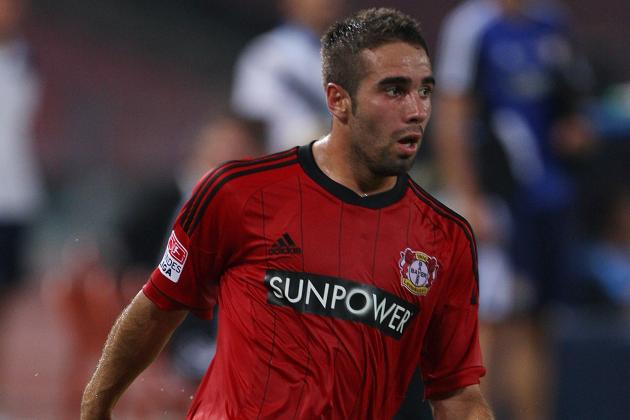 Paolo Bruno/Getty Images

Right-back will be one of the biggest concerns for Spain in 2014 and there are plenty of potential heirs to Alvaro Arbeloa.
Atletico Madrid's Juanfran is the best option that will be under 30 and should be in the driver's seat to start, but Del Bosque could decide to go with a younger option.
Martin Montoya seems the best option and Cesar Azpilicueta has greatly improved his chances by moving to an elite club like Chelsea.
One player who could unseat both of those youngsters, though, is former Castilla star Dani Carvajal.
Why he could feature in 2014
Right now Carvajal is playing in Germany for a non-elite European club—two factors which will hurt his chances of selection.
However, if he plays at a consistently high level over the next couple of seasons, he could impress his former club enough to enact their buy-back clause and bring him back to Spain.
Starting for Real Madrid at the age of 22 would certainly give Carvajal a big chance of being taken to Brazil in addition to or instead of guys like Montoya and Juanfran.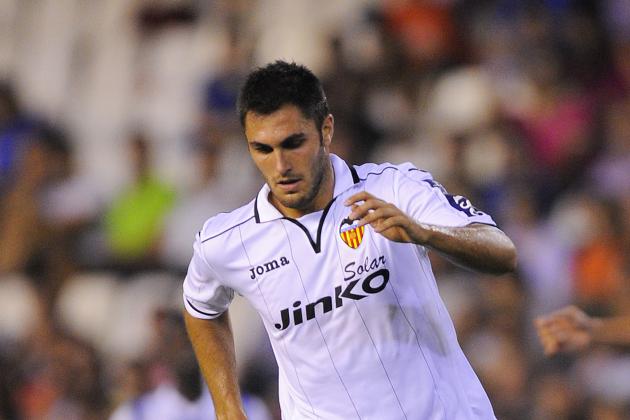 David Ramos/Getty Images

In mid-November Victor Ruiz thanked Los Che for their continued support and vowed to repay the club on the pitch.
The 24-year-old definitely backed up those words against Espanyol and looks to become one of the top defenders in Spain over the next couple of seasons.
He is not an elite center-back, but is finally playing well and still has time to become an elite defender.
Why he may feature in 2014
The same that was said for Alvaro Dominguez and Hugo Mallo can be said about Victor Ruiz, but with one great advantage—his jersey.
While playing for Valencia does not carry the same weight for Vicente del Bosque that Blaugrana or Madrid white does, it is as good as any top team in Europe outside as Spain.
If Ruiz can work with Adil Rami to form one of Spain's elite central defenses, he has a very good chance of being the man selected to back up Sergio Ramos and Gerard Pique in Brazil.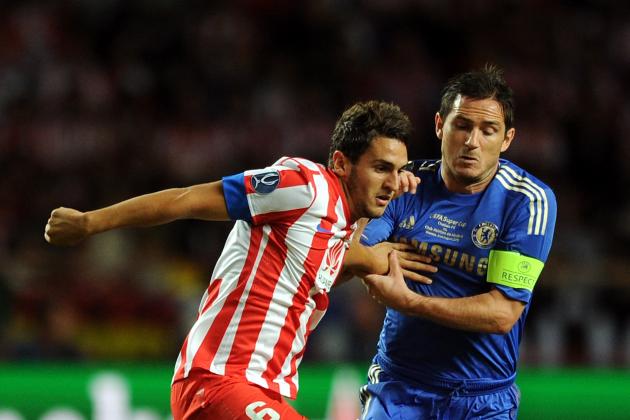 Chris Brunskill/Getty Images

Koke is another player I dubbed a breakout player of the season contender, and he is finally having that big season Colchoneros fans have been waiting for.
The 20-year-old is finally being used properly under Diego Simeone and has become the best young midfielder in Spain along with Isco.
Why he could feature in 2014
At some point, Spanish fans will have to come to terms with the loss of the great Xavi.
The midfield legend will be 34 in 2014 and there is a strong chance that he will no longer be starting for La Furia Roja.
While Spain's attacking midfield is the deepest and most talented in the world, there are very few players who can do what Xavi does as a deeper, directive central midfielder.
The most similar in style to Xavi is his club teammate, Thiago Alcantara, but Koke has shown tons of potential and has a better injury record than the Brazilian-born Barcelona star.
If Thiago is unfit or if Koke continues to grow into one of the best central midfielders in Spain, he has a great chance of being selected for the World Cup and even starting at some point.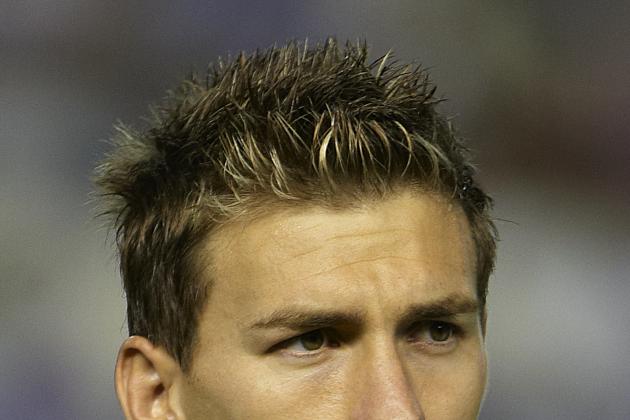 Manuel Queimadelos Alonso/Getty Images

Most of the post-Iker Casillas talk is about David de Gea, but the Manchester United keeper may never start for La Roja.
San Iker is likely to still be the No. 1 in 2014, but the man who should be his backup is Valencia's star shot-stopper, Vicente Guaita.
The biggest issue in Guaita's chase for caps is his club jersey, but he may just be too good for Del Bosque to avoid in Brazil.
Why he could feature in 2014
Guaita is better than De Gea and by 2014 will be better than Victor Valdes, Pepe Reina and any other Spanish keeper other than Iker Casillas.
If he played for Barcelona or Real Madrid, Guaita would already have been selected for the senior squad.
If he continues at this rate, Los Che's eventual No. 1 could be the best keeper in Spain by 2014 and Del Bosque would be a fool not to take him to South America.