Broncos Bury Chiefs: Player Grades and Analysis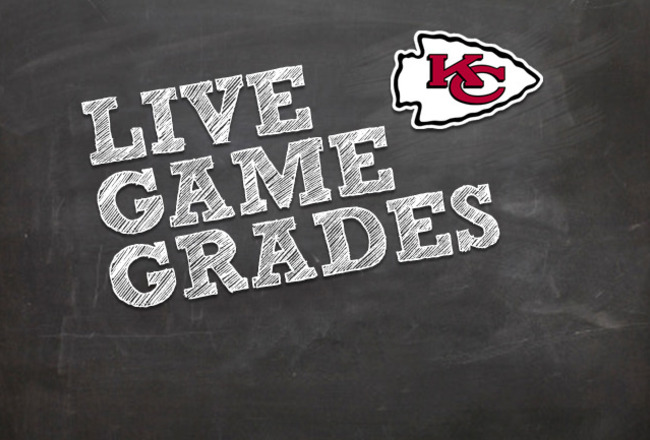 You won't find today's game in Peyton Manning's scrapbook, but a win is a win. The living legend was an equal-opportunity distributor—five receivers ended the day with four receptions.
Knowshon Moreno's 85 rushing yards provided a hint of relief and kept the Kansas City defense on its toes.
Despite a pair of missed field goals, Denver's offense still managed to tack 17 points on the scoreboard. Today, that was enough.
Jamaal Charles dashed for 107 yards on the ground, but the offense sputtered when crossing midfield and often looked allergic to the end zone. Brady Quinn's hot start eventually fizzled out.
The Chiefs remain winless at Arrowhead.
Season statistics provided by Pro-Football-Reference.com. Today's box score provided by ESPN.
Quarterbacks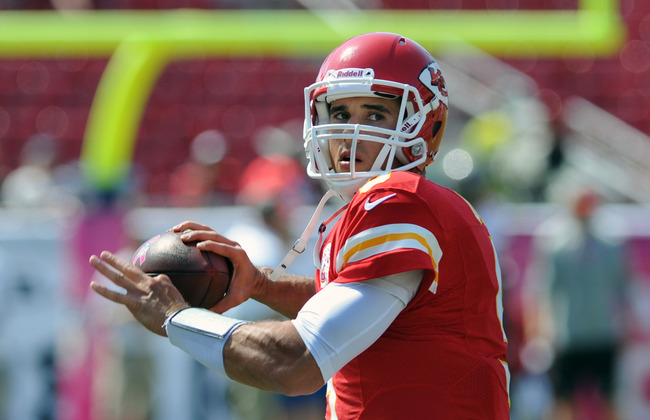 Al Messerschmidt/Getty Images
Brady Quinn: D+
By Kansas City standards, Quinn performed efficiently throughout the first half.
However, his numbers declined in the latter stages of today's game, concluding with a measly total of 125 yards on 13-of-25 passing.
It was like he was throwing the controller in Madden RT @bomani_jones brady quinn just threw one of the most awful passes you'll see today.

— nick wright (@getnickwright) November 25, 2012
The Chiefs' perplexing inability to reach the goal line is a riddle that remains unsolved.
Running Backs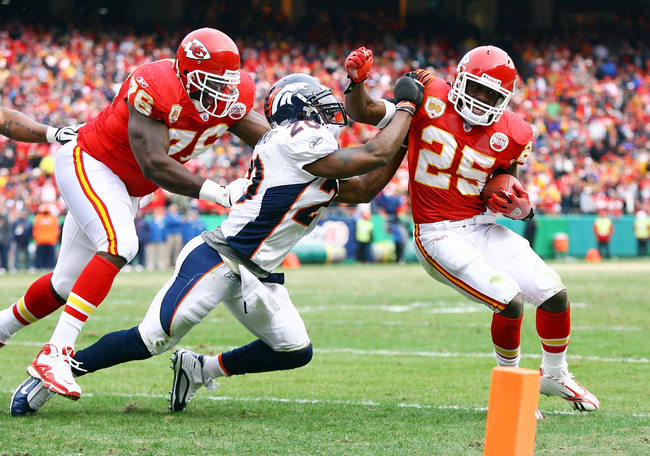 Jamie Squire/Getty Images
Jamaal Charles: A
Charles maneuvered his way to 107 rushing yards.
Considering he was backed by minimal support in the passing game, the feat of hanging triple digits on a top-five rushing defense becomes that much more impressive.
Brady Quinn's passes averaged five yards per attempt. Jamaal Charles' rushes—constantly greeted by a stacked box—averaged 4.7.
Peyton Hillis: F
The once-coveted offseason addition was responsible for five yards on two attempts—one on which he nearly turned the ball over, fumbling immediately after his knee met the field.
Hillis has devolved into an afterthought.
Receivers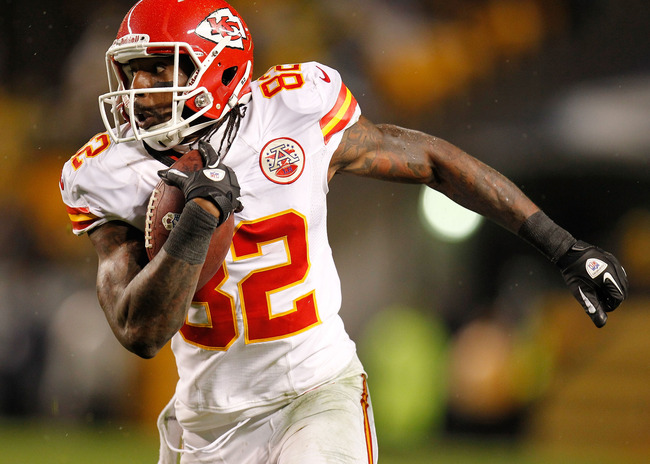 Gregory Shamus/Getty Images
Dwayne Bowe: B
The polarizing playmaker hauled in four receptions for 41 yards, but he was targeted 12 times.
Bowe was listed as questionable heading into today's matchup, so he obviously wasn't at full strength. But injuries don't mask the eight incompletions hurled his way.
Dexter McCluster: A-
This week, McCluster made headlines for unwanted reasons.
First, he delivered a turkey to an elderly fan, only to have his good will indirectly chastised due to his team's ineptitude.
Then, he was knocked out of Sunday's game:
Dexter McCluster is questionable to return with a head/neck injury. #DENvsKC

— Michelle Beisner (@MichelleBeisner) November 25, 2012
But the speedster did snatch four receptions before his third-quarter departure. McCluster also accounted for a 19-yard rush during Kansas City's opening drive.
Jon Baldwin: F
Like Bowe, Baldwin was banged up during the week, and his status was up in the air.
The first-year starter was only targeted once—which occurred late in the fourth quarter—and was unable to reel in the pass.
Jamar Newsome: D-
Newsome's recent activation stemmed from the host of injuries strangling the receiving corps.
He contributed one catch but dropped a potential touchdown in the first quarter.
Tight Ends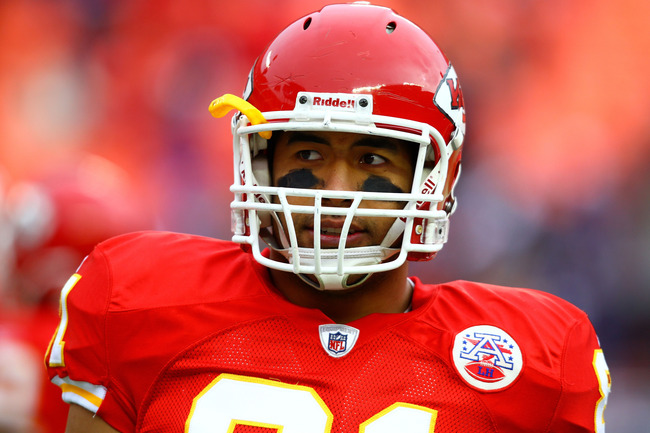 Dilip Vishwanat/Getty Images
Tony Moeaki: B-
Moeaki is slowly but surely returning to his 2010 form.
He averages 13.9 yards per reception, well above the team medium of 10.7.
He only grabbed 14 passes for 151 yards in his first eight contests of 2012. Over the course of his last three games, the tight end has stockpiled nine receptions for 181 yards. But he still hasn't recorded a touchdown.
Only two throws spiraled toward his gloves, but Moeaki capitalized on both opportunities and tacked 40 yards onto Kansas City's Sunday total.
Offensive Line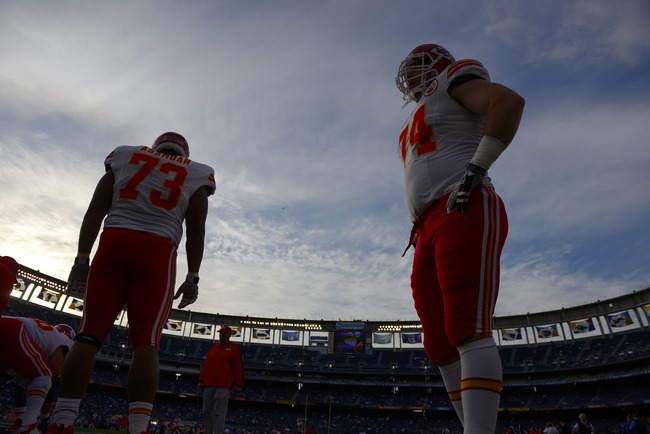 Donald Miralle/Getty Images
Donald Stephenson: A-
Filling in for Branden Albert, the rookie was tasked with restraining Elvis Dumervil and the league's most productive pass rush.
Not only did he render Dumervil sack-less, but Kansas City repeatedly found success with Charles bouncing outside and rounding the left edge.
A job well done.
Jeff Allen: B-
Allen, another rookie, helped minimize the damage dealt by Denver's oncoming wave of blitzers.
He was eventually flagged, though. On an anemic offense, penalties become bigger detractors than usual.
Ryan Lilja: B
The rapport between Lilja and Quinn didn't yield any fumbled snaps—a trend for the 2012 Chiefs. Time and again, Kansas City's ground game stomped past the interior of Denver's defensive line.
His postgame response summed up the underlying sentiment across Kansas City:
Lilja had a great answer when I asked him where points would come from these last few games: "Hopefully not from the field goal kicker.''

— Adam Teicher (@adamteicher) November 25, 2012
Jon Asamoah: C
With one arm wrapped in a cast, Asamoah struggled at times.
He was also penalized.
Eric Winston: B+
The anchor of Kansas City's right end proved why he's a revered run-blocker.
Five of Charles' eight rushes behind the right end resulted in at least five yards.
Defensive Line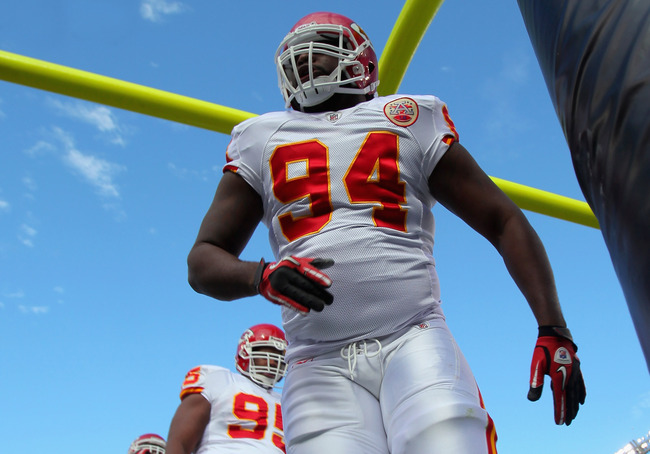 Doug Pensinger/Getty Images
Tyson Jackson: B-
No. 94 has made an impact in consecutive weeks.
This afternoon, Jackson tackled Ronnie Hillman for a loss and also tracked Manning down for a sack [cue the Kevin Garnett "Anything is possible!" sound bite].
Dontari Poe: C+
The Chiefs' No. 1 pick deflected one of Manning's attempts and also added a tackle behind the line of scrimmage.
However, Denver's running game punished the interior of Kansas City's defense.
Ropati Pitoitua: D+
Following Glenn Dorsey's season-ending injury, Pitotua initially shined. Today, he only chalked up one tackle to his name.
Kansas City has experimented with different combinations up front, but none of the equations have added up to the desired result.
Linebackers
Peter Aiken/Getty Images
Justin Houston: A+
Houston was seemingly chasing Manning down throughout every drive.
The storied quarterback was hit four times by the sophomore standout, including two sacks (Houston's eighth and ninth of the season).
Week in and week out, Justin Houston leaves his imprint.
Derrick Johnson: C+
The weekly tackling machine didn't provide signature numbers.
He made a couple of noteworthy plays, but they were few and far between.
Tamba Hali: C-
Hali was a non-factor, which is uncharacteristic. His renowned edge-rushing talent was kept at bay.
Manning's left tackle just scored some brownie points.
Defensive Backs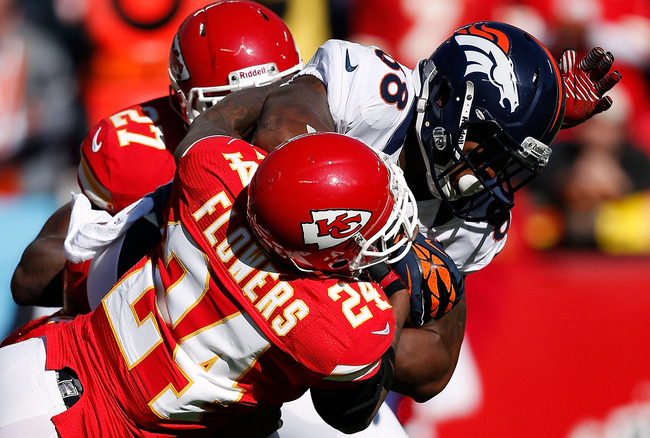 Jamie Squire/Getty Images
Brandon Flowers: A
The underrated cornerback smothered Broncos receivers.
This afternoon, Flowers' first mention branched from an interception. He also posted four tackles.
Jalil Brown: D
Brown's man-to-man vulnerabilities were exposed early and often.
Demaryius Thomas repeatedly burned Brown, most notably on a 30-yard touchdown reception.
Eric Berry: C
The helmet-rattling safety had his share of ups and downs.
Jacob Tamme feasted on Berry's weakness—man coverage—throughout the majority of the game.
The third-year safety contributed a couple of critical plays in the second half, but the negatives outweighed the positives.
Javier Arenas: B-
As a starter, the dynamic defender seems to improve with each week of experience.
Arenas swatted two passes away, and his five tackles were tied for the team lead.
His 5'9" stature puts him at a natural disadvantage, but Arenas' size wasn't indicative of his productivity on Sunday.
Special Teams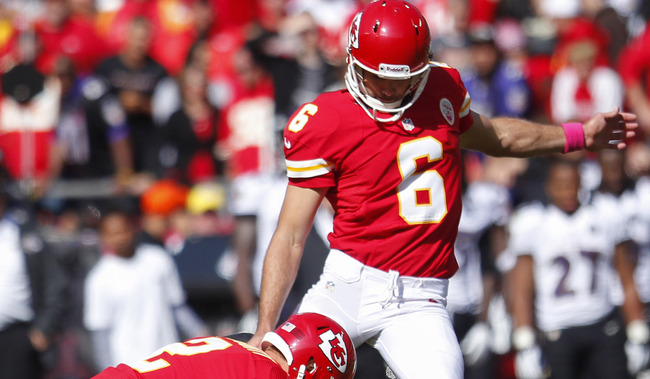 Kyle Rivas/Getty Images
Ryan Succop: A
No complaints.
Succop is the only scoring machine in Kansas City's assembly line. Unfortunately, three points only create marginal dents in a passing league.
Dustin Colquitt: A-
Punters are rarely talked about, but Colquitt's performance shouldn't go unnoticed.
He frequently pinned Denver's offense deep in its own territory.
Coaching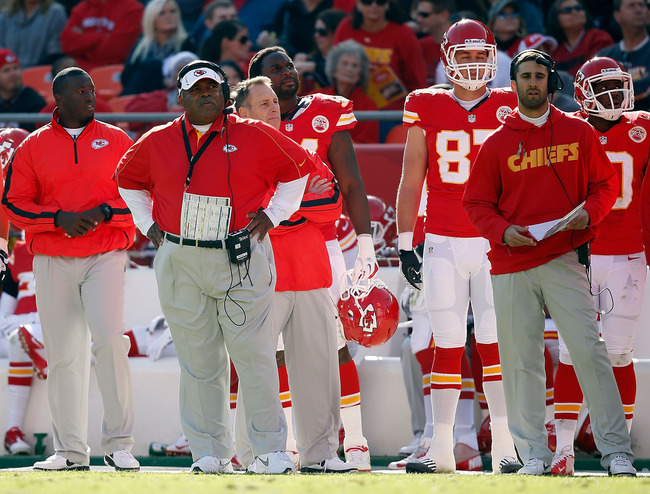 Jamie Squire/Getty Images
Romeo Crennel: D-
Crennel's conservative mentality showcased itself on multiple occasions.
He elected to play it safe on two pivotal fourth-down decisions. Crennel's team also proved that clock management isn't its strong point, constantly sacrificing timeouts to avoid penalties.
Gotta love the 1-9 Chiefs playing it conservatively + kicking a FG on 4th + 2 inside the 10 up 3-0 vs. Denver. Avoid momentum at all costs!

— Bill Simmons (@BillSimmons) November 25, 2012
Brian Daboll: D-
Daboll's offense added another scoop of vanilla.
In spite of boasting an effective rushing attack, Daboll rarely utilized play-action passes. There were no designed rollouts for Quinn, which would have partially negated Denver's aggressive pass rush.
Points are an endangered species in Daboll's offense.
Gary Gibbs: B-
The defensive play-calling was, at times, effective. When Gibbs dialed up blitzes, they normally succeeded.
But strategy couldn't compensate for his players' deficiencies in coverage.
Keep Reading

Kansas City Chiefs: Like this team?