Most Insane Moment's from Last Year's Linsanity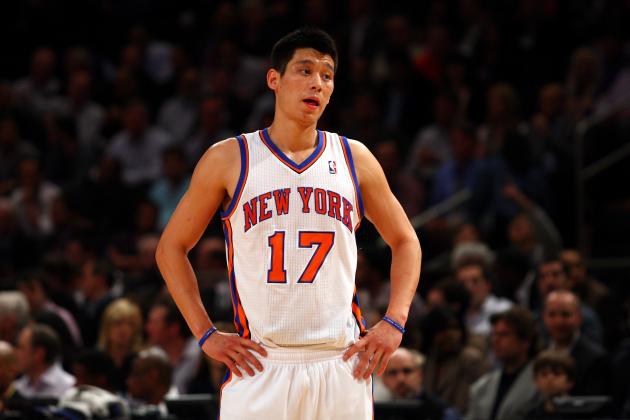 Chris Chambers/Getty Images

For nine games last season, New York Knicks fans were overcome with a brief illness. It was known as "Linsanity."
Brought on by then-unknown point guard and Harvard grad Jeremy Lin, the Knicks went 8-1 over this stretch. The crazy part was that it was all done without star forward Carmelo Anthony and, mostly, fellow star Amar'e Stoudemire. Instead, Lin proved to be beyond capable of taking control on offense, both in scoring and passing.
The euphoria was sadly short-lived, as Anthony and Stoudemire returned and Lin's production dropped. He signed with the Houston Rockets over the summer and has struggled thus far, averaging just 10 points and 6.3 assists while shooting 33 percent from the field.
The Knicks visit Houston tonight to face Lin and the Rockets. There's no telling what kind of game it will be, but the New York fans will watch and fondly remember the joy Lin brought to them for a short time last season.
He may be on a new team now, but reliving some of the memories will never get old.
Begin Slideshow

»
Statline: 23 PTS, 10 AST, 9-14 FG
This game was one of Lin's more subtle masterpieces, as the Knicks opted to go with a more balanced attack instead of their usual Mike D'Antoni run-and-gun against the young Washington Wizards. Even without stars Carmelo Anthony and Amar'e Stoudemire, Lin managed to lead the Knicks to a 107-93 victory. Tyson Chandler had 25 points and 11 rebounds and rookie Iman Shumpert chipped in 17 points off the bench.
The highlight of the game, however, was Lin doing something the fans had yet to see from him. Up until this point, he had a reputation as a scoring and passing point guard, a la Steve Nash.
With this incredible slam, the fans roared and immediately knew that there was more to this Harvard grad than met the eye.
Statline: 20 PTS, 8 AST, 3 STL, 8-24 FG, 4-7 FT
Lin clearly wasn't at his best in this game, but he never backed down. He still took shots, drove the lane hard and stopped at nothing to help bring home the win.
He ended up winning this game with a free-throw, of all things. For those who followed Lin last season, you'll remember that his free-throw shooting could be very hit or miss at times. Thus, when he missed the first of two key shots with the game tied late in the fourth quarter, some fans' hearts surely skipped a beat.
Lin was fortunately able to sink the second free-throw and the Knicks ended up winning 100-98.
Statline: 28 PTS, 14 AST, 5 STL, 11-20 FG, 3-6 3P
As if Lin hadn't already given Knicks fans enough miracles, he pulled out a big one in the ninth and final game of Linsanity. The Knicks took on the then-defending champion Dallas Mavericks on a Sunday afternoon, and on national television at that.
It was a fight from start to finish, and Dallas led 75-72 going into the fourth quarter. Lin and his teammates then took over, as the Knicks eventually pulled away and emerged victorious.
Lin had a few highlights of his own, from a dunk to a three-point play to this clutch three-pointer in the final frame. He put the team on his back and further proved that he could lead an offense at the NBA level.
Statline: 27 PTS, 11 AST, 9-20 FG, 7-11 FT
This was a significant game for the Knicks, as Amar'e Stoudemire returned to the team after missing the previous four games to attend his brother's funeral. The question posed itself: would he and Lin be able to play together?
The answer was yes, as Stoudemire added 21 points and nine rebounds in a Knicks victory. Lin struggled from the field like he did in Minnesota, but still did a great job of driving the lane to draw contact and not relying so much on his jump shot.
Oh, and let's not forget that he sunk the game-winning three-pointer as time expired, extending New York's winning streak to six games.
Statline: 38 PTS, 7 AST, 13-23 FG, 2-4 3P, 10-13 FT
As great as Lin looked in the absence of Anthony and Stoudemire, nobody could have seen this coming. The Kobe Bryant-led Lakers were coming to town, and they had beaten New York nine straight times. The Knicks were shorthanded where the Lakers were not, so it appeared to be a blowout in the making.
Rather, Lin played great basketball on both sides of the floor and his teammates responded accordingly. He set a career high in points and simply did it all. The Lakers had no answer.
When the final buzzer sounded, New York had won 92-85 and pulled off the upset of the season.
Madison Square Garden shook. Fans roared and chanted "MVP! MVP!"
Linsanity may have been short-lived, but this was easily its boiling point, and absolutely incredible to watch.