Seahawks vs. Dolphins: 10 Keys to the Game for Seattle
Otto Greule Jr/Getty Images

The Seattle Seahawks are off to Florida over Thanksgiving weekend to face the Miami Dolphins in a game they simply must win to stay relevant in the NFC West. While not a "must-win" in the wild-card race, losing this game will cause doubt as to their ability to win in Chicago or Toronto.
However, a convincing win would give Pete Carroll's team the confidence it needs down the stretch. Seattle has won in Chicago for two consecutive seasons and beating a non-divisional foe on the road three-straight years would have to be some kind of a record.
More importantly, with the San Francisco 49ers facing the New Orleans Saints and New England Patriots in the coming weeks, Seattle could find itself alive in the NFC West race when the 49ers visit on December 23rd.
Begin Slideshow

»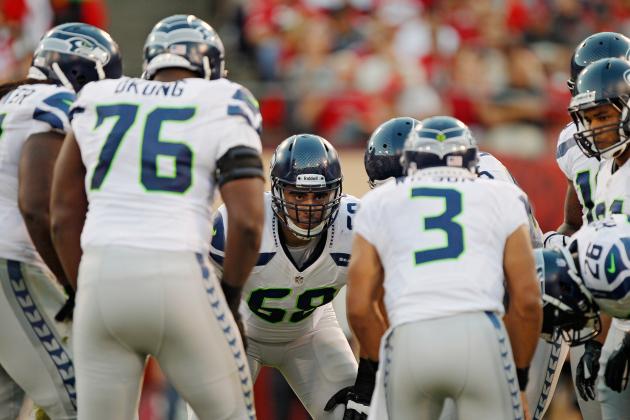 Brian Bahr/Getty Images
Russell Okung has been hit with a few costly penalties and a few where it was impossible to find fault with his play.
One of the underlying issues with the Seahawks early in the season was committing too many costly penalties. The team overcame these issues at home but couldn't on the road.
Breno Giacomini was one of the leading culprits, but he's cleaned up his act since being temporarily benched against the Carolina Panthers.
Seattle as a whole had been much better prior to being flagged seven times against the Jets. It had just 13 combined in the prior four games.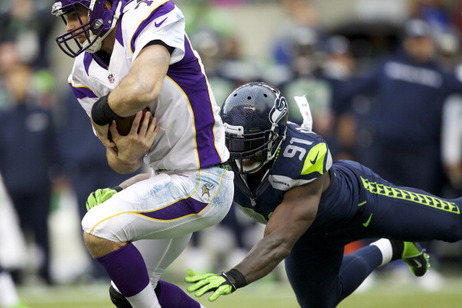 Stephen Brashear/Getty Images

The Dolphin offensive line has struggled a bit this season but the team has only allowed 21 sacks.
Seattle needs to continue its improvements from 2011 and take advantage of opportunities to bring Ryan Tannehill down. Chris Clemons needs a good reminder of how it feels to tackle opposing quarterbacks in the backfield.
Seattle had a good showing in its last game against the Jets. It had five passes defensed, four quarterback hits, three sacks and two cracked ribs on Tim Tebow.
Seattle has 28 sacks so far this season, good for fifth place in the NFL prior to Week 12 games. It could tie last season's production with five on Sunday.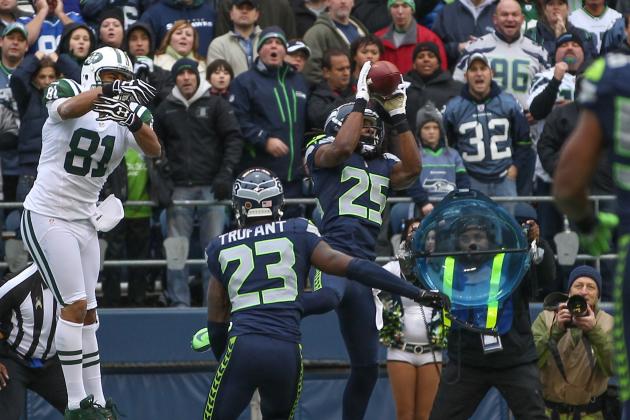 Otto Greule Jr/Getty Images

Seattle hasn't been quite as proficient at forcing turnovers in 2012 as expected. Its lack of a defensive touchdown is even more surprising.
Earl Thomas had what looked to be an interception and a 100-yard return set up against the New England Patriots, but he was unable to haul in the ball.
The Seahawks have favorable matchups along the line of scrimmage and in the secondary. They've got to use that to their advantage.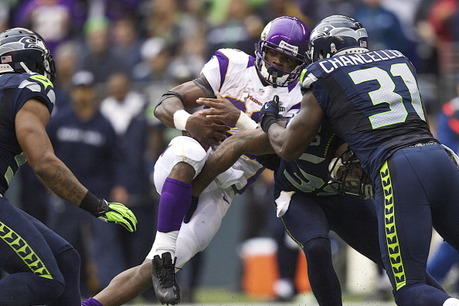 Stephen Brashear/Getty Images

Too many times this season the Seahawks have bottled up opposing receivers with their press-man defense. Then they revert to a Cover 2 and teams take advantage of underneath routes and march down the field.
Come out against the Dolphins and hit Brian Hartline and Davone Bess at the line of scrimmage. Stay on their hip through their routes and don't allow them the freedom to get open.
Neither of these receivers are true deep threats and Seattle's corners need to take the Dolphins' wide receivers out of the game.
Seattle needs to play the defense how it was built and be the aggressor on Sunday. Passive approaches have cost the team on the road this season. Don't let it continue.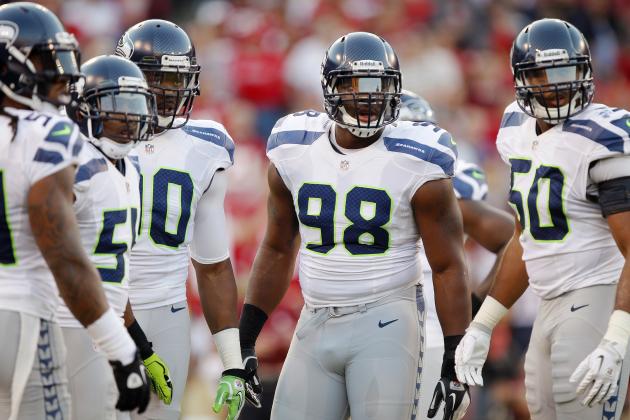 Brian Bahr/Getty Images

Seattle has struggled a bit in recent weeks with allowing rushing yards. Frank Gore and Adrian Peterson both found ample room to run as defensive linemen lost gap integrity and linebackers were out of position.
K.J. Wright is expected to be back for this game, as he was a full participant in practice. The linebackers in particular need to make sure Reggie Bush and Daniel Thomas aren't allowed to move the ball.
#Seahawks injury report: R. Bryant (foot) DNP. M. Lynch, G. Scruggs, B. Maxwell, C. McDonald, K.J. Wright, J. Carpenter FULL.

— Eric Williams (@eric_d_williams) November 22, 2012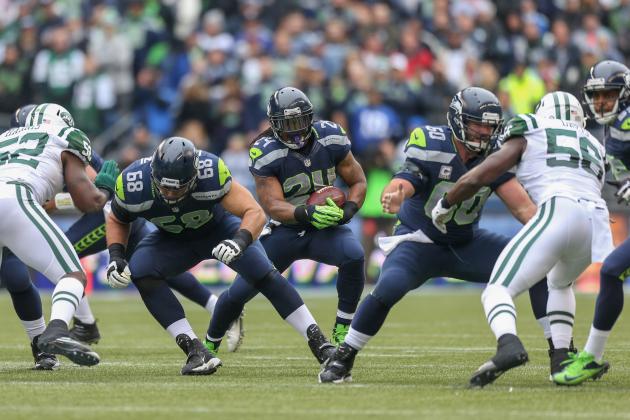 Otto Greule Jr/Getty Images

The offensive line should have James Carpenter back in the lineup on Sunday. This means the entire starting lineup could be healthy and in its intended positions for about the first time this season.
What better way to celebrate than to get a push off the line of scrimmage and open running lanes for Marshawn Lynch?
Mr. Skittles has become so accustomed to traffic near the line of scrimmage that it might take him a few plays to adjust, but adjust he certainly would. Give him the rock early and often and let him move the chains and open up another part of the Seahawk offense.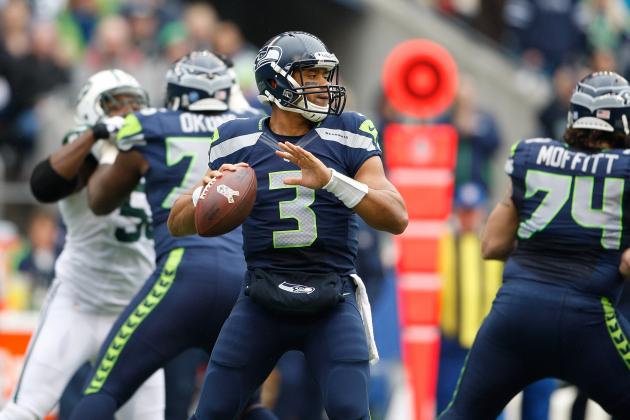 Kevin Casey/Getty Images

Statistically, Miami's run defense looks like one of the better units in the NFL. It allows just 3.8 yards per attempt and under 97 yards per game.
However, its pass defense is so poor that many teams opt to go to the air instead of establishing a ground game. There are issues brewing along these lines that are discussed in a later slide.
The best way for Seattle to exploit Miami's pass defense is to get the corners cheating in to help with the run. Throw in some play action and big plays will be available.
It may be too early, but I also expect Seattle to roll out a twist to the double-option that worked so well against the Jets. Give Wilson a pair of potential receivers in his sight line if he doesn't hand the ball off to Lynch. Then he can carry the ball or deliver a quick pass to an open target.
This leads into another key for the Seahawks.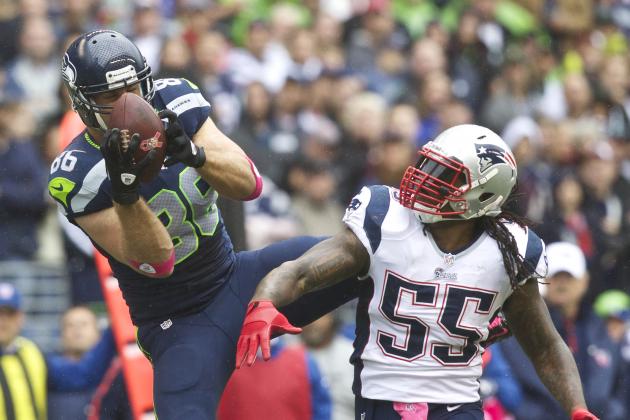 Stephen Brashear/Getty Images

Zach Miller hasn't been given many opportunities in the passing game. When provided, he certainly takes advantage of them, though, collecting 23 receptions on 32 targets.
Miller is a mismatch for most linebackers. He needs to be given options in a quick passing game to make teams pay for rushing too aggressively and would be an ideal target if the Seahawks convert their double option into a potential passing play.
It isn't reasonable to expect Gronkowski-like numbers, but Miller should at least be close to Vernon Davis as the best tight end in the NFC West.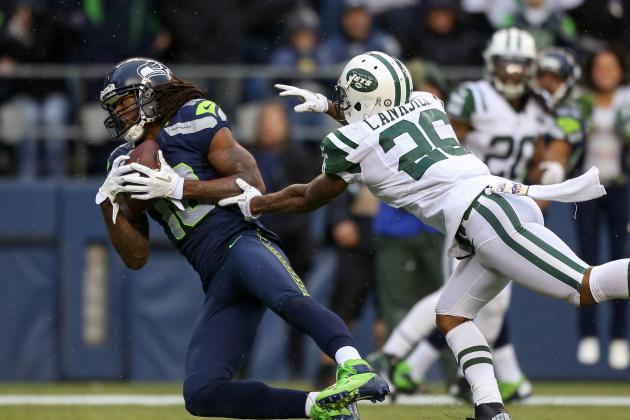 Otto Greule Jr/Getty Images

Keeping with the offensive theme, earlier in the season Russell Wilson was one of the most effective passers with the deep ball. He was routinely hitting receivers in stride 50 yards down the field.
Those big plays have an obvious impact of moving the ball, but that is also how a team spreads the field. If the corners need help deep, safeties can't cheat in as much in run support.
The Dolphins have done this and it made the secondary susceptible to big plays. They have surrendered more long passes (20-plus yards) than all but three defensive units.
The safeties like to help with run support but were getting beat deep. As Miami was forced to move them back into coverage, its rushing yards allowed and yards per attempt have skyrocketed.
After starting the season allowing just 3.7 yards per rush, the Dolphins have allowed 4.6 over the last month. They've allowed more yards than their average (96.8) in five consecutive games.
The Seahawks need to continue both of those trends.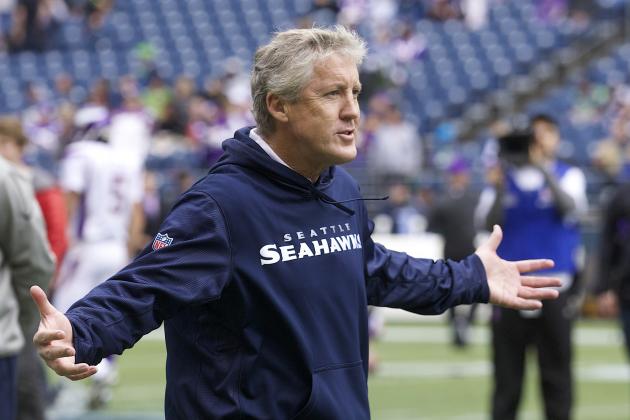 Stephen Brashear/Getty Images

This is as much a culmination of doing the prior items as anything, but the Seahawks need to prove to themselves that they can play as well on the road as they do at CenturyLink Field. Put the Chicago Bears and Buffalo Bills on notice that Seattle intend to come in and take care of business.
No team is going to overlook the Seahawks, so at least make them nervous.
Part of their improved play at home is the crowd noise gives the defense a slight edge off the snap. That doesn't happen on the road.
But the team has looked lethargic away from Seattle again this season and that simply can't happen. The Seahawks need to bring their own energy on the road.
If that means flying out a day early to adapt to the new time zone, atmosphere, solar radiation, turf or whatever else is different, then the team needs to consider doing so. It's key for Seattle to return from Miami with a win and know how to parlay that effort in Chicago.
An 8-4 football team would be dangerous down the stretch and put pressure on the 49ers. It would also give the fans something extra to yell about in December.
Darin Pike is a writer for Bleacher Report's Breaking News Team and a Featured Columnist covering the NFL and the Seattle Seahawks.