Chicago Bulls: What Lineup Changes Could Coach Tom Thibodeau Make?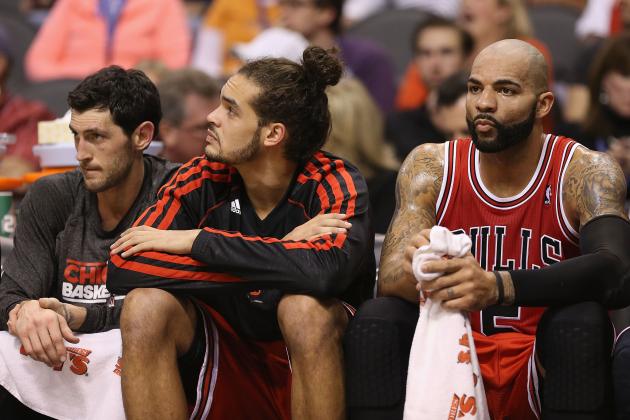 Christian Petersen/Getty Images

The Chicago Bulls have slumped out to a 5-6 record this season without Derrick Rose, the first time the team has been under .500 since Tom Thibodeau's fifth game in Chicago. Of course, we have to keep in mind that this team will not be complete until Derrick Rose returns, but it is clear that changes have to be made.
Just a few days ago, ESPN's Nick Friedell reported that Tom Thibodeau is considering changing up lineups after yet another Bulls loss on Wednesday to Houston. Remember, Thibodeau has not once changed up his healthy starting lineup since being in Chicago. His first year, he kept Keith Bogans in the starting lineup through criticism, and repeated the same thing with Richard Hamilton last season.
Since the Bulls are struggling, it may be time for a change. Here are five lineup changes that Thibodeau could make.
Begin Slideshow

»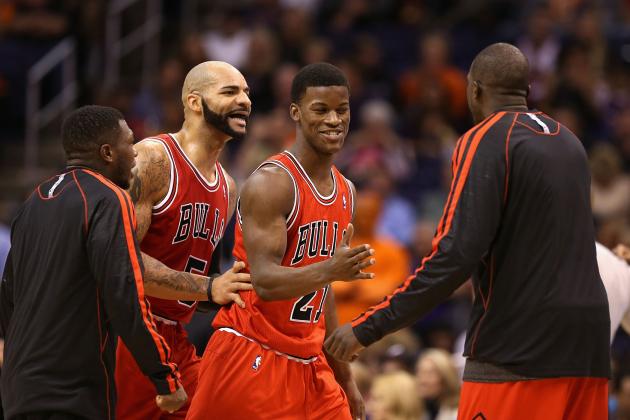 Christian Petersen/Getty Images

The Chicago Bulls have had issues on the defensive end of the floor this season. No longer are the Chicago Bulls ranked the best defense in the league; in fact, they have allowed over 100 points multiple times just in the last few games.
Outside of Luol Deng, the Bulls' best wing defender is Jimmy Butler. Butler is a guy with limited offensive potential, but he is a guy who hustles hard and rebounds the ball well. He also has the athleticism and size to be an elite defender.
On the other end, Richard Hamilton is playing about as well as we could have hoped this season, sans three point shooting. Since you are not getting much floor spacing from Hamilton anyway, it doesn't hurt you as much to swap him for Butler. In addition, the second unit struggles to score at times, and Hamilton could help right the ship in the second quarter of games.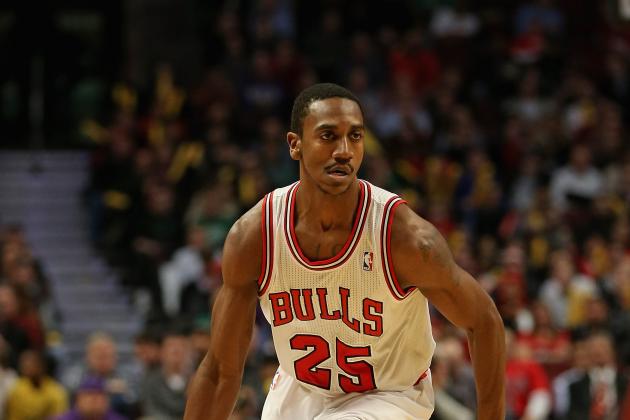 Jonathan Daniel/Getty Images

The reality of the situation is that this season will continue to be a lost cause until Derrick Rose comes back from injury. Because of that, I believe it's time to give Teague at least a few minutes on the court.
So far this season, there has been only one game where Teague got significant minutes, and that was against Boston. In that game, he came in and was able to be a great on-ball defender on Rajon Rondo in spurts. As well, he looked like he was growing more and more comfortable with handling the ball and running the offense.
The biggest issue that Teague had in that game was that he was so tentative to start things out. He is an athletic freak, but you couldn't even tell that throughout most of his time on offense because he was so reeled in. Twice he truly attacked the basket and surprised me with his first step and burst, but he only took those chances after seeing he would get playing time.
Teague is absolutely a work in progress, but he has the physical tools to be a great player in this league. Coach Thibodeau should give him some playing time so he can build up his confidence and perhaps start to make an impact in games. Especially while you only have Kirk Hinrich starting, what's the worst that could happen?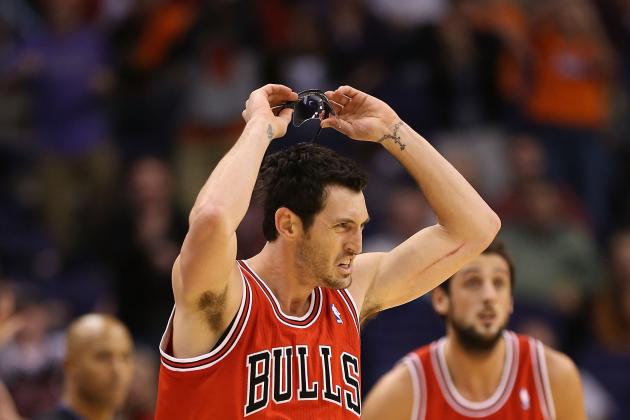 Christian Petersen/Getty Images

So far this season, Kirk Hinrich has looked awful in his limited games. He's averaging under 5 points per game, barely shooting 30 percent from the field, under 25 percent from three and 47 percent from the free-throw line...The numbers look awful. His defense has been solid and his assist numbers are good, but can you start a guy who just can't score?
On the other hand, Nate Robinson has been fantastic for this Bulls team. He's averaging 13 points, over four assists, 46 percent from the field, 35 percent from three, a steal a game and is playing less minutes than Hinrich a game.
Hinrich has shown that he can run the offense well, and that could be valuable in the second unit, when you need more structure to create points. However in this starting lineup, you need guys who can shoot and score, and Robinson fills that role much better than Hinrich.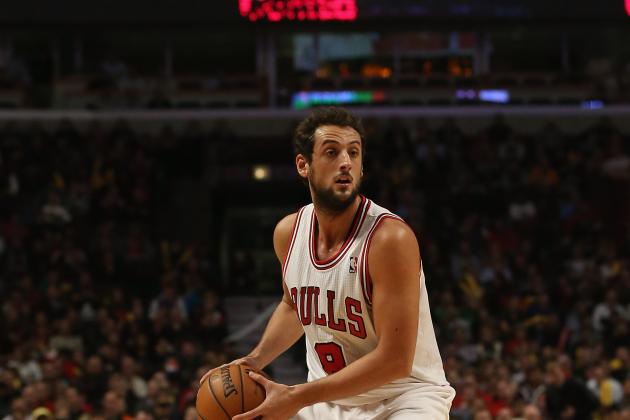 Jonathan Daniel/Getty Images

The Bulls so far this season are second-to-last in the NBA in overall three-point percentage. Going down the list, Hamilton, Deng and Hinrich were relied on to be three of your top four three-point shooters from the field. So far, they are shooting a combined 25 percent from beyond the arc. Thank goodness, Nate Robinson has stepped in out of nowhere and hit over 35 percent of his threes.
The one other guy who is shooting threes well is Marco Belinelli. So far, he has not been quite as good as we had hoped, but he is knocking down threes at a 39-percent clip. At the end of games, the Bulls are struggling to score, and adding Belinelli to space the floor could do some good.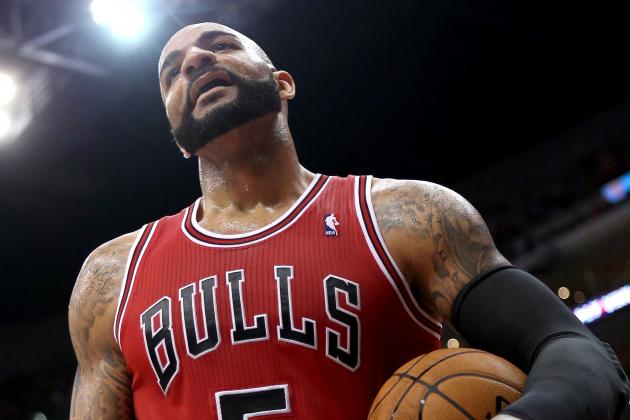 Stephen Dunn/Getty Images

This has been perhaps the most talked-about move ever since Carlos Boozer arrived in Chicago. Boozer is the second-highest paid player on the roster, behind only Derrick Rose, and right now is the fourth-best player on the roster at best.
I would not make this move to spite Boozer, but I think this move could work out better in the long run for both Boozer and the Bulls organization.
The Bulls have slipped in defensive rankings after being at or near the top of the league in every category last year. I believe that this could be stopped to a certain extent by Taj Gibson coming into the starting lineup and playing his usual brand of tough defense, but against starters.
Boozer on the other hand, has struggled against starting bigs this season offensively and gets dominated defensively. Despite that, he is one of the few players on this roster who has the ability to create his own shot. I believe Boozer could maximize his productivity if he were to have the second-unit offense run through him rather than continuing to struggle against starters.