Yes, UFC light heavyweight champion Jon Jones is currently filming Season 17 of The Ultimate Fighter opposite Chael Sonnen and yes, Jones will defend his title against Sonnen at the Prudential Center in Newark, N.J. on April 27. However, if you're wondering if Jones thinks that title shot is warranted, the answer to that question is a resounding no.
Jones has been mostly silent about the title fight against Sonnen since it was announced that the two would coach opposite each other on TUF and eventually meet in a title fight, but he recently broke that silence and spoke to MMAJunkie.com where Jones said:
"Chael definitely doesn't deserve to fight me, and everybody sees that. As long as people see that at the end of the day, I'm happy with that. But at the same time, a lot of people have said, 'Why not be the guy to shut him up once and for all? Why not be the guy to make his words very irrelevant once and for all – put a stamp on what Anderson did to him.' That's what I'm going to try to do"
Jones' point does seem valid; it's hard to justify giving a fighter a title shot to a fighter that last competed at 205 pounds for the UFC back in Oct. 2005. A fight Sonnen lost to Renato "Babalu" Sobral via, you guessed it, submission to a triangle choke, but Sonnen is getting that shot, deserved or not.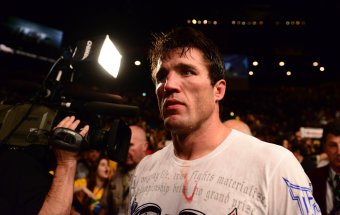 Mark J. Rebilas-US PRESSWIRE
UFC president Dana White justified Sonnen's title shot by saying Sonnen was "the only one who stepped up to fight Jon Jones," something that was later refuted by Dan Henderson, who said he was never contacted to coach opposite Jones on TUF and that he would have accepted the invitation.
At this point, to borrow an often used phrase from White, "it is what it is", and the fight, barring any pesky injuries, is Jones versus Sonnen. Yes, people do want to see the fight, but as far as Sonnen deserving that shot, you'd be hard pressed to convince me that the shot is deserved. Then again, this is the fight business, and as a business decision, this fight makes a lot of sense.
Matching Jones up with Sonnen on a season of TUF will hopefully revive the moribund reality show, while at the same time providing a weekly build up to the fight. It's money in the bank for the UFC and I can guarantee you that it will be one of the most watched pay-per-view cards of 2013.
For those screaming about Sonnen's title shot not being deserved, I hope you share the same indignation about the possible superfight between Anderson Silva and Georges St-Pierre; a fight that will put two divisions and several highly-rated contenders on ice for a prolonged amount of time.
Sometimes businesses make decisions based on the bottom line, such is the case here. You don't have to agree with it and you don't even have to buy the pay-per-view, but you know that you will.