Bills vs. Colts: 10 Keys to the Game for Buffalo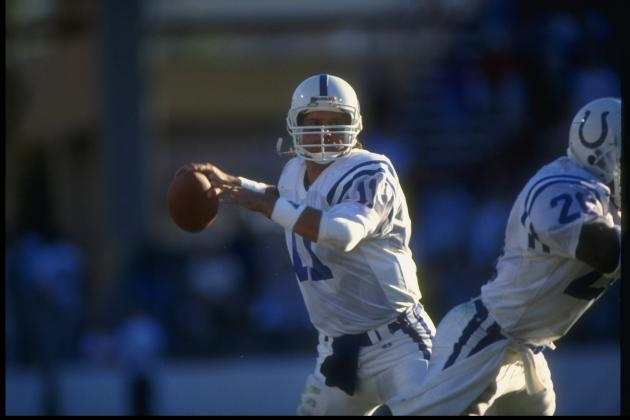 Stephen Dunn/Getty Images
Remember this guy? Bruce Smith does.
Sometimes, a team's record says everything about that team's relative strength, and at other times, it can be deceiving.
Out of the Bills' six losses, two have been blowouts suffered against a superior opponent (New England 1 and San Francisco), two have been relatively close losses to a superior opponent on the road (Houston and New England 2), and there's been one close loss at home to a bad opponent (Tennessee), and one blowout on the road to a bad team (New York Jets). Am I the only one who still can't believe that that Jets team from Week 1 has fallen so low?
For the Bills' Week 12 opponent, the upstart Indianapolis Colts, their four losses have consisted of two blowout losses to better teams on the road (Chicago and New England), one loss to the unpredictable (let's just use the adjective bad again, just for fun) New York Jets on the road and an inexplicable home loss to the NFL's 2012 version of what the Colts were in 2011, the league's worst Jacksonville Jaguars.
The Colts have beaten some pretty good teams in the Packers and the Vikings, while the Bills have yet to beat a team with a winning record in 2012. The Colts might be on the road to a playoff berth in a weak AFC, but their two looming games with the Houston Texans will give the Bills a chance to catch them if the Bills can pull off something they've needed to accomplish for years: a signature road win.
You know, what the game in Foxborough would have been if wide receiver T.J. Graham has run the right route in Week 10.
It's amazing how the NFL schedule creates the perfect matchups at times. This Week 12 showdown between the former divisional foes (mental image: Jeff George cowering under Bruce Smith's wingspan) shows two teams at a crossroads to a possible, if unlikely, playoff run. If the Bills are going to make the dance, they'll need to catch the 6-4 Colts. If they win, they'll be within a game of Colts and entering the softest part of their schedule. If they lose, well, then they're pretty much toast.
Begin Slideshow

»
Jared Wickerham/Getty Images
Luck was born a year before the Colts drafted Jeff George.
Yeah, I get it, Andrew Luck is really really good yadda yadda yadda, and he's not your typical rookie quarterback blah blah blah, and he's going to be a real stud. It's one of those patently unfair things that happens in sports like when the Pittsburgh Penguins won Sidney Crosby a year after drafting Evgeni Malkin. Buffalo fans are just going to hope against hope that Ryan Fitzpatrick can out-duel Luck to spare them at least one day of not wishing their lot in sports life wasn't entirely different—I get all that.
I'm just asking for one day where the Colts' first overall pick quarterback looks like a Colts' first overall pick quarterback from years past, and I'm not talking about Peyton Manning. Here's to Andrew Luck looking confused, helpless and slow all day against the Bills' suddenly rejuvenated pass rushing force of Mario Williams, Kyle Moore, Marcell Dareus and Kyle Williams.
Let's see a game where the front four really gets done what we all expected them to get done this year and get after Andrew Luck.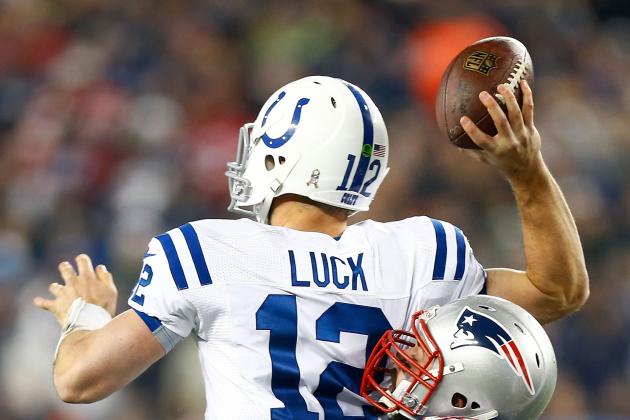 Jared Wickerham/Getty Images
Luck still gets this throw off
In the second quarter of the Colts' game against the New England Patriots, before the game completely got away from Colts, Andrew Luck made an amazing first-down throw down the middle of the field. What was amazing about it was that Luck was hit as his pocket collapsed and then not only managed to wriggle free and step forward, but was able to complete an accurate throw with the Patriots defensive end, Rob Ninkovich's, hand pulling on his throwing shoulder.
As impressive as the throw was to watch in replay, it became apparent that had Ninkovich targeted Luck's throwing hand instead (during the slow-mo replay), he would have forced a fumble. It's true that Luck isn't a typical rookie quarterback, but it's also true that he's still prone to rookie mistakes (not unlike the Bills' seasoned vet, Ryan Fitzpatrick, but that's another story).
As Luck was stepping forward and around Ninkovich, he held the ball up and cocked in his throwing hand. A more astute defensive end would have forced a fumble.
And that's exactly what Ninkovich did on a third-down play in the third quarter.
"On that one, I was able to give him a little bull rush and grab his arm, pull his arm up and get underneath him," Ninkovich told the Boston Herald. "Didn't really see the ball until it was at my feet. ... I just fell down and saw the ball. I was like, 'Hey.' And I grabbed it."
In 10 games, Luck has 12 interceptions and eight fumbles so far this season. He'll learn to take care of the ball better in the future, but until then, the Bills need to force the issue.
To his credit, Luck, not unlike Ben Roethlisberger, tries to make a play even when the play has broken down. And, not unlike Roethlisberger, Luck can put the ball on the turf.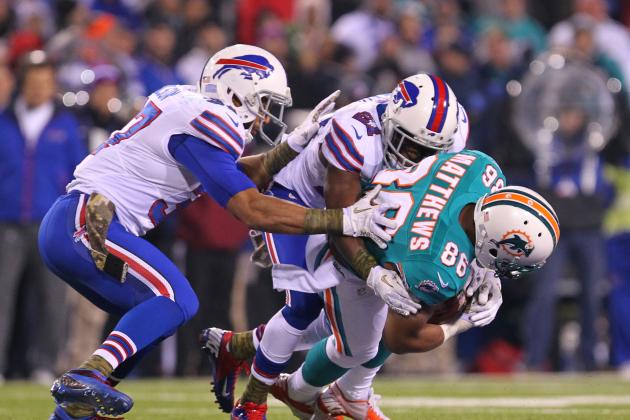 Timothy T. Ludwig-US PRESSWIRE

The Bills defense has been playing better since their bye week, and a big part of that has been the play of their standout rookie cornerback Stephon Gilmore. With Aaron Williams hurt, the Bills made an adjustment in letting Gilmore cover the opposition's best receiver instead of letting backs just cover "their" side of the field. Seems like a no-brainer, letting your best guy cover their best guy, but Bills coaches and no-brainers aren't the best of friends historically.
Quieter than the 2012 first-round pick's play has been the suddenly solid play of 2008's first-round pick, Leodis McKelvin. Bills fans have watched McKelvin over the years look clueless in pass coverage, with a tendency to get burned and when he's in position being unable to make a play on a ball in the air.
It seems being one of the league's most dangerous return men has given McKelvin the confidence boost necessary to stay in the game mentally. Lord knows he's stuffed to the gills with natural athletic ability and speed.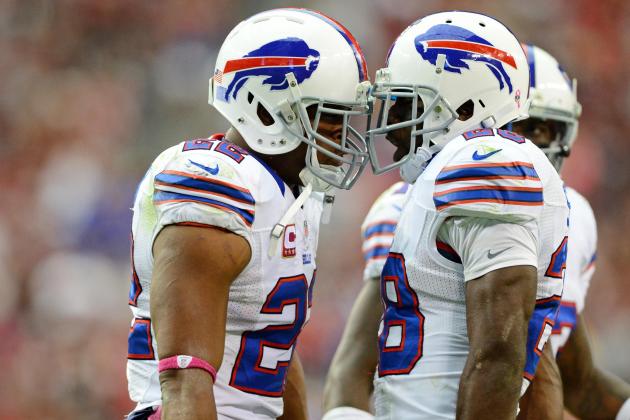 Mark J. Rebilas-US PRESSWIRE

Against Miami, the Bills' dynamic running back, C.J. Spiller, was often spelled by Tashard Choice, causing near panic on Twitter every down Spiller remained on the sideline longer than seemed necessary.
During Spiller's postgame interview , he admitted he came out when he was tired and absolved Gailey of much of the ire directed towards him from the tweeters.
There's no question that Fred Jackson is a much better choice at tailback than Tashard to spell Spiller. Coach Gailey has come out and said what Bills fans and pundits alike have been clamoring for all season: that Spiller start and receive the bulk of the carries.
Gailey needs to find the right balance for Bills running game, which should be put in the position to completely control this game.
Good news on that front from Football Outsiders: The Colts have the worst run defense in the NFL too.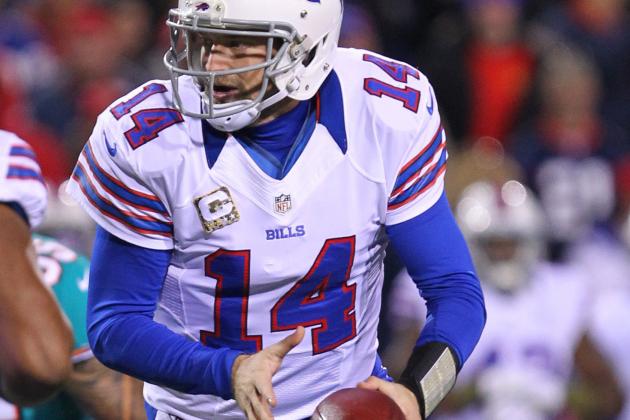 Timothy T. Ludwig-US PRESSWIRE
Look at Fitz just manhandle that ball!
Am the only one who has heard this cliché "take care of the football" so many times that I start imagining a quarterback feeding the football expensive meals and tucking it in at night under down comforters?
Fitzpatrick has gotten better with his interception habit in the last four games, but he's also seen an uptick in his fumbles.
Whether they be fumbles or interceptions, Fitzpatrick needs to wear soft gloves and whisper sweet nothings into his pigskin this weekend if he has hopes of a playoff run. The next six games could very well be Fitzpatrick's final chance to prove himself as a starting quarterback.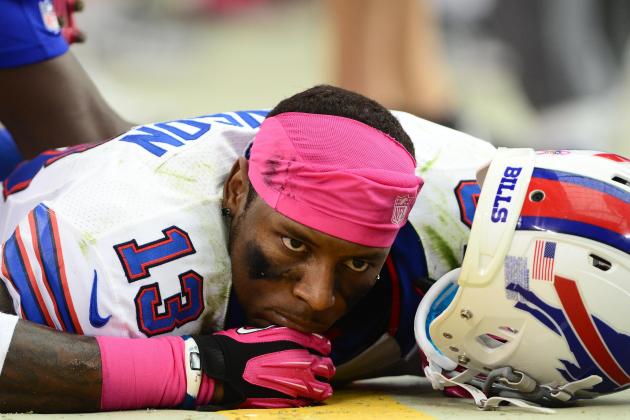 Mark J. Rebilas-US PRESSWIRE

As the weeks and games go by for the Buffalo Bills, there's a growing number of players on the team that are just a joy to watch no matter how the game is going. Stevie Johnson is near the top of that list. Receivers are a bit like fine wine, easier to appreciate after a few years of aging. Being a wide receiver in the NFL is a much more cerebral position than many realize.
A raw seventh-round draft pick doesn't become one of the best players on his team by accident. Stevie's done it with discipline (touchdown celebrations aside) and smarts. Sometimes, you have to wonder what kind of numbers the guy would put up with a better, more vertically-inclined quarterback and coach who called more plays for him in key situations.
It's crucial that Fitzpatrick develop a rhythm with his No. 1 weapon early and often.
More good news from Football Outsiders: The Colts pass defense is also rated worst in the NFL.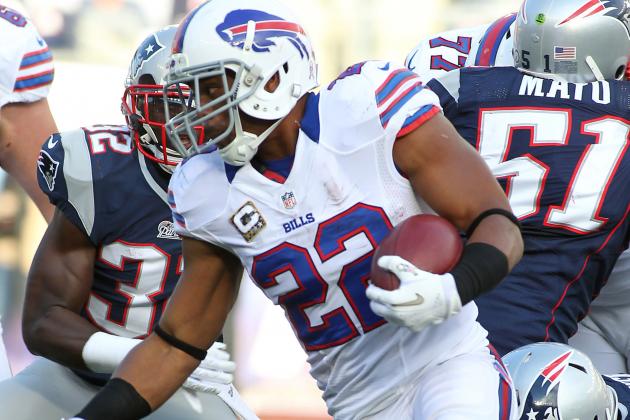 Stew Milne-US PRESSWIRE

Overall, the Bills have not been an awful third down team this year, r
anking 13
th
in the NFL
with a 39.5 percent conversion rate.
But they were lucky to win their game against the Dolphins after converting only two out of 12 third downs, many of them coming on short-yardage situations.
Similarly, the Dolphins held the Bills offense out of the end zone, forcing the Bills to attempt four field goals.
The priority for the Bills' offensive brain trust during this long off-week coming off the Thursday night game has to be regaining their relative proficiency on third down and in the red zone. Having Fred Jackson back in the lineup will have to help the Bills in both regards.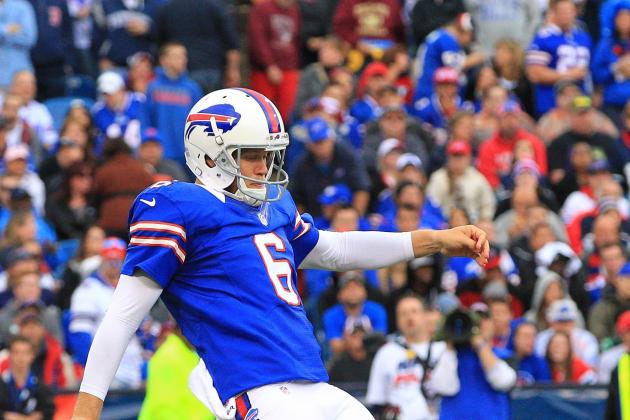 Kevin Hoffman-US PRESSWIRE

It might be asking too much to predict some more action from Leodis McKelvin in the punt return game in this game, given that Football Outsiders has the Bills' punt return unit ranked as No. 1 in the NFL, and the Colts are generally a weaker special teams unit.
The spreadsheet of special teams at Football Outsiders, however, reflects that the Colts do an average job of covering kicks and punts, but are below-average in their return and field goal kicking game.
Give the Bills a solid advantage over the Colts on special teams for this game, especially considering the Bills are catching something of a break given the Colts' weak return game and Rian Lindell's weak kickoff leg.
Another thing to watch for is the potential for defensive tackle Alex Carrington getting a third blocked field goal this season.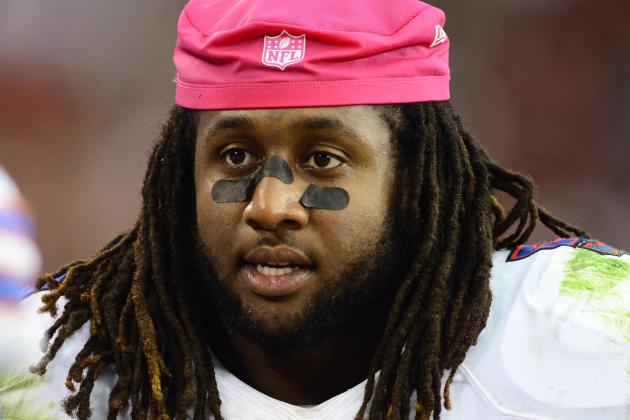 Mark J. Rebilas-US PRESSWIRE

Sheppard's been something of the goat this season for the Bills defense. The apparent weak link in a porous run defense that has looked routinely out of position and flat-out invisible at times.
In recent weeks, however, something has changed: I've noticed him.
In his second year of action, Sheppard may be finally catching on enough to the NFL game to not only contribute, but make a real impact in the middle of the field. With improved defensive line play, especially from defensive end Kyle Moore, Sheppard should be in the position to make a difference against the Colts.
If the Bills make an improbable run at the playoffs, it'll take contributions from everywhere on the roster.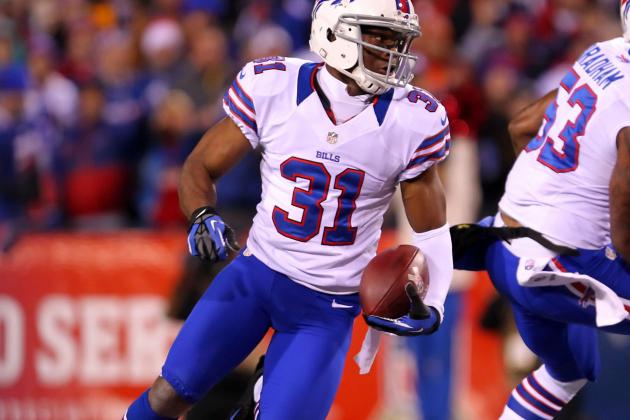 Timothy T. Ludwig-US PRESSWIRE

The Bills' close losses this season against New England and Tennessee were marked by an absence of big plays late when the game's fate hangs in the balance. And two of their close victories against Arizona and Miami were marked by huge interceptions by Jairus Byrd.
The Bills need someone besides Jairus Byrd and punter Shawn Powell, who pinned the Dolphins inside the 1-yard line in the Bills' last game, to come up big in the fourth quarter.
It's been a full season of games since we've seen Fitzpatrick complete a winning fourth-quarter drive. And the defense and special teams are full of potential playmakers.