Quarterback Options for the Jacksonville Jaguars in 2013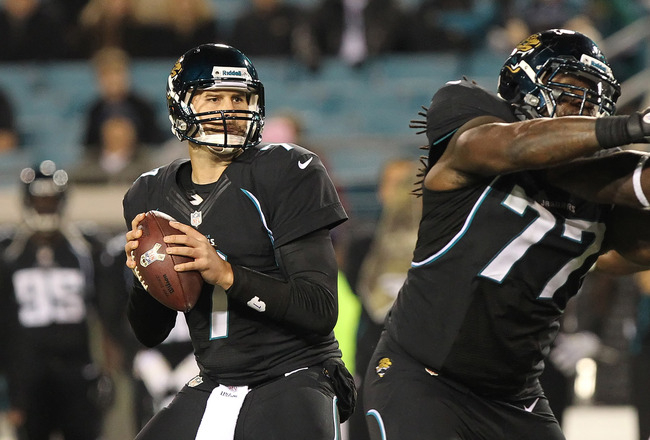 Kim Klement-US PRESSWIRE
The future of Blaine Gabbert's career in a Jacksonville Jaguars uniform was put into question Wednesday when head coach Mike Mularkey announced the second-year veteran would be placed on injured reserve for the remainder of the 2012 season.
While the ball has been put in the hands of Chad Henne for the next six games this season, it will be up to the coaching staff and management to decide if the former Miami starter is the future of this team or if Gabbert gets another chance to become this team's leader.
A lot of it also depends on how well Henne performs against the likes of New England and Tennessee.
The Jaguars could also use this time to evaluate the position and go in a different direction next season. Again, a lot depends on what happens during the rest of the season.
Here are some options the team could be looking at for 2013, either by trade, the draft or free agency. Some are just part of the status quo.
Chad Henne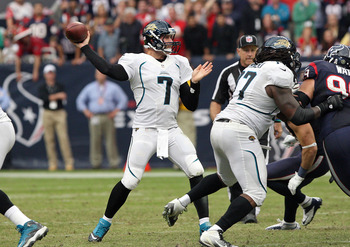 Troy Taormina-US PRESSWIRE
The obvious choice and maybe the easiest one.
Remember, Jacksonville is not a team that hasn't seen controversy in the past. Mark Brunell was replaced by Byron Leftwich. Leftwich was replaced by David Garrard. Garrard was replaced by Luke McCown and eventually Blaine Gabbert.
While these are not the same circumstances, there is a precedent set.
If Henne, who threw for 354 yards last week, is solid in the final six games, he will be the starter when the team goes to camp in 2013.
Blaine Gabbert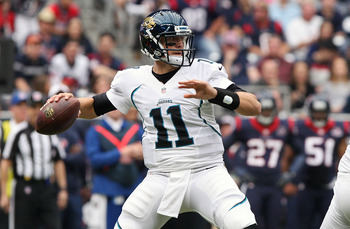 Troy Taormina-US PRESSWIRE
Although he has shown little to prove he was worthy of the 10th pick in the 2011 draft, I still have hope for this kid.
Something tells me he can be a good NFL starter. I never said solid.
Gabbert has a cannon for an arm, but he seems to be missing some key components and hasn't found the right formula yet. This season, as my father said, it cannot be blamed on his rookie status, a lame duck coaching staff or a lockout that prohibited his development.
Injuries have hurt him, but with that said, it should be asked, "Why was Henne so much more effective last week against a vaunted Texans defense?"
If Gabbert comes back from the torn labrum and the forearm injury that put him on the shelf, he will compete for the starting spot.
Geno Smith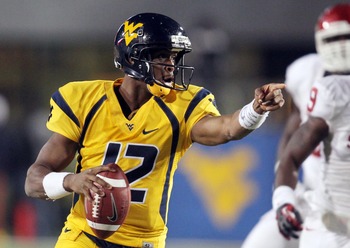 Charles LeClaire-US PRESSWIRE
The West Virginia quarterback lit up college football with gaudy stats in the first half of the season and then seemed to cool off. He is not the quick answer everyone wants him to be.
Drafting Smith means this team has given up on Blaine Gabbert and will take another two seasons to see if Smith is the real deal.
While his skill may remind some of a lighter version of RGIII or Cam Newton, this is not the person you want to burden with the type of pressure of the Jaguars are facing.
Mike Vick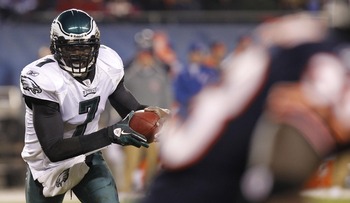 Mike DiNovo-US PRESSWIRE
As odd as this sounds, it could happen. Just hear me out.
Vick has not had the best of seasons, was rumored to be benched and then got injured. This gave way to Nick Foles, a rookie from Arizona.
Andy Reid appears to be on life support in Philadelphia and will be fired at the end of the season. If this happens, look for Vick to possibly get released as well.
Aside from the media storm that Vick represents and the hassle for his off-field transgressions, there may not be another quarterback who can bring excitement to this team.
Expect for one...
Tim Tebow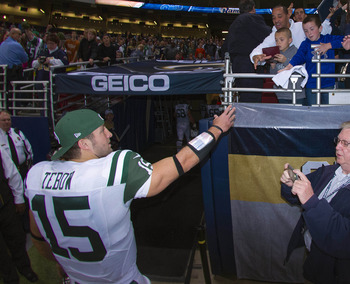 Scott Rovak-US PRESSWIRE
The team tried to trade for him at least once, and he would bring fans in droves to the stadium.
Having Tebow at home under center would be a really good thing. But...
While the media darling or hound (whichever side of the line you stand) would pack seats, make the Jaguars a prominent fixture in the NFL media and bring some life to this team, he is also a nightmare for coaches because he is the most erratic passer in the league.
If I had to choose between Gabbert and Tebow, I am going with Gabbert.
Jason Campbell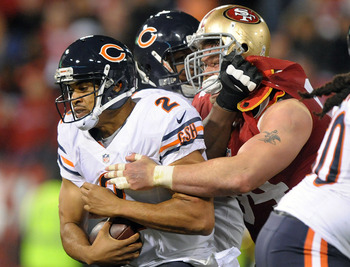 Kirby Lee-US PRESSWIRE
Playing against the 49ers this past week, Campbell did not have his best game. I still think he can play and is a better option than David Garrard was when he was healthy.
The Bears are also a team that needs Jay Cutler to be healthy because he and Brandon Marshall are such a dynamic duo on the field. Having Campbell on the bench is good, but he is a decent starter and could prove to be a decent trade for someone like the Jaguars.
Matt Flynn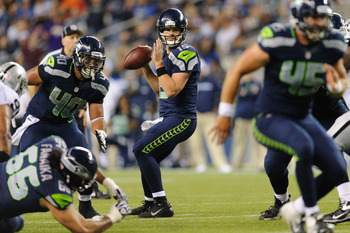 Steven Bisig-US PRESSWIRE
The Seattle Seahawks paid millions for this guy after one game in Green Bay where he lit up a scoreboard.
I remember the Buffalo Bills trading their first-round draft pick in 1998 for Rob Johnson and the starter turned out to be Fred Taylor.
It was based on three games for Johnson.
Flynn can still play and would be a good fit in Jacksonville. My only concern is that if a rookie third-round pick can beat him out, what does that say for his ability and is he worth a gamble in Jacksonville?
Keep Reading

Jacksonville Jaguars: Like this team?