Boston Celtics: 3 Reasons to Not Be Discouraged by C's Sluggish Start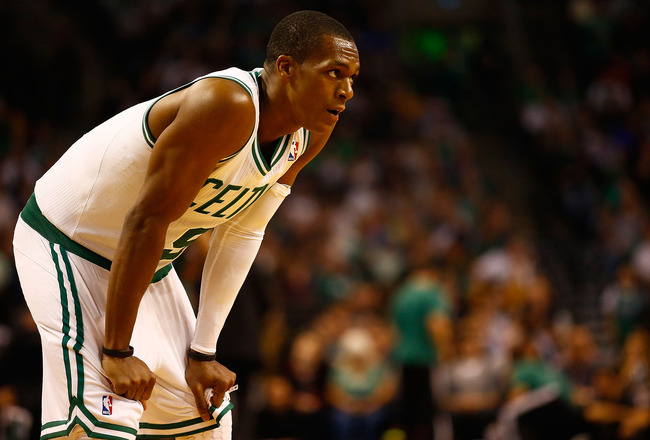 Rondo has been one of the few bright spots for the C's early on
Jared Wickerham/Getty Images
There's no sidestepping the obvious: The Boston Celtics' much-anticipated 2012 campaign is off to one disappointing start. However, there are early indications that the team is ready to begin laying the foundation for another playoff run.
In fact, the Celtics could even be considered perennial contenders for the NBA title this season.
During the preseason, fan expectations elevated to an unexpected high following an improbable run to the Eastern Conference Finals last season paired with several key offseason acquisitions.
On paper, the team looked good. Really good. It led many fans to believe that this was the season Boston fought its way back into the league's elite.
However, a 6-6 start has critics and analysts alike cracking jokes at the expense of the "foolish" optimism shared by the Celtics' faithful.
Boston's early season play hasn't done much to help their supporters' cause.
While the team is 4-1 against opponents who are below .500, the Celtics have struggled against opponents above .500, registering a 2-5 mark.
A lot of that can be credited to porous defending.
According to Synergy Sports numbers, the Celtics rank No. 26 in overall defense, No. 30 in transitional defense and No. 16 in half-court sets. As it stands, Boston has allowed opponents 99.3 points per game—an increase from the 89.3 per game they allowed last season.
Furthermore, the Celtics rank No. 27 in opposing field goal percent (46.3) and No. 29 in opposing three-point field goal percent (38.1).
To put it harshly: Jack Taylor could've easily gone for 140 points on Boston's defense right now.
But behind all the shortcomings, alarming stats and negative press, is a silver lining of hope. Hope that the Celtics can make one last run to glory during the "Big 3" era.
Here are three reasons to expect a Boston turnaround this season.
1. Rajon Rondo's Leadership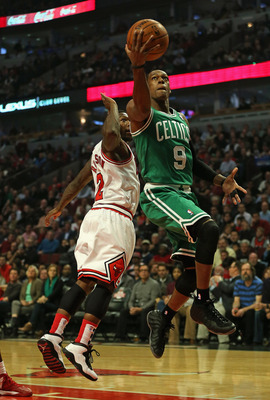 Rondo has taken his game to new heights this season
Jonathan Daniel/Getty Images
What's a ship without its Captain? Likewise, what are the Celtics without Rajon Rondo?
In a year where it was almost imperative that Rondo played at an elite level, he has certainly more than stepped up to the challenge.
In fact, the 26-year-old is off to one of the best starts in his six-year NBA career.
Through 12 games, Rondo is averaging 14.0 points per game, 13.3 assists per game and shooting 52.8 percent from the floor in 38.3 minutes per game. All four numbers currently serve as career highs.
The former Kentucky product tops the league in distribution, leading second-place Chris Paul by 3.4 assists per game. His nine double-doubles also has him tied for second with LeBron James, only trailing Zach Randolph's 10. Furthermore, among point guards, Rondo ranks No. 1 in both field goal percentage and minutes per game.
His play has single-handedly kept Boston in games this season.
Take Wednesday's matchup with the 9-3 San Antonio Spurs for example. Although the Spurs won by a 12-point margin, Rondo's 22 points and 15 assists went a long way in keeping the Celtics within striking distance all game.
According to Basketball-Reference.com, Boston is 10.5 points per 100 possessions better when Rondo is on the court. On defense, the Celtics are 8.7 points per 100 possessions worse defensively when Rondo sits. Coincidence? I think not.
Many will point to the point guard's improved shooting.
After watching his field goal percentage sink to a near-career worst of 44.8 percent last season, Rondo has made massive strides in the right direction. Now, he's set to improve on a career-best mark of 50.8 percent he had back during the 2009-10 season.
Rondo's 31.3 percent shooting from three-point range is also currently a career-best mark. On the year, he has capitalized on 5-of-16 attempts from beyond the arc.
Never a threat to pull up in years past, defenses will have to adjust to the new playing style of Boston's front man.
If they don't, then they better be ready for a long night.
2. Jason Terry Becoming the Solution at Shooting Guard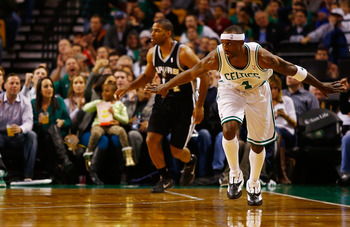 Terry has more than stepped up in his new role this season
Jared Wickerham/Getty Images
When head coach Doc Rivers first contacted Jason Terry about a possible move to the Celtics, the assumption was that he would serve as a spark plug for a bench that finished second-worst in the league last season.
With 12 games into the season, Terry has now started seven games at shooting guard.
It's funny how things don't always go according to plan.
Prior to the season, newly acquired Courtney Lee was supposed to provide Boston with a solution at shooting guard until Avery Bradley fully recovered from a shoulder injury. Instead, the 27-year-old has been nothing short of a flop thus far.
Lee is currently averaging 5.3 points per game and shooting only 22.2 percent from three-point range. Both numbers serve as career lows for the four-year guard.
Rivers had seen enough and switched out Lee for Terry's hot hand.
In five games on the bench Terry had been averaging 11.0 points per game, shot 46.5 percent from the field and 37.5 percent from three-point range. In seven games as the starter, the 35-year-old is averaging 11.1 points per game, shooting 52.0 percent from the field and 40.0 percent from three-point range.
The move is certainly paying off for the Celtics.
It also poses a dilemma for Rivers when Bradley—who's weeks away from a return—finally suits back up in a Boston uniform.
In 28 games as a starter last season, Bradley averaged 12.3 points per game, shot 50.4 percent from the floor and 46.5 percent from three-point range. In fact, over the Celtics' final 19 regular-season games, the 21-year-old averaged the most minutes per game on the team, while accumulating the third-best plus-minus (94) during that span.
With Terry being 14 years senior to Bradley, it's likely that the 13-year veteran will more than likely get shown the bench when the youngster returns. However, that doesn't take away from how much Terry has contributed to the team this season.
Coming off the bench, his outside shooting may prove to be even more beneficial to Boston.
Now, isn't that a scary thought for opposing defenses?
3. Kevin Garnett's Impact on the Floor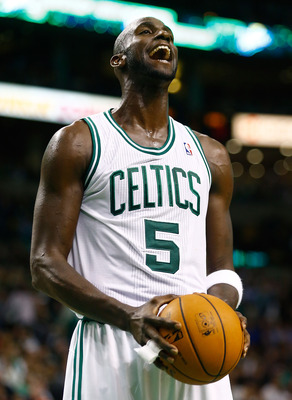 Garnett has remained a strong factor towards the C's success this season
Jared Wickerham/Getty Images
Old. Washed up. Past his prime.
These were all words used to describe Kevin Garnett leading up to last season's playoffs.
However, one of his best postseason performances—where he averaged 19.2 points per game, 10.4 rebounds per game and shot 49.7 percent from the floor—since his days with the Minnesota Timberwolves looked set to change all that.
Instead, his accomplishments were simply branded as a fluke.
So far this season, Garnett has done a great deal to put an end to the criticism once and for all.
The 17-year veteran is currently averaging 15.0 points per game, 7.1 rebounds per game and shooting 51.0 percent from the field.
While the numbers may not look all too impressive from afar, it must be taken into consideration that Garnett has only played 28.3 minutes per game—the lowest mark in his career.
Per 48 minutes, his numbers come out to 25.4 points per game, 11.9 rebounds per game and 2.5 assists per game. It serves as his highest PPG/48 minutes average since the 2007-08 season when he led the Celtics to their first NBA title in 22 years.
But the biggest impact made on Boston this season relies on whether he's on the court or not.
According to Basketball-Reference.com, opponents shoot 53.6 percent from the field when Garnett is off the court compared to 48.0 percent when the 36-year-old is on the court. Likewise, the team has a defensive rating of 99.8 when Garnett is on the court—best in the league—and a rating of 117.6 when he is off the court—worst in the league.
Needless to say, Garnett plays a large role in whether the team is successful or not at stopping the opposition.
This continued production, and the vital leadership he provides to the younger players on the team, will go a long way in determining just how far this Celtics team will go.
Also check out: Boston Celtics: 3 Biggest Issues Facing C's After Early Season Returns
You can follow Sebastian on Twitter at @SP7988
Keep Reading

Boston Celtics: Like this team?