Cowboys vs. Redskins: Cowboys' Biggest Winners and Losers from NFL Week 12
Tom Pennington/Getty Images
Coming into today's contest against the Redskins, Cowboys quarterback Tony Romo was 5-0 on Thanksgiving. He was also Mr. November, posting a home record of 14-0.
Not anymore as the Redskins came into Dallas today and beat up on the Cowboys, 38-31. Don't let the final score fool you, Dallas was down by 25 points by halftime and looked like a team ready to throw in the towel.
Redskins quarterback Robert Griffin III was nothing short of great on this day of thanks. He threw four touchdown passes; two going for more than 50 yards, posted a rating of 132 and had 311 passing yards.
This guy, boys and girls, is not only ready for prime time, but he may be the NFL's most valuable player. He completed 20 of his 28 passes and averaged a healthy 11 yards per pass attempt.
Before I continue on with this love fest for Bobby Three Sticks, let's examine the Cowboys.
They were down by 25 at the half, committed seven penalties, couldn't get the running started, and Romo threw two costly interceptions. Not trying to sound cynical, but should this surprise anyone and is this script any different from what we've seen from this team this season?
As of right now, this Cowboys team just is not that good.
Here are the team's biggest winners and losers on the day.
WINNER: Tony Romo, QB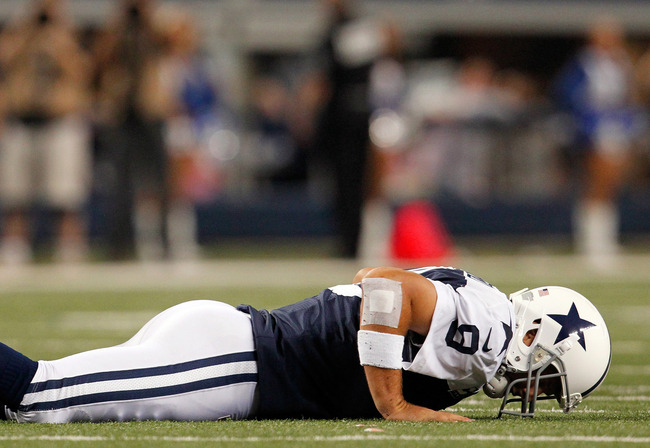 Tom Pennington/Getty Images
He threw for a career-high 441 yards on the day and three touchdowns. The stats may look great at first look, but when we delve a little deeper, we will see that Romo attempted 62 passes and had two interceptions.
He was great when he needed to be and bad when he shouldn't have been.
Griffin was the better quarterback on the day, as evidenced by the final score, but Romo's effort to bring his team back shouldn't be thrown to the bushes.
He did his best to bring Dallas back from 25 points down; it just wasn't enough in the end.
Romo's patchwork offensive line got him assaulted, and the Cowboys' false-start penalties did him no favors either.
Overall it was a bad day as the Cowboys lost. Romo still did his best for a team that seems to be treading water.
LOSER: Cowboys Running Game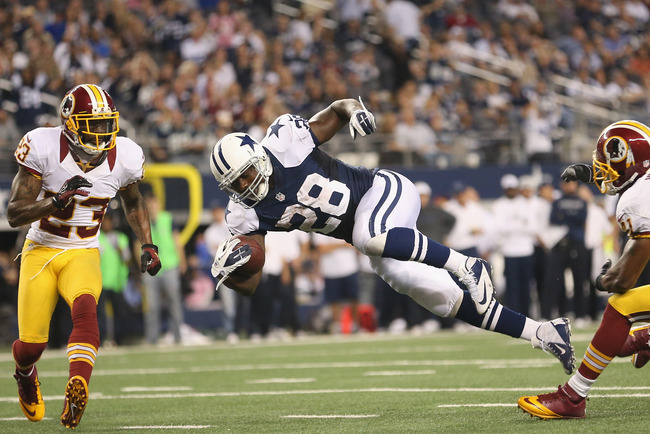 Ronald Martinez/Getty Images
I won't say that Felix Jones is a loser because he gave his all today. He only ran the ball six times because Dallas got down so early.
He scored a 10-yard touchdown in the fourth quarter where it was obvious that he was not to be denied on that scoring attempt.
Yet the Cowboys' rushing attack was non-existent. Even when they tried to run the ball, they were stuffed.
Dallas really misses DeMarco Murray and his return cannot come soon enough for a team that can't seem to find a rhythm on the ground.
WINNER: Dez Bryant, WR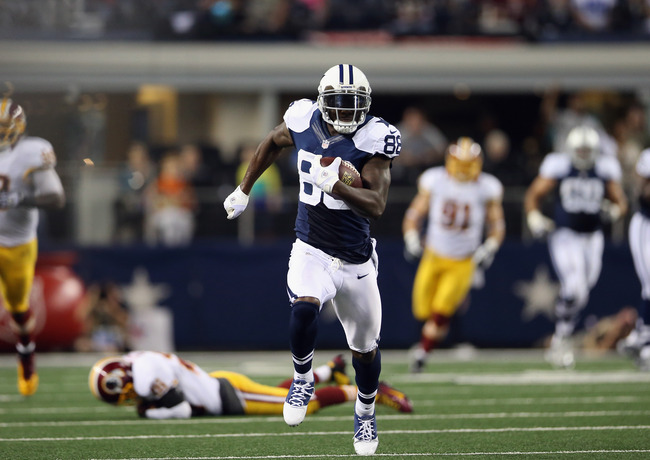 Ronald Martinez/Getty Images
For the second week in a row, Bryant was the Cowboys' offensive hero. No, the Cowboys didn't win the game, but Bryant did all that he could to help them.
He had a turnover where he fumbled the ball away to the Redskins, which led to seven points from Washington.
After that, he did all that he could to help his team. On the day, Bryant had 145 yards receiving, two touchdowns and eight catches.
Still, not enough in the end.
LOSER: Cowboys Offensive Line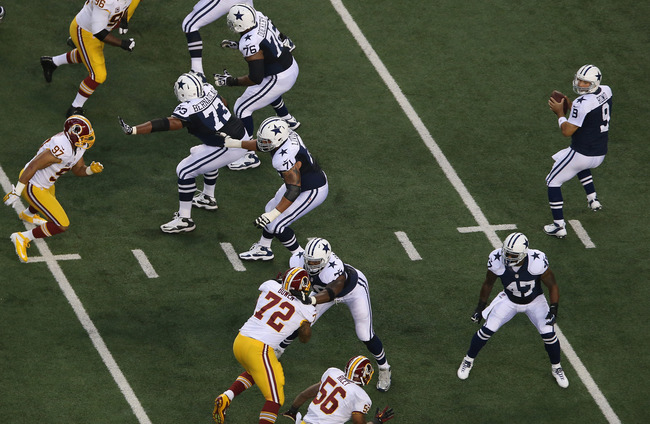 Ronald Martinez/Getty Images
Dallas is second in the league in penalties, behind the Redskins, yet it bested them in that category today.
The Cowboys have seven penalties for 45 yards. A great number of those came from the offensive line for false-start penalties. A few were called on tight end Jason Witten and receiver Dez Bryant.
In addition to the flags, the Cowboys couldn't protect Romo in the second half and did nothing to open holes for Felix Jones and Lance Dunbar.
Dallas is still without starting center Phil Costa, backup center Ryan Cook, tackle Doug Free is playing like a backup and left tackle Tyron Smith is hampered with an ankle injury.
WINNER: Anthony Spencer, LB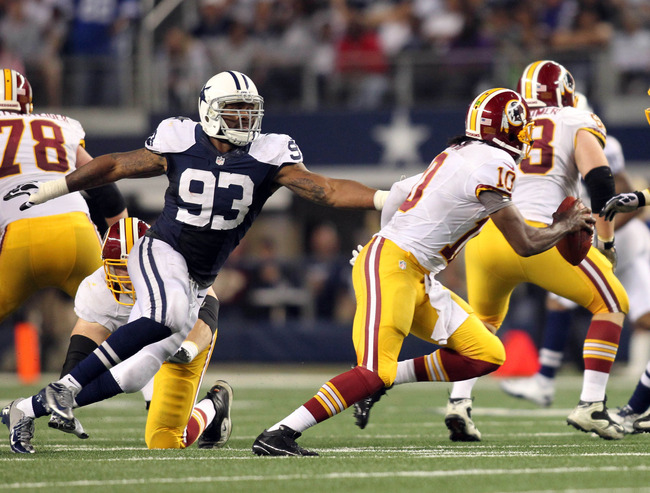 Tim Heitman-US PRESSWIRE
Spencer had two sacks for the evening, bringing his season total to 6.5. That is a career high for Spencer.
He also led the team in tackles with 10 and harassed Griffin III all day.
Spencer is proving that he's worthy of a long-term deal with his play this season.
LOSER: Cowboys Injuries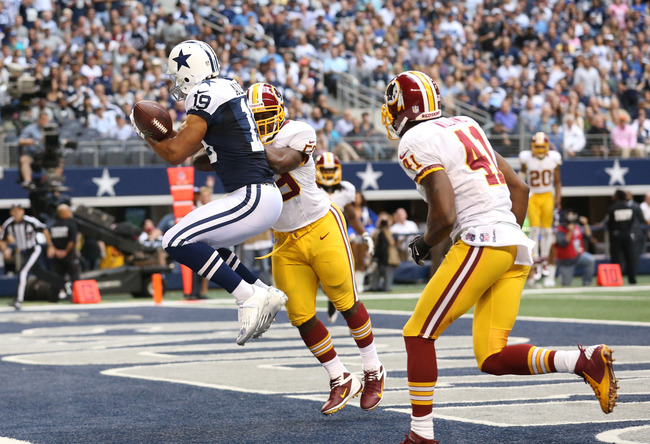 Matthew Emmons-US PRESSWIRE
Dallas lost linebacker Bruce Carter to an elbow injury, receiver Miles Austin to a groin pull and cornerback Orlando Scandrick to a broken hand.
The infirmary continues to grow by the day. If Dallas has any hopes of a playoff push, it needs to get healthy really quickly.
WINNER: Mike Holmgren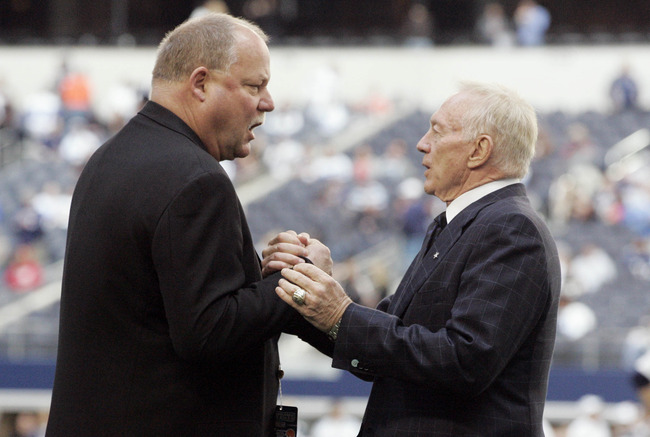 Tim Heitman-US PRESSWIRE
The more the Cowboys lose, the hotter head coach Jason Garrett's seat gets.
I am a fan of Jason Garrett and believe that he deserves another year to straighten things out in Dallas. Dallas cannot continue to lose games that it should win by having mental errors and stupid mistakes.
Holmgren reportedly wants the Cowboys job should it become available at season's end, and if Dallas misses the playoffs and has a losing record, it may very well be his to turn down.
LOSER: Cowboys Playoff Hopes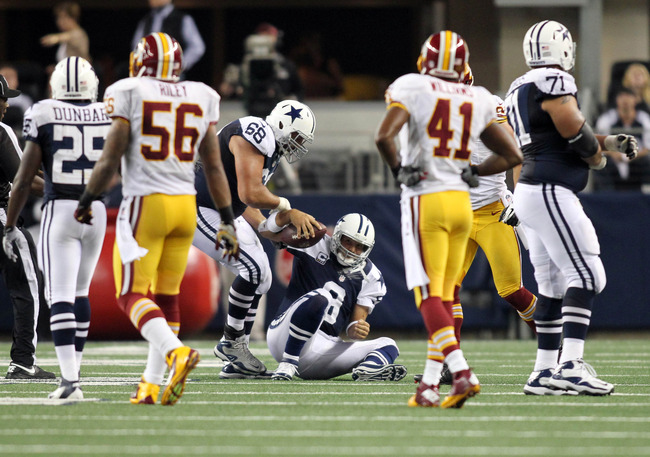 Tim Heitman-US PRESSWIRE
Dallas is now 5-6 with the loss to the Redskins.
It hosts the Eagles on December 2 and faces the Bengals on the ninth in Cincy.
Dallas needs to win every single game from here on out if it wants to make it to the playoffs. The Cowboys would have to win the division to get a spot as a Wild Card is basically out of the question.
They are behind the Packers, Bucs, Seahawks and Bears for any hopes of a Wild Card berth.
It is looking dire, Cowboys fans. Your hopes of another Super Bowl title in Big D are fading fast.
Keep Reading

Dallas Cowboys: Like this team?