TCU vs. Texas: Live Scoring, Analysis and Results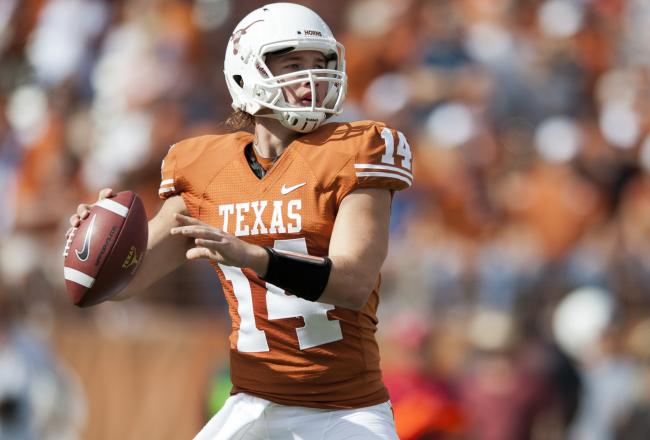 Cooper Neill/Getty Images
TCU 20, Texas 13 -- FINAL
We are final in Austin!
It was a hard fought game on both sides, but TCU's dominance was too much for Texas to overcome in a late rally.
The Horned Frogs rushed for 220 yards and forced four Texas turnovers.
Texas just did not have any fire going for them on either side of the ball. Poor decision-making on offense and an inability to stop explosive plays built too much of a hole.
Final Thoughts
-Well played, TCU. Big win for the program and for the future.
-Texas, not so much. You just got outdone in every way possible at home with the entire college football nation watching (or not watching, it doesn't really matter).
-TCU DE Devonte Fields is going to be pretty good down the road.
-May be a different game if Texas DE Alex Okafor doesn't get an early-game knock.
-Whichever way you want to look at it, Texas' 86 rushing yards is either really bad for the Horns or really good for the Frogs.
-Good for Hills to score a touchdown on senior night, but that will be as bittersweet at a score will come.
-TCU QB Trevone Boykin played a heck of a game from a mental standpoint. Always made good decisions with the ball and never looked rattled.
Enjoy the leftovers!
From the Box Score
TCU
-304 total yards
-221 rushing yards
-4.6 yards per carry
-10 passing attempts
-4-of-13 on third down
-4 turnovers (leading to 14 points)
-QB Boykin rushed for 85 yards on 11 carries, long of 36
-RB Catalon rushed for 58 yards on 10 carries, long of 41
-RB Tucker rushed for 57 yards on 14 carries, two TDs
-First offensive play went for 35 yards on a pass play.
Texas
-300 total yards
-86 rushing yards
-2.6 yards per carry
-3-of-11 on third down
-1 turnover (leading to 3 points)
-QBs combined to throw for 214 yards and three interceptions on 21-of-38 passing
-RB Gray ran for 47 yards on 15 carries
-WR Shipley caught six passes for 80 yards
-WR Davis caught six passes for 54 yards
-RB Hills scored the only touchdown of the night
-11 combined penalties for 113 yards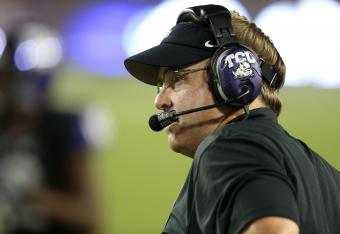 Game Thoughts
TCU
-TCU did everything right defensively, offensively and on special teams.
-Gary Patterson showed why he is still one of the most underrated coaches in the country.
-TCU's running game absolutely manhandled what Texas was showing defensively.
-Trevone Boykin did a heck of a job in simply managing the offense.
-The TCU QB led his team in rushing yards with 85.
-Three TCU players had at least 10 carries, and each one averaged better than four yards per carry.
-TCU out-toughed Texas tonight.
Texas
-What a flat performance coming off a bye week.
-The Longhorns just did not look sharp at all, and they were out-coached by a TCU team that looked like it wanted it much more.
-Texas' inability to run the ball successfully throughout the game really pinned its offense into a corner, and the bad decisions made by both quarterbacks was too much to overcome.
-Texas was outplayed, out-coached and out-executed all night.
Interception TCU
So much for Thanksgiving deja vu as McCoy threw Texas' third interception of the game.
Game, set, match.
So glad Case McCoy got a haircut.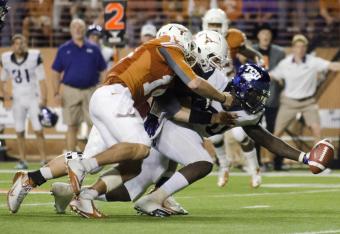 It's crunch time right now, for both teams. TCU knows it's running, as does Texas. Who wants it more?
Senior RB Jeremy Hills scores his first touchdown of the season in his final home contest of his Texas career.
Touchdown Texas
Jeremy Hills caps off quite a drive led by Case McCoy.
TCU 20, UT 13 -- 3:07 4th QTR
David Ash injured his ribs and is being evaluated by the medical staff.

— MBTexasFootball (@MBTexasFootball) November 23, 2012
First of all, credit to TCU for playing a phenomenal game so far. It's execution has been brilliant.
But even in the case that Texas was looking ahead to Kansas State, a performance like this against the Wildcats wouldn't come close to winning in Manhattan.
Texas fails to convert its fourth-and-three.
The Longhorns are 2-of-20 on third down and 1-of-2 on fourth.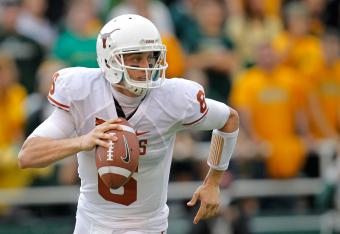 Case McCoy looking to save Texas' season for the second time in 2012.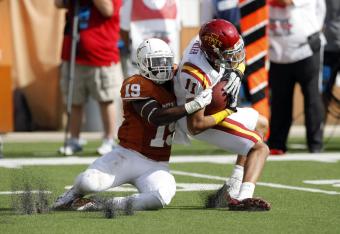 Texas LB Peter Jinkens (19) got really pumped up after delivering that hit. Impressive pursuit.
TCU can pretty much be vanilla from here on out and walk its way to a win unless Texas makes something happen quickly.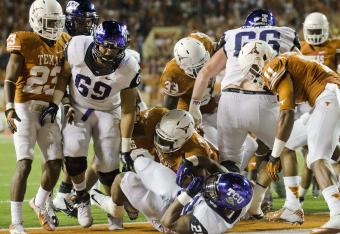 Every big play has really gone in TCU's favor, and the explosive plays have made the biggest differences.
41-YD field goal attempt: Good for TCU
The Horned Frogs extend their lead to 14 points.
TCU 20, UT 6 -- 14:40 4th QTR
Marquise Goodwin went to the locker room. If it's not a severely jammed finger, the signs point towards a broken one.
Boykin is a slippery cat.
That Hex Rally doing lots of good right now.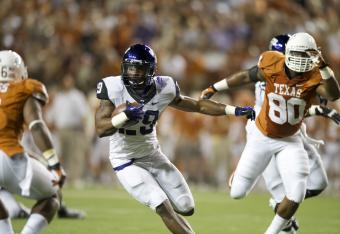 TCU has shown a great ability to hit Texas right in the mouth with its running game, and the Longhorns can't seem to keep TCU out of the redzone.
18-YD field goal attempt: Good for TCU
The Frogs march right down the field to answer with a field goal of their own.
TCU 17, UT 6 -- 3:33 3rd QTR
Adrian Phillips just got bulldozed.
This article is
What is the duplicate article?
Why is this article offensive?
Where is this article plagiarized from?
Why is this article poorly edited?

Texas Longhorns Football: Like this team?