Liverpool vs. Young Boys: 6 Things We Learned in 2-2 Draw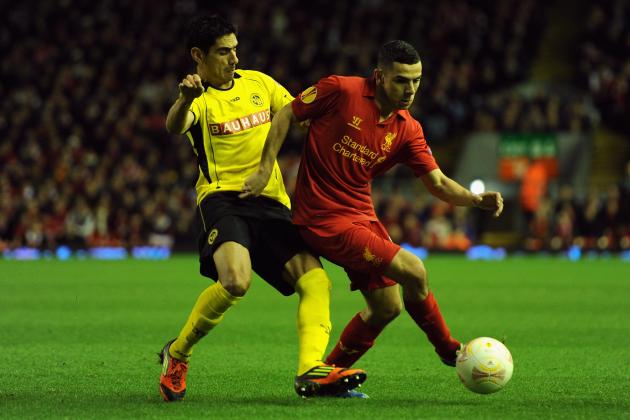 Chris Brunskill/Getty Images

Liverpool passed up a big chance to qualify for the knockout phase of the Europa League as they were held to a 2-2 draw at Anfield by BSC Young Boys.
Despite going ahead twice in the match and looking the far more dangerous side, the Reds allowed Young Boys back into the game on both occasions, though it must be noted that both strikes were fiercely and expertly hit.
Having seen Anzhi Makhachkala beat Udinese 2-0 in the earlier kickoff in Group A, Liverpool knew a win would seal their place in the top two and qualifying them a game early.
Goals from Jonjo Shelvey and Joe Cole were cancelled out though, leaving the Reds with work still to do to ensure continental football is still part of their fixture list in the new year.
Here are six things we learned from the game.
Begin Slideshow

»
Chris Brunskill/Getty Images

Liverpool boss Brendan Rodgers wants his team to be comfortable in possession and retain control of every match by playing with the ball as much as possible.
He certainly got another indication against Young Boys that the side is headed that way, but perhaps it was also this preference which cost them the game.
Leading 2-1 late in the game, holding onto a result which would have seen them through, the Reds simply needed to keep possession as high up the field as possible.
Instead they were hit on the counterattack, didn't close out the spaces in midfield well enough and suffered a late draw. Such setbacks are frustrating, but are to be expected with a young team who are still in part learning a different method of playing.
Joe Cole spoke after the game to television station ITV4:
We should have finished the game off, we make it hard for ourselves. [We're] not quite mature enough maybe, we're a developing team.
Rodgers needs to ensure that such harsh lessons are learnt from if his team are to progress from an almost team into a winning one.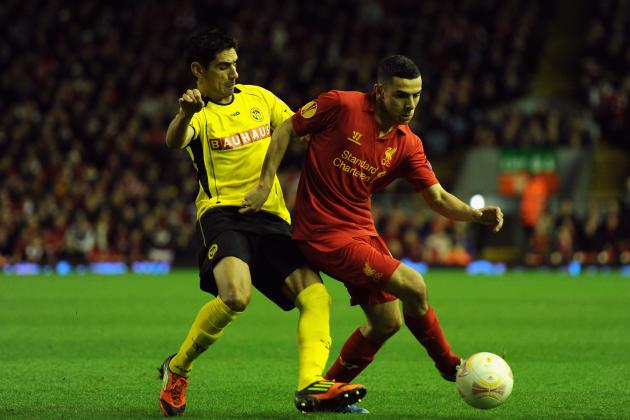 Chris Brunskill/Getty Images

Oussama Assaidi has found starts hard to come by since joining Liverpool in the summer, largely having to settle for inclusion in the Europa League.
He certainly showed what he can bring to the team though against Young Boys with a bright and creative display as he gave fans constant viewings of his pace, energy and dribbling ability.
The Young Boys defence doubled up on him several times, but his low-to-the-ground style of running and ability to quickly shift his weight and balance helped him elude the tracking runs and markers.
A final ball was just slightly lacking at times, particularly with cutbacks from inside the penalty area, but several crosses—off both feet—were there to be attacked in good areas—a positive sign.
Assaidi is certainly making a case for inclusion from the start in Premier League games.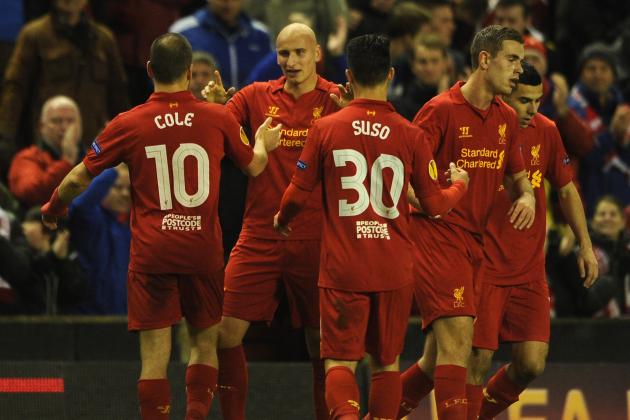 Chris Brunskill/Getty Images

Jonjo Shelvey was given the call by Brendan Rodgers to start as centre-forward for the Reds as Luis Suarez was given part of a game's rest by the manager.
Shelvey played in the false nine role which Suarez has been deployed in, asked to help construct attacks as much as get on the end of them and link with the midfield players.
Much to his credit, Shelvey performed admirably in the role for an hour, before Suarez came on and the midfielder dropped back to his more established role in the centre of the field.
Shelvey showed a repertoire of tricks, flicks and incisive passing to set up teammates for chances on goal and of course scored the opening goal of the match himself, stooping to head in a Joe Cole chipped cross from close range.
Though the No. 33 deserves credit for his part in the game, it must be noted that without the runners from midfield—Cole, Assaidi, Henderson, Suso—doing their part as well, Liverpool would have been left with a very impotent attack.
That they all came together to exploit the spaces in behind which Shelvey had vacated was great news for the manager and was extremely effective in the game at times.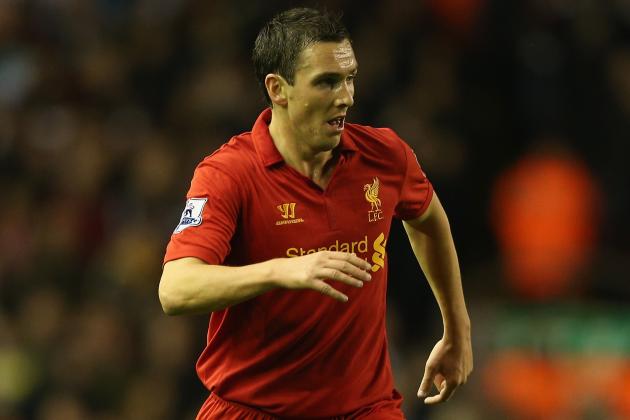 Clive Brunskill/Getty Images

Rodgers named an interesting lineup to start the game for Liverpool, and it took an even more interesting turn midway through the first half as Andre Wisdom had to be replaced.
Steven Gerrard came on in his place, with Jordan Henderson asked to fill in at right-back. With him on the right and Stewart Downing playing the whole game on the left, Liverpool had £36 million worth of midfield talent in the attacking full-back positions.
Indeed at that stage the Reds had on the field one goalkeeper, two defenders, eight midfielders and no forwards.
Rodgers has had to juggle his options carefully to ensure that as many players as possible get a chance to show their ability, but also as many as possible get a chance to rest.
That Liverpool's squad isn't deep enough is nothing new from this particular game, but it does highlight just how much work the manager still has to do to assemble a squad with balance in it as much as quality.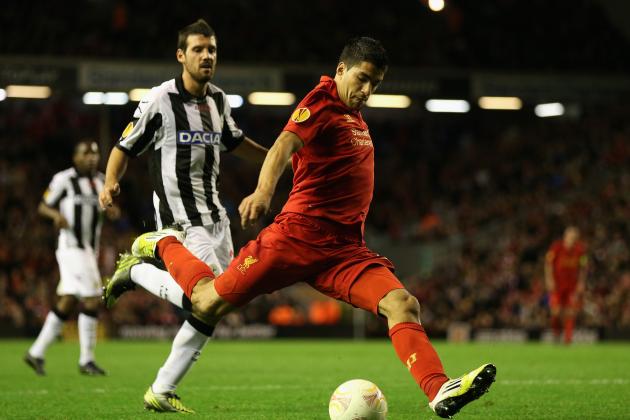 Clive Brunskill/Getty Images

It all looked so straight forward for Liverpool with five minutes to go.
A 2-1 win over Young Boys would have guaranteed their spot in the knockout stage of the Europa League, meaning the final group game against Udinese in Italy would have been rendered effectively pointless.
Brendan Rodgers would have been able to send a shadow squad for the fixture, possibly giving a couple more youngsters a chance to show their worth and rest the Premier League stars for a game.
Fast forward a few minutes and the late equaliser from the visiting team has cost Liverpool that automatic pass, and now they need to get a result in Italy.
Young Boys face Anzhi in their last game—with the Russians already having qualified—and the Reds will need to equal or better the Swiss side's result to remain ahead of them in the group.
It could all get complicated with a three-way mini-league if Anzhi and Udinese win the two games, but Brendan Rodgers' men will simply be hoping to be able to finish off what has been a tough group by winning away and claiming that second spot.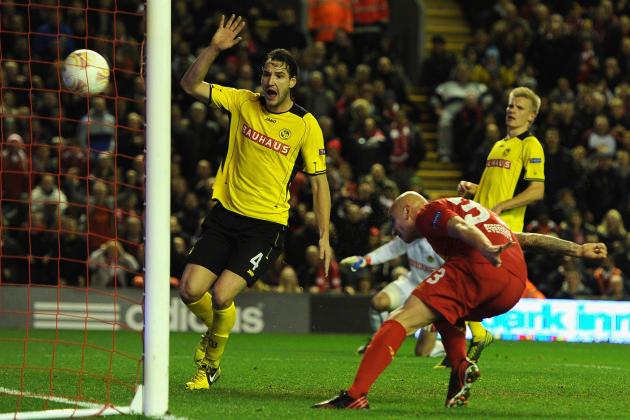 Chris Brunskill/Getty Images

Liverpool have now suffered two defeats in 10 matches in all competitions, a mildly impressive run.
Or, Liverpool have now won three times in the past 11 matches in all competitions, a worryingly poor run.
Depending on your point of view, or perhaps a clear analysis of each game on its own merits, the Reds are very close to finding a good winning formula needing only a little extra quality—or they are stuck in a rut that has lasted two seasons already.
Young Boys should have been dispatched without getting a glimpse of their second equaliser, and perhaps even without the need for the likes of Suarez and Gerrard to be introduced, but by the same token Liverpool are playing well in spells of every match at the moment.
They are improving under Brendan Rodgers—tactically, technically and, more slowly, in terms of results gained from their matches.
Wins are not coming quite as regularly as the management would like at the moment but the team, in all areas of the squad, are unmistakeably beginning to perform as he wants them to.
Whether that will actually translate in time into being successful in the Premier League and beyond remains to be seen, but all that Rodgers can ask is that the players perform as he wants from them.
That is getting closer and closer every match, and on the evidence of the past month or so of fixtures, once the side finds that extra gear to close victories out, Liverpool will win far more than they lose.