Brian Kelly's 3rd Year: How He Stacks Up Against the Notre Dame Greats
Will Brian Kelly be among the Notre Dame greats?
Jonathan Daniel/Getty Images
There is a lot of buzz surrounding Notre Dame head coach Brian Kelly. At Notre Dame, the third year is a make-or-break moment for new head coaches, and this year is no exception. Frank Leahy, Ara Parseghian, Dan Devine and Lou Holtz all won their first national championships in their third seasons as coach of the Fighting Irish, and Knute Rockne finished his second straight undefeated season.
It has not been an easy road to success for Kelly. In 2011, the Irish were 8-5 and lost to Florida State in the Champs Sports Bowl. This year, they are 11-0 and poised to play for the national championship.
As the Irish sit atop the BCS rankings, let us take a look at past greats who forged the legacy Kelly must live up to.
Knute Rockne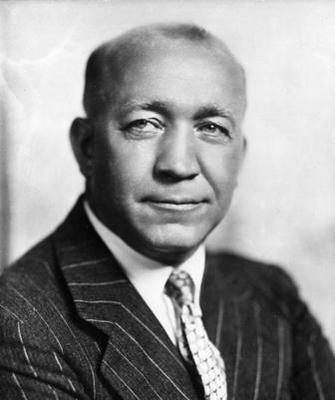 Knute Rockne (1920-1930)
Is there any other name more synonymous with Notre Dame football than Knute Rockne?
During his 13 years as head coach, Rockne lead his team to an astonishing record of 105 victories, 12 losses and five ties.
He has the highest all-time winning percentage of any FSB Division I coach at .881.
During his time at the school, he coached legends George "Gipper" Gipp, The Four Horsemen (Elmer Layden, Don Miller, Harry Stuhldreher and Jim Crowley.), Frank Leahy, Frank Thomas and Curly Lambeau.
He created the "shift" play and popularized the forward pass.
In 1940, the film Knute Rockne: All American was made about his life. It starred future president Ronald Regan as George "Gipper" Gipp and brought the phrase "win one for the Gipper" into the American lexicon.
The man was college football.
Frank Leahy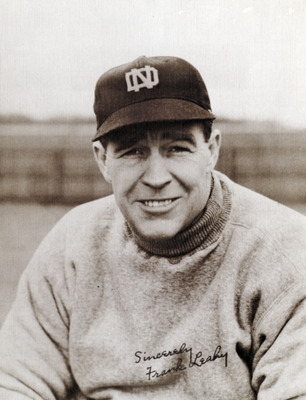 Frank Leahy (1941-1943 1946-1953)
Leahy learned from the best. As a player he was coached by Knute Rockne during his last three years as Notre Dames head coach. (Rockne was killed in a plane crash in 1931.)
After a brief stint at Boston College, Leahy returned to his alma mater as head coach in 1941. In a career that was briefly interrupted by his service in WWII, Leahy oversaw a total record of 87–11–9, giving him a winning percentage of .855.
He won four national championships and coached four Heisman Trophy winners—Angelo Bertelli (1943), Johnny Lujack (1947), Leon Hart (1949) and Johnny Lattner (1953).
In 1949, he wrote a book on the T-Formation called Notre Dame Football: The "T" Formation.
His awards include:
AFCA Coach of the Year (1941)
Ara Parseghian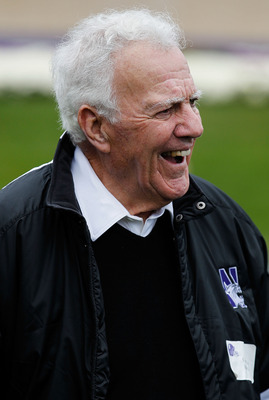 Jonathan Daniel/Getty Images
Ara Parseghian (1964-1974)
After coaching Miami (OH) and Northwestern, Parseghian came to Notre Dame in 1964. He was the first head coach prior to the Rockne era to: 1. Not be a graduate of Notre Dame and 2. Not be a Roman Catholic.
Parseghian coached 116 games at Notre Dame. His overall record at the school was 95-17-4, with a winning percentage of .836, and won two national championships in 1966 and 1973.
His awards include:
AFCA Coach of the Year (1964)
Eddie Robinson Coach of the Year (1964)
Sporting News College Football COY (1966)
Amos Alonzo Stagg Award (1997)
Dan Devine
Dan Devine (1975-1979)
Devine took over the program in 1975 after Parseghian left. He coached 70 total games at Notre Dame with a record of 53-16-1 for a winning percentage of .764 and won the national championship in his third year.
He coached football legend Joe Montana and Rudy Ruettiger.
In 1993, the film Rudy was released, chronicling the life of Ruettiger during his time at Notre Dame. It features both Parseghan and Devine.
Lou Holtz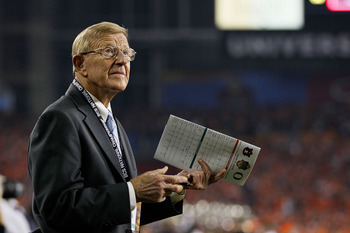 Kevin C. Cox/Getty Images
Lou Holtz (1986-1996)
Holtz took over a struggling Notre Dame football team in 1986 and returned the Irish to their former glory. He removed the players' last names from their jerseys to emphasize team effort, a tradition that continues to this day.
He coached 132 games at the school with an overall record of 100-30-2, giving him a winning percentage of .765.
Holtz won one national championship in 1988, his third year at the school.
His awards include:
Two Paul "Bear" Bryant Awards (1977, 1988)
Two Eddie Robinson Coach of the Year (1977, 1988)
Two Sporting News College Football COY (1977, 1988)
Walter Camp Coach of the Year Award (1977)
ACC Coach of the Year (1972)
SEC Coach of the Year (2000)
Brian Kelly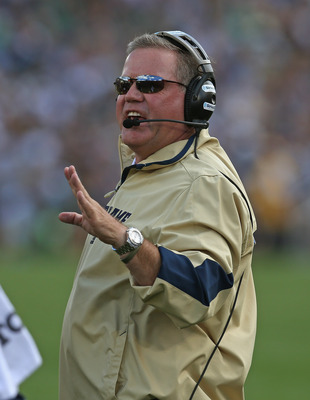 Jonathan Daniel/Getty Images
Brian Kelly (2010-Present)
Like Holtz, Kelly took over at Notre Dame after the football program suffered from several years of mediocrity. Mediocrity which began after Holtz left.
To date, Kelly has coached 37 games at Notre Dame with a record of 27-10-0 for a winning percentage of .730.
His awards include:
Two AFCA Division II Coach of the Years (2002–2003)
Home Depot Coach of the Year Award (2009)
Three Big East Coach of the Years (2007–2009)
So How Does Kelly Size Up?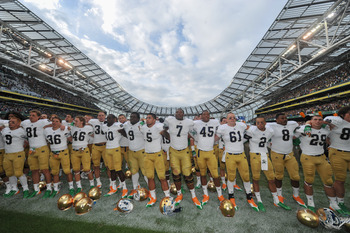 Barry Cronin/Getty Images
Here are the raw statistics:
Winning Percentage:
Rockne: .881
Leahy: .855
Parseghian: .836
Devine: .764
Holtz: .765
Kelly: .730
It is worth noting that Kelly oversaw a .850 percentage while at Cincinnati, where he coached from 2006-2009. If you average that with his record at Notre Dame, you have .790, a percentage that would account for seven years of coaching and put him above Lou Holtz and Dan Devine.
Should Kelly beat USC this Saturday, he will be the first Notre Dame coach to take his team to a championship game since the BCS era began. The Irish are ranked No. 1 for the first time since 1993.
His 2013 recruiting class is currently ranked third by rivals.com, with one 5-star commit and 12 4-stars, so the future looks bright.
In conclusion, if Brian Kelly keeps going the way he has been, he is in line to be among the greats of Notre Dame football coaches.
Keep Reading

Notre Dame Football: Like this team?