UFC on FOX 6: Rampage Jackson vs. Glover Teixeira Head-to-Toe Breakdown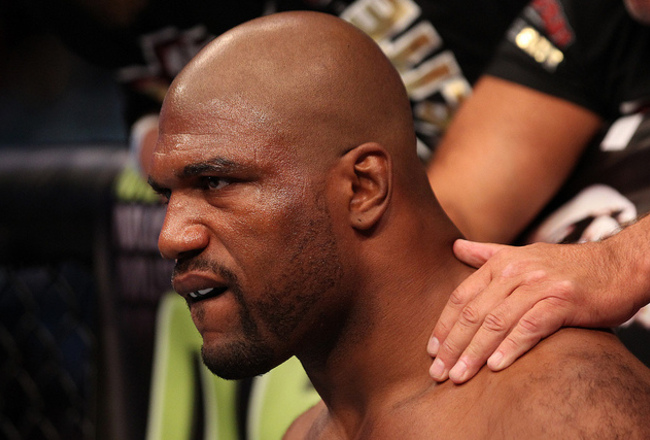 Jed Jacobsohn/Zuffa LLC/Zuffa LLC via Getty Images

Two of the heaviest hitters in the UFC, Quinton Jackson and Glover Teixeira, are set to finally meet at UFC on Fox 6 on January 26 in Chicago.
The match was initially scheduled for UFC 153, but an injury to Jackson led to Fabio Maldonado stepping up against his countryman Teixeira and getting absolutely mauled.
Both men are entering the contest for different reasons.
For Jackson, the match is his swansong as he runs out the last fight in his UFC contract and possibly looks to exit the promotion. For Teixeira, however, this is just another step in the journey toward an almost preordained title shot.
How far will those factors play into the fight when they eventually meet? Both men still have their strengths and weaknesses, which are broken down in the following slides.
Striking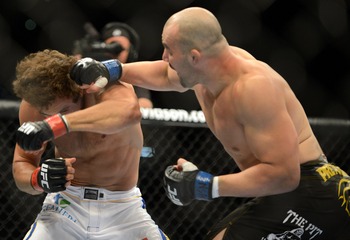 Ron Chenoy-US PRESSWIRE
We've always known that Rampage was devastating with his fists, but now we also know that of Teixeira.
The Brazilian's only fought twice in the Octagon, so most of us had little to go on regarding his hidden talents until we saw him face Maldonado.
That fight was a stand-up affair and Maldonado, a professional boxer, got lit up.
Jackson says he likes to fight in the pocket and wants to face somebody who wants to "stand and bang." He might end up eating those words.
There's no doubt that Jackson is himself good with his fists and has knockout power in his hands. But there's something crisp, clinical and measured in how Teixeira comes forward, it's hard to believe how Rampage would cope.
Advantage: Teixeira
Wrestling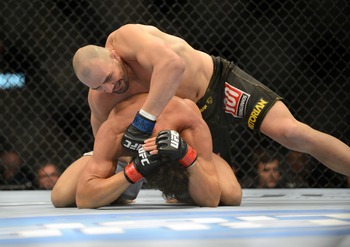 Ron Chenoy-US PRESSWIRE
Rampage has solid wrestling. He became known in the Pride days for his slams and takedowns, and it's a base he can always call upon when in the clinch.
He's strong enough to control his opponents and good enough to avoid being taken down by most fighters.
However, against a good wrestler, he struggles. In his fights with Rashad Evans, Jon Jones and Ryan Bader—three matches he lost—his wrestling simply didn't stack up.
Which means he's unlikely to take down Teixeira, who has excellent takedown defence.
Both in the Kyle Kingsbury fight and the Maldonado fight, Teixeira showed that he had good MMA wrestling—which means he can easily transition from the stand-up to the ground game and control the action where he prefers.
Advantage: None
Submissions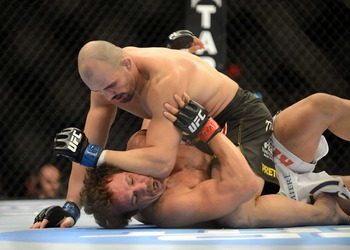 Ron Chenoy-US PRESSWIRE
You have to go back to 2001 before you'll find a fight in which Rampage submitted someone—not counting submission by strikes or injury.
At this point of his career, his submissions are non-existent. That's not how he fights.
However, in that time, the only guy to submit him has been the extremely talented Jon Jones. That's partly because he has such great submission defence and partly because he hasn't been tested by a great submission fighter.
Teixeira, however, is devastating on the ground. He's a BJJ black belt whose fought in Abu Dhabi Combat Club tournaments and showed those skills inside the cage.
He made short work of Kingsbury with an arm-triangle choke inside the first round in their fight, and if it goes to the ground, it's hard to imagine Jackson won't suffer the same fate.
Advantage: Teixeira
Variables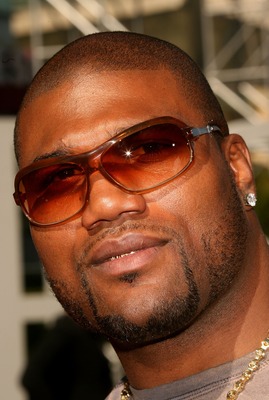 Frederick M. Brown/Getty Images
There's been a buzz around Teixeira for a long time—ever since Dana White insinuated that Mauricio Rua was too scared to fight him and the UFC was finding it almost impossible to get him an opponent.
We saw why in his fight against Maldonado. That fight showed us the light heavyweight has every intention of going to the top of the sport. It's a hunger that comes after a decade-long frustration of not being able to fight in UFC due to visa issues.
Jackson, on the other hand, has been out of love with the sport since he lost to Jones. At this point, he's realised he's reached as high as he can in his career and has made no secrets about his interests outside the UFC.
This played into his fight against Bader and could play into his fight against Teixeira.
Advantage: Teixeira
Prediction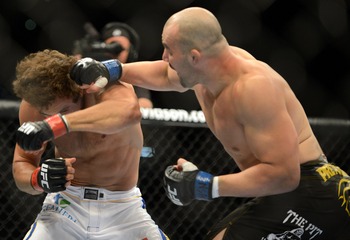 Ron Chenoy-US PRESSWIRE
You should never count Rampage out. Even though we haven't seen him perform in years, we know he's capable of some devastating things. He's rugged, he's durable and he fights with bad intentions...sometimes.
But all the momentum is with Teixeira, just like it was when Rampage faced Jones, and Rampage wasn't able to stop that train and he won't be able to stop the Teixeira train.
Prediction: Teixeira by unanimous decision
Keep Reading