Dallas Cowboys vs. Washington Redskins: Live Score, Highlights and Analysis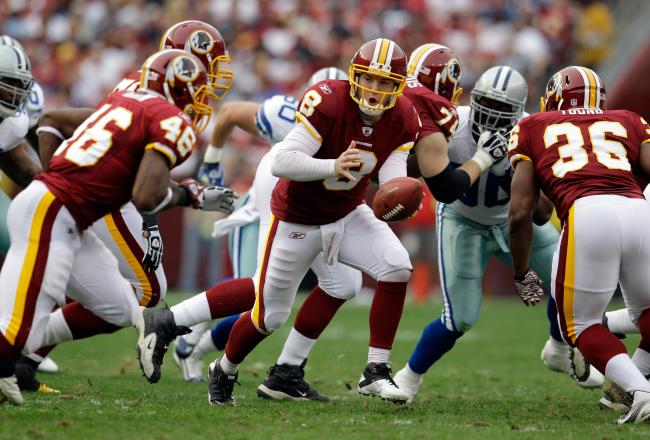 Rob Carr/Getty Images
The Cowboys were able to kick a field goal to get three points off of the Redskins lead. Kicker Dan Bailey booted his third field goal of the day, a 51 yarder to basically end the game.
Washington's big play ability just proved to be to much for the Cowboys defense as RGIII had four touchdowns on the day.
Final

Cowboys 31
Redskins 38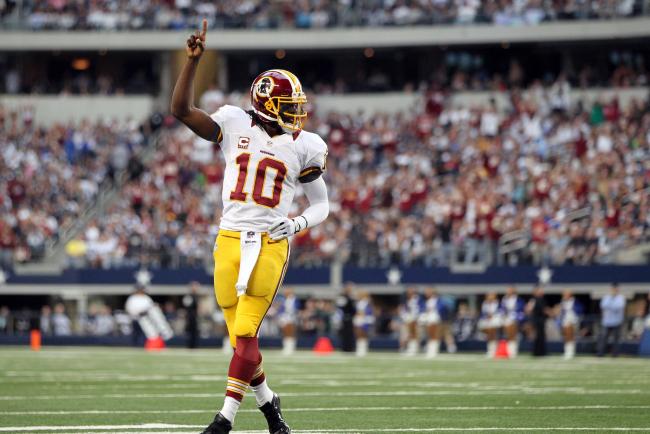 That's all she wrote, folks.
The Redskins 28 point second quarter proved to be to much for the Cowboys to overcome. Dallas was down by 25 points at halftime, and never recovered.
Romo's 441 passing yards and three touchdowns were just a dent in the Redskins armor on this Thanksgiving Day.
RGIII gave an MVP type performance as he threw four touchdowns, two for 50 plus yards. The Redskins are 5-6 and have partial control of their destiny. Next week, they face the Giants for a possible chance to take the lead in the NFC East.
For the Cowboys, they had the same chance as the Redskins. Their defense failed to make key tackles, their secondary looked lost, and nothing seemed to go right for a unit beset with injuries.
Dallas is left to regroup with a week off to collect themselves. After this loss, one team's playoff hopes are fading and the other's future looks pretty bright.
Redskins win by seven.
:31 4th Quarter
Admittedly, I was still on the fence about Griffin before this game. And even with eight touchdowns in two weeks, Griffin's numbers are almost outrageous.
Today against the Cowboys, he has 311 yards with a rating of 132. I believe he's very talented with the potential to be a great quarterback in this league.
But I see how Cam Newton sort of regressed in his second season and I have pause about Griffin in the league.
Again, he will be very good and has the potential to be great. I just need to see more.
Not many quarterbacks are capable of doing what he has done in two games and his performance deserves MVP consideration.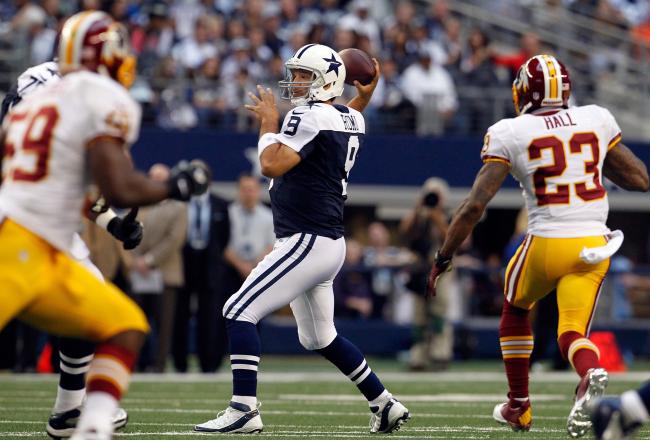 1:03 4th Quarter
For what's its worth, Cowboys fans, Romo has close to 500 yards passing on the day. He has 430 yards, three touchdowns, and almost 60 attempts.
The imbalance is very loud, but what can you do when your team is down by 25 points at the half.
Cowboys have the ball with about a minute remaining, but the chances of a win are looking dire.
For that last sack on Romo...
I'll say this for Doug Free: His technique picking Tony Romo up off the ground has really improved.

— Tim MacMahon (@espn_macmahon) November 23, 2012
2:58 4th Quarter
A 48-yard field goal from Redskins kicker Kai Forbath just extended the Redskins lead to 10 points with just under three minutes remaining.
The Cowboys will get the ball back with about 2:45 remaining to try and overcome a 10 point deficit.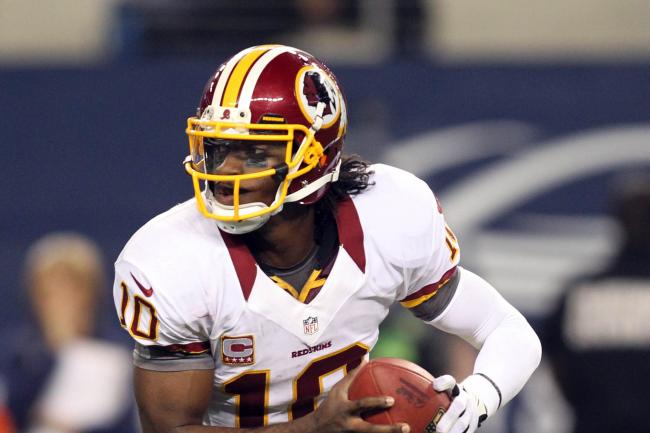 3:41 4th Quarter
That 13 yard completion from Griffin to Leonard Hankerson for a Redskins first down may be the ballgame, folks.
Washington is now in field goal range and the Cowboys are having issues stopping this train.
Redskins driving...
4:31 4th Quarter
Washington is trying to slowly put Dallas away.
So far, they have held the ball for about four minutes and have a slow, game killing drive going.
Thy have the ball on the Cowboys 41 and are in danger of scoring at least a field goal.
Dez Bryant (seven catches, 142 yards, 2 TDs) is having a career day for the 2nd time in 5 days.

— Tim MacMahon (@espn_macmahon) November 23, 2012
8:18 4th Quarter
We still have eight minutes to go in the 4th quarter, and the Cowboys are down by just seven points.
After Cowboys corner Charlie Peprah picked off RGIII, Dallas was able to capitalize and turn into a touchdown.
Romo found star receiver Dez Bryant for an 11 yard score to narrow the 'Skins lead.
Since the start of the second half, the 'Skins have gone conservative and Dallas is now the aggressor.
Redskins driving, but we've got a pretty good game going in Dallas.
8:59 4th Quarter
Uh-oh, 'Skins fans. RGIII just threw his first interception of the game and it was returned by by 'Boys corner Charlie Peprah down to the Cowboys 20 yard line.
This gives Dallas new life if the play stands as Dallas would be dangerously close to scoring another touchdown.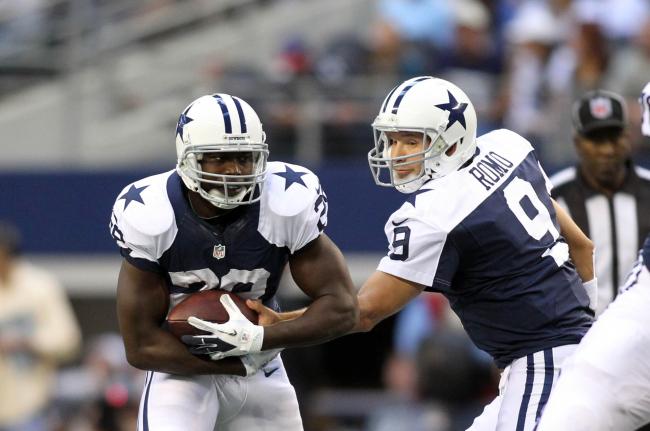 9:54 4th Quarter
The Cowboys have just matched the Redskins with another touchdown. Romo found Jones for a 10 yard touchdown to shrink the Redskins lead.
After Romo dived in for a successful two point conversion, the Cowboys are now within 14 points. But can they stop RGIII?
An interesting last 10 minutes of the game.
11:15 4th Quarter
Romo hooked up with receiver Dwayne Harris for 36 yards to get the ball close to the red zone. Soon after, he found Cole Beasley for a gain down to the Cowboys 14 yard line.
Dallas has to score quick to get it back to a respectable number. Washington is up 35-13 at the moment.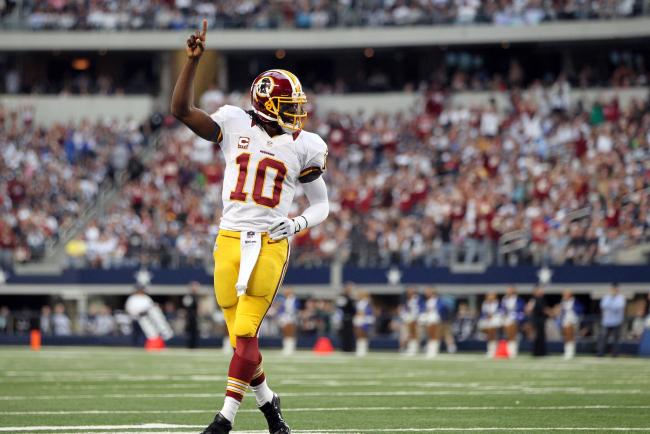 12:42 4th Quarter
This performance by RGIII is like when Jordan kept draining threes against Portland in the Finals back in the early nineties?
He just tossed his fourth touchdown of the game and they have all gone to four different receivers.
Is this guy the MVP of the league?
The injury news just keeps coming.
Bruce Carter is out on his feet. Concussion and is trying to walk off the field.

— Nick Eatman (@nickeatman) November 23, 2012
14:18 4th Quarter
The Redskins are trying to respond after the Cowboys 85 yard score.
They have a pretty good looking drive going with two first downs and the ball on the 43 yard line.
Redskins driving...
Dez 85-yard score is Cowboys' longest TD pass since Jason Tucker had a 90yard reception for score against NYG on Jan. 2, 2000.

— Nick Eatman (@nickeatman) November 23, 2012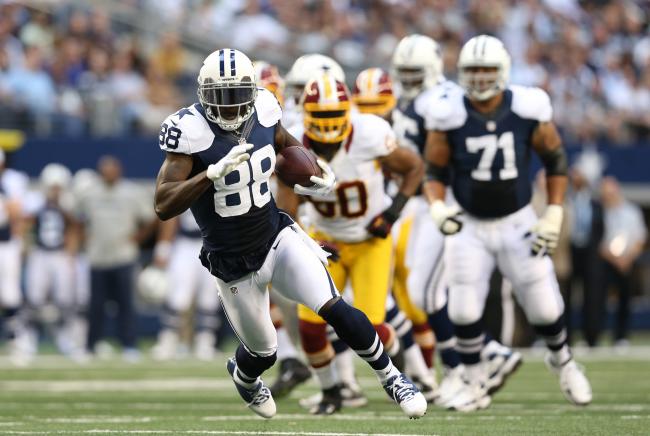 1:38 3rd Quarter
A spark for the Cowboys?
As Romo is being flushed from the pocket, he rolls to his right and finds a wide open Dez Bryant.
Bryant does the rest of the work and takes it 85 yards for a touchdown. Its his fifth of the years and gets the Cowboys to within two touchdowns.
3:03 3rd Quarter
Romo just tossed his second interception of the day.
As Romo dropped back, for some reason he thought that receiver Cole Beasley was open when Redskins linebacker London Fletcher was streaking in front of him.
He easily picked the ball off, deading any Cowboys momentum.
3:37 3rd Quarter
I thought that Griffin III was under duress, Romo has been hit 15 times today on 36 drop backs.
Dallas also has seven penalties for 45 yards on the day. A lot of that yardage is from false starts.
The signs aren't good for Cowboys fans.
Today is 14th time #Cowboys have trailed by 25 points at halftime and 1st since 2005 at Redskins. Dallas is 0-13 in those games.

— ESPN Stats & Info (@ESPNStatsInfo) November 22, 2012
Just to give you an idea of the two quarters on the field today, Romo is being completely outplayed by Griffin.
It is not hard to figure this one out as Griffin has three touchdown passes and a quarterback rating of 158 while Romo has an interception and has complete 19 of 32 passes.
The Redskins also have the healthier run game today. As a collective, the 'Skins have 72 rushing yards, the Cowboys have just 27.
A big play day for the Redskins.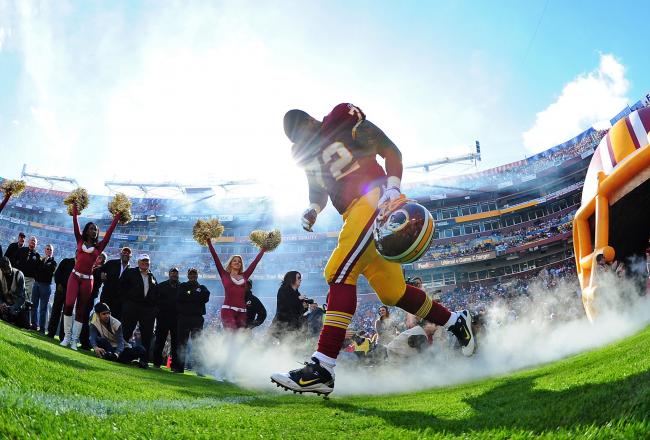 8:43 3rd Quarter
On third and medium, Romo was just blasted by former Cowboys defensive lineman Stephen Bowen for the 'Skins first sack of the day.
Dallas is forced to punt, getting the ball back with just over eight minutes in the third quarter.
I posted a little while ago that Cowboys corner Orlando Scandrick was out with a hand injury. Well, looks like its broken.
Orlando Scandrick has a broken hand.

— Calvin Watkins (@calvinwatkins) November 22, 2012
11:27 3rd Quarter
The Cowboys have been all over RGIII today. Cowboys defensive end Jason Hatcher just destroyed Griffin for Dallas' fourth sack of the game.
Can't tell by the score, but Ryan has brought the right amount of pressure at the right times.
Griffin has been hit nine times on the day as well.
11:53 3rd Quarter
After a big ply by Felix Jones that placed the Cowboys down on the six yard line, Dallas was penalized for a false start that pushed them back to the 16.
That is the second time a penalty has forced the Cowboys to try a field goal instead getting a touchdown.
Dallas is now down by only 22 after kicker Dan Bailey boots a 33 yard field goal.
This article is
What is the duplicate article?
Why is this article offensive?
Where is this article plagiarized from?
Why is this article poorly edited?

Dallas Cowboys: Like this team?