6 Key Premier League Battles to Watch This Weekend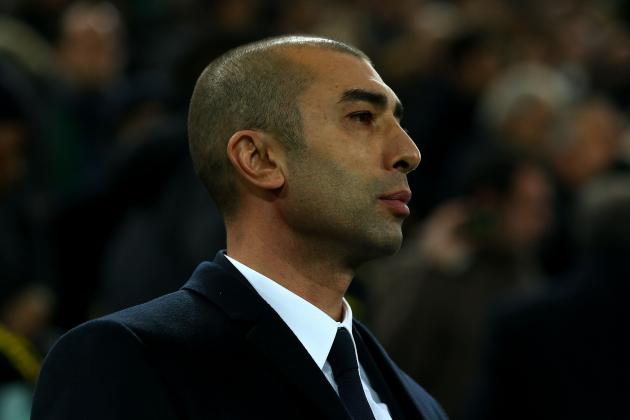 Clive Rose/Getty Images

It's Thursday, which means it's time for me to look in depth at six of this weekend's key Premier League fixtures.
There are only four 3 p.m. kick-offs this weekend due to games being moved either for TV commitments or because of some clubs' participation in the Europa League tonight.
For the first time since March, this weekend of fixtures won't feature Roberto Di Matteo, who was unceremoniously sacked by Chelsea yesterday and swiftly replaced, in the seemingly constant revolving managers chair at Stamford Bridge, by former Liverpool boss Rafael Benitez.
(Note: I wrote an article on the Chelsea situation for Bleacher Report yesterday, which you can read here.)
I'll talk about that briefly later, but for now, let's take a look at the six Premier League fixtures I'll have an eye on this weekend.

Begin Slideshow

»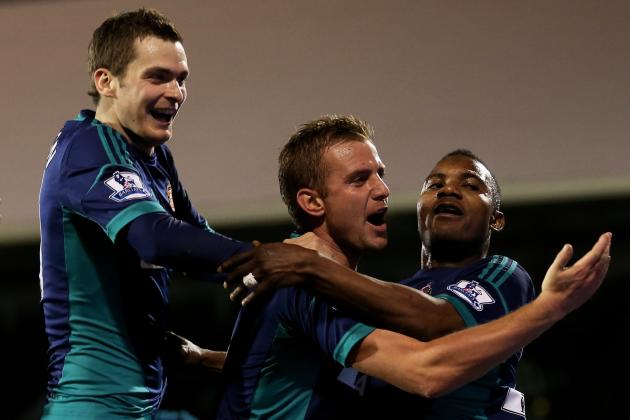 Julian Finney/Getty Images

The first game I'll be watching with interest this weekend is the early kick-off on Saturday between Sunderland and West Brom.
Sunderland go into the game on the back of a morale-boosting win and performance against Fulham last Sunday.
Obviously, Martin O'Neill will be delighted that his team got the three points, but he'll also be pleased that they scored three goals.
Goals have been hard to come by for the Black Cats this season, so the manager will hope that last weekend was a launch pad for the rest of the season.
The sending-off of Fulham's Brede Hangeland clearly played a part in how the game panned out, but Sunderland still had to take their chances and they'll be confident of continuing where they left off when West Brom come calling at lunchtime on Saturday.
I don't like to toot my own horn but speaking of West Brom, I said in last week's 6 Key Battles article before their match with Chelsea that:
This is a tough one to call, but I just think that West Brom's strong home record (and the fact that they ran Manchester City close a couple of weeks ago) will be enough to see them to a positive result against Chelsea.
I was right. It doesn't happen often so indulge me!
West Brom beating Chelsea last week was a fantastic result for the Baggies and Steve Clarke.
Yes, they rode their luck and Daniel Sturridge squandered enough chances to win several games, but West Brom got what they deserved. Three points against the current European champions.
That win, added to the fact that they're now fourth in the table, will give West Brom huge confidence not just for Saturday, but for the rest of the season.
This will be an interesting match, and I think both sides will go for the win. But I can just see West Brom's recent good form continuing, and they'll be the ones taking three points back south once the game is over.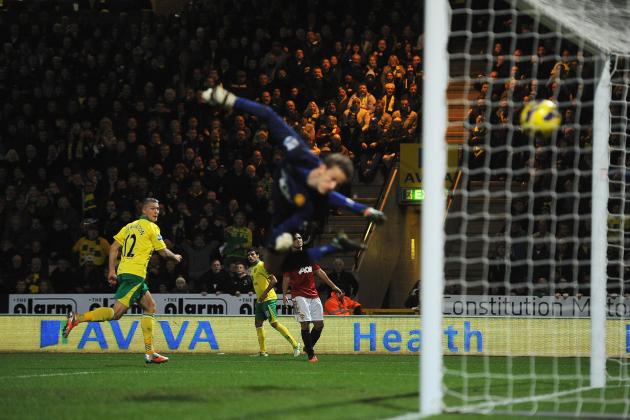 Christopher Lee/Getty Images

I wonder how many betting slips were ripped up courtesy of Anthony Pilkington's winner for Norwich against Manchester United last Saturday. I know mine was!
I don't think anyone saw that result coming.
Now Arsenal and Manchester United have come calling to Carrow Road this season and left without a point, or even a goal, to their name.
It was a stunning result, and Chris Hughton deserves a tremendous amount of credit for turning Norwich's form around over the last six weeks.
They're unbeaten in their last five league matches, picking up 11 points in the process, and if results go their way this Saturday, they could end up as high as eighth in the table.
That would be an astonishing turnaround for a team that many people had all but written off last weekend.
Saturday's trip to Goodison won't hold any fears for the Canaries.
Their confidence must be sky high right now, and they'll believe that they can get a result.
If anyone saw David Moyes' post-match press interviews last weekend, then you could tell that he was furious after the Toffees were beaten by Reading.
After starting the season with a bang, Everton have hit a little bit of a sticky patch lately.
Not when it comes to performances or creating chances, but in terms of picking up points.
One win from their last five league games is disappointing, and while they're unbeaten in that run, David Moyes will feel that Everton probably deserved to win three, if not four, of those matches.
He pretty much indicated that they need to hit the back of the net more regularly to see off teams that they're dominating, and he's right.
It'll come as no surprise that Everton's first league defeat since early September came without their captain, Phil Neville, who will be out for two months with a knee injury.
He sometimes gets overlooked, but Neville's influence can't be underestimated and he's been just as important as anyone else has during Everton's impressive start to the season.
A few weeks ago, I'd probably have put my house on Everton winning this one, especially since it's at Goodison, but I'm not as confident now.
I still think they'll win, but they'll have to be at their best and clinical in front of goal to see off what will be a plucky Norwich side.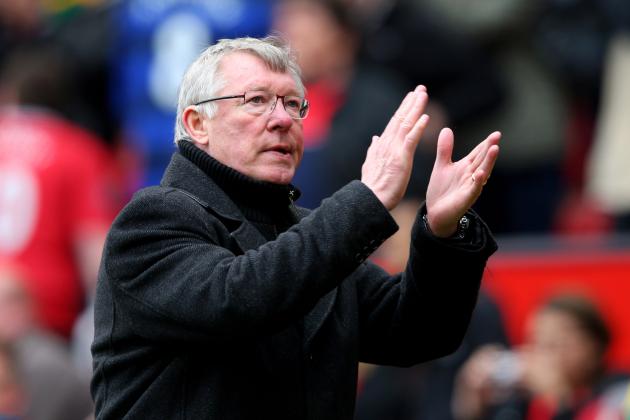 Alex Livesey/Getty Images

When these sides last met in the league just over six months ago, United ran out deserved 2-0 winners.
This Saturday, I genuinely fear for QPR.
I'd fear for them even if they weren't bottom of the league without a win and just four points to their credit so far.
Manchester United have lost two games in a week (against Norwich last weekend and to Galatasaray on Tuesday night in the Champions League), and Sir Alex Ferguson won't just expect a performance at Old Trafford on Saturday, he'll demand one.
While their recent losses shouldn't be anything to worry about, Ferguson will want to get back on track ASAP, especially with the derby against Manchester City looming ominously in the background.
Ferguson will take on one of his "pupils" this weekend when Mark Hughes brings his QPR side to Old Trafford.
QPR are a side devoid of confidence, but they can't feel sorry for themselves.
If they do, they'll end up being marooned at the bottom of the table.
Without being disrespectful to Southampton, QPR were so poor last week that they made the Saints look like Barcelona or Real Madrid.
It was embarrassing, and if there's one trait that Sir Alex and Mark Hughes share, it's that they both demand 100% commitment from their players.
Earlier this week, Hughes held talks with the QPR board about his future and he's been given the dreaded "vote of confidence."
To use an old Scottish phrase, his jacket is on a shoogly (shaky) peg: it means he's on borrowed time.
If results don't pick up fast, Hughes might find himself out of a job soon, which is never a nice thing to say, but this is football.
It's a results-based business, and whether we like it or not, managers are the ones who pay the price when things don't go well.
Sadly for Mark Hughes and QPR, I don't see things getting any better on Saturday.
Manchester United should win this one comfortably and pile even more pressure on everyone at Loftus Road.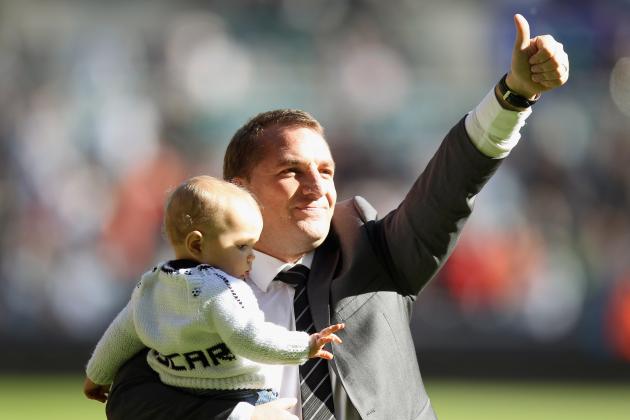 Bryn Lennon/Getty Images

It's pretty ironic that last week I talked about Chelsea going to West Brom last season, where defeat resulted in Andre Villas-Boas losing his job, and this week, Liverpool head back to the place where the final nail was put in Kenny Dalglish's coffin: Swansea.
It'll be interesting to see what kind of reception Brendan Rodgers gets when he takes his Liverpool side to the Liberty Stadium.
The Swansea supporters seem like they're a great bunch, so hopefully they'll give him a decent reception after the wonderful job Rodgers did there.
Liverpool head to Swansea in somewhat decent form.
They're unbeaten in their last seven league games and, as you'd expect from a Brendan Rodgers team, they're playing some great stuff.
Luis Suarez seems to have found his shooting boots this season, but Liverpool have to be careful that they don't rely on the tricky Uruguayan too much in terms of scoring goals. Others need to chip in, too.
Signing a striker in January is a must for Liverpool because as much as he'd like to, Suarez can't do it all on his own.
These sides have already met this season, on League Cup duty, when Swansea ran out deserved 3-1 winners.
They sprung a little bit of a surprise last weekend when they went to St James Park and beat Newcastle.
I've just talked about Liverpool's reliance on Luis Suarez to score goals, but you could almost say the same about Swansea and Michu.
The Spaniard is definitely up there as either bargain or signing of the season.
What an impact he's made!
This lad can score all kinds of goals.
The only thing missing from his game is pace, but he's so far ahead of other players in terms of his football brain, that he's already in the positions he needs to be.
He doesn't have to bust a gut to get there, because he's already seen where he needs to be.
This will be a game for the football purists on Sunday afternoon.
There'll be plenty of attacking football on offer, and I reckon this is more than likely to be a draw, probably with Suarez and Michu scoring!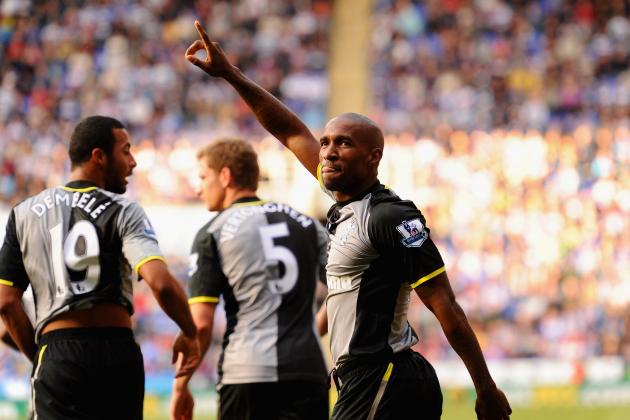 Mike Hewitt/Getty Images

Another week and another London derby!
It seems like I say that every week, but I'm not complaining.
I don't think that this will be any different than the others we've seen so far this season in terms of excitement, passion and intensity.
Spurs might go into the game without the suspened Emmanuel Adebayor, but the Togo international has pretty much been MIA all season, so what's the difference?
Adebayor's tackle on Santi Cazorla last week was stupid and reckless at best, so he can have no-one else to blame but himself as he misses the next three games.
In all honesty, I don't think Spurs will miss him.
Without a doubt, their star man this season has been Jermain Defoe.
He makes the art of goal scoring look frighteningly easy, and this season he's proved that when he's playing regularly, he'll score goals.
Because this game is at White Hart Lane, Spurs will be expected to get on the front foot and attack at will.
They've got the players to do it, but at the end of the day, it remains to be seen whether or not Andre Villas-Boas will let the players go out and express themselves in the same swashbuckling, gung-ho style that the fans came to expect under Harry Redknapp.
Their opponents West Ham have gone quietly about their business this season and they seem to have settled back into life in the Premier League almost at ease.
Their squad is full of experienced Premier League players, and with the likes of Kevin Nolan, Matt Jarvis, Andy Carroll and Carlton Cole at their disposal, Sam Allardyce's side will have no fear heading in to this match.
He'll be looking for his players to improve on their performance against Stoke this past Monday.
They were dire in the first half, and Allardyce isn't the kind of manager to tolerate that kind of performance.
I've just got this funny feeling that Spurs will edge this one because the only time they've failed to win after playing a Europa League match on a Thursday was against Manchester City.
Even then, it was a late goal from perennial City super-sub Edin Dzeko that spared City's blushes.
Spurs will shade this by the odd goal in three.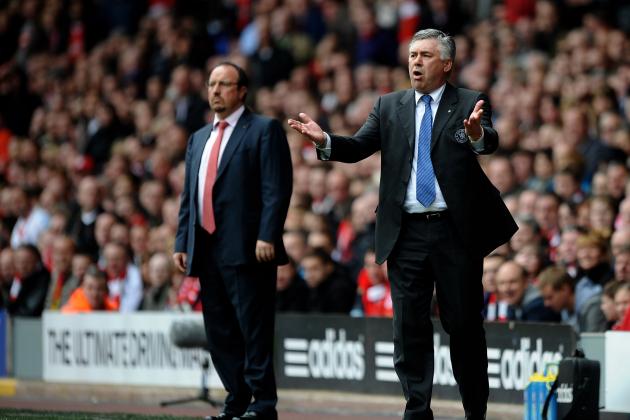 Laurence Griffiths/Getty Images

It's been two years since Rafael Benitez was on the touchline in a game involving Chelsea.
This Sunday, though, he'll be in the Chelsea dug-out as manager for the first time, but he's got a thankless task ahead of him.
After sacking Roberto Di Matteo yesterday, Roman Abramovich has already shown that even winning the Champions League isn't enough to secure your job.
Benitez is seemingly already on a hiding to nothing.
Paul Kelso and Jason Burt of the Daily Telegraph wrote this morning that Benitez is already under pressure from the Chelsea fans because of his attitude towards the club when he was in charge at Liverpool.
This is just my opinion, but that's ridiculous.
When he was in charge at Liverpool, Benitez was completely focused on backing his club and players to the hilt.
No Chelsea fan can tell me that some of their managers haven't riled up opposition fans and players in the past, so why are they prepared to write Benitez off before he's even had a chance to get to work?
Chelsea have a fantastic squad and I've got no doubt that Benitez will do the best he can to get the best out of those players.
They're low on confidence right now, and on paper, Sunday's game against City wouldn't be the ideal fixture.
However, City go in to Sunday's match after being eliminated from the Champions League for the second season in a row as speculation continues to grow about the future of Roberto Mancini.
Again, for my money, that's ridiculous.
City have simply had tough groups in the last two years, tougher than any other British side.
All of the blame can't be pushed on to Mancini, the players have to take some responsibility for not performing on the biggest stage.
These aren't players you'd find playing in your local park on a Sunday morning, they're all excellent, experienced, international-class footballers.
You can talk about Mancini's tactics, but the players have to follow his instructions.
If they don't, it's not his fault.
I expect both teams to match each other in terms of formation, but if I'm honest, I think that City have a better chance of winning this than Chelsea do.
Unfortunately for Rafael Benitez, Chelsea's recent poor run will continue, and City's unbeaten start to the season will go on.
Either way it'll be gripping to watch, and no doubt, there'll be some fantastic football on show!