25 Defensive Standouts Who Could Be Offensive Stars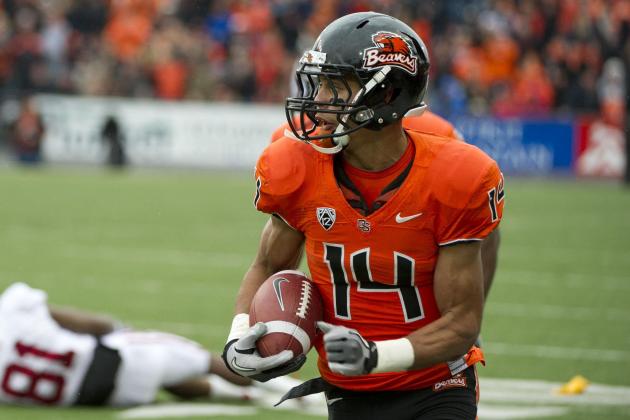 Jim Z. Rider-US PRESSWIRE
Oregon State CB Jordan Poyer would be an explosive dual-threat quarterback
There have been plenty of two-way players throughout the history of college football. In fact, many of the top players from the 20th century lined up on both sides of the ball during their collegiate careers.

Nowadays, most players solely focus on one position on one side of the ball. However, there are always a few offensive players who clearly have the skills to be great defenders, as well as defensive players who have the natural playmaking ability to contribute in a big way on offense.

This season, there are a number of high-profile defenders who have shown the type of skills needed to excel at an offensive position.

Here's a look at 25 defensive standouts who have the type of talent to be offensive stars as well.
Begin Slideshow

»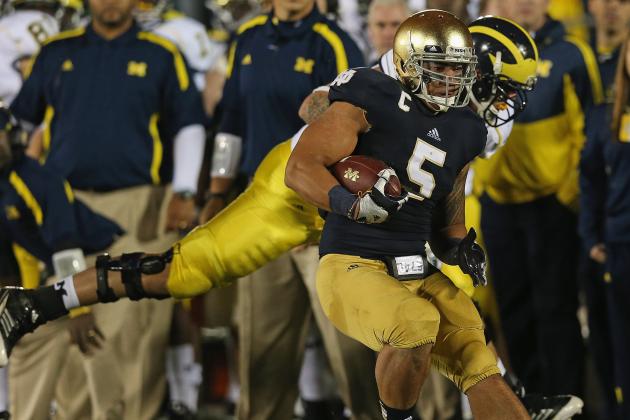 Jonathan Daniel/Getty Images
Manti Te'o
Offensive Position: Fullback
Manti Te'o isn't just the best defensive player in college football, he's also one of the scariest and most intimidating players in the country.
Te'o is a big, strong, tough and physical inside linebacker who could easily handle the role of fullback for a power run team.
The 6'2'', 255-pound senior has had the ball in his hands plenty of times this season. He's picked off six passes and scooped up a fumble. He's averaging 6.1 yards per return.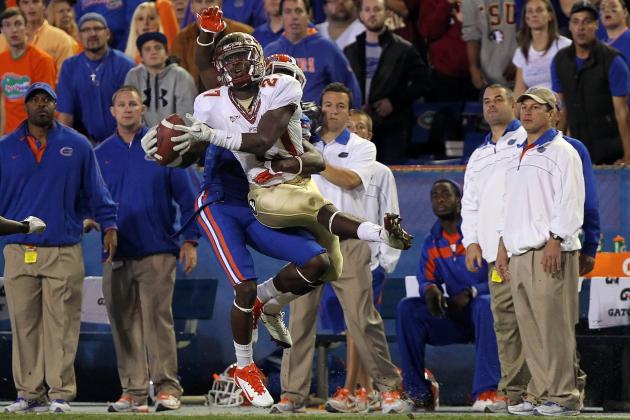 Kim Klement-US PRESSWIRE
Xavier Rhodes
Offensive Position: Wide Receiver
It initially seemed as though Xavier Rhodes was destined to play wide receiver for Florida State when he arrived in Tallahassee back in 2009. However, it was quickly apparent to Seminoles coaches which side of the ball Rhodes really belonged on.
The highly athletic 6'2'', 217-pound junior has explosive speed and leaping ability, and he would make a dangerous downfield receiving threat.
Rhodes probably made the right choice moving to defense, though, considering he's now got the potential to be a first-round pick in the 2013 NFL draft.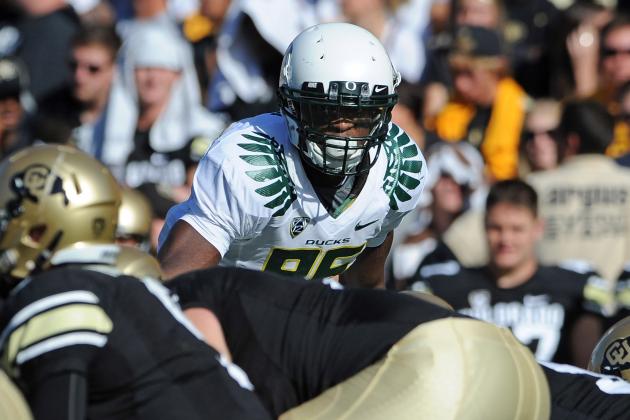 Ron Chenoy-US PRESSWIRE
Dion Jordan
Offensive Position: Tight End
Dion Jordan played tight end in high school and for his first couple of years at Oregon before switching to defensive end for the 2010 season.
The switch has worked out perfectly. Jordan has developed into one of the most dominant and disruptive defenders in the country, and he's now a key veteran leader for the Ducks defense.
Still, it's fun to contemplate just how good of a tight end the athletic 6'7'', 243-pound senior would have been.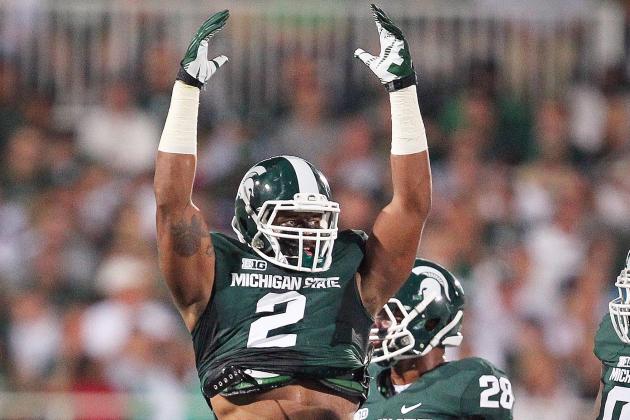 Mike Carter-US PRESSWIRE
William Gholston
Offensive Position: Tight End
Another star defensive end who possesses the size, speed and strength to become a quality tight end is Michigan State's William Gholston.
Gholston is one of the most athletic defensive lineman in the country, and he moves extremely well for his size.
Imagine what Michigan State's offense would look like if the Spartans ran a two-tight end set with the 6'7'', 278-pound Gholston lining up with 6'5'', 285-pound tight end Dion Sims.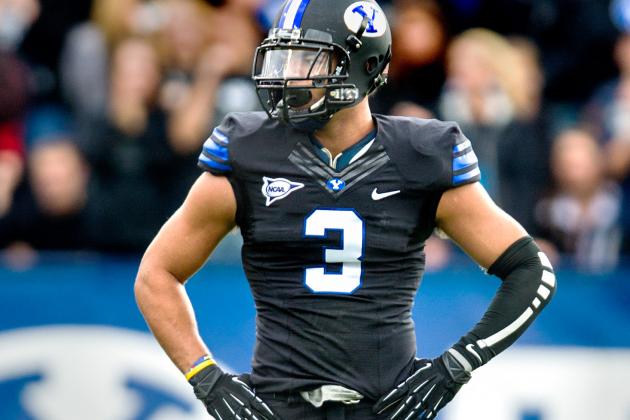 Douglas C. Pizac-US PRESSWIRE
Kyle Van Noy
Offensive Position: Wide Receiver
Kyle Van Noy has established himself as one of the top outside linebackers in the country with another outstanding campaign in 2012. Through 11 games, Van Noy has totaled 28 solo tackles, 15.5 tackles for loss, 8.5 sacks and five forced fumbles.
His play on defense has been exceptional, but it may not be too crazy to think that the former 4-star recruit would be just as good as a wide receiver on offense.
During Van Noy's senior season at McQueen High School in Nevada, he caught 35 passes for 781 yards and 18 touchdowns.
The 6'3'', 235-pound junior clearly has the size, speed and hands to be a difference-maker in the passing game.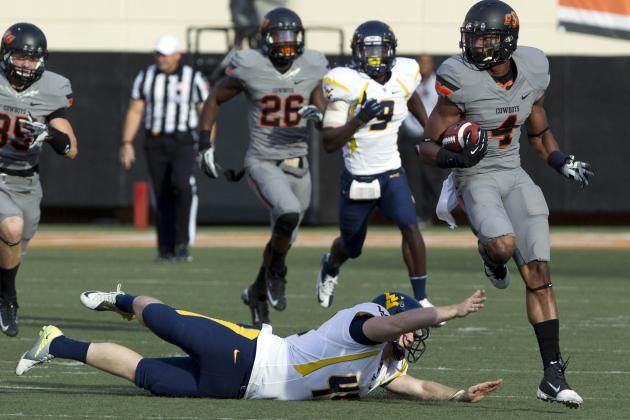 Richard Rowe-US PRESSWIRE
Justin Gilbert
Offensive Position: Wide Receiver
Justin Gilbert is one of the most gifted athletes in college football. He's proven time and time again that he can use his his natural ability to create big plays with his explosive kickoff returns.
It would be nice to see Gilbert get the chance to actually get the ball in his hands as a Tavon Austin-type of offensive threat, especially in Oklahoma State's pass-heavy system.
Still, the 6'0'', 194-pound junior has fared just fine on defense for the past few seasons. Over the past two seasons, Gilbert's developed into one of the top defensive backs in the Big 12.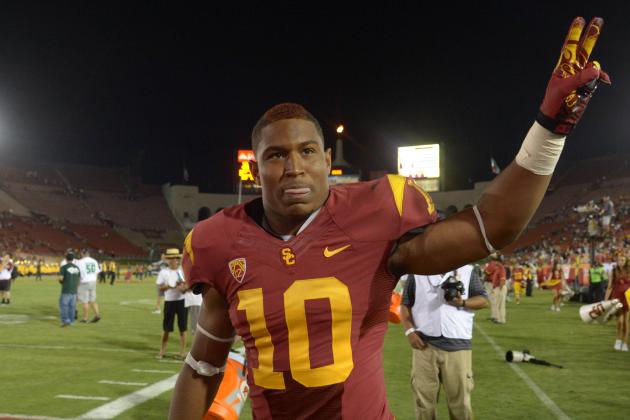 Kirby Lee-US PRESSWIRE
Hayes Pullard
Offensive Position: Running Back
Hayes Pullard is one of the best athletes on one of the most athletic defenses in the country. He currently ranks second on the team with 78 tackles, including 48 solo stops.
He's shown that he has the speed to cover the entire field from sideline to sideline. However, he also has the type of speed to be a scary rushing threat.
As a senior at California's Crenshaw High School, Pullard ran for 507 yards on just 63 carries and scored 10 touchdowns.
Since neither Curtis McNeal nor Silas Redd has been as good as expected this season, maybe Lane Kiffin ought to think about giving the 6'1'', 235-pound sophomore a few carries.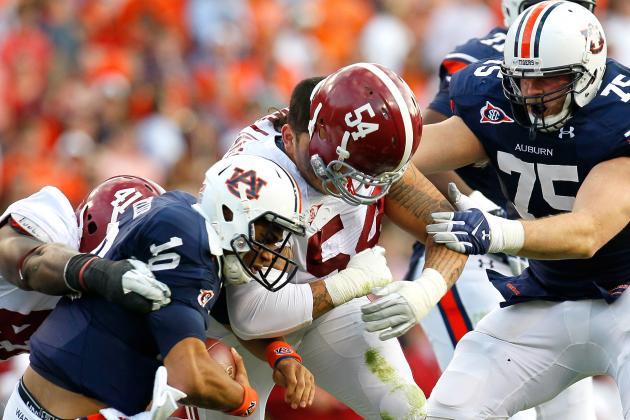 Kevin C. Cox/Getty Images
Jesse Williams
Offensive Position: Guard
Jesse Williams arrived in Tuscaloosa as a heralded JUCO prospect back before the 2011 season. Since then, Williams has spent much of his time in the trenches manhandling and overpowering interior offensive lineman.
Since he's so good at screwing up his opponents' blocks, it would be interesting to see what the former Australian Rugby player could do if he was asked to line up and push a big defensive tackle out of the way.
While his blocking technique may not be that great, the massive 6'4'', 320-pound senior certainly has the size and power to overwhelm a defensive tackle as a run-blocker.
Andrew Weber-US PRESSWIRE
Bradley Roby
Offensive Position: Wide Receiver
Nobody seems to be talking about Bradley Roby this year the same way that everybody was talking about former LSU cornerback Tyrann Mathieu back in 2011. However, Roby is having a very similar type of All-American-caliber campaign as the Honey Badger did.
The 5'11'', 190-pound sophomore has totaled 33 solo tackles and two interceptions. He leads the nation with 17 pass breakups, and he's scored three touchdowns in three different ways (interception return, fumble return and punt block return).
It would be fun to see what Roby could do as a Percy Harvin-type of weapon in Urban Meyer's spread offense.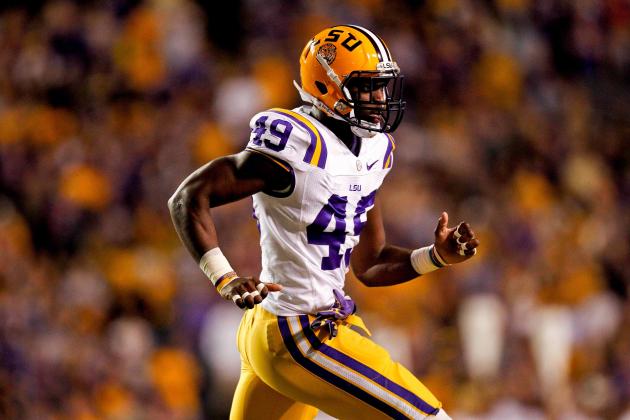 Derick E. Hingle-US PRESSWIRE
Barkevious Mingo
Offensive Position: Quarterback
Barkevious Mingo is the biggest physical freak in college football. The 6'5'', 240-pound defensive end has only been playing organized football since his junior year of high school. Nevertheless, he's still managed to develop into one of the biggest impact players in the sport based mostly on his natural physical ability.
Mingo is a huge explosive athlete with great football instincts.
Regardless of his arm strength or accuracy, Mingo is the type of phenomenal athlete you could teach to excel as a run-first quarterback in a spread-zone read-type of offense.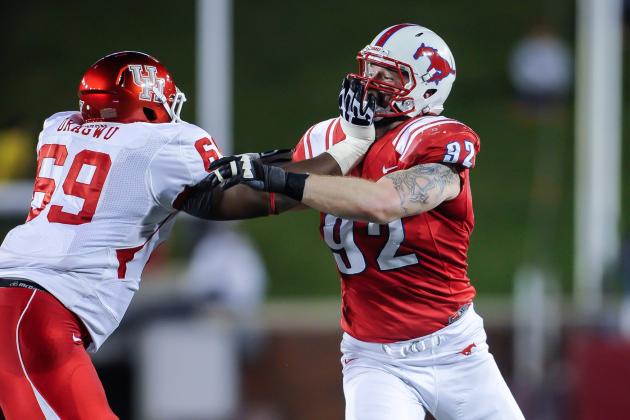 Jerome Miron-US PRESSWIRE
Margus Hunt
Offensive Position: Tackle
Margus Hunt hasn't dominated during his senior season in 2012 the way many people thought he would, but he still has the type of physical tools that will land him on Day 2 of the 2013 NFL draft.
If he wasn't such a perfect fit as a 3-4 defensive end, it might not be all that wild for a pro team to try Hunt out at offensive tackle given his physical skill set
Sure, the 6'8'', 280-pound native of Estonia still has to add another 10 or 15 pounds, but he possesses an Olympic-caliber strength-athleticism combination that is extremely rare for someone his size.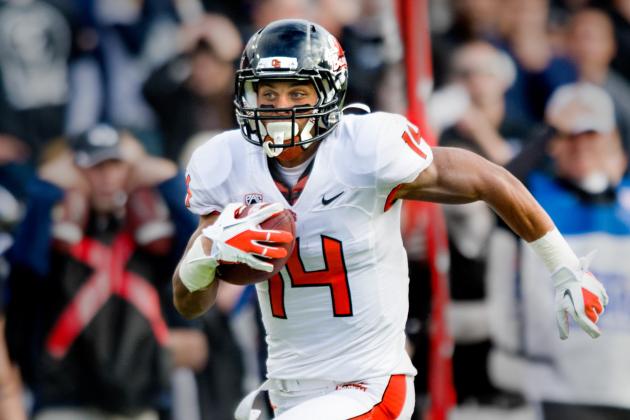 Douglas C. Pizac-US PRESSWIRE
Jordan Poyer
Offensive Position: Quarterback
Jordan Poyer has been banged up this season, but he's still managed to show NFL scouts that belongs in the first-round discussion for the upcoming 2013 draft. Poyer has picked off six passes and broken up another four throws. He's been one of the top shutdown corners in the country.
The senior star has been the leader and top playmaker on the Oregon State defense. It would be interesting to see what would happen if he got the chance to lead the offense as a quarterback.
During his days at Astoria High School in Oregon, Poyer was a dynamic dual-threat quarterback. As a senior, he threw for over 2,300 yards and 23 touchdowns, rushed for 1,770 yards and 39 touchdowns and led the team to its first ever state championship.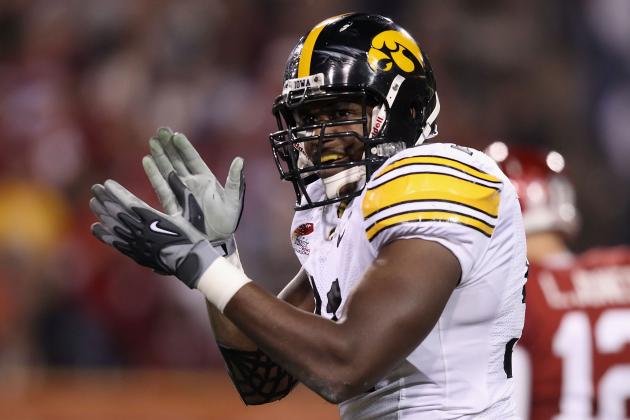 Christian Petersen/Getty Images
Anthony Hitchens
Offensive Position: Running Back
Anthony Hitchens has been one of the Big Ten's biggest breakout stars in 2012. He has stepped out of the shadows of James Morris and Christian Kirksey and become Iowa's top defensive performer this season, racking up 114 tackles in just 10 games.
The Ohio native has certainly lived up to the early hype that he garnered as a star at Clearview High School in Ohio.
Hitchens has developed into a terrific linebacker, but there's a good chance that he would have been just as good in the offensive backfield. During his time at Clearview, Hitchens rushed for 52 touchdowns and 3,864 yards.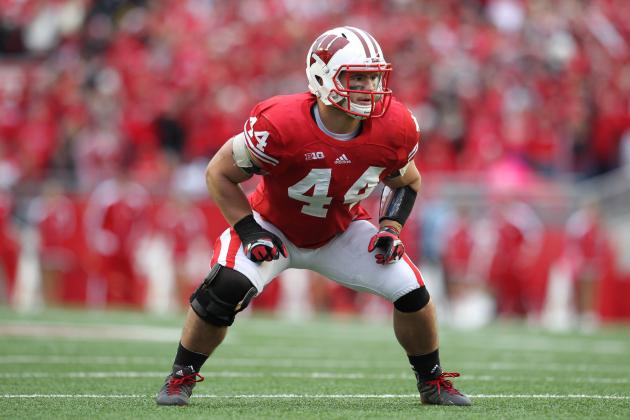 Brace Hemmelgarn-US PRESSWIRE
Chris Borland
Offensive Position: Fullback
Chris Borland is another standout linebacker who has the physical makeup and personality traits to be a great fullback.
Borland is a short, yet strong and sturdy inside 'backer who has great agility and power in his hips, and he's tougher than old Wisconsin cheese.
The 5'11'', 241-pound junior rushed for 1,230 yards and 19 touchdowns as a senior at Archbishop Alter High School in Ohio.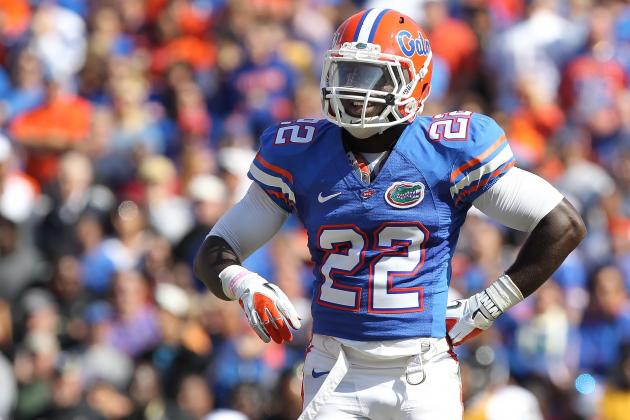 Kim Klement-US PRESSWIRE
Matt Elam
Offensive Position: Running Back
Matt Elam is one of the best safeties in the country, and he's got a future playing on Sundays. But looking back, it would have been fascinating to see what would have happened had Elam ended up playing running back for the Gators.
Elam rushed for 1,883 yards and 27 touchdowns during his senior season at Dwyer High School in Florida.
If he ended up at running back, the former 5-star recruit would have formed quite a talented tandem with the Gators' current top back, Mike Gillislee.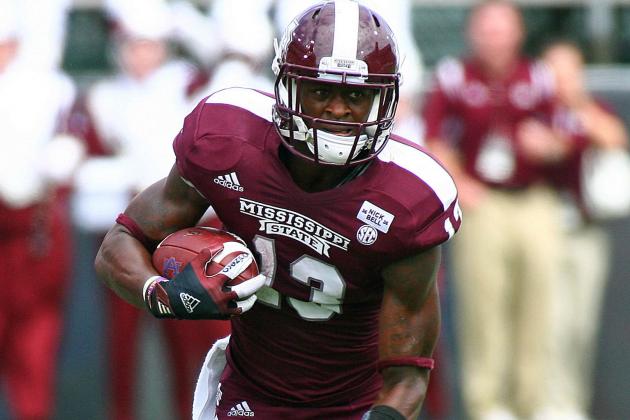 Spruce Derden-US PRESSWIRE
Johnthan Banks
Offensive Position: Wide Receiver
Johnthan Banks is a tall, lean, long and athletic corner who can match up with any wide receiver in the country. That's why you have to believe that he's the type of versatile defensive back who could easily handle lining up at wide receiver.
The 6'2'', 185-pound senior has displayed a great radar for the ball and sure hands, intercepting 16 passes during his college career.
Banks certainly has the size and speed to cause his fellow cornerbacks plenty of trouble.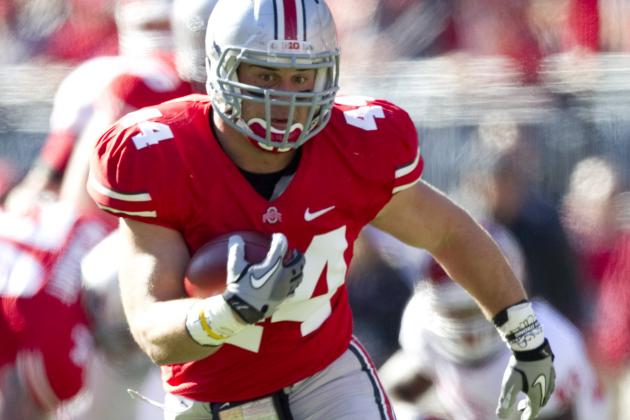 Greg Bartram-US PRESSWIRE
Zach Boren
Offensive Position: Fullback
Zach Boren has handled his transition from fullback to linebacker exceptionally well this season. Boren has racked up 41 tackles, including 21 solo stops, and he's also scored two touchdowns in a limited role as a fullback.
While the 6'1'', 245-pound senior has put together a strong performance on defense in 2012, his future role in the NFL will be as an athletic fullback who can catch the ball out of the backfield.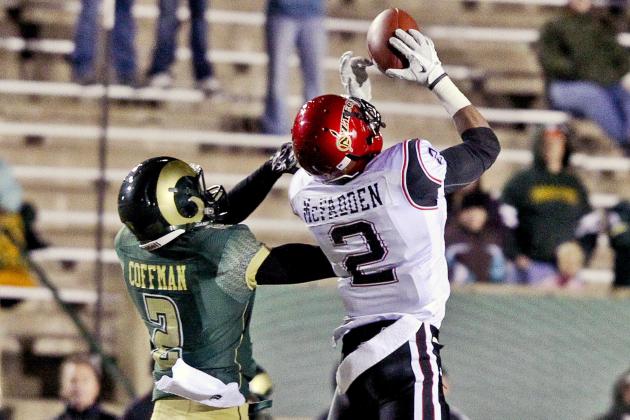 Troy Babbitt-US PRESSWIRE
Leon McFadden
Offensive Position: Wide Receiver
Because he plays at a Mountain West school not named Boise State, San Diego State CB Leon McFadden doesn't get nearly the type of national recognition he deserves.
McFadden has put together a tremendous collegiate career, topping it off with his best season yet in 2012. He's totaled 42 tackles, picked off three passes and broken up another 10 throws.
The athletic 5'10'', 190-pound senior probably would have been equally as effective as a pass-catcher for the Aztecs. As a senior at St. John Bosco High School in California, McFadden caught 32 passes for 521 yards and seven touchdowns.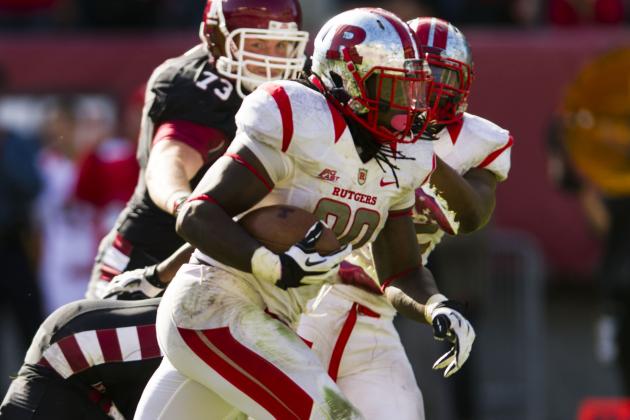 Howard Smith-US PRESSWIRE
Khaseem Greene
Offensive Position: Running Back
Khaseem Greene appears destined to repeat as the Big East Defensive Player of the Year after putting together another fantastic season in 2012.
Greene has been an absolute monster this season. He's totaled 107 tackles, 5.5 sacks, six forced fumbles, two interceptions and returned a fumble for a touchdown.
It would be fun to see what the half-brother of Pittsburgh RB Ray Graham would be able to do in the Scarlet Knights' backfield once he got the ball in his hands on an actual designed play instead of a chaotic turnover.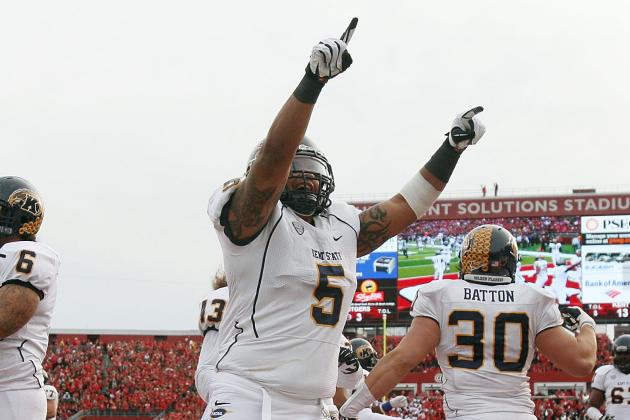 Alex Trautwig/Getty Images
Roosevelt Nix
Offensive Position: Fullback
Roosevelt Nix may only be 5'11'', 245 pounds, but he's still managed to dominate in the interior during his time as a defensive tackle at Kent State.
Nix has totaled 4.5 sacks, 11 tackles for loss and forced three fumbles this season.
The stout, sturdy and agile junior has the physical makeup, natural strength and quickness to do some serious damage as a short-yardage rushing option.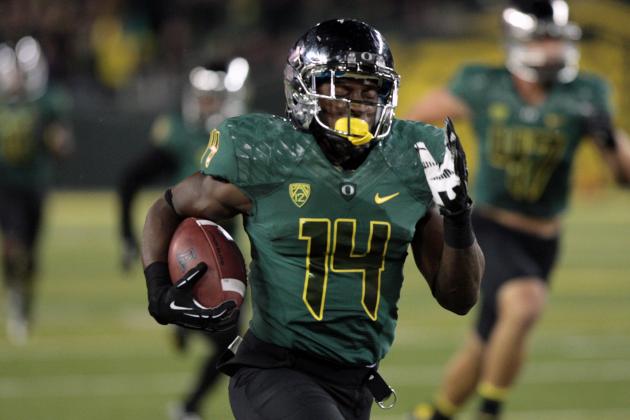 Scott Olmos-US PRESSWIRE
Ifo Ekpre-Olomu
Offensive Position: Running Back
Ifo Ekpre-Olomu has been one of the top playmakers for Oregon's defense this season. Ekpre-Olomu has racked up 53 tackles, picked off three passes and broken up another 15 throws in 2012.
It's a shame that the 5'10'', 190-pound sophomore is so good at corner, because it would be a lot of fun to see him get a few touches coming out of the backfield for Oregon's offense.
As a senior at Chino Hills High School in California, Ekpre-Olomu rushed for 797 yards and eight touchdowns, and he also caught 30 passes for 385 yards and four touchdowns.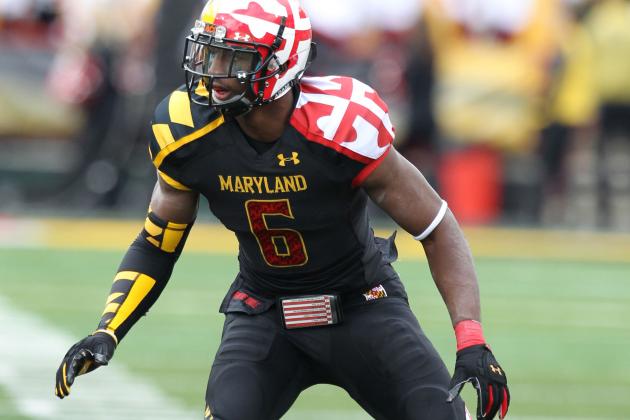 Mitch Stringer-US PRESSWIRE
Kenny Tate
Offensive Position: Wide Receiver
After a sensational breakout sophomore campaign in 2010, Kenny Tate has failed to capitalize on his early success and make the same type of impact at linebacker, although injuries have obviously played a role.
It would have been fun to see what would have happened if Tate had ended up playing wide receiver—the position many projected him to play when he was coming out of Maryland's DeMatha High School as a 4-star recruit back in 2008. The 6'4'', 230-pound senior caught 32 passes for 489 yards and six touchdowns during his senior year at DeMatha.
You have to wonder if Tate's athleticism, size and play-making ability could have been better used in the offensive huddle.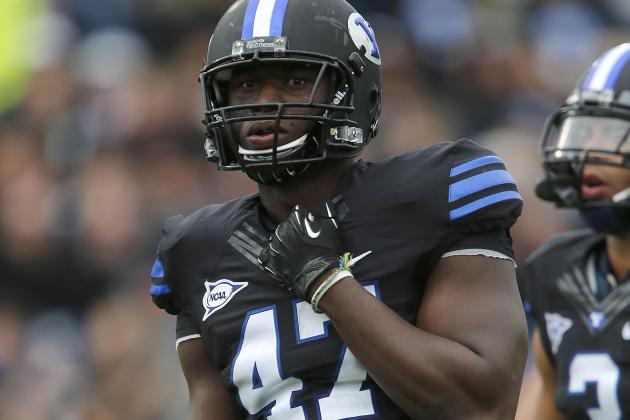 George Frey/Getty Images
Ziggy Ansah
Offensive Position: Tight End
Ziggy Ansah may not have much experience lining up on a football field, but he just so happens to be one of the best overall athletes in the entire sport. Ansah, who started off as a track athlete at BYU before joining the football team in 2010, is truly a rare physical specimen.
The 6'6'', 270-pound senior possesses incredible speed and initial burst for his size to go along with some awe-inspiring natural power.
I'm surprised Cougars coaches didn't teach the Ghana native to catch, because he would have been an absolute matchup nightmare in the passing game as a tight end.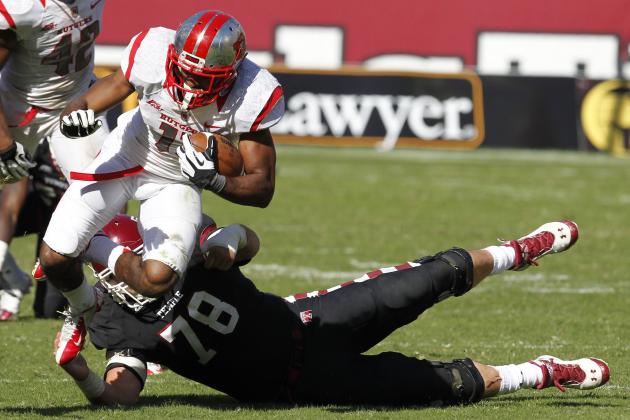 The Star-Ledger-US PRESSWIRE
Logan Ryan
Offensive Position: Quarterback
Khaseem Greene may be the best overall player on the Rutgers defense, but the Scarlet Knights have another standout defender, CB Logan Ryan, who has piqued the curiosity of NFL scouts as well.
Ryan has been one of the most underrated cornerbacks in the country this season. The 6'0'', 190-pound junior has totaled 68 tackles, four interceptions and a Big East-leading 13 pass breakups.
Given his combination of size, speed and natural football instincts, Ryan would probably be an outstanding dual-threat quarterback at the college level just like he was at Eastern High School in New Jersey. It was there that he threw for over 2,500 yards and accounted for 35 total touchdowns in his final two seasons.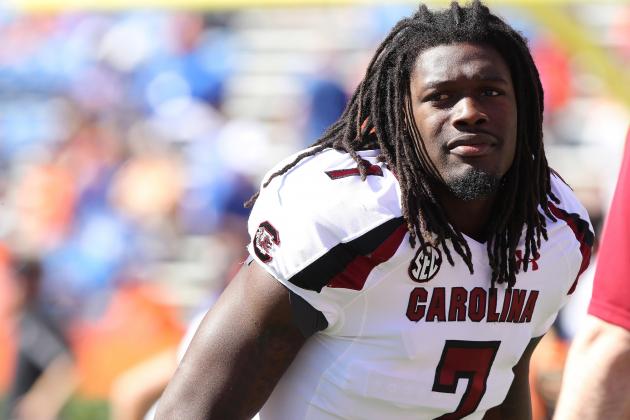 Kim Klement-US PRESSWIRE
Jadeveon Clowney
Offensive Position: Hybrid Tight End/Receiver
Last but not least, the one defensive player who has enough elite talent to basically flourish at any position he lines up at is South Carolina DE Jadeveon Clowney.
The former No. 1 overall recruit of the 2011 class has developed into a dynamic and dangerous edge-rusher who has caused chaos in the trenches all season long.
Clowney has the type of incredible size-speed ratio to perfectly fit into an offense as a hybrid tight end/receiver threat. He would be like a bigger, scarier Vernon Davis.