Watching Dez Bryant carve up the Cleveland Browns secondary last Sunday was the type of performance Dallas Cowboys fans had envisioned since the night he was drafted. What we were witnessing was a dominant performance by Bryant and the development of a chemistry that we're used to seeing between Tony Romo and Jason Witten.
The belief with Bryant has always been that the Cowboys were always one play away at any given time for a touchdown or an impact play. From a purely physical standpoint, Bryant is a man among boys, but his play hasn't always matched the hype.
Between the drops, the mental lapses, the botched punt returns and an occasional sideline antic, the growing sentiment started to center around the notion of him not being part of the future.
You could even take it a step further by factoring in the circumstances surrounding his mother and other financial matters that became a distraction to the team and his game, while also becoming the focus of media scrutiny. But with that said, last week's performance against the Browns provided an example of why patience is truly a virtue, and the dividends could be plentiful and even more rewarding from a player like Bryant.
Dez Bryant finally played like the franchise receiver that can be a fixture in this offense for years to come.
His impact on the game was difference-making, and he's starting to build some momentum that's been apparent in prior weeks as well. On the season, Bryant has 735 yards and four touchdowns, but his last two touchdowns came at the most critical times and so has his ability to help move the chains.
His diving 30-yard touchdown against the Eagles allowed the Cowboys to regain momentum and eventually win the game, and his grab against Cleveland on a 2nd-and-19 was even more impressive. His string of excellent play combined with settling his legal problems couldn't have come at a more opportune time.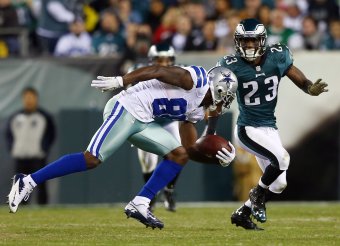 Elsa/Getty Images
Bryant may actually have to put this team on his back on Thanksgiving and will an injury-ravaged squad to victory.
In fact, Bryant will be the key to this game in many ways. With a banged up and reshuffled offensive line, establishing the run game may be difficult. Factor in the likelihood that both DeMarco Murray and Felix Jones will both not play and that leaves a lot of pressure on rookie Lance Dunbar to run against eight-man fronts.
Jason Garrett may need to establish the passing game early in order to open up some running lanes and alleviate a loaded box by the Redskins.
With Bryant playing at another level, the Cowboys as an offense play at a higher level. His combination of size and speed present nightmare matchups and will also create opportunities for Miles Austin and Jason Witten.
At the beginning of the season we were talking about the offense going through the revamped offensive line and the running game with Murray. But times have changed for the Cowboys, and now we're talking about the offense funneling through Bryant and how he's creating opportunities for others.
This isn't just about a player coming of age and having his ah ha moment, but it's also a maturation process.
The Cowboys still have work to do to get into the playoffs, but the light coming on, and the production they can get from Bryant, provides this team with a whole other dimension. They will have to get healthy in order to sustain the playoff push, but the Cowboys have to take it one game at a time. And in each of those games, Bryant will be a key as well.
He might just be the key to the rest of the season. Time will tell.