The term "game manager" is probably one of the most unflattering descriptions that can be bestowed upon an NFL quarterback. All of the hard work on and off of the practice field, the repetitions and film study should foster something slightly more remarkable than a "game manager."
Baltimore Raven fans have enjoyed a considerable measure of success with a fleet of quarterbacks that have fallen under that category. Trent Dilfer was the quarterback for the Ravens when they won Super Bowl XXXV. You won't hear his name mentioned with Montana, Elway, Bradshaw or Brady, but like each one of them, he has a championship ring.
The Ravens looked to solve their quarterback issues with a series of failed draft picks. Kyle Boller, Josh Harris, Derek Anderson and Troy Smith were all drafted with the hopes that Baltimore could find a field general for their often one-dimensional offense. Unfortunately, each of them fell short of expectations.
Joe Flacco came to Baltimore in 2008 from the University of Delaware as the highest draft pick from the Division 1 FCS school. Hardly a breeding ground for successful NFL quarterbacks, Flacco impressed at the NFL Combine with his size (6'6"), mobility and arm strength.
Thrust into the starting lineup due to a strange set of circumstances as a rookie, Flacco led the Ravens to the playoffs while posting fairly modest statistics. He would improve immensely over the course of the next three seasons, leading Baltimore to the playoffs each year. Though there were flashes of excellence, Flacco seemed to end up in the conversation of quarterbacks just outside the "elite" level.
In the April of 2012 during an interview with WNST radio in Baltimore Flacco was asked if he considered himself a top-five quarterback in the league.
"Without a doubt. What do you expect me to say? … I assume everybody thinks they're a top-five quarterback. I mean, I think I'm the best. I don't think I'm top five, I think I'm the best. I don't think I'd be very successful at my job if I didn't feel that way. I mean, c'mon? That's not really too tough of a question. But that doesn't mean that things are gonna work out that way. It just means that that's the way it is, that's the way I feel it is, and that's the way I feel it should be."
Honestly, that is everything that Baltimore Raven fans want to hear from their starting quarterback. Confidence simmering near arrogance. But for a player who has had the success that Flacco has enjoyed, it's a fair statement. As Flacco says himself, what do you expect him to say?
After a shanked field goal sealed the Raven's fate last January, Baltimore couldn't wait to hit the field to start their 2012 campaign. After being heavily criticized in the first playoff game, a win against Houston, Flacco outplayed MVP Tom Brady in the AFC Championship game to silence the critics.
The 2012-13 season should have been a break out year for Joe Flacco. He is playing in the last year of a contract, and has developed a great rapport with his receivers and tight ends. The Ravens have an explosive ground attack, with a solid offensive line.
The defense has been the trademark of the franchise since they landed in Baltimore. Though there are plenty of gray beards on the defensive side of the line, the Ravens are still loaded, and are still one of the most feared units in the NFL.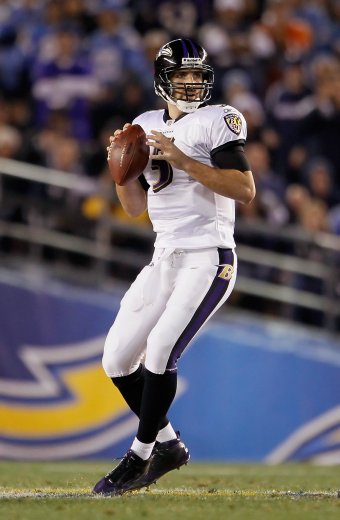 Jeff Gross/Getty Images
So far this year, the offense has been on par with the defense. The Ravens are seventh in scoring offense and eighth in scoring defense and sit two games clear atop the AFC North Division with an impressive 8-2 record. Everything is lining up just right for a deep playoff run. Each unit firing on all cylinders, right?
Not so fast.
The Raven's signal caller has been a model of inconsistency in a season with exceptionally high expectations. Flacco is playing for his next contract, and the Ravens should have every intention of keeping him in purple and black. The financial commitment from the franchise will be directly related to their quarterback's success in the win column and the stat column.
The startling erratic play seems to be linked to the venue that Flacco plays in. While he has been consistently better at home than on the road (except for the rookie season), Flacco's quarterback rating is currently 43.1 points higher at home (108.3/65.2) and his touchdown to interception ratio is abysmal (10/3 at home 3/4 on the road). Coincidentally (or not), the Ravens have averaged 36.8 points per game at home and only 16.0 in five games on the road.
The shocking disparity isn't lost on Flacco or the Ravens either. This week's opponent dominated Baltimore last season in San Diego, 34-14. The Chargers sacked Flacco seven times and picked him off twice. This year's Chargers are a different team than the one that took the Ravens behind the woodshed last year. They have lost five of their last six in a season that has quickly gone into the crapper.
Who wins Sunday? Ravens or Chargers
It's a great opportunity for Flacco to put some of his road demons to bed. San Diego does have pretty solid secondary, including All-Pro safety Eric Weddle, but how much fight is left in a 4-6 San Diego squad? An aggressive game plan could put the Chargers on their heels early and force mistake-prone quarterback Philip Rivers to take even more chances.
So what exactly is the deal with Baltimore's quarterback? He has performed well in the playoffs. Last season's clutch road win over Pittsburgh could be looked at as a Flacco's signature win. A perfect touch pass to Torrey Smith capped a 23-20 win in their rival's house and a 300-yard passing night for Flacco. Sure it was only Week Nine, but it was the Steelers, and it was on the road.
Outwardly, he appears confident and says the right things. Is it the game plan that is drawn up for him? Is the coaching staff afraid to turn him loose? Flacco has the perfect compliment of offensive talent around him to be successful, and a great defense to bail him out if needed. Contract talks are on ice until the end of the year, so the focus is squarely on the field and getting the wins.
Fans can't complain about the 8-2 record, but there is some worry about the confidence of their quarterback. The Chargers game has all the makings of a debacle for Baltimore. A west coast road game sandwiched in between two Steeler games will require focus from everyone. The biggest question is, which quarterback will show up for Baltimore?