Houston Texans vs. Detroit Lions: Complete Game Grades and Player Analysis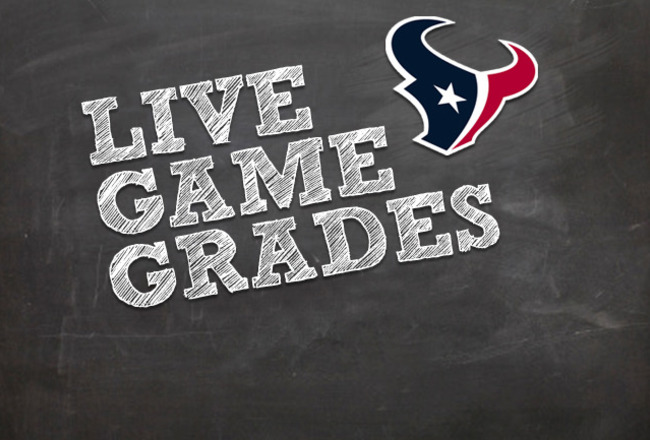 One would think that after last week's roller coaster of emotion game against the Jacksonville Jaguars, this game against the Detroit Lions would be a bit more calm.
On Thanksgiving, however, quite the opposite happened. The Houston Texans took the game deep into overtime, and even the game-winning field goal by Shayne Graham
Make sure to check back in throughout the game as we will be providing game grades and player analysis for every significant Texans' player.
Quarterback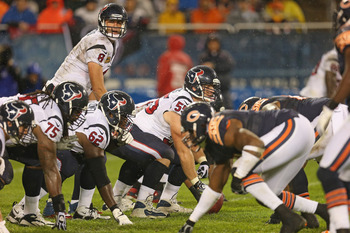 Jonathan Daniel/Getty Images
Matt Schaub: B
Matt Schaub had a curious up-and-down game. For the most part, he came up huge when the Texans needed him to, except for that interception he threw in overtime. For the majority of the game, however, Schaub threw errant passes, and was unable to drive the Texans down the field.
Running Backs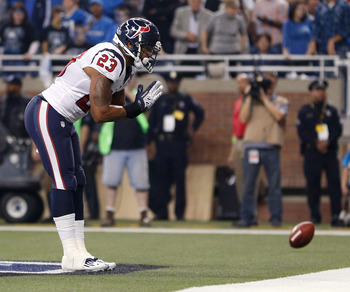 Gregory Shamus/Getty Images
Arian Foster: A
In my opinion, this was Arian Foster's best game of the season. He ran tough in the trenches, and he showed great burst on the outside. He used his excellent vision to find the correct cutback lanes, and he was also able to easily break arm tackles. An amazing performance by Foster.
Justin Forsett: A
While he was clearly down on his controversial touchdown run, one has to admire his incredible instincts. Many players would simply stay down in that situation, but Forsett popped up and sprinted towards the endzone. This caused Jim Schwartz to make an embarrassing mistake, which went a long way towards helping the Texans win the football game.
James Casey: B+
James Casey had the type of game that Texans' fans have come to expect out of him. He consistently got open downfield for Matt Schaub, and he had a key block on Foster's first touchdown run.
Wide Receivers
Gregory Shamus/Getty Images
Andre Johnson: A
For the second week in a row, Andre Johnson proved that the hands of time have not yet taken away his ability to be an elite wide receiver. Johnson's tallied 188 yards on the day, and he looked very much like the Johnson of old. In the past two weeks, Johnson has totaled 461 receiving yards.
Kevin Walter: C+
While Kevin Walter did run several great routes, he simply did not haul in a solid number of receptions. In a game where Matt Schaub was bothered by a consistent pass-rush, Walter needed to get open more often for his quarterback.
Tight Ends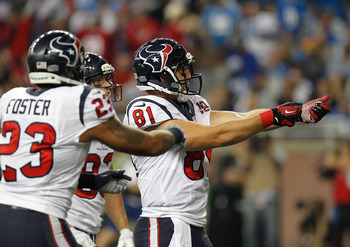 Gregory Shamus/Getty Images
Owen Daniels: B
While Owen Daniels did not haul in his usual high amount of receptions and receiving yards, he did contribute to the Texans in an area where the offense often struggles: the redzone. His nine-yard touchdown reception turned out to be a key one in the Texans' comeback victory over the Lions.
Garrett Graham: C+
Unfortunately for Garrett Graham, he was unable to string together another impressive performance last week. Against the Jaguars, Graham had 88 receiving yards and two touchdowns, but in this game he only managed to total a measly 17 yards.
Offensive Line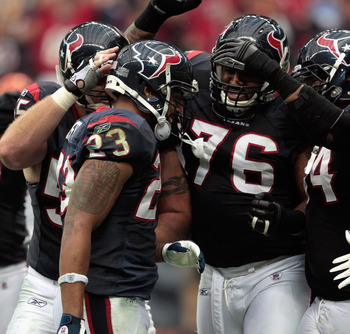 Bob Levey/Getty Images
Duane Brown: A
Duane Brown played a major role in the great performance of Arian Foster. He was able to consistently set the edge on stretch runs, and he also opened up several cutback lanes for Foster.
Wade Smith: A-
While his performance was not nearly as good as Duane Brown's, Wade Smith was very effective in the run game. Foster had success running to the left side of the field, so Smith definitely deserves some praise.
Chris Myers: B
The majority of the pass-rush that the Lions were able to produce came from right up the middle, and that is the area of the offensive line that Chris Myers inhibits. Myers did, however, do well as a run-blocker.
Ben Jones: C-
How many times did you hear Ndamukong Suh's name get called? How many times did Suh disrupt a passing play? Well whatever the extremely high number is, Ben Jones was the lineman who was primarily responsible for Suh.
Derek Newton/Ryan Harris: C+
Derek Newton struggled heavily as a pass-blocker in this game. Newton, though, did do well as a run-blocker. When his injury got him taken out of the game, Ryan Harris performed slightly better.
Defensive Line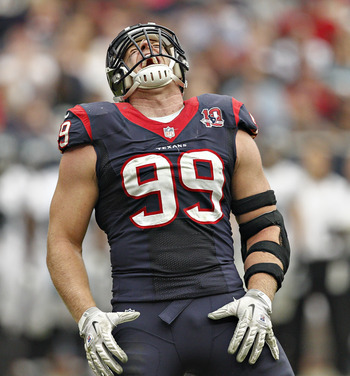 Bob Levey/Getty Images
Antonio Smith: C
Antonio Smith's one saving grace in this game was that he had a swatted down pass. Aside from that, Smith did little to contribute to the Texans' defensive efforts.
Earl Mitchell: D
Two weeks ago, against the Chicago Bears, Earl Mitchell played the game of his life, and he had Texans' fans forgetting about Shaun Cody. Now, however, Mitchell is coming back to reality. He only had one solo tackle in this game, and he seemed to struggle against the Lions' offensive line.
J.J. Watt: A
For the past few weeks, J.J. Watt appeared to be in a bit of a decline. He was still putting up big numbers, but he was not single-handedly changing games like he had earlier in the season. In this game, however, Watt may have had his best performance of the season. Two of his three sacks put the Lions out of field goal range, which went a long way towards sending the game into overtime. Watt also had two swatted down passes.
Linebackers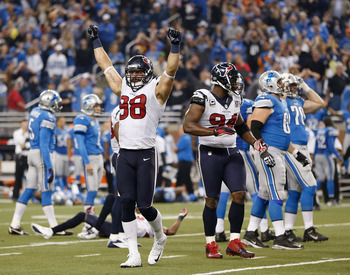 Gregory Shamus/Getty Images
Connor Barwin: C+
Once again, Connor Barwin had a relatively quite game. He was unable to apply any pressure to the passer, and he did little in the run game.
Darryl Sharpton: B+
Darryl Sharpton is continuing to show why he was considered a favorite to replace DeMeco Ryans as a starting middle linebacker before he suffered a setback in his injury. Sharpton displayed excellent downfield tackling ability in this game, and he also showed that he was able to quickly diagnose and act on offensive plays.
Bradie James: B+
Ever since Brian Cushing went down with a season-ending ACL injury, James has continued to prove that he is capable of leading the defense, as he did in this game. James is a great verbal leader, and he is also very solid as a defender against the run. Hopefully the hamstring injury that he suffered is not very serious.
Whitney Mercilus: B-
Due to the groin injury that Brooks Reed suffered early on in the game, Whitney Mercilus received his opportunity to showcase his talents. It was altogether very average. He applied more pressure than Connor Barwin, and he was also slightly better against the run.
Secondary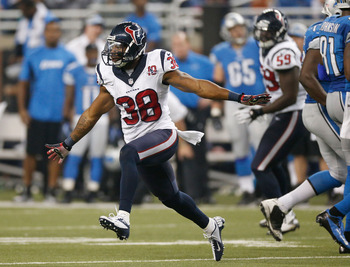 Gregory Shamus/Getty Images
Kareem Jackson: A
With Johnathan Joseph inactive, Kareem Jackson became the top cornerback on the Texans' depth chart. For whatever reason, though, Wade Phillips did not have him cover Calvin Johnson in the first half. When Alan Ball proved that he was incapable of keeping up with the elite wide receiver, Jackson was able to play very well against him in the second half.
Alan Ball: C
In the first half, Alan Ball was tasked with following Calvin Johnson around the field. It did not go very well. Johnson absolutely brutalized Ball, and the majority of Johnson's receiving yards came against him. Ball, however, did much better in the second half against lesser receivers.
Brice McCain: C
Brice McCain simply did not perform well in this game. He let up several key first downs, and he did not play like he is normally expected to. McCain has been inconsistent so far this season, and this game was certainly was of his poorer ones.
Danieal Manning: A
Aside from leading the Texans in tackles, Danieal Manning was able to make a game-changing play in this one. The Lions were driving down the field and had just completed a first down pass. Manning, however, managed to strip away the ball from the receiver, and Darryl Sharpton recovered it. That play was a major reason why the Lions did not manage to come away with a victory in this game.
Glover Quin: C
While Glover Quin was solid against the run, Matt Stafford took advantage of him in the passing game. Quin struggled to keep with Brandon Pettigrew, his assignment for the majority of the game, who finished with 74 receiving yards.
Special Teams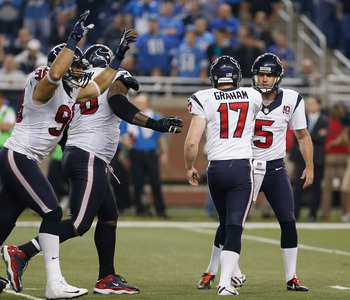 Gregory Shamus/Getty Images
Shayne Graham: C
Although Shayne Graham did kick the game-winning field goal, he did miss a 51-yarder that would have won the Texans the game earlier in overtime. That missed field goal gave the Lions another unnecessary chance to win the game. Graham, also, nearly missed the easy chip shot that was his game-winning field goal.
Donnie Jones: A
Donnie Jones had another solid punting performance for the Texans. He managed to boot the ball whenever he was called upon to do so, which was often considering the Texans' poor offensive performance.
Keshawn Martin: B
Keshawn Martin had a solid game as a returner for the Texans. He managed to consistently gain yardage, and he broke a few tackles.
Coaching
Gregory Shamus/Getty Images
Gary Kubiak: C
While the scoring drives that the Texans were able to put together were impressive, Gary Kubiak was not able to engineer a consistent offense. The game was littered with three and outs; Kubiak simply did not make the right play calls for this offense. The offense ran way too many pass plays, which was especially egregious considering Arian Foster was having a great game.
Wade Phillips: C
The defense performed just about as poorly as it did against the Jaguars, which quite frankly means very, very bad. Wade Phillips is partly responsible for this. Furthermore, his decision to put Alan Ball, the defense's third string cornerback, on the best wide receiver in the NFL instead of giving that honor to Kareem Jackson was a very poor one. Calvin Johnson consistently took advantage of Ball, though he struggled to play as well when he was covered by Jackson in the second half.
Keep Reading

Houston Texans: Like this team?