The Wisconsin Badgers (7-4, 4-3) will round out their quest for a Leaders division title with a road tilt against the Penn State Nittany Lions (7-4, 5-2) on Saturday.
Of course, the Badgers technically have the division locked up already but they can go a long way in establishing momentum for the Big Ten Championship game against the Nittany Lions.
The Badgers have had an up-and-down season in 2012. After starting the season ranked at No. 12, the Badgers have went through a four-loss season and are nowhere to be found in the current Top-25 rankings.
The Nittany Lions have had a terrific season considering the circumstances. After the Jerry Sandusky scandal rocked the university and the football program, most wrote the team off. Under Bill O'Brien, Penn State has put together a respectable season.
With both teams boasting 7-4 records, this should be a great game. Here's everything you need to know about this Big Ten clash.
When: Saturday, Nov. 24 at 3:30 p.m. ET
Where: Beaver Stadium, University Park, Pa.
Watch: ESPN2
Live Stream: Watch ESPN
Radio: Free Football Radio
Spread: Penn State -2.5 (via Covers)
Wisconsin and the points looks to be the best bet here.
The Nittany Lions have put together a solid season. No one thought that they would be 5-2 in conference play at this point in the season.
However, the Badgers are an underrated team that seems to be hitting its stride. The record hasn't been reflective of a great team, but all four losses have been by three points or in overtime (or both).
The Nittany Lions are good, but they aren't as good as the teams that have beat Wisconsin before. Take Wisconsin and the points here.
Over/Under: 45 (via Covers)
Offensively these teams are fairly similar.
Penn State has had a better passing attack than usual under O'Brien but at the heart of the Nittany Lion offense is a desire to run the football and dominate time of possession.
The same can be said for Wisconsin as it will look to give the Nittany Lions a heavy dose of Montee Ball and wear down the defense.
Expect this game to hit the under as both teams slug it out defensively.
Injury Report via USA Today (as of 11/21/2012)
Wisconsin
LB Chris Borland, Hamstring, Questionable
QB Joel Stave, Shoulder, Out for season
DL Jesse Hayes, Leg, Out for season
LB Cody Byers, Concussion, Out for season
Penn State
LB Michael Mauti, Knee, Out, according to Ben Jones of StateCollege.com (via Twitter)
S Malcom Willis, Knee, Questionable
T Curtis Dukes, Concussion, Questionable
G Mark Arcidiacono, Foot, Questionable
TE Kyle Carter, Wrist, Out for season
LB Nyeem Wartman, Knee, Out indefinitely
BCS Implications
This game may not have a direct impact on any of the BCS Bowls, but it is an important game for Wisconsin.
The Badgers' ticket to the conference championship game is already stamped but this game gives them an opportunity to make a statement before playing for the conference championship. With four losses against good competition, a win against Penn State would do a lot to prove the Badgers belong.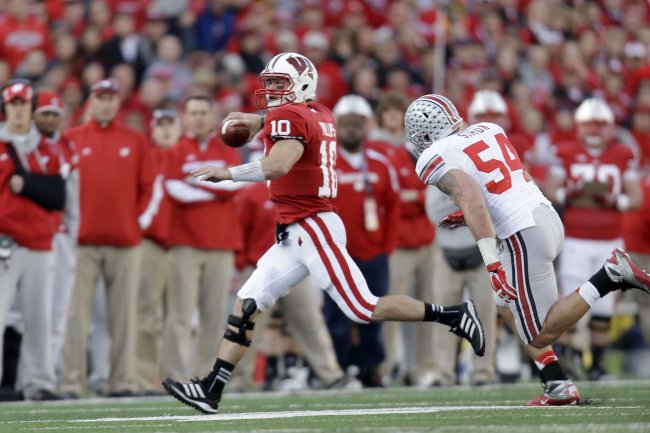 Mike McGinnis/Getty Images
Keys for Wisconsin Victory
The progression of Curt Phillips as the starting quarterback will be key for the Badgers chances in this one.
The fifth-year senior will be making his third career start for the Badgers after going 1-1 against Indiana and Ohio State. Phillips made some impressive throws against the Buckeyes but ultimately didn't do enough to get the win.
The Badgers are so effective on the ground that they don't need much from their quarterback but as Phillips settles into his role they will be more dangerous to finish out the season.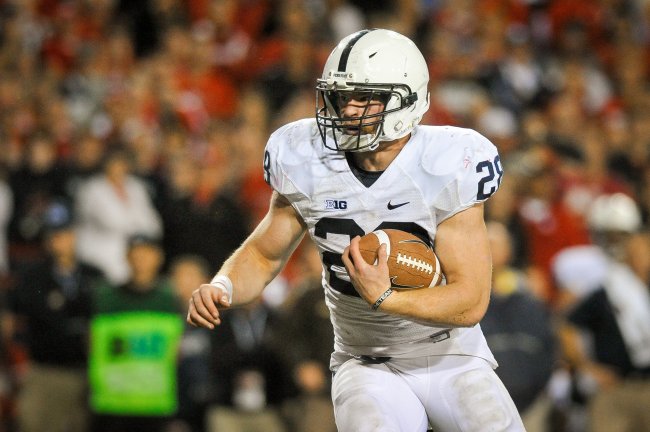 Eric Francis/Getty Images
Keys for Penn State Victory
Stopping Montee Ball will be priority No. 1 for Penn State.
When the Badgers can't run the ball they have difficulty winning through the air. If Penn State stacks the box and consistently stops the run, the chances of forcing Phillips into making mistakes goes up and so do the odds that Penn State ends the season with a victory at home.
On offense, the Lions need to keep the balance they've shown in recent weeks. O'Brien and his staff have done a great job of turning Matt McGloin into a legitimate threat at the quarterback spot. With his development at the position, the Nittany Lions have a much more dynamic offense than they have had in recent years with Joe Paterno.
If McGloin can be the x-factor once again, Penn State will come out on top.
Prediction
This should be a good ole fashioned, smash mouth Big Ten collision. Fans of high-flying exciting offenses should avert their eyes as these two teams wage war inside the trenches.
In a battle of attrition, the team with the better running game usually prevails.
Zach Zwinak has been impressive for Penn State down the stretch this season, but it's hard to pick against Montee Ball and that mammoth offensive line from Madison. The Badgers should have what it takes to grind out a small upset in University Park.
Predicted Score: Wisconsin 17, Penn State 13