Los Angeles Lakers vs. Sacramento Kings: Live Score, Results and Game Highlights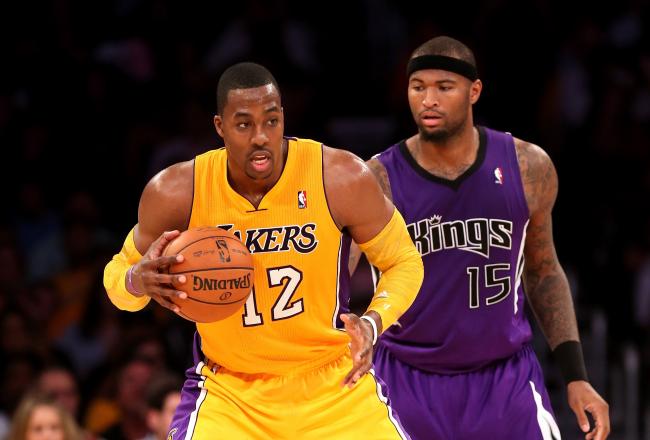 Stephen Dunn/Getty Images
Despite a 38-point effort by Kobe Bryant, the Sacramento Kings beat the Los Angeles Lakers, 113-97.
For the Kings, their 54 percent field-goal percentage and their ability to force the Lakers into 20 turnovers is largely responsible for the win. The Kings played solid team ball and had six different players score more than 10 points in the game, including a team-high 23 by Marcus Thornton.
For the Lakers, nobody other than Bryant was able to get it going. Dwight Howard and Pau Gasol combined for 15 points. On top of the team's 20 turnovers, it also only had 16 assists, showing they had trouble facilitating their offense.
The Kings' next game is Friday at Utah. The Lakers' next game is also Friday, when they travel to Memphis.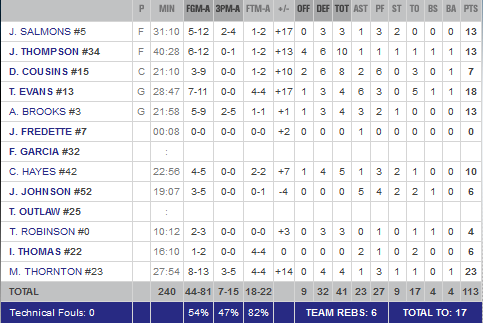 It's final here in Sacramento. Kings win 113-97.
At this point, I don't know why the Lakers are still fouling but they are. The Kings are up 12 with 1:07 remaining. Even the Kings can't blow this one. To make matters worse, the Lakers' foul was ruled a clear-path foul, resulting in free throws and possession for the Kings.
Kings go with hack-a-Dwight strategy. Kings have an 11-point lead with time running out.
Lakers 93, Kings 104; 1:31 left in the fourth quarter.
Chants of "Beat L.A." rain down at Sleep Train Arena. It reminds me of the early 2000s, except, you know, the Kings are terrible; while the Lakers are still title contenders.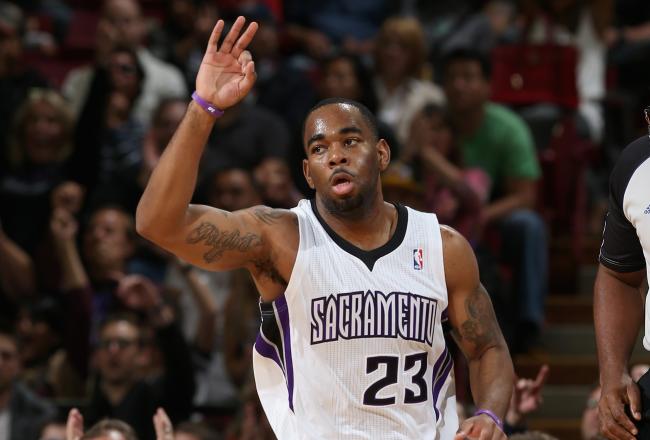 Kobe with an excellent three-point play, drawing the foul from Cousins and nailing the free throw. Marcus Thornton answers with a three-pointer for Kings, keeping Sacramento's lead at seven.
Lakers 92, Kings 99; 2:46 remaining in the fourth quarter.
Chuck Hayes gets too cute on offense and tries to facilitate his own shot. The Lakers get the rebound and World Peace converts on base-line jumper, cutting the Kings' lead to five.
Lakers 89, Kings 94; 4:39 remaining in the fourth quarter.
Kobe's play was similar to this...
Another vintage Kobe moment. He gets James Johnson to leave his feet, draws the foul and knocks down all three free throws.
Lakers now have five team fouls. The Kings will be going to the line for the rest of the game, and there's still 7:47 remaining.
Lakers 81, Kings 90
Lakers cut into Kings' lead to start the quarter, but the Kings have since gone on a run of their own. They extended their lead back to nine points.
Lakers 76, Kings 85; 9:17 remaining in the fourth.
As Kevin Ding points out, it's interesting to see that D'Antoni has left Antawn Jamison on the bench during the second half for second consecutive game.
<blockquote class="twitter-tweet tw-align-center">
For 2nd consecutive game, D'Antoni leaving Jamison on bench in the second half. This time, it's to play Duhon + Morris. Last game: Metta.
— KEVIN DING (@KevinDing) November 22, 2012
Kobe starting to take over. He's got 28 for the game and has scored the last 11 points for the Lakers. His latest three-pointer cut the Kings' lead to five at 69-64.
Mike D'Antoni calls a timeout. The Kings have extended their lead to 11.
Kings 69, Lakers 58; 2:51 remaining in third quarter.
Kings are on a 13-3 run. They lead 64-56. Their eight-point lead is their biggest of the night.
Lakers are only 11-of-22 from the free-throw line. The Kings, meanwhile, have only attempted three free throws so far. But Sacramento is shooting 51 percent from the floor, which has allowed it to hold on to a 58-54 lead.
Lakers went on a run of their own and took the lead back from the Kings. MWP has 11 and Bryant has a game-high 17 points.
Lakers 48, Kings 46; 9:14.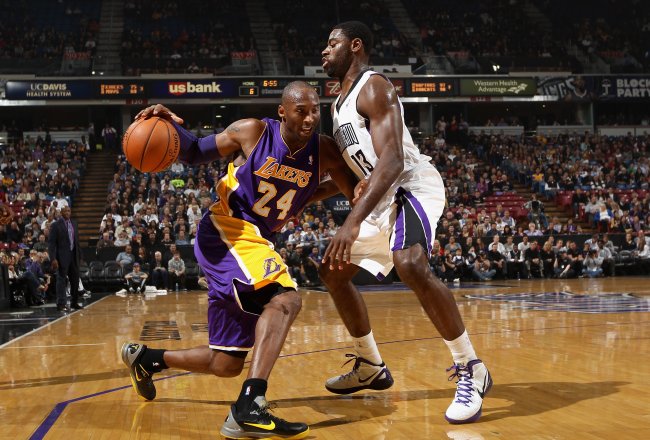 Ezra Shaw/Getty Images
Cousins just picked up his third foul for the Kings. Tyreke Evans follows that up by picking up his fourth foul for Sacramento. MWP knocks down both free throws. Kings are up 46-42 with 10:44 remaining in third.
It will be interesting to see what happens in the second half. The Kings had a hot hand in the second quarter. But if DeMarcus Cousins is held scoreless, they don't have much chance of winning.
For the Lakers, they need to get Dwight Howard and Gasol going. So far, Kobe has been their only consistent option on offense.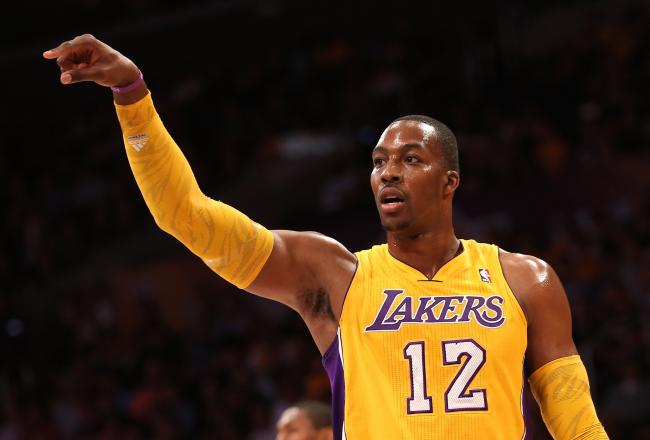 Kings get a nice two-for-one to end the half. First, John Salmons knocked down a shot with 27 seconds remaining in the half. Then, after a Lakers miss, Jimmer Fredette hit Jason Thompson for a lay-up as time expired.
It's halftime now, with the Kings leading 42-41.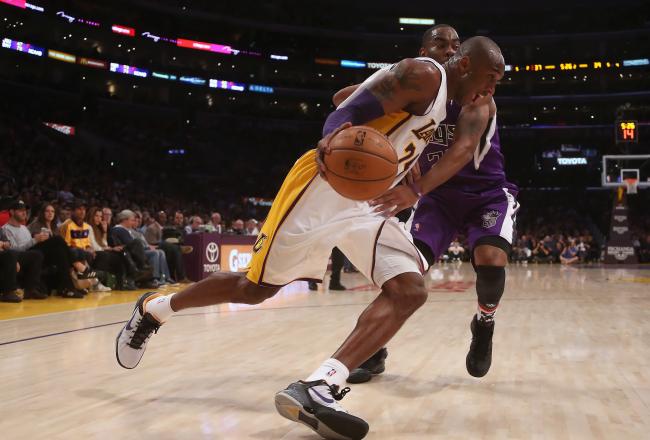 Kings are shooting 69 percent from the field this quarter. The Lakers are still strong at 47 percent. But Sacramento's hot hand has allowed it back into the game.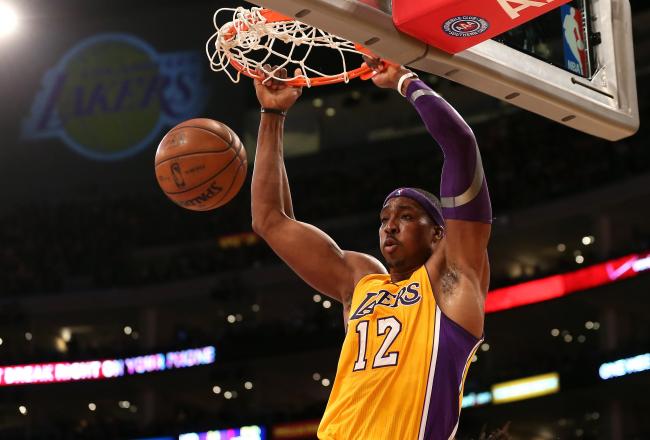 Both teams trading baskets of late. The Lakers lead 37-36 with 3:20 remaining in first half.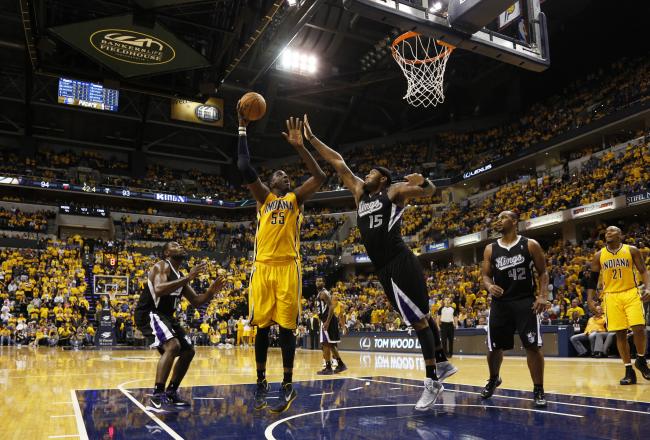 It's a low-scoring affair from both centers.
Dwight Howard with his first basket of the game on a lay-up.
DeMarcus Cousins is still scoreless for the Kings.
Lakers 34, Kings 30; 5:20 left in second quarter.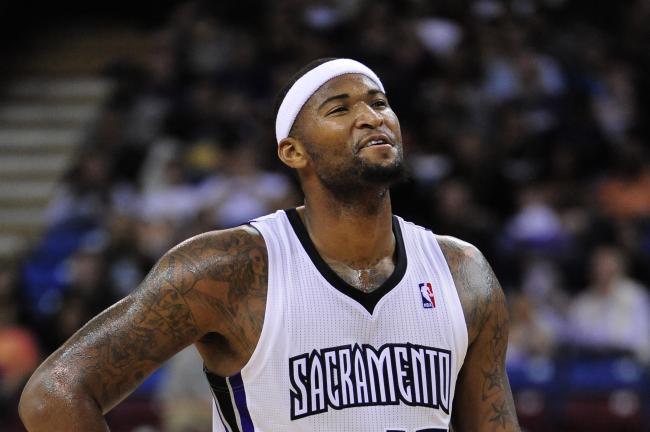 Kings on 11-0 run. Lead the Lakers 26-21. They've shown good ball movement and better defense, which has led to some transition opportunities.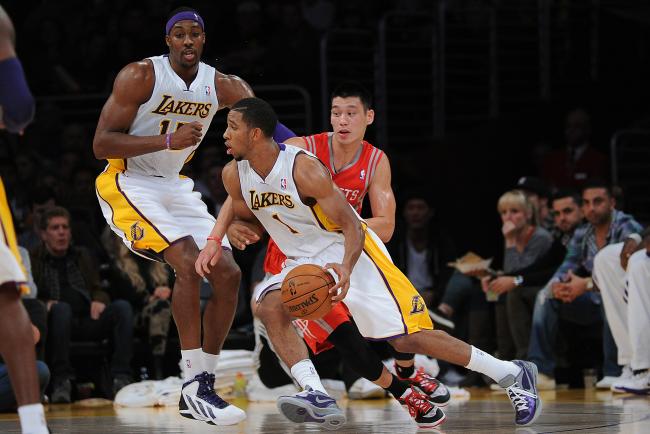 The Lakers finished the first quarter strong. They're now shooting 50 percent from the field (7-of-14). The Kings, meanwhile, can't buy a bucket. They're only 6-of-19 (32 percent) in the opening quarter.
Lakers 21, Kings 15; end of first quarter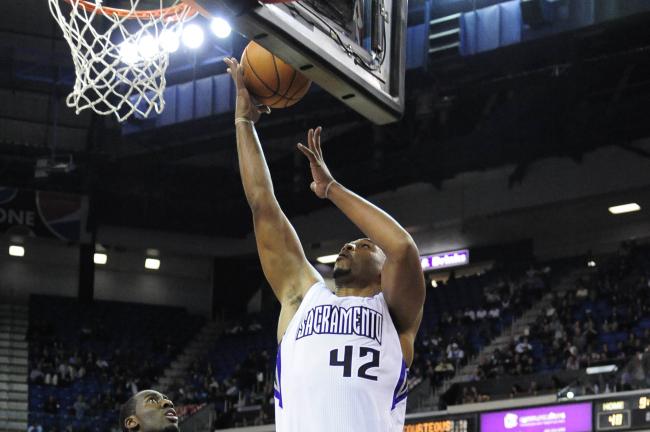 Kings are now short in the frontcourt. Cousins is out with two fouls and Chuck Hayes had to go to the locker room to fix a cut. Looks like Thomas Robinson will come in.
We've got a timeout. Chuck Hayes is bleeding from the eye area and headed to the locker room.

— JasonJones (@mr_jasonjones) November 22, 2012
Lakers 15, Kings 11; 2:44 remaining in first quarter.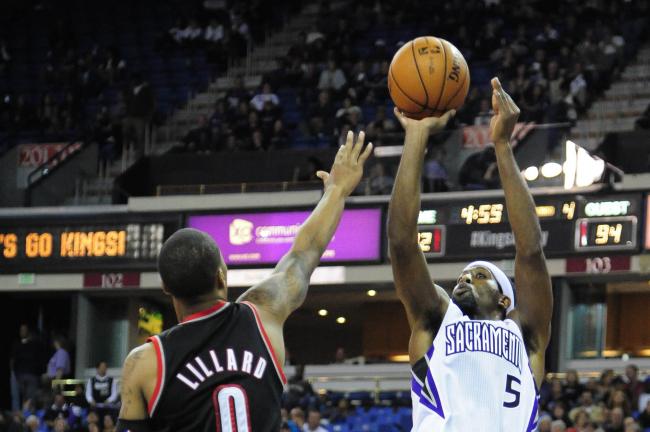 Kings have assists on all of their baskets. It's been a problem for them all season, but they seem to be moving the ball better in the first quarter tonight.John Salmons has knocked down two three-pointers off assists and the Kings got a fast break basket for Evans off of an assists.
Both Kobe Bryant and DeMarcus Cousins have two fouls.
This article is
What is the duplicate article?
Why is this article offensive?
Where is this article plagiarized from?
Why is this article poorly edited?