1 Thing Each UFC Champion Has to Be Thankful for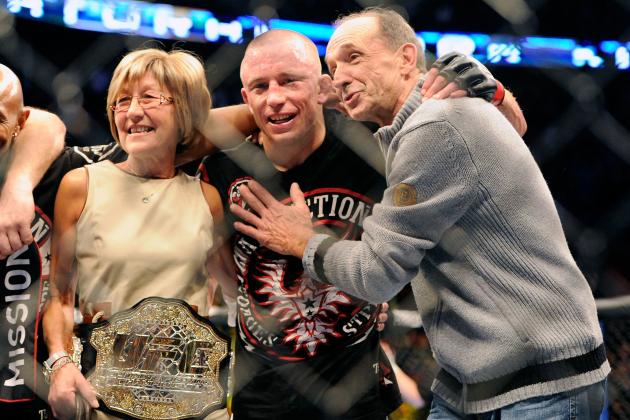 Eric Bolte-US PRESSWIRE

On Thursday, many Americans will be celebrating family, turkey, NFL football, and many other things that have become synonymous with Thanksgiving.
While some are thankful for family or health, others are thankful for things like the UFC, a day of football games, and an excuse to get off of weight loss diets.
Just like their fans, each UFC champion has something to be thankful for.
Here is a look at what each should say when they get their turn at the table.
Begin Slideshow

»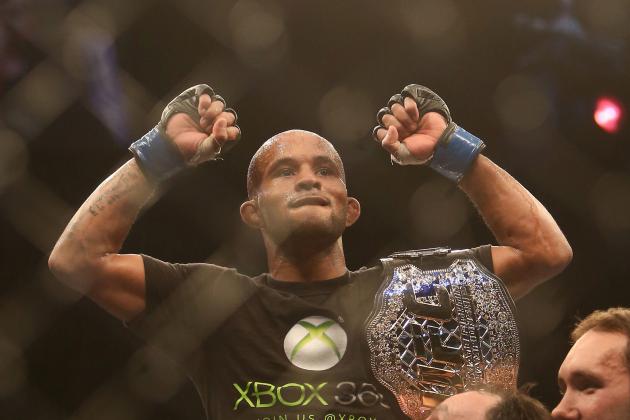 Tom Szczerbowski-US PRESSWIRE

Demetrious Johnson was a great Bantamweight fighter.
Despite being undersized in the division, Johnson was 14-2 in his first 16 fights with losses only coming to Brad Pickett and Dominick Cruz.
Although Johnson was good, you have to believe he was one of the main guys the UFC had in mind when they created the flyweight division.
Johnson has since gone 2-0-1 and became the first UFC flyweight champion back in September.
Who's to say Johnson wold have never captured gold at 135 lbs.
But he has to be thankful for the UFC giving him the chance to fight guys his own size.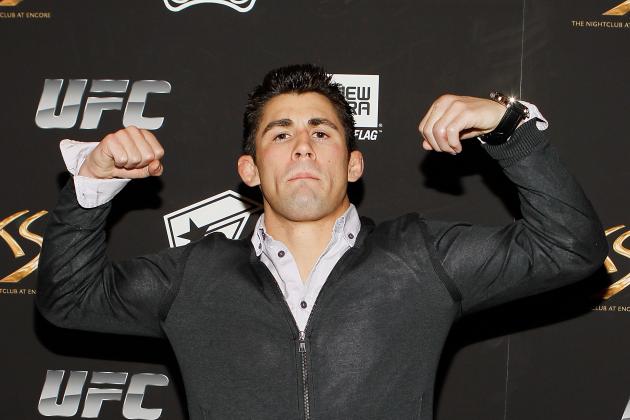 Isaac Brekken/Getty Images

There was once a time when an ACL tear was the end of your career in any sport.
Thankfully for Dominic Cruz, that does not have to be the case.
Welterweight champ Georges St-Pierre just proved that you can come back stronger than ever in MMA after an ACL tear.
Cruz may not like sitting out to heal, but at least he can have hope that his career is not dead.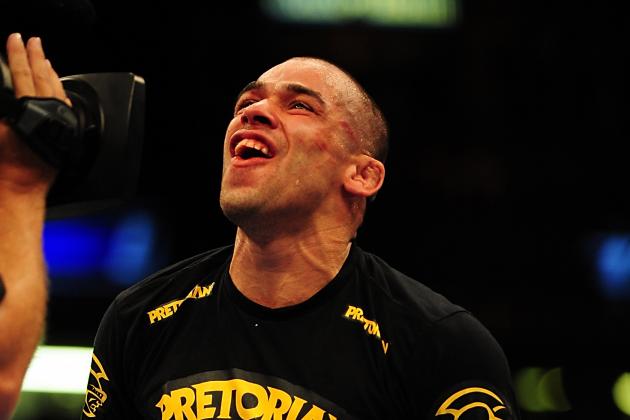 Anne-Marie Sorvin-US PRESSWIRE

Renan Barao may only be the interim Bantamweight champ, but he has proved that he belongs at the very top of the division.
Barao has a 29-1 (1) record, has beaten the likes of Urijah Faber, Scott Jorgensen, and Brad Pickett, and has never been knocked out or submitted.
Although in many people's mind, Barao included, he will not be the real champion until he meets Dominic Cruz.
Although Barao wants to wait for Cruz, Michael McDonald could be his next opponent.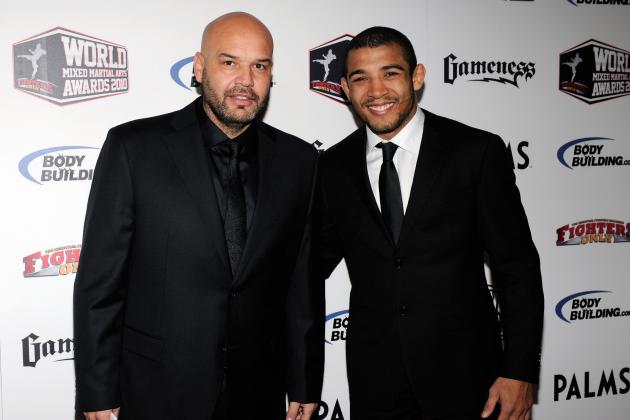 Ethan Miller/Getty Images

For Jose Aldo and fans alike, we are thankful the motorcycle accident he had before UFC 153 was not worse than what it was.
Aldo was forced to drop from the card after suffering a leg injury.
Thankfully that's the only injury he suffered and he will be able to face Frankie Edgar on Super Bowl weekend.
There have been many times where athletes have suffered worse fates in vehicular accidents.
Thankfully Aldo is OK and ready to give fans more memorable moments inside the Octagon.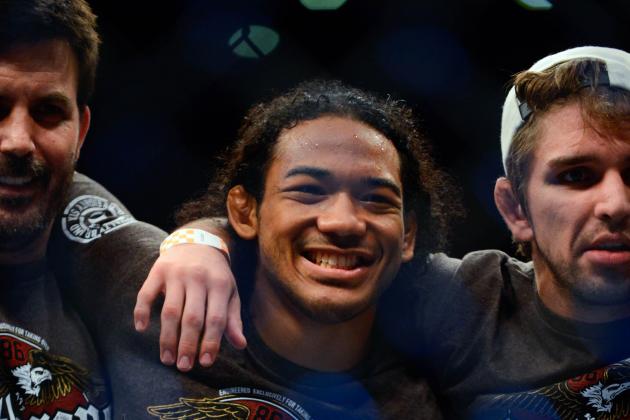 Ron Chenoy-US PRESSWIRE

Lightweight champ Benson Henderson is always up for a challenge. Even when it comes to facing the same guy multiple times.
Frankie Edgar was not the first guy Henderson faced more than once and perhaps Edgar will not be the last.
But Henderson has had some close calls against Edgar, but he was able to overcome them in two straight fights.
With Edgar moving down to featherweight, Henderson can now focus on new challenges for his title.
While there is nothing wrong with immediate rematches, after seeing Edgar face only three guys in six championship fights, some may prefer to see other challengers get their fair shots at titles.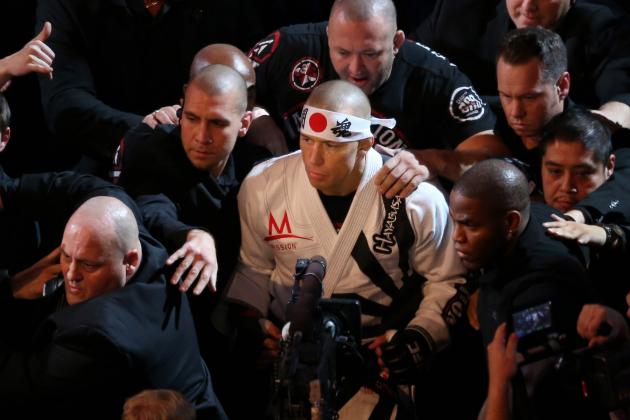 Tom Szczerbowski-US PRESSWIRE

After not fighting for nearly 19 months, Georges St-Pierre was able to make his return against Carlos Condit at UFC 154.
St-Pierre suffered an ACL tear while training for a fight with Condit last year, and revealed on UFC Primetime that he was close to retirement.
St-Pierre came back though in front of the home crowd, Montreal, Quebec, to prove that he was still the champ.
Although St-Pierre was dominant in the fight, there was a scary point in the fight where Condit dropped him with a kick to the head and nearly finished the fight.
St-Pierre was able to weather the storm though and pulled off the unanimous decision victory.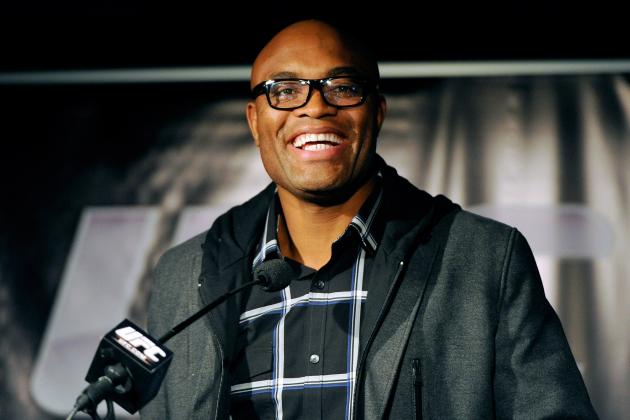 Eric Bolte-US PRESSWIRE

At age 37, most athletes are considering retirement thanks to their bodies slowing down, wanting to spend more time with their families, and just not having what they once had.
Anderson Silva on the other hand is in his prime and at the top of MMA.
Silva has pretty much cleaned out the middleweight division, stepped up to light heavyweight a few times, and could possible be preparing for the biggest fight in MMA history against Georges St-Pierre.
Even if that fight never happens, Silva's legacy is set in stone.
Although we can only speculate if he will retire in the next couple of years on top, inside the Octagon he has shown no signs of slowing down.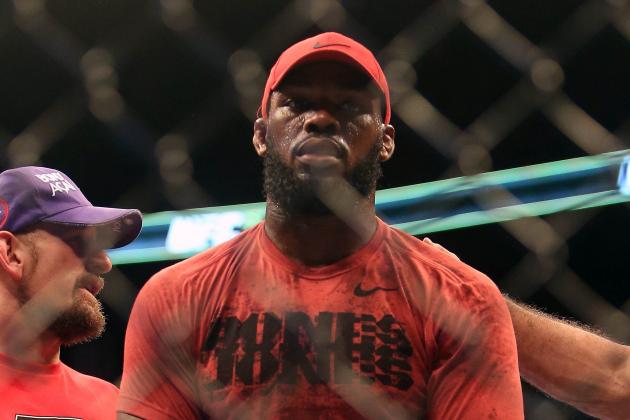 Tom Szczerbowski-US PRESSWIRE

Jon Jones has plenty to be thankful for this year.
For one, he should be thankful to be living after crashing his car and getting arrested for a DUI.
He should also be thankful for having the UFC title around his waste.
After Dan Henderson got hurt, and Jones refused to fight Chael Sonnen on short notice, an unlikely opponent in Vitor Belfort stepped up and took the fight.
No one really gave Belfort a chance to win the fight. In fact it did not really make much sense for him to be in the fight period.
But Belfort nearly won it after getting Jones in a tight armbar in the first round.
Some how Jones escaped and dominated the rest of the fight.
While Jones was in the hold though, it looked like the young champ's rise could have very well ended that night.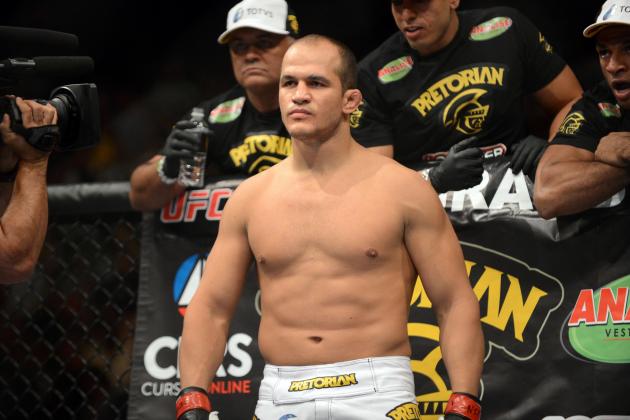 Ron Chenoy-US PRESSWIRE

Sometimes when you have greats like Anderson Silva and Georges St-Pierre, or witness someone as young and dominant as Jon Jones, we forget just how good other champions are.
Take Junior dos Santos for example.
Although Dos Santos has not shown us much of a ground game, he has proved that he is hard to take down and may have the most powerful hands in MMA today.
Dos Santos has knocked out a who's who of heavyweight greats in the UFC. For those that he hasn't, he's battered really bad.
Dos Santos is one of the nicest guys outside the Octagon but inside he is arguably the baddest man on the planet.