Patriots vs. Jets: Final Report Card, Player Grades for New England
New England Patriots 49, New York Jets 19

If a team scores 35 points in a quarter of an NFL game, chances are good that they're going to win. That was certainly the case on Thursday night for the New England Patriots, when a 35-3 second quarter made for an absolute embarrassment of the New York Jets on their home field.

For the second straight game, the Patriots scored touchdowns on offense, defense and special teams, as their team as a whole seems to have really clicked over the past two games. In two games over five days against the Indianapolis Colts and then the Jets, the Patriots have outscored their opponents 108-43.

The Patriots are in the midst of a five-game winning streak, and after a 30-point victory on Thursday night, things are certainly looking positive in New England. That said, both positive and more negative grades have to be given out for the Patriots' performance on Thursday night.

Who shined brightest in the Patriots' blowout to conclude the Thanksgiving slate of football? Read through the following slides to find out.
Begin Slideshow

»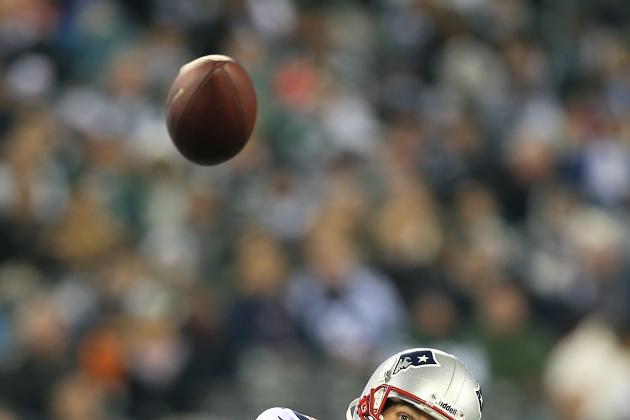 Elsa/Getty Images

Tom Brady: B+

Statistically, it's hard to ever be down on a 323-yard, three-touchdown performance with no interceptions from a quarterback. Tom Brady wasn't always at his best on Thursday night, but he put up big yardage, made no crucial mistakes and made big plays as well.

Brady's accuracy was not at its best, but he still completed 18-of-28 passes. His yardage total was very much inflated by an 83-yard screen pass touchdown from Shane Vereen, but he did deliver a strong deep ball on a 56-yard touchdown to Julian Edelman.

Brady did a very good job maneuvering the pocket tonight, with his only time being "sacked" coming on an intentional grounding penalty on the first play from scrimmage. He looked very comfortable eluding pressure in the backfield, including one impressive spin move and another where he stepped over David Harris in the backfield.

Brady even had a strong day running the football: He converted all three of his quarterback sneak attempts in the game, including one for a 1-yard touchdown.

Ryan Mallett: N/A

Ryan Mallett came in for the Patriots' final offensive series in relief of Tom Brady, but did not throw any passes with his team holding a 30-point lead.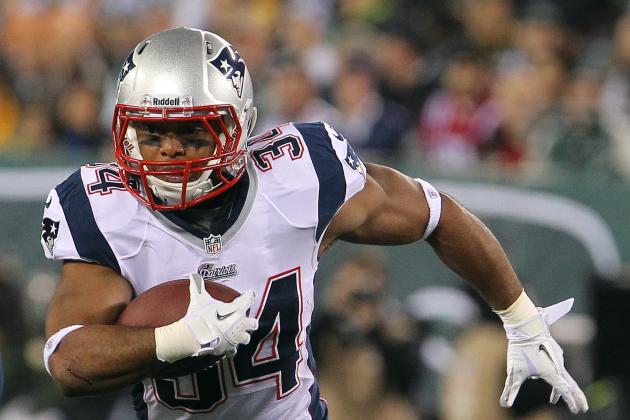 Ed Mulholland-US PRESSWIRE
Shane Vereen
Stevan Ridley: B-

Feature back Stevan Ridley did a good job eating up yards between the tackles on Thursday, gaining 97 yards rushing on 21 carries. Ridley did not have any explosive plays, with his long gain of the night of a 9-yard touchdown on which he was untouched, but did his job by consistently moving the ball forward.

Ridley did make the Patriots' most crucial offensive mistake in the game, when he was called for a chop block in the end zone for a safety. Overall, however, he had a solid day.

Shane Vereen: A

Shane Vereen has shown his short-area quickness on plenty of occasions this season, but his straight-line speed never truly showed until Thursday night. That happened when Shane Vereen started off a drive by taking a screen pass 83 yards to the end zone up the left sideline.

Vereen never should have been able to get that many yards out of that play, as the Jets were horribly positioned on defense, but it was still very impressive by Vereen to be able to do that. Vereen also did a good job of consistently gaining yardage on runs between the tackles, finishing the game with 42 yards on 10 carries.

At one time, Vereen may have seemed like a bust, but has really started to come into his own as the No. 2 back in the Patriots' offense.

Danny Woodhead: C

Danny Woodhead's role in the offense has been shrinking as Vereen has continued to emerge, and that was certainly the case on Thursday. Woodhead only received three touches on Thursday, including just one in the game's first three quarters.

Woodhead had a nice 8-yard rush up the middle out of shotgun on that play, but the Patriots never went back to him until the game was already hammered away.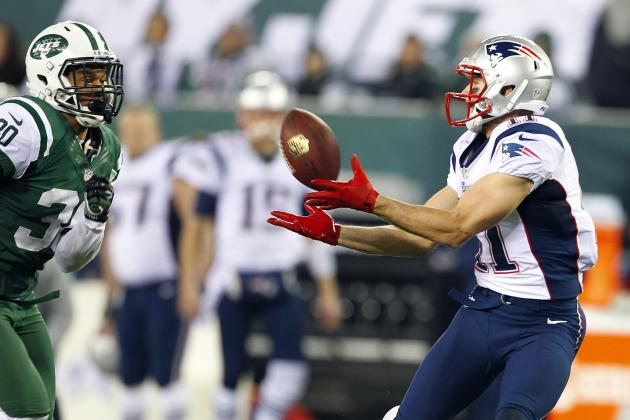 Rich Schultz/Getty Images
Julian Edelman
Wes Welker: B+

Another game, another productive day for Patriots wide receiver Wes Welker. Welker caught seven passes for 71 yards, doing a great job as usual of getting open and making important catches.

Three of Welker's seven receptions were to convert third downs, including a 3-yard catch in the front right corner of the end zone on the Patriots' first touchdown of the game to open the second quarter. Welker contributed with big downfield catches as well, including a wide-open, 28-yard reception in the fourth quarter.

Welker even made a key block to spring Stevan Ridley for a 9-yard touchdown run, and took on punt returning duties in the second half of the game.

Julian Edelman: A

For the second straight week, Julian Edelman came through as the Patriots' biggest playmaker — and this time, he was out of the game within the first five minutes of the third quarter.

On a day where there were seven touchdowns to go around for the Patriots, Edelman was the only Patriot to reach the end zone twice. For the second straight week, he did it on both offense and special teams.

Edelman made his first big play on kickoff coverage. Edelman snatched an airborne football out of the air off a forced fumble by Devin McCourty, and returned it 22 yards the other way for a touchdown.

Later in the second quarter, Edelman burned two Jets defensive backs on a streak route to catch and finish a 56-yard touchdown reception.

Unfortunately for Edelman, his day wasn't all good. While running on an end-around in the third quarter, Edelman took a heavy shot from Jets safety LaRon Landry, which not only caused him to fumble the ball, but knocked him out of the game with a head injury.

It's hard to fault Edelman for that fumble, however: He was the unlucky recipient of a hard hit, a hit through which even the strongest of receivers would be hard-pressed to hold onto the football.

Edelman's big plays in this game certainly outweighed his fumble, and earned him very high marks once again.

Brandon Lloyd: B

Brandon Lloyd continues to be a playmaker in the short passing game, but is not making big plays downfield.

Lloyd made three short receptions for 26 yards in this game, and made impressive moves on two of them to gain first downs. And to Lloyd's credit, he did beat Antonio Cromartie on a route early in the third quarter that could have made for a big downfield play, but was overthrown by Tom Brady.

Lloyd wasn't a big playmaker on a night where the Patriots had many big plays, but he was still a solid contributor.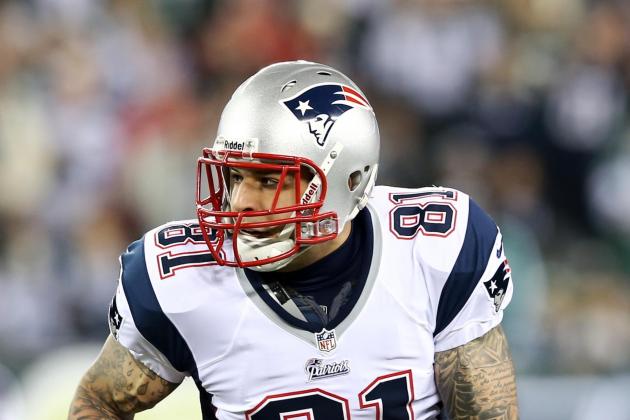 Debby Wong-US PRESSWIRE
Aaron Hernandez
Aaron Hernandez: B-

In his first game back from injury and with the Patriots' other star tight end, Rob Gronkowski, out with injury, Aaron Hernandez was expected to play a big role for New England on Thursday. He really didn't, however, catching just two passes in the game.

Hernandez made a vintage play in the first quarter when he got open on a crossing route over the middle of the field, tipped a pass to himself and completed the catch for a 28-yard gain. From that point, however, he was very quiet, catching just one more pass for 8 yards.

Daniel Fells: C+

Daniel Fells did something rare for him this season with the New England Patriots on Thursday: he made a big play in the passing game, with a 24-yard reception on a nice post route. Fells' overall game, however, was up and down.

Fells had another pass thrown his way that may have been led too far, but still should have been a catch, and he was unable to make a play on it. He was strong at times as a run blocker, but was shaky at points in that as well.

Overall, more was still expected of Fells to step up with Gronkowski out of the lineup.

Visanthe Shiancoe: C-

If the Patriots have any plans of Visanthe Shiancoe contributing as a pass-catcher this season, they certainly haven't shown it. He has yet to be targeted this season, even on Thursday with Gronkowski out of the lineup.

Shiancoe saw some snaps as a blocker in this game, but he has yet to get an opportunity to make a play in the passing game, and with Gronkowski out of the lineup, that was expected to happen Thursday.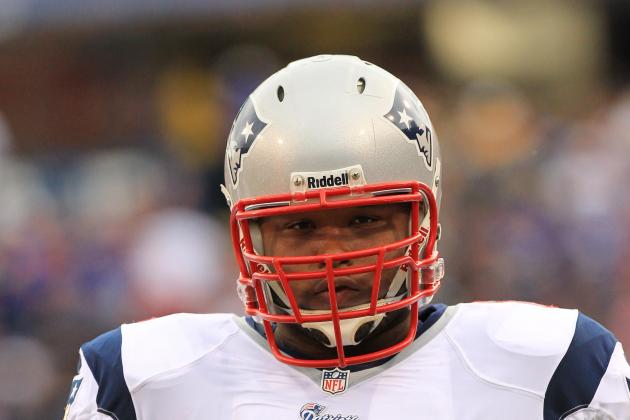 Kevin Hoffman-US PRESSWIRE
Marcus Cannon
Nate Solder: B+

Left tackle Nate Solder had a great night in pass-protection, allowing very little pressure on Tom Brady's back side while allowing no sacks.

Solder did, however, get beat badly on a couple on rushing plays to his side. In the first quarter, he failed to block Bart Scott, who laid a huge shot on Stevan Ridley to hold him to no gain. In the third quarter, Solder was beat off an edge rush to the inside by Bryan Thomas, who stopped Ridley for a 1-yard loss.

Donald Thomas: B+

Donald Thomas' game got off to a horrible start when he was beaten by Jets defensive end Muhammad Wilkerson to give up what would have been a sack, but was instead intentional grounding by Tom Brady. From that point forward, however, the left guard had a very strong game in both interior pass protection and power run blocking, still earning him a good grade.

Ryan Wendell: B

Ryan Wendell was beaten on a couple of inside pass-rushes on this game, but for the most part, the starting center had another solid showing. The interior pass-protection was mostly very good from Wendell in this game, and the Patriots had a good day running the ball up the middle behind him.

Dan Connolly: B+

Nick McDonald was very shaky as the Patriots' starting right guard on Sunday, so the Patriots certainly welcomed Dan Connolly back into the lineup at that spot on Thursday. In his first game back from injury, Connolly had a very strong day.

No plays of Connolly being beaten stand out from this game, and he was very sound throughout the game in pass protection and run blocking. Late in the game when the Patriots had pulled away, Connolly was pulled in favor of McDonald to keep him healthy, but he got the job done when the Patriots needed him.

Marcus Cannon: B+

Playing in place of star right tackle Sebastian Vollmer, Marcus Cannon had a very solid game on Thursday night.

Cannon allowed very little pass-rush pressure off the right side, playing a big role in Brady taking no official sacks. As a run-blocker, he helped lead Stevan Ridley to an untouched 9-yard touchdown up the right side of the field.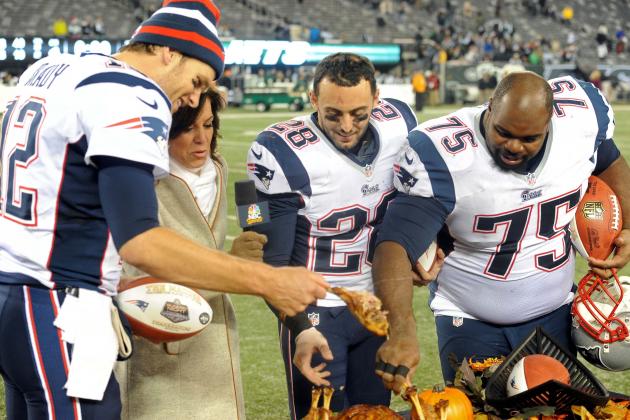 Joe Camporeale-US PRESSWIRE
Vince Wilfork (No. 75) eating postgame turkey
Vince Wilfork: A

For the second straight game this week, nose tackle Vince Wilfork had an unquestionably dominant performance.

Wilfork was credited with three tackles, but his consistent playmaking in blowing through double-teams and holding his gaps made many more stops happen as well.

Wilfork's biggest play of the game came on one of those non-credited plays. When Jets quarterback Mark Sanchez fumbled because of his slide into his own lineman, right guard Brandon Moore, it was largely due to the great push that Wilfork had against Moore.

Wilfork also helped force one of two 4th and 1 stops by the Patriots' defense, and was consistently a load for the Jets' interior offensive line to struggle with. Of any player on the Patriots' defense in this game, Wilfork made the most plays happen.

Kyle Love: B-

Defensive tackle Kyle Love was not credited with a single tackle on Thursday, but he actually had one of his stronger games this season against the Jets. Although the Patriots struggled at times with giving up rushing yards in this game, Love did a much better job of holding his gap in this game.

The Jets still targeted his side often in their rushing attack, but that was largely due to the dominance of Wilfork next to him. Love was not dominant or even a difference-maker, but he still held up fairly well against the Jets' offensive line.

Rob Ninkovich: C+

Compared to his recent playmaking efforts, defensive end Rob Ninkovich had a very quiet game on Thursday. Ninkovich was credited with just one tackle against the Jets, and did not do much as a pass-rusher.

Ninkovich did show his hustle and instinctiveness, however, when he was once again in the right place at the right time to recover a fumble. Off a strip in the secondary by Alfonzo Dennard early in the fourth quarter, Ninkovich hustled back from the defensive line to fall on the football and secure the takeaway for the Patriots.

Jermaine Cunningham: B

Jermaine Cunningham was a difference-maker on the Patriots' defensive line on Thursday, leading all defensive linemen with six total tackles.

Cunningham showed his athletic ability on a couple of big plays. Early in the third quarter, Cunningham did a tremendous job of dropping back from the line and hitting Jeremy Kerley off a 1-yard catch to keep him short of converting 2nd and 2. Later, he came up with a tackle behind the line of scrimmage on Jets running back Bilal Powell.

Cunningham didn't necessarily dominate, and was targeted on the run often, but he certainly held his own by making plays. Cunningham was flagged on a defensive holding penalty early in the game, but aside from that, he made no significant mistakes.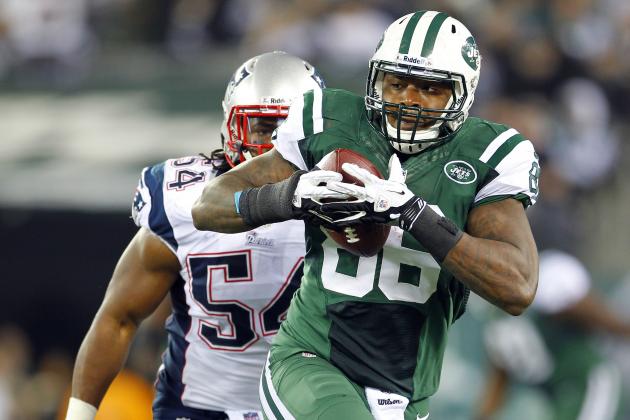 Rich Schultz/Getty Images
Dont'a Hightower looking carefree as he gets beat by Jeff Cumberland
Jerod Mayo: A-

As usual, outside linebacker Jerod Mayo was one of the defensive stars for the Patriots in this game. Mayo led the way with 11 tackles, and made a number of big plays in the defensive front seven.

Mayo helped create both of the Patriots' key 4th-and-1 stops, and made his biggest play of the game when he blew through the Jets' interior line on a pass-rush blitz and quickly took down quarterback Mark Sanchez for a 9-yard sack.

At times, Mayo was blocked out of position on run defense, but for the most part, he had a very good all-around game both as a run-stopper and a pass-rusher.

Brandon Spikes: B

Brandon Spikes had an up-and-down game on Thursday night. He made some very big stops and tied Mayo for the team lead with 11 total tackles, but also made some mistakes with penalties and in pass coverage.

Spikes was certainly a difference-making run-stopper as usual. Spikes was credited with the forced fumble on the Patriots' first 4th-and-1 stop. Later, he made a huge third-down tackle just behind the goal line on Mark Sanchez, then was in on the 4th-and-goal tackle with Mayo.

Spikes did have some mistakes in this game, however. On one play, he was beaten by Jeremy Kerley on an 11-yard gain, then wrapped Kerley up for defensive holding on the very next play.

That wasn't Spikes' only penalty, either: he was called for encroachment in the second quarter after attempting to jump a snap count, and ran into the line. He nearly did the same thing earler in the game, which caused Vince Wilfork to pick up an encroachment penalty of his own.

Dont'a Hightower: C

Dont'a Hightower's game got off to a tremendous start with a 6-yard sack on the Patriots' first defensive play of the game. For the other plays in the game, however, the rookie outside linebacker was not as impressive.

The Patriots' worst defensive play of the game came when Hightower appeared to be giving a lazy effort and was beaten by a fairly-slow tight end in Jeff Cumberland for a 39-yard gain. Hightower has had his struggles in pass coverage this season, but this was his worst lapse in that area yet as a Patriot.

Aside from his sack, a play on which he made a disciplined read of the play but went unblocked, Hightower wasn't much of a difference-maker in this game.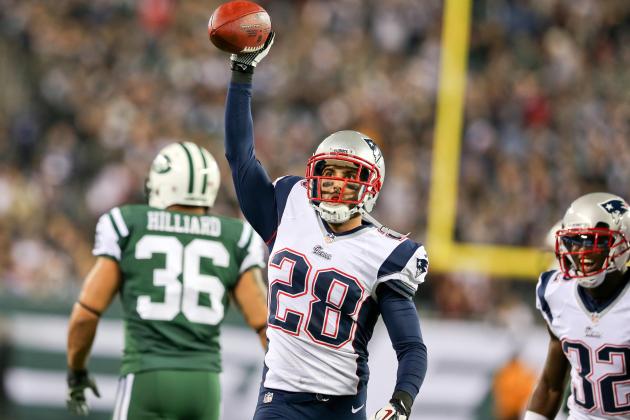 Debby Wong-US PRESSWIRE
Steve Gregory
Steve Gregory: A

A multitude of players on the Patriots' defense have stepped up to be the team's biggest defensive playmaker in games this season. Safety Steve Gregory would not have been near the top of the list for expected players to be that playmaker, but he had himself a career game on Thanksgiving night.

Gregory had three takeaways in the first 21 minutes of the game.

Gregory intercepted a pass in the first quarter. His second takeaway, a fumble recovery on what would have already been a 4th-and-1 stop, was not a big or challenging play.

His third takeaway and second fumble recovery, however, was a huge play in the game. After Jets quarterback Mark Sanchez slid into his offensive lineman and fumbled, Gregory scooped up the loose ball and returned it for a 32-yard touchdown.

Later in the game, Gregory nearly forced a fourth takeaway with a strip, but the fumble was recovered by the Jets. Nonetheless, it was yet another difference-making moment from the safety in his breakout game Thursday.

Gregory also had six tackles, although most of those came well downfield. He may not have been dominant in pass coverage, but Gregory made a hugely positive difference on Thursday night.

Devin McCourty: B+

Safety Devin McCourty did not make any big plays on the defensive side of the ball Thursday, but he made a huge impact on special teams.

McCourty made three stops in kickoff coverage. His biggest came in the second quarter, when a big hit on Joe McKnight forced the ball to pop out his hands. That fumble was snatched out of the air by Julian Edelman and returned for a 22-yard touchdown.

Six of McCourty's seven defensive stops in the game came more than 10 yards downfield, but his defensive game was not as impressive as his nine tackles would indicate. That said, his big play on special teams really helps his grade.

On two kickoff returns, McCourty was very subpar, returning the ball for just 29 total yards.

Alfonzo Dennard: A-

Rookie cornerback Alfonzo Dennard had another strong showing in the starting lineup on Thursday.

Through the first three quarters of the game, Dennard absolutely locked down opposing receivers in coverage, including one impressive pass breakup against Clyde Gates. When he was beat on the defense's first play of the fourth quarter by Chaz Schilens, Dennard recovered and came in from behind to swat the ball out of Schilens' grasp for a forced fumble.

Dennard's grade was only dropped from an A for one stupid mistake he made late in the fourth quarter. After giving up an 11-yard completion to Chaz Schilens, Dennard was then flagged for unnecessary roughness for sending a forearm into Schilens' head.

The Patriots certainly seem to have found a seventh-round draft steal and a starting cornerback in Dennard.

Aqib Talib: B+

Aqib Talib did not make any big plays on Thursday night, but the reason behind that is he was not targeted much at all.

Talib did give up a 7-yard reception on a 4th-and-1 to Jets receiver Stephen Hill, but aside from that, he was rarely targeted because he shut down opposing receivers. He did his job very well in only his second start with the Patriots.

Kyle Arrington: A

Kyle Arrington had a rough time in the first half of the season as a starting cornerback, but since Aqib Talib has moved into the lineup, Arrington has moved inside to slot cornerback in the Patriots' nickel package. That move clearly seemed to play into Arrington's favor, as his play was fantastic on Thursday night.

Arrington shut down opposing receivers in the slot, and made a number of big plays.

Arrington made two huge tackles on 2nd and 10 catches to stop receivers after 9-yard gains, stopping a first-down conversion. On one of those plays, Arrington hit Jets wide receiver Clyde Gates so hard that he knocked him out of the game.

Arrington also had two pass deflections, including a very impressive play in which he came from behind to swat the ball away from Dustin Keller's hands in the end zone. He also blitzed in for a 2-yard tackle for loss on the Patriots' first defensive play of the second half.

Arrington proved this season that he doesn't belong in the starting lineup, but he showed on Thursday that having him as their nickel cornerback may be a very good thing.

Patrick Chung: B-

In his first game back after four straight contests due to injury, safety Patrick Chung played some but not much.

Chung did make a very nice tackle in space on a screen pass to Bilal Powell for a 1-yard loss. Aside from that, however, Chung was not much of a factor, as he played mostly only in dime defensive packages.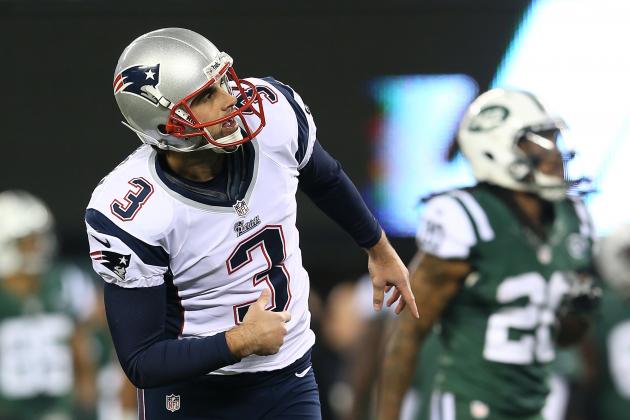 Elsa/Getty Images
Stephen Gostkowski
Stephen Gostkowski: D+

Patriots place-kicker Stephen Gostkowski had an uncharacteristically poor performance on Thursday night.

Gostkowski hooked his only field goal attempt wide left from 39 yards out. He also had only one touchback in seven kickoffs, an abnormally low number for the strong-legged kicker.

Zoltan Mesko: C-

There was nothing particularly impressive about the punting day of Zoltan Mesko on Thursday night.

Two of his punts from Patriots territory went only 43 yards, while his other punt was a touchback from the 39-yard line. Mesko did boot a free kick 60 yards, but judging off his standard punts, he is usually better than he was Thursday.

Mike Rivera: B

Aside from Devin McCourty and Julian Edelman, Mike Rivera would be the Patriots' special teams standout of this win. Rivera tied McCourty to lead the team with three special teams tackles.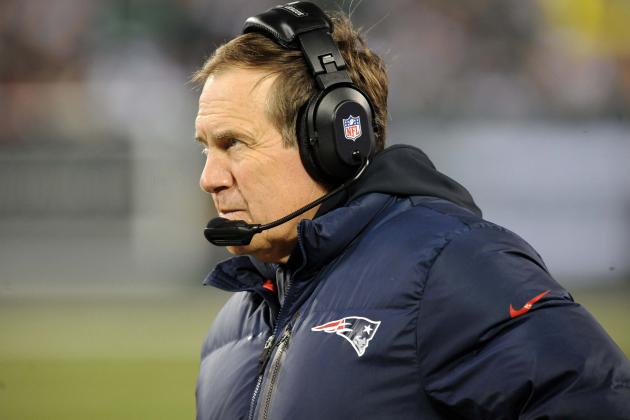 Joe Camporeale-US PRESSWIRE

Coaching Staff: A

There could have been plenty of excuses for the New England Patriots if they hadn't shown up well to play this game. The Patriots were on a short week of rest to play on Thanksgiving night, playing a game on the road against a team they struggled to beat at home earlier this season, and had four key starters out of the lineup.

Instead, the Patriots clearly came ready to play, and absolutely dominated this game.

The coaching staff certainly deserves a great deal of credit for having their team prepared and putting their team in a position to overcome some key injuries.

One area where the coaching staff did a tremendous job of setting their lineup and packages was in the secondary.

The Patriots made very smart decisions in starting Steve Gregory at safety, who had a tremendous all-around game (more to come on that in player grades) and Alfonzo Dennard at cornerback, who locked down opposing receivers all night.

Even out of the starting lineup, cornerback Kyle Arrington played a very strong game as a nickel/dime back, and safety Patrick Chung held his own when he saw the field.

The Patriots have really hit their stride, now on a five-game winning streak, and the coaches have done a great job of turning things around.
Dan Hope is the New England Patriots game day correspondent and an NFL draft Featured Columnist for Bleacher Report. For more coverage of the Patriots, follow him on Twitter @Dan_Hope.