Breaking Down 5 Things Chicago Bulls Must Do to Fulfill Potential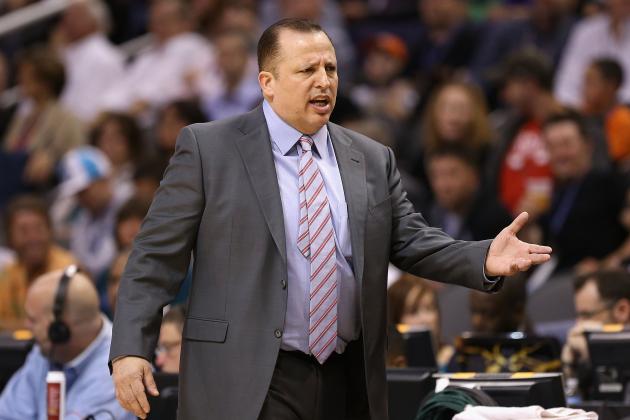 Christian Petersen/Getty Images

Losing a player of former MVP Derrick Rose's caliber can cripple a franchise.
With Chicago's superstar (and leader) sidelined indefinitely while rehabbing a torn ACL, the team has entered the season simply needing to stay relevant in the playoff race. Rose's impending return would then push this club back up the conference ladder, assuming he returns his normal self of course.
At 5-5 (ninth place in the Eastern Conference), the Bulls have displayed a level of mediocrity that, while not entirely surprising, should be unacceptable to coach Tom Thibodeau, the Bulls players and the team's fanbase. Even without Rose, this current Bulls team has too much talent to be holding just a two-game advantage over the lowly Orlando Magic.
The good news here is that a few tweaks to the gameplan could spurn a Bulls run. Any sustained success that they can manage in Rose's absence will only increase the point guard's desire to return to a club with enough talent to compete for an NBA championship.
All stats used in this article are accurate as of 11/20/2012.
Begin Slideshow

»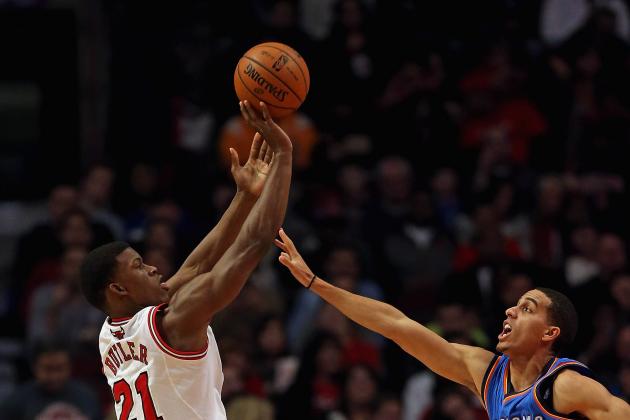 Jonathan Daniel/Getty Images

Butler doesn't have the skill set nor the style of play needed to put this franchise's fate on his shoulders.
What he does have, though, is a diverse array of talents that has allowed him to be one of the most effective players on this team.
His player efficiency rating of 18.2 ranks second among all of Thibodeau's players. But his impact has been greatly limited by seeing the floor just 13 minutes per game.
Playing behind Luol Deng (the league leader in minutes per game at 40.1) surely doesn't bode well for a significant boost to his playing time. But Butler's 60.7 field-goal percentage (more than 10 points higher than any of his teammates) should have Thibodeau searching for more minutes.
Butler and Deng are both good enough athletes (and defenders) to share the floor. Given the NBA's move away from traditional position designation, this combination should be easier to pair than it would have been, say, five years ago.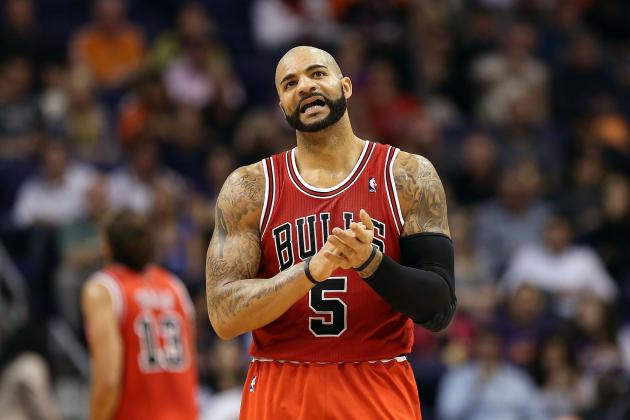 Christian Petersen/Getty Images

Maybe it's the $75 million that Chicago has invested in Boozer. Or some sensationalized memories of his former All-Star days.
Whatever the reasoning may be, the Bulls continue to heavily feature the former Duke star despite three years of diminishing returns.
Since arriving in the Windy City over two seasons ago, Boozer has seen a steady decline in his scoring, resulting in his 16.3 points per game this season. That number represents his lowest average since his sophomore season in 2003-04.
Removing the seldom-used Vladimir Radmanovic from the equation shows that Boozer is the second-most utilized player on the roster (25.5 usage percentage). And he's getting these touches despite posting the worst shooting numbers of his career (44.0 percent).
Boozer's carried an offensive-only reputation throughout his 10-year career. If he's not effective on the offensive end this season and never has been effective defensively, why, then, is Boozer being gifted the third-most minutes on the team (29.3)?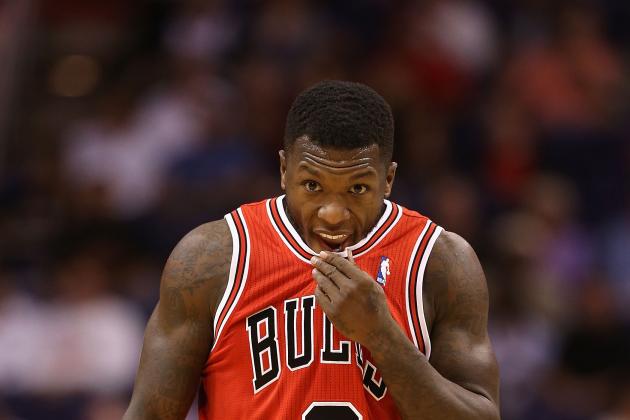 Christian Petersen/Getty Images

Any team featuring a heavy dose of Nate Robinson at point guard will likely have some turnover issues. This Chicago Bulls team has been no different.
Despite playing with the league's 10th-slowest pace, the Bulls have given away the 11th-most turnovers in the NBA (15.5 per game). Without a dominant scorer on the roster, Chicago doesn't have the offensive firepower to withstand so many empty offensive trips.
Thibodeau has some talented passers on the team (23.7 assists per game, fourth highest in the league), which makes those turnover numbers that much more frustrating. Given the tendency of both Robinson and Joakim Noah to push the tempo even when the situation suggests slowing things down, perhaps this is a matter of putting the ball in the right player's hands.
Rose's return would go a long way toward solving these issues, but Thibodeau can't wait until then to confront this issue.
Christian Petersen/Getty Images

Not too long ago, Gibson had cemented himself near the top of the most coveted trade targets.
Perhaps that trade chatter was a driving factor in Chicago signing the big man to a four-year, $38 million contract on November 1.
But now that his future looks relatively stable, Gibson's appeared a shadow of his former self. His 6.9 points per game represents a new career low, as does his 41.3 field-goal percentage.
Given the offseason overhaul experienced by the Bulls' bench mob, Thibodeau needed a reliable Gibson to be the stabilizing, consistent producer he'd been in his first three seasons. With Gibson's struggles, Chicago's bench has managed just 29.8 points per game (24th in the NBA).
Finding Gibson some touches near the basket could help get his offense back on track. After taking over 65 percent of his shots last season from inside the paint, he's attempted only 57 percent of his looks from there this season. Given his struggles this year with his mid-range jumper (22 percent), a few point-blank opportunities could help restore his confidence.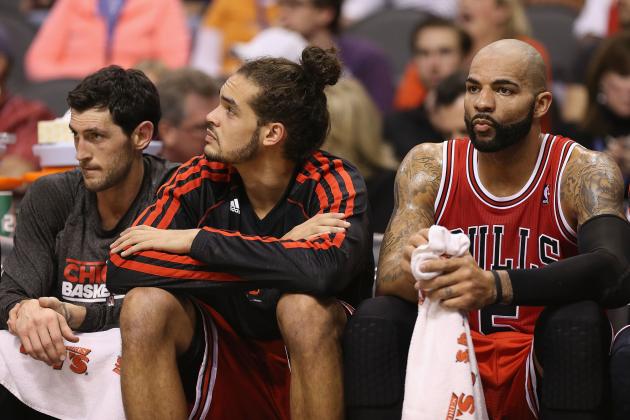 Christian Petersen/Getty Images

Chicago's 94.2 points allowed per game (ninth-fewest in the league) might indicate that this team is not struggling defensively. Realistically, though, that figure is aided by its aforementioned pace.
And it's a number that continues to rise. During its first six games of the season, Chicago allowed just 88.7 points per game. Not coincidentally, it won four of those six contests.
But in the four games since, Thibodeau's team has given up 102.5 points per game. Its lone victory over that stretch was a 112-106 win against the cellar-dwelling Phoenix Suns.
After holding shooters last season to just 42.1 percent shooting, Bulls opponents have converted 44.0 percent of their attempts this year. Last season, the Bulls also finished more defensive possessions thanks to the league's best team rebounding effort (46.7 per game). This year, though, the Bulls rank 11th in team rebounds at just 42.5 rebounds per game.
Defense and rebounding are often some of the best barometers of a team's overall effort. Maybe it's the lingering effects of Rose's injury, but this club has yet to show the energy level this year that helped them tie the San Antonio Spurs for the league's best record in 2011-12 (50-16).