Tight Ends May Lead to Dallas Destruction of Washington's Secondary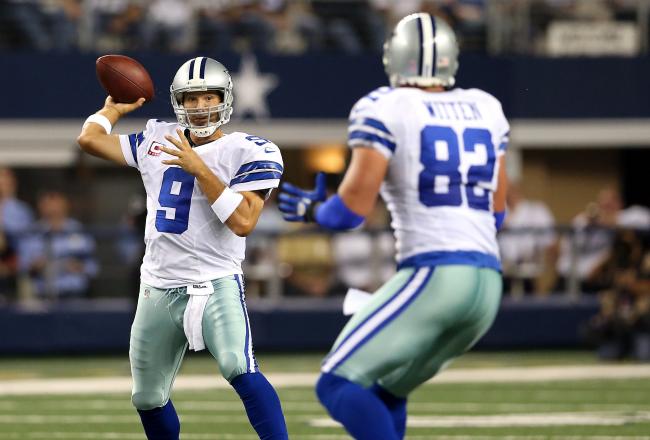 Ronald Martinez/Getty Images
The Dallas Cowboys take on the Washington Redskins on Thursday and naturally everyone is talking about Robert Griffin III. But as remarkable as RGIII is, it's possible that the most dangerous man on the field Thursday will be Jason Witten. Sounds crazy, I know, but hear this out.
The Redskins have one of the worst pass defenses in the league (29th) and they are particularly awful defending tight ends. According to NFL.com, they have given up more yards and receptions to tight ends than any NFL team and have also allowed the third most touchdowns.
What Witten does better than anyone else on the Cowboys roster is secure first downs by running great routes and getting past the markers. With Witten going up against the worst TE defending team, Dallas should have success maintaining long drives.
They're going up against a Redskins defense that has given up more first downs through the air than any other team. The Washington secondary isn't just giving up short passes to keep the plays in front of them, they're getting beat deep as well. Only the Saints and the Buccaneers have been burned by more 40 yard-plus bombs.
All of this means that Romo should have plenty of opportunities to connect with his big-play wide receivers. As Dez Bryant and Miles Austin are rounding into form, it would seem that Washington's porous defense arrives in Cowboys Stadium just in time.
Another player I would like to see get into the act on Thursday is James Hanna.
Ronald Martinez/Getty Images
You may recall that Hanna was the fastest tight end clocked in the 2012 NFL draft. If any game were tailor made for a coming out party, this would be the one.
Unfortunately the Cowboys, and Jason Garrett in particular, have a poor track record when it comes to playing rookies from later rounds in the draft. But there is reason to hope that Garrett will feel comfortable later in the game. Here is why:
RGIII Has Zero Wins Against Top 10 Defenses on the Road
RGIII has only won three road games in the last two years. He won a game against Kansas University as a senior at Baylor, he won his first game this year against the Saints (while they were still a dormant ball club) and he won on the road in Tampa Bay. New Orleans has the 31st ranked pass defense and Tampa Bay has the 32 ranked pass defense. Dallas meanwhile, owns the sixth best pass defense.
With any luck, Dallas will shut down the Redskins' potent offense in the same way that Pittsburgh and Carolina did. There is plenty of reason to expect this to happen. The Redskins have lost to the first, 10th, 14th, 15th and 17th-ranked pass defenses this year. Pittsburgh held RGIII in check by keeping him contained in the pocket, limiting the Redskins to just 12 points. Carolina followed a similar plan, limiting Washington to just 13 points.
If Dallas can do the same and build up a lead, perhaps Garrett will see the wisdom of getting more players involved on offense.
I don't believe that John Phillips is the long-term answer for Dallas as the second tight end. Hopefully we'll get some glimpses of the future with Hanna on Thursday.
Of course, all of this analysis could be completely wrong. As bad as the Cowboys offensive line is, Romo's leading receiver may be a running back. Then again, as bad as the entire secondary is for Washington, there might be three different Dallas receivers in triple digits.
This article is
What is the duplicate article?
Why is this article offensive?
Where is this article plagiarized from?
Why is this article poorly edited?

Dallas Cowboys: Like this team?