San Francisco Giants 2012 Offseason in Review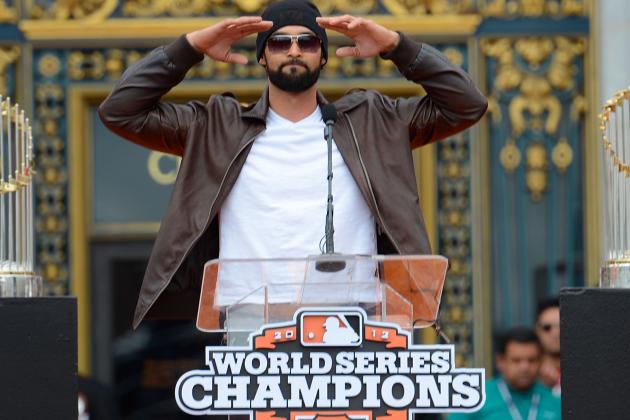 Thearon W. Henderson/Getty Images
Angel Pagan was a key to last offseason, as well as this one.
The San Francisco Giants offseason has been relatively quiet thus far, with the team re-signing Jeremy Affeldt and losing Melky Cabrera via free agency to the Toronto Blue Jays. The team remains in pursuit of its two remaining free agents, Marco Scutaro and Angel Pagan.
With little news to analyze at this point in time, let's take a look at the transactions that general manager Brian Sabean made last winter.
Sabean re-signed Affeldt, Javier Lopez and Guillermo Mota, dealt for Melky Cabrera and Angel Pagan, non-tendered Jeff Keppinger, released Mike Fontenot, signed minor league free agents Joaquin Arias and Gregor Blanco and agreed to contract extensions with Pablo Sandoval, Ryan Vogelsong, Madison Bumgarner, Tim Lincecum and Matt Cain.
It was a tremendous offseason that helped deliver the Giants a second World Series title in three years and earned Sabean consideration for Executive of the Year honors.
Begin Slideshow

»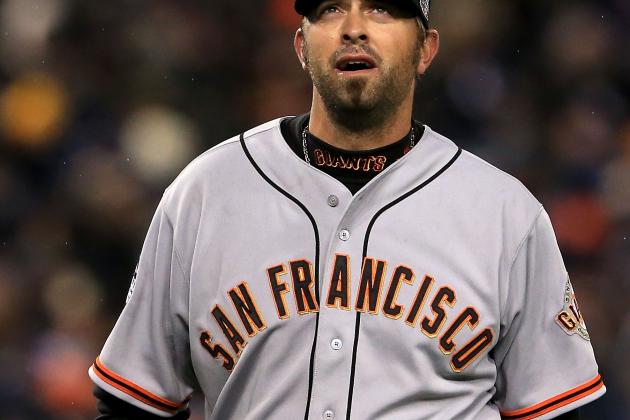 Doug Pensinger/Getty Images

Sabean's first order of business last winter was the same as this winter: stabilizing the bullpen by retaining setup man Jeremy Affeldt. Sabean also re-signed lefty specialist Javier Lopez and long man Guillermo Mota before signing Clay Hensley to replace Ramon Ramirez.
Affeldt and Lopez delivered big-time for the Giants. Affeldt was tough on righties and lefties while putting up a 2.70 ERA in 63.1 innings during the regular season before tossing 10.1 shutout innings in the postseason.
Lopez continued to flourish as a lefty specialist, holding same-sided hitters to a .191 batting average while being torched for a .417 average against righties. On the whole, he put up a 2.50 ERA in 36 innings of work for manager Bruce Bochy.
Mota had his worst season as a Giant and was also suspended 100 games for failing a drug test. Hensley struggled to throw strikes after a decent start to the season, which led to his exclusion from the postseason roster.
At the time, I didn't like Sabean's decision to spend $9.25 million combined to retain Affeldt and Lopez. However, when Brian Wilson went down with a season-ending elbow injury after just two appearances and Mota was lost to suspension, Sabean's decision to stabilize the bullpen turned out to be wise.
The Giants bullpen put up a respectable 3.56 ERA last regular season and a stellar 2.35 ERA in the postseason despite the loss of Wilson, helping to bring another title to San Francisco.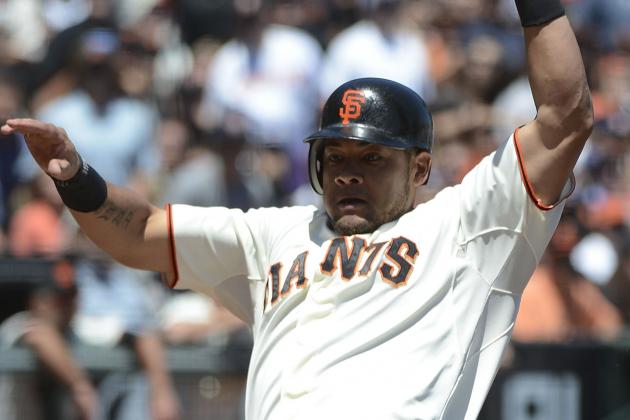 Thearon W. Henderson/Getty Images

While I was happy to see the enigmatic Jonathan Sanchez go, I was skeptical that Melky Cabrera was going to provide much production for the Giants.
Cabrera entered 2011 as a lifetime .267/.328/.379 hitter, so his outstanding season with the Kansas City Royals looked like the outlier. He hit .305/.339/.470 for the Royals, but his defense in center field was a disaster, according to the advanced metrics.
I was once again dead wrong, as Cabrera hit .346/.390/.516 in 113 games for the Giants before failing a drug test in August that would end his season. Sanchez went completely in the tank before getting released by the Royals, putting up a 7.76 ERA with more walks than strikeouts.
While Cabrera's suspension was a huge disappointment that ended his tenure with the Giants, this trade was a massive win for Sabean. According to FanGraphs, Sanchez was worth negative 0.7 wins last season, while Cabrera was worth 4.6 wins to the Giants before his suspension.
Sabean wasn't done making lopsided trades, however.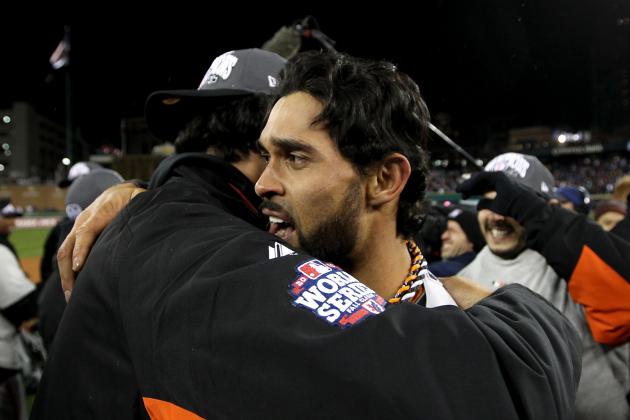 Ezra Shaw/Getty Images

The Giants apparently agreed with the advanced metrics on Cabrera's center field defense, so they flipped Andres Torres and Ramon Ramirez to the Mets for centerfielder Angel Pagan, sliding Cabrera to left field.
Torres had an outstanding 2010 season for the Giants, but collapsed in 2011. Ramirez had delivered a 2.54 ERA in a season and a half with the Giants, but he struggled to maintain that level of performance with the Mets last year, putting up a 4.24 ERA.
Pagan had been a very good player for the Mets in 2009 and 2010, but he was also coming off of a disappointing season in 2011.
Pagan bounced back for the Giants last season, leading the league with 15 triples and hitting .288/.338/.440. According to FanGraphs, he was worth 4.8 wins to the Giants.
Meanwhile, Torres hit just .230 in another down year while combing with Ramirez for just 1.8 wins with the Mets.
After stabilizing the outfield and bullpen, Sabean turned to second base.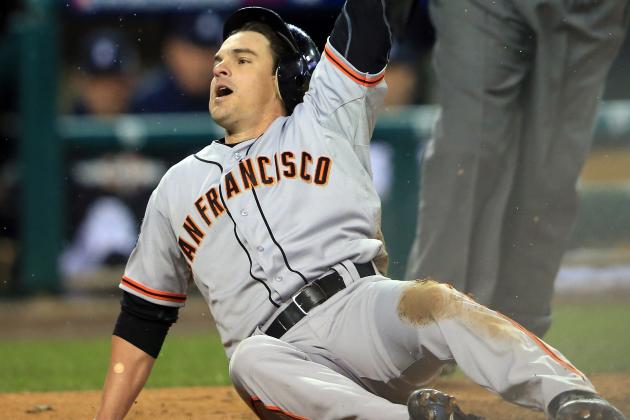 Doug Pensinger/Getty Images

Sabean elected to tender a contract to Mike Fontenot instead of Jeff Keppinger, which turned out to be his lone mistake of the offseason. Ultimately, the Giants would release Fontenot and settle on a platoon of free-agent acquisition Ryan Theriot and Emmanuel Burriss at second base to open the season.
Keppinger signed on with the Rays, where he hit a robust .325/.367/.439.
Theriot eventually wrestled the second base job away form the feckless Burriss, but he hit an empty .270 with no home runs and only 17 extra-base hits, necessitating the acquisition of Marco Scutaro at the trading deadline.
Sabean more than made up for his offseason error at the keystone by acquiring Scutaro. He hit .362 after the trade and .328 during the postseason, earning NLCS MVP honors along the way.
Sabean then improved the depth of the team by acquiring minor league free agents Gregor Blanco and Joaquin Arias.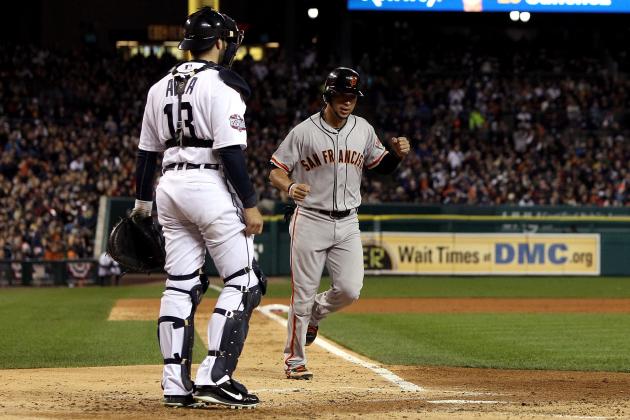 Ezra Shaw/Getty Images

The Giants paid about the league minimum salary to both Blanco and Arias last season, but received valuable production from the two minor league free agents.
Blanco was the starting right fielder for much of the first half before losing his job to midseason acquisition Hunter Pence. He then became the team's starting left fielder when Cabrera was suspended.
His range, base-running and patience at the plate made him an important depth player for the Giants. He ended up playing in 141 regular games and was the starting left fielder in each postseason game.
Arias filled in admirably at third base for the injured Pablo Sandoval before forming a platoon with Brandon Crawford at shortstop. He ended up playing in 112 games for the Giants despite not making the team out of spring training.
The Giants struck gold with these two minor league free agents as they had done in past offseasons with minor league free agents like Juan Uribe, Ryan Vogelsong and Torres.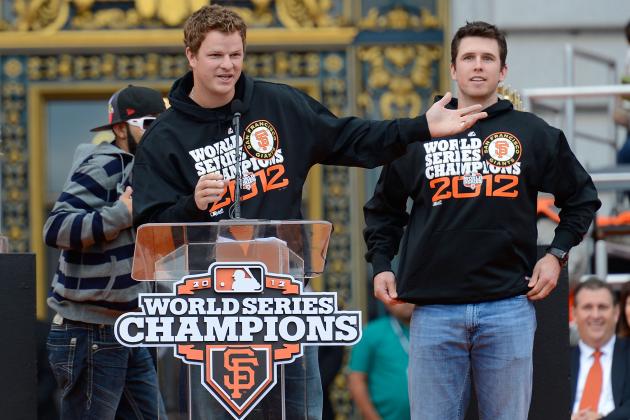 Thearon W. Henderson/Getty Images
The Giants locked up Cain; could Posey be next?
The Giants avoided arbitration with Lincecum (two years, $40.5 million), Vogelsong (two years, $8.3 million, plus an option) and Sandoval (three years, $17.5 million).
In the case of Vogelsong, they bought out one year of free agency, and potentially one more if his option is exercised. The Giants didn't buy out any free agent years for Lincecum and Sandoval, but they did gain a measure of cost certainty by avoiding arbitration.
The big contract extensions came in spring training when the Giants locked up impending free agent Matt Cain and young lefty Madison Bumgarner through 2017 with options for 2018. The Giants could potentially buy out three years of free agency from Bumgarner if his 2018 and 2019 options are exercised, which is a solid bet at this point.
The key move was keeping Cain, who would have been a free agent this winter, off the market. While $127.5 million is a lot of money, the Giants' ace righty showed that he has a good chance of delivering at least equal value over the life of the contract with his stellar performance in 2012.
He threw a perfect game, started the All-Star Game and each of the Giants' clinching games during the postseason. He also set career-bests in wins, ERA, strikeouts, walks allowed and strikeout-to-walk ratio.
The Giants enter this offseason in a similar place as last winter, though this time around, they're coming off of another championship run.
They probably need another reliever even after retaining Affeldt given Wilson's uncertain status, and they need to stabilize second base and the outfield by retaining or replacing Scutaro and Pagan.
Like Cain last winter, Lincecum is one year away from free agency, but he's coming off the worst season of his career, making a long-term contract extension unlikely at this point.
The Giants may also want to extend a long-term contract offer to their MVP catcher, Buster Posey, who is arbitration-eligible for the next four seasons and a free agent after 2016. A contract extension to provide cost certainty over the next four years and buyout a few years of free agency would make a lot of sense.
It will be difficult for Sabean to replicate the success he had last winter. However, with the core of a championship already in place, there's less work to do this time around.
It's hard to see him pulling off the coups he did last winter in trading for Cabrera and Pagan, but it isn't difficult to imagine him putting together another championship team given his recent track record.