Blueprint for Lakers to Avoid Opposing Teams Employing Hack-a-Dwight Strategy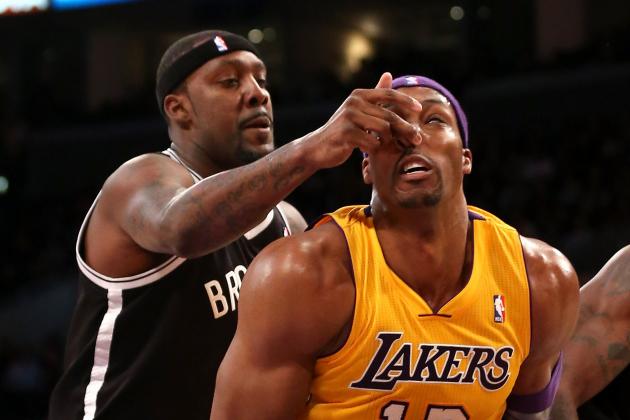 Stephen Dunn/Getty Images

So much for not following in Shaquille O'Neal's footsteps.
First, the Orlando Magic make Dwight Howard the No. 1 pick in the draft. Five years later, Howard's Magic lose in the NBA Finals. A few years after that, Dwight ditches Florida for a glitzier gig with the Los Angeles Lakers.
And now, in the House that Shaq Built (sort of), Howard is subject to the same strategic fouling that was so often used to subdue the Diesel during his days in LA. The Brooklyn Nets took to intentionally sending Howard to the line on Tuesday night (albeit sporadically so) during their 95-90 loss to the Lakers.
Who could blame them? Dwight finished the night an abysmal 7-of-19 from the charity stripe, including an embarrassing airball in the fourth quarter.
If anything, Nets coach Avery Johnson should've done more to employ the tactic, which was first "invented" by Hall-of-Fame coach Don Nelson to take advantage of Dennis Rodman's less-than-sharpshooting. His team didn't start sending Howard to the line intentionally until the 5:18 mark of the fourth quarter. Even then, they didn't do so consistently, thereby allowing Metta World Peace to hit a three and Kobe Bryant to draw a foul in between.
In any case, some copycat coaches around the league are bound to take notice of The Little General's derived strategy for punishing the Purple and Gold. That likely leaves new Lakers coach Mike D'Antoni, a busy man as is, with yet another problem to solve.
Luckily for D'Antoni, he'll have a fistful of fixes at his disposal.
Begin Slideshow

»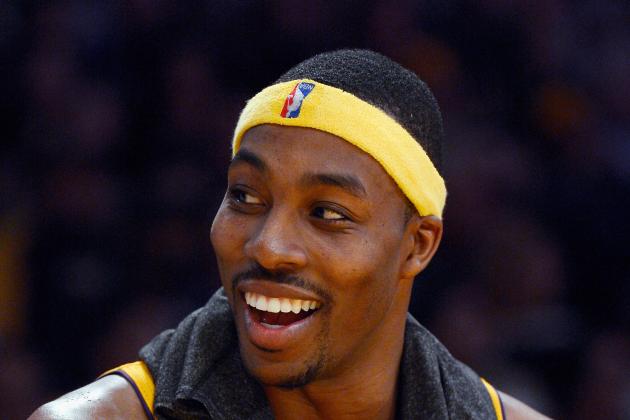 Kevork Djansezian/Getty Images

The simplest solution to stifling the "Hack-a-Dwight" is to make sure Howard is nowhere within fouling range.
Which is to say, keep Dwight on the bench...when doing so is prudent, that is.
Per NBA rules, a foul committed away from the ball in the final two minutes of a game results in a free throw and possession for the offended team. For example, if another team were to intentionally bear-hug Howard away from the ball after the two-minute mark, the Lakers could send, say, Kobe Bryant to the line for a shot and retain possession thereafter.
As such, it would behoove the Lakers to limit Howard's pre-two-minute-warning crunch-time play if possible. Doing so might be a blow to Dwight's confidence, seeing as how his own coaches would be expressing a lack of belief in his shooting abilities.
But on the flip side, the Lakers wouldn't be dragged into a drawn-out foul fest. And as a byproduct, they'd be able to limit the wear-and-tear on Howard's surgically-repaired spine over the course of a long and grueling season.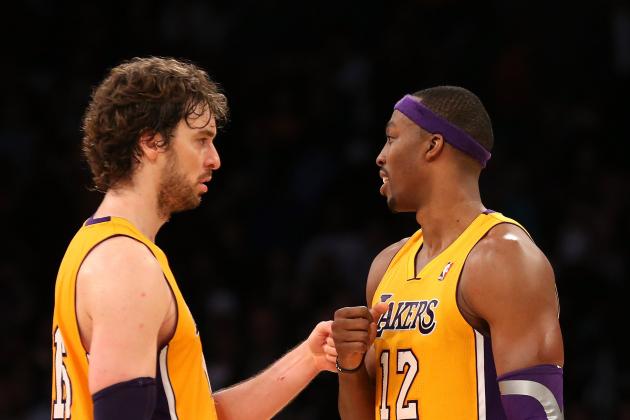 Stephen Dunn/Getty Images

As it happens, the Lakers have the proper personnel to give Dwight a consistent reprieve from the free-throw line should he become a foul target again.
Which is to say, Pau Gasol can ball too. The seven-foot Spaniard has struggled to an uncharacteristic degree this season. His current shooting (43.9 percent) and scoring (14.5 points) numbers represent career-lows, and he's looked slow-footed and flimsy on the defensive end.
In Pau's defense, though, he's been stuck guarding smaller, quicker power forwards. Gasol's a more natural fit at center, especially at his age (32) and with his declining agility.
He toiled as a jump-shooting big man next to Andrew Bynum last season and has only seen his problems persist next to Dwight Howard. As such, it'd be to Pau's benefit for him to see more time on the floor sans Howard, during which he can play with his back to the basket and get his confidence going down low.
And in turn, the Lakers won't have to worry about Howard bricking freebie after freebie. Gasol is a career 75.3 percent foul shooter and has upped the ante to 80.6 percent so far this season.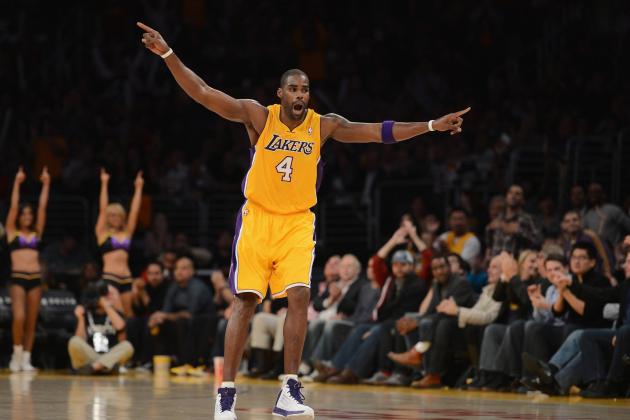 Harry How/Getty Images

The question then becomes, who plays power forward while Pau is in the middle?
Antawn Jamison would seem a solid choice (if not the choice), at least on the offensive end. He's too often been miscast as a small forward, even though he's shown over the years to be a far better fit as a "stretch four" on both ends of the floor.
The numbers certainly bear that out. According to 82games.com, Jamison's PER (Player Efficiency Rating), opponent PER and win percentage at power forward are miles ahead of those put forth at small forward.
A front line of Jamison and Gasol would give the Lakers plenty of offensive skill and veteran know-how in close contests, albeit at the expense of their defense. All told, though, the Lakers have been 16 points better than their opponents during the 71:14 in which 'Tawn and Pau have shared the floor (per NBA.com).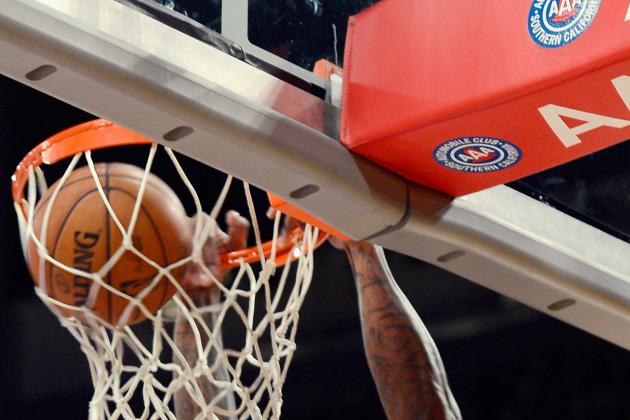 Kevork Djansezian/Getty Images

Still, Jamison's been nothing short of abysmal this year (4.1 points on 37.2 percent shooting with an absymally-low 9.8 PER, according to Basketball Reference).
The better compromise between offense and defense with Howard on the bench would (presumably) be to slide Jordan Hill in at the "four" alongside Gasol.
Admittedly, Hill has had his issues guarding power forwards (per 82games.com). But his energy, hustle and tenacity on that end of the floor—not to mention his dreds—far out-duel anything that Jamison brings to the table.
And frankly, Hill has been a bunch more productive player than Jamison this season. To date, Hill is averaging career-highs in points (7.2) and rebounds (5.3) while shooting a respectable 48.3 percent from the field and 65.7 percent from the line.
Most impressively, Jordan is leading the NBA in offensive rebounding rate, which Hoopdata defines as the "percentage of offensive rebounds grabbed by a player during his time on the court."
Also, according to NBA.com, Hill and Gasol have shared the floor for just over 89 minutes this season, during which the Lakers have outscored the opposition by 55 points.
Whether or not D'Antoni would be inclined to play Hill in crunch time is another story entirely.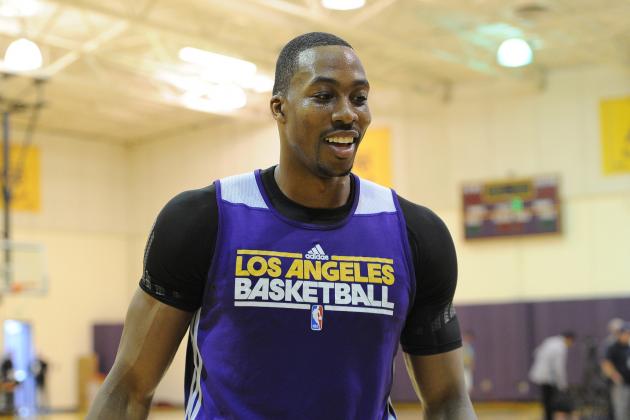 Jayne Kamin-Oncea-US PRESSWIRE

The best way to stop the Hack-a-Dwight, though, is for Howard to make the opposition pay for sending him to the line.
Howard has worked diligently in recent months with Lakers assistant and noted sharpshooter Chuck Person (a.k.a. "The Rifleman") to improve his inconsistent form from the stripe. He's shot countless free throws in practice, adjusted his mechanics and, according to Lakers sideline reporter Mike Trudell, even adopted a whole new mantra while attempting freebies:
Howard said key for him is to focus on elbow & follow through at the line, instead of thinking "I have to make it." Been the latter tonight.

— Mike Trudell (@LakersReporter) November 21, 2012
The key, it would seem, is for Dwight to avoid falling back into old habits, which, as John McClane knows all too well, tend to die hard. So long as Howard's thinking about the process rather than the product, his free-throw shooting should trend up, thereby disincentivizing teams from fouling him away from the ball.
Because if the Lakers are going to have their way with the NBA this season, they'll need to trust their best lineup to get the job done when the game's on the line. And such a lineup, inevitably, should/must/will feature the best big man on the planet manning the middle.
Hack or no Hack.