5 Reasons for the Boston Celtics' Sluggish Start
Bruce Bennett/Getty Images
The Boston Celtics are associated with winning. So when the team can't seem to stop losing, something must be very wrong.
The Celtics have a 6-6 record, currently fourth in the Atlantic Division. For a team that was designed to win championships, the sluggish start to the 2012-13 season is a bit unnerving. The offseason hype that surrounded the new and improved Celtics is almost laughable now.
So why can't the Celtics find their stride? The team known for its lock-down defense is now struggling to show aggressiveness on the defensive end. The new additions to the team are also struggling to find their roles, which puts more pressure on the starters.
It's still only the beginning of the season, but the Celtics need to dig themselves out of the hole before it gets too deep.
Stats used in this article were accurate as of Nov. 21, 2012.
Defensive Struggles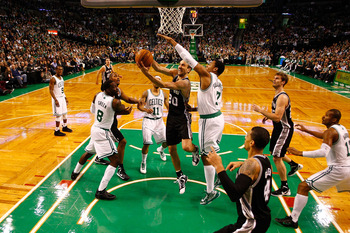 Jared Wickerham/Getty Images
Boston's defense has notably declined over the last few years, but this season's struggles have been embarrassing.
The Celtics allow 1.427 points per play in transition defense in 2012-13, the last in the league. The team usually ditches the offensive boards to get back on defense to stop the transition bucket, but that strategy clearly isn't working.
The Celtics are trying to force a half-court game, but that doesn't work when your players are slow to get back on defense. Plus, Boston has difficulty with matching up, which leads opposing teams to exploit the mismatches.
Boston ranks 26th in overall defense (0.947 points per play) this season, but they ranked second (0.856 points per play) last year. Clearly, the Celtics are doing something wrong. Defense wins games, so they need to stop allowing their opponent to score so many points.
Not Using Jason Terry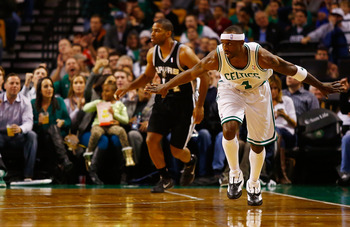 Jared Wickerham/Getty Images
Jason Terry still hasn't quite found his niche with the Celtics. The team's offense could be much better if they utilized Terry to his full extent, especially considering that he's replacing Ray Allen.
Despite his shooting percentage being nearly 50 percent, Terry has struggled to figure out where he fits into Boston's system. Although he isn't playing terribly, his 11.1 points and 1.8 assists per game are the lowest averages since his rookie season.
Terry has been very inconsistent, like when he failed to make a single basket in a win over the Utah Jazz. Three nights later, he scored 20 points in a win over the Toronto Raptors. The problem is that Terry is out of his comfort zone. While he's capable of creating action with the ball in his hands, he's also not used to the offensive looks he's getting.
Terry has to take what he can get for the time being, and the Celtics need to work on getting The Jet better looks.
Rebounding
Jonathan Daniel/Getty Images
The Boston Celtics just can't seem to stay under the glass. Once again, the C's ranked dead last in rebounding, only grabbing 36.8 boards per game.
Although Doc Rivers' strategy is to ditch offensive rebounding to prevent transition buckets, that plan seems to be ineffective. The Celtics need to take advantage of second-chance points. For every rebound they miss, that's another chance for the opposing team to score.
Jared Sullinger was brought in for his effective rebounding. He's averaging 4.4 rebounds in 18 minutes, but it's a start.
Kevin Garnett leads the team with seven rebounds per game, but when he's on the bench, the defense crumbles. More players need to get involved with rebounding the ball to create more second chances to score.
Limiting Starters' Minutes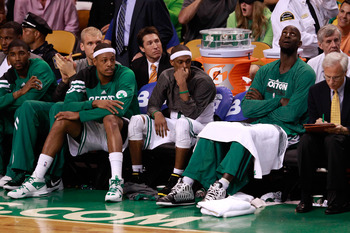 Jared Wickerham/Getty Images
Doc Rivers has approached the 2012-13 season very carefully, placing more emphasis on the long-term goal of a championship. He doesn't want to take a chance with any starter's health, especially Rajon Rondo, Paul Pierce and Kevin Garnett.
Rivers wants to win playoff games and ultimately a championship, and you can't win those without a healthy team. That being said, some sacrifices must be made with early regular season games. The Big Three has to peak in the spring, not in November.
Garnett is averaging 28.3 minutes, the lowest average of his entire NBA career. Pierce's average of 33.5 minutes per game is also the lowest of his career. On the other hand, Rondo averages a career-high 38.3 minutes, but it's a step back from the 40-plus minutes he averaged in the first five games of the season.
Lack of Chemistry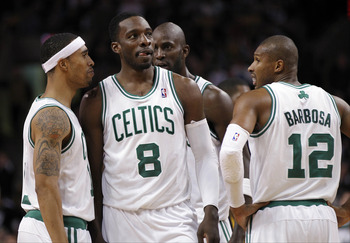 Greg M. Cooper-US PRESSWIRE
The Celtics have almost an entirely new team. The only players left from the 2007-08 championship team are Rajon Rondo, Kevin Garnett and Paul Pierce. General manager Danny Ainge has worked to create another winning formula, but it won't happen overnight.
The team needs to gel. Although the secondary unit is talented with loads of potential, the new additions need to define their roles with the team. Jason Terry and Jeff Green—who missed all of last season—struggle with consistency. Courtney Lee has yet to find his rhythm, which is surprising considering the fact he was supposed to be starting shooting guard in the absence of Avery Bradley.
The Celtics don't have much time to build the perfect chemistry. After a while, that excuse won't work anymore. The players need to step out of their comfort zones and make the plays that are given to them.
Keep Reading

Boston Celtics: Like this team?