UFC on FOX 6: Demetrious Johnson vs John Dodson Head to Toe Breakdown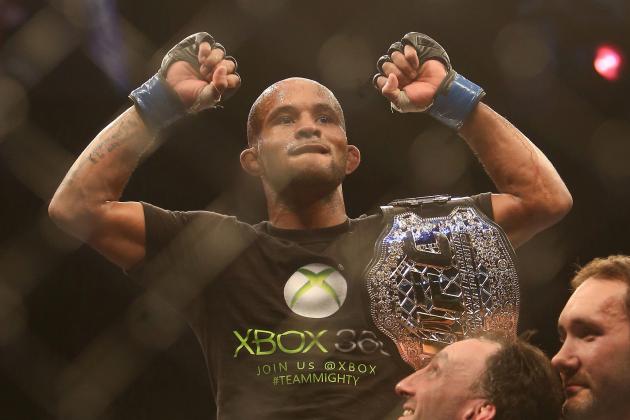 Tom Szczerbowski-US PRESSWIRE

Demetrious Johnson will defend his UFC Flyweight Championship for the first time live and free on FOX. He will tussle with John Dodson on January 26th at the United Center in Chicago, Illinois.
Dodson is 3-0 in the UFC with his last two victories coming at featherweight. He is The Ultimate Fighter season 14 bantamweight champion. He will become the eighth TUF winner to challenge for a UFC championship.
Johnson won the UFC championship via a split decision victory over Joseph Benavidez at UFC 152 to become the first ever champion of the division.
Mighty Mouse and The Magician will lock horns in January, and this is how they stack up to one another.
Begin Slideshow

»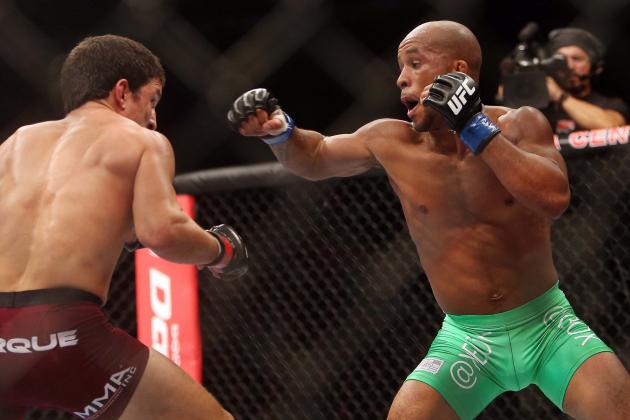 Tom Szczerbowski-US PRESSWIRE

If the fight stays a striking affair then the fans are in for a special treat. Both flyweights are excellent strikers.
Dodson and Johnson both possess extraordinary speed. The difference between them is that Dodson has huge power and Johnson relies more on technique and movement.
Dodson has shown he can finish inside the Octagon. He put away both T.J. Dillashaw and Jussier Formiga.
All six of Johnson's UFC bouts have gone the distance. Over the course of 25 minutes, can he out strike Dodson?
I believe he can. He proved he has the ability in his last outing. Benavidez is another flyweight with big power, and Johnson answered the call. Nine times out of 10 technique will beat power. Johnson's footwork, head movement, and ability to mix up his attack will give him the edge standing.
Edge: Johnson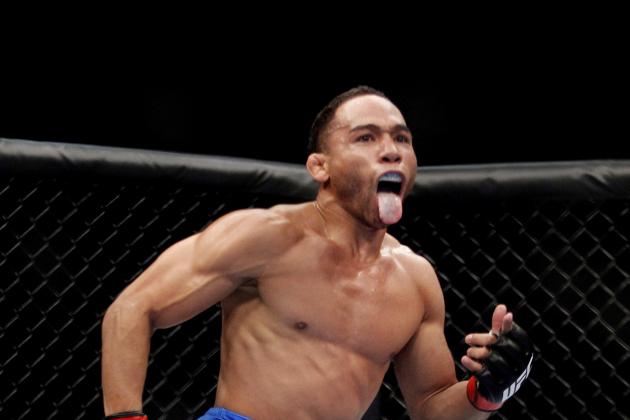 Bruce Kluckhohn-US PRESSWIRE

Both competitors have wrestling backgrounds, and both have utilized their skills inside the cage.
Going in to the title match Johnson was considered at a disadvantage in the wrestling department. After five rounds he was four of eight on his takedown attempts and stuffed all seven of Benavidez's.
Will Dodson be able to take him down? Ian McCall was able to get Johnson down, and so was Dominick Cruz.
Neither individual will take the other down easily. Everything will have to be set-up to perfection. However, in the isolation of the wrestling category a very slight edge would go to Dodson. Through three fights inside the UFC he holds 100% takedown defense.
Edge: Dodson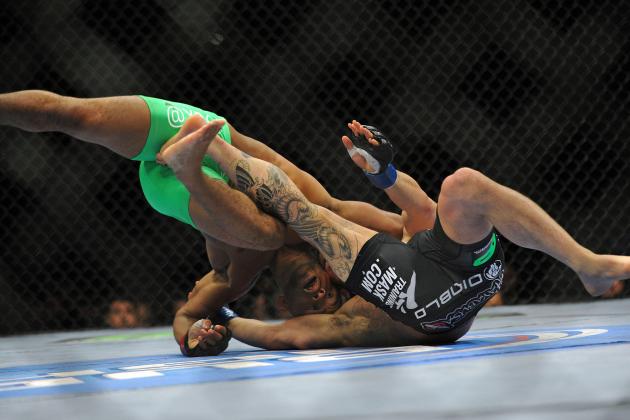 Steve Mitchell-US PRESSWIRE

If the fight hits the mat it may be that the champion has a clear advantage.
Mighty Mouse has six submissions to his credit, but more than that is his ability to be both offensive and defensive that gives him the edge.
He is hard to keep on the mat or to get to a dominant position. Johnson also does a good job of neutralizing his opponent to avoid ground and pound. And offensively he has the ability to sweep and pass guard quickly.
Dodson is no slouch on the mat, but Johnson holds the advantage here.
Edge: Johnson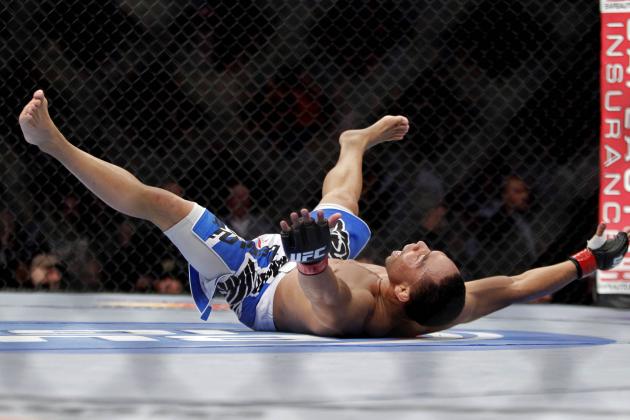 Bruce Kluckhohn-US PRESSWIRE

Dodson's X-Factor: Slowing Johnson Down
The UFC Flyweight Champion is incredibly quick. One second he is in front of you and the next he is gone. Dodson is fast in his own right, but he will need to slow Johnson down. Way down.
In a five-round fight it is even more important.
The earlier he can tire Johnson the better. It will make him an easier target, and put Dodson in the driver's seat to capturing the championship.
Johnson's X-Factor: Avoiding Dodson's Power
He was able to do this against Benavidez, and Johnson will have to do it again.
It is not a matter of avoiding the knockout blow, but avoiding the accumulation of damage. A few hard shots can drain the gas tank quicker than expected. When people think power puncher, they think head hunter or knockout artist, and that is not always the case.
Speed versus power. Which will win in January?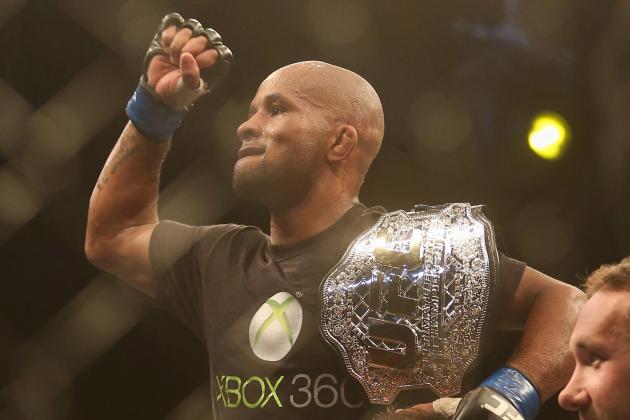 Tom Szczerbowski-US PRESSWIRE

Johnson has yet to stop anyone in his UFC career, and I do not expect that change at UFC on FOX in Chicago.
Dodson is a game opponent that will have his own moments in the fight, but ultimately it will be Johnson's ability to mix things up that is the difference. Johnson will strike and then change levels to put Dodson on his back.
Johnson will have Dodson constantly thinking throughout the fight and turn him in to a reactionary fighter. Mighty Mouse will get off first and take the fight. Dodson will hang around, but won't be able to come up with a definitive answer.
It will go to the scorecards and the flyweight championship will be defended successfully.
Prediction: Johnson defeats Dodson by unanimous decision