Silence is not something we have become accustomed to when it comes to UFC welterweight contender Josh Koscheck. To not see a Koscheck tweet looking to step in for any injured fighter on any card on any notice is a little off-putting, but there is a reason for that silence, a silence that Koscheck has begun to emerge from.
Koscheck had been booked to face Jake Ellenberger at UFC 151, but a back injury forced Koscheck to withdraw from the bout. In late October, Koscheck, perhaps itching to get back into the cage, took to Twitter to lament the fact that the UFC would not have a fight for him until 2013:
Doesn't look like #UFC has a fight 4me until 2113. So ill just train & get better...

— Josh

Koscheck

(@JoshKoscheck) October
He then followed that up with a list of opponents he would be interesting in facing:
Haha 2013 lol But I'd like to fight Nick D, Damien Mia, Jake E, Roy M any of those guys will do it...

— Josh

Koscheck

(@JoshKoscheck) October 23, 2012
The attention-grabber there was the name Nick Diaz. A fighter who is currently serving out a one-year suspension for popping positive for marijuana metabolites following his February 4 loss to Carlos Condit.
It's an intriguing matchup, as many feel that Diaz would have a great deal of trouble dealing with the wrestling attack that Koscheck, an NCAA champion, would bring with him into the Octagon.
Koscheck seems anxious to make the fight happen, telling UFC.com:
I feel it would be a great fight for the fans, with a great buildup, and Nick brings a lot to the table. He's a good fighter. He's tough. He has that tenacity where it's 'It's me against the world and %$#$ you!' I have the same attitude. I enjoy fighting people who have the same attitude because they are going to come in, never give up, and they are going to stand in front of you and fight. Nick Diaz will absolutely do that.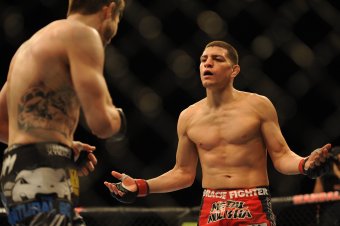 Kelvin Kuo-US PRESSWIRE
No matter what you think would happen once the fighters hit the Octagon, the buildup to this one would be one to remember. There's no doubt that these two unfiltered and outspoken fighters would have plenty to say about each other in the months leading up to the fight. As
Koscheck
said, "It's going to be bad guy versus bad guy. We haven't seen too many of those
matchups
in the UFC."
On paper, a fight between Koscheck and Diaz is an intriguing matchup, and it would draw eyeballs. The problems that face the promotion would come after the fight is over.
If Diaz defeats Koscheck, the simple solution would be to put him in line for a title fight, but what if St-Pierre faces Anderson Silva instead of No. 1 contender Johny Hendricks?
If Koscheck wins, you have the above problem coupled with the fact that he has already faced St-Pierre twice and lost to him twice, and it's doubtful that the UFC would want to match him up against St-Pierre a third time.
My take? I say screw the future and look to the present. Book this fight, give it the full UFC Primetime buildup and throw it on free television as a FOX headliner. Conflict builds interest, and there would be more than enough conflict to go around in this one. Plus, you always have the bonus of wondering if Diaz will show up for pressers and media obligations.
Everyone wins. Time to get this fight on the schedule.