5 Things We Learned About New-Look Lakers in Mike D'Antoni's Debut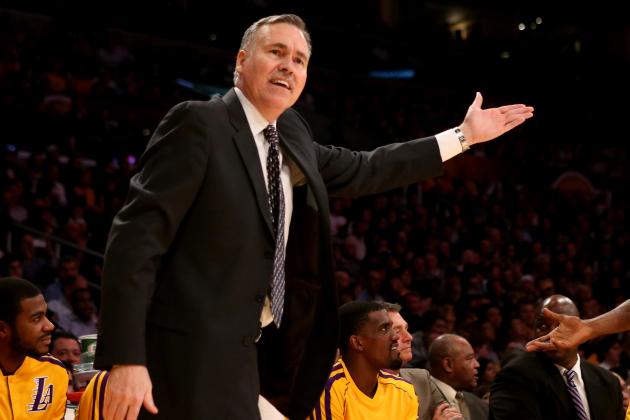 Stephen Dunn/Getty Images

The Mike D'Antoni era has arrived for the Los Angeles Lakers—like, officially arrived.
D'Antoni made his sideline debut in front of the hometown crowd as the Lakers surpassed the Brooklyn Nets to win their third straight game and rise above .500 for the first time all season.
It was undoubtedly not just an emotional victory for D'Antoni but a relieving one as well. With so many people calling for Phil Jackson prior to his hiring and still plenty of pundits criticizing Los Angeles for the way it handled the situation, Coach D needed this game.
Well, he got it. Now that his inaugural appearance is over and done with, the Lakers can get back to business.
As expected, the head coach's first game on the bench was extremely telling. From his rotation to the way he utilized and interacted with his players, much can be made of D'Antoni's first game alongside his new troops.
So, let's make plenty of it.
Begin Slideshow

»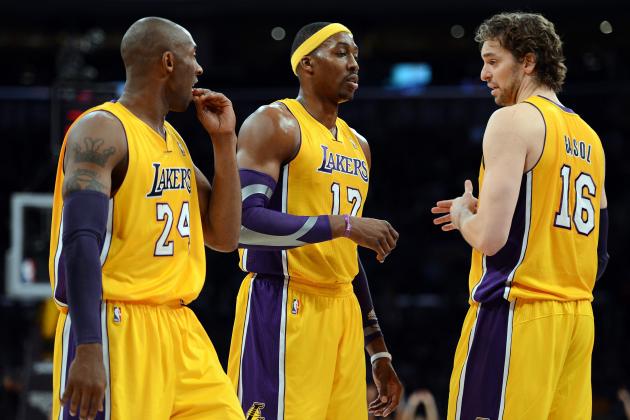 Harry How/Getty Images

It became clear in just one game that there would be no rest for the Lakers' premier talent.
Kobe Bryant may be 34, Pau Gasol may be 32 and Dwight Howard may still be rehabilitating a surgically repaired back, but Mike D'Antoni isn't going to allow such realities to act as a leash.
With the exception of Darius Morris, who is still learning the ropes of NBA action, the entire Los Angeles starting lineup logged at least 39 minutes against Brooklyn. Age and injuries be damned, that's not going to change.
D'Antoni has never been known to stretch the use of his bench, but no one could be certain if that was bound to change now that he's coaching a bevy of fragile veterans.
Apparently, it's not going to, in part because the Lakers aren't afforded the necessary depth to do so, but mostly because D'Antoni himself said so.
Therefore, outside of blowouts, prepare yourself to see the Lakers starting five all the time—Steve Nash included.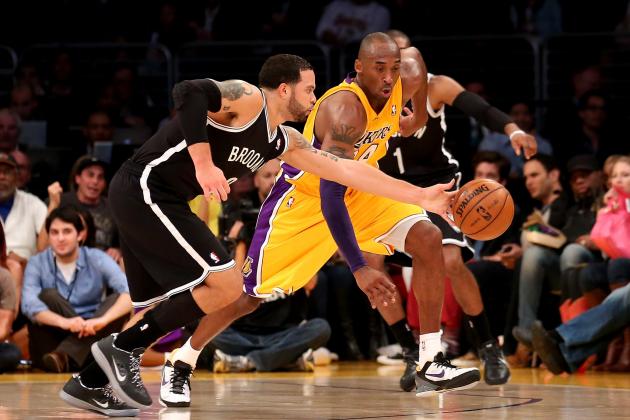 Stephen Dunn/Getty Images

Against the Nets, the Lakers coughed the ball up just 11 times, tying a season low.
With the Lakers averaging over 18 turnovers per game upon Mike Brown's departure, there was some serious concern as to whether ball protection would become a bigger issue under Mike D'Antoni.
Brown's Princeton offense was one of the slower offensive sets in the league, one that didn't require players to react as quickly. D'Antoni's seven-seconds-or-less system preached the complete opposite.
Naturally, being forced to push the ball, increase your number of possessions and make quicker decisions would increase the amount of turnovers per game, right?
Wrong.
Over the past three games, the Lakers are averaging under 12 turnovers and have dropped their number of daily infractions for the season to 16.4.
With D'Antoni on the sidelines for the first time, instilling his offensive wisdom on his players throughout the game, the stage was set for Los Angeles to be sloppy with the ball.
However, it continued to be mindful of the rock, reassuring us that this transition would not be as visually unappealing as many believed it would.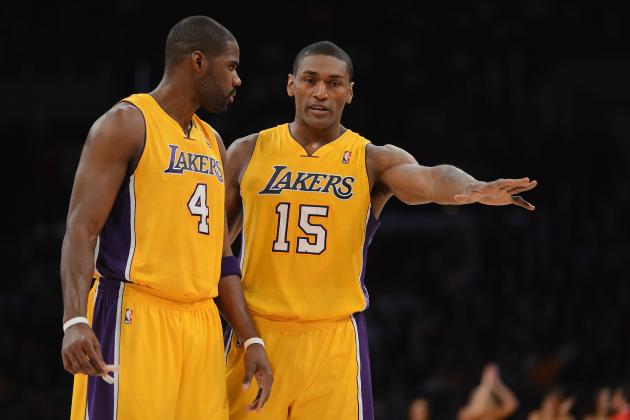 Harry How/Getty Images

Plenty of people were concerned that the Lakers would not have enough shooters to successfully run Mike D'Antoni's three-happy offensive sets.
Well, plenty of people were wrong.
As it always seems to do, D'Antoni's system breeds talented shooters.
Little did we know, however, that the first talented shooter to materialize in Hollywood would be Metta World Peace.
Since D'Antoni has taken over, World Peace has scored 12 or more points in every game, and is now averaging 13.5 on the season. He has also hit at least one three per game as well.
In D'Antoni's debut, however, World Peace jacked up nine long balls, connecting on four of them. He put up 17 points in total—the fourth time he has eclipsed 15 or more points over the last five games—on 46.2 percent shooting.
Toss in the fact that the tumultuous small forward has shot over 45 percent in four of the last five games and you come to a conclusion the Lakers were looking to draw four years ago.
Ron Artest has arrived.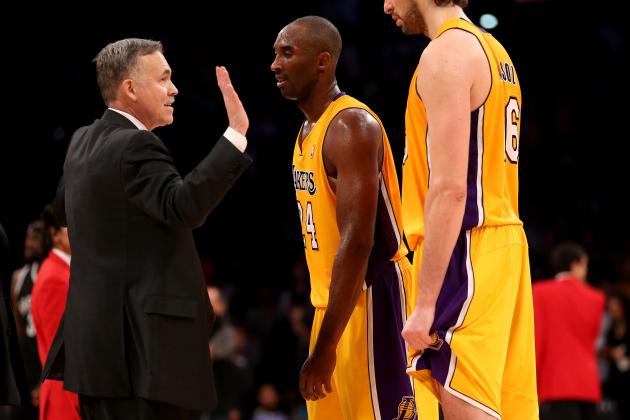 Stephen Dunn/Getty Images

Kobe Bryant picked up his second foul less than halfway through the first quarter, so naturally, Mike D'Antoni attempted to relegate him to the sidelines.
Bryant, however, wouldn't have it. He refused to take a seat and D'Antoni obliged.
Why?
He's smart.
Not only did the Lakers finish the game at plus-20 while Bryant was on the floor, but he is one of D'Antoni's biggest supporters. Why fracture the relationship even slightly by not putting faith in your best player?
D'Antoni himself said he needs to learn to "trust" his new players.
Letting Kobe's will be done was a great start.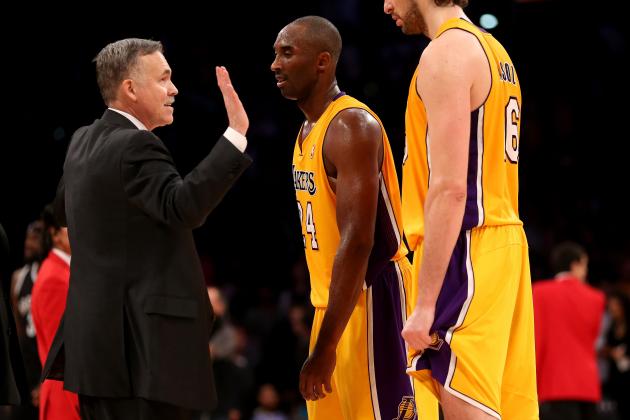 Stephen Dunn/Getty Images

No, the Lakers didn't drop over 100 points in Mike D'Antoni's debut, but they did pull out a thrilling victory while playing competent defense along the way.
If D'Antoni wasn't adjusting to life along a self-sufficient star in Kobe Bryant, he was mesmerized by Howard's four blocks. He wasn't watching his system turn Metta World Peace back into Ron Artest, he was providing direction to the type of big men he has never had in Pau Gasol and Howard.
There's also the Lakers' enhanced ball protection to consider. How about them being able to dish out 23 assists despite the absence of Steve Nash? Just wait until he comes back and Los Angeles becomes even more of a captivating show to watch.
Make no mistake, improvements must be made. The Lakers were outworked on the glass and actually took nine less shots than the Nets, which simply can't happen.
That said, the D'Antoni era was ushered in like a lion against Brooklyn and the Lakers have now surfaced above .500 for the first time this season.
That means it's time for us to strap ourselves in, because D'Antoni's time in Los Angeles is going to be one heck of a ride.
All stats in this article are accurate as of Nov. 21, 2012.