How Derrick Rose Must Improve His Game During Rehab
Jonathan Daniel/Getty Images

Chicago Bulls point guard and former NBA league MVP Derrick Rose's game has plenty of room for improvement, and he would likely be the first to tell you.
Currently, the 24-year-old superstar is rehabbing his left knee and focusing on making a return to the court after tearing his left ACL in the Bulls' first playoff game last April. Although Chicago hasn't been the same team without Rose on the floor, it has the potential to win a championship if he can come back from his injury even better than he was before.
Here we break down what Rose must do in order to emerge from rehab with an even stronger game.
Begin Slideshow

»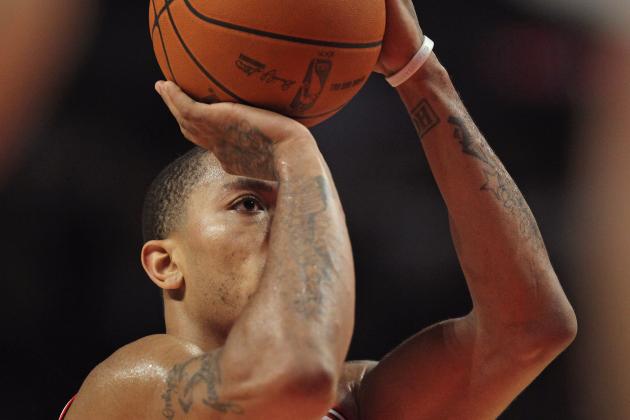 Jonathan Daniel/Getty Images

Although Rose's free-throw shooting has gotten better since he entered the league in 2008, his percentage at the foul line decreased considerably from his MVP season in 2010-11 to last season.
Rose shot a career-high 85.8 percent from the charity stripe in 2010-11, but made just 81.2 percent of his free throws in 39 regular-season games in 2011-12. It's certainly nit-picking, but when you're as skilled at getting to the foul line as Rose, it's imperative that you knock down the easy ones.
Rose's free-throw percentage ranked him 42nd in the league last season and 15th among NBA point guards. That's not good enough for a player who will be counted on to sink foul shots late in big games.
This is an aspect of Rose's game that has nothing to do with his explosion or knee, but one that he can easily improve on with time spent in the gym.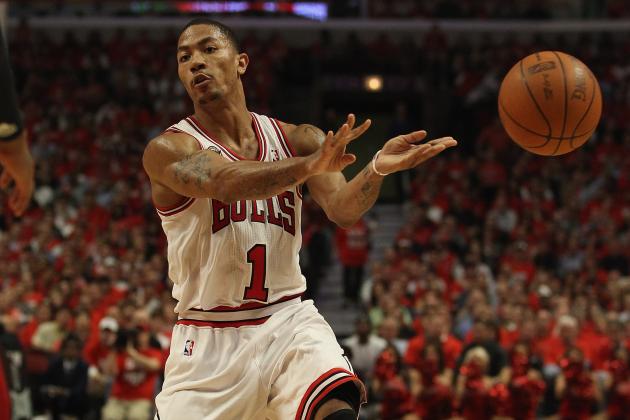 Jonathan Daniel/Getty Images

Lost in today's NBA is the art of passing. Although Derrick Rose doesn't have a distributing problem, he does have a passing problem.
In 2011-12, Rose finished the regular season with an assist/turnover ratio of 2.58, ranking him 18th among all NBA point guards despite averaging the eighth-most assists of any point guard. Sloppy passes and bad decision making cost Rose in this case.
Only seven point guards averaged more turnovers per game last season than Rose, who turned the ball over slightly more than three times per night.
The key for Rose to improve his passing is like with anything else: practice. He needs to incorporate passing fundamentals into his game during rehab, practicing chest and bounce passes as if he were just learning the game for the first time.
The league's two best passers, Steve Nash and Rajon Rondo, are both wizards when it comes to utilizing angles and delivering the ball where their teammates can do the most with it. If nothing else, Rose can watch plenty of tape on those two guys and take a significant page out of their books.
Jonathan Daniel/Getty Images

Derrick Rose is just a 31 percent shooter from beyond the three-point arc over his first four NBA seasons.
Even worse, over his last two seasons Rose has begun to attempt more and more shots from downtown, going from less than one attempt per game in his first two years in the league to nearly five attempts per game over his last two seasons.
Rose's 31.2 percent made percentage on three-pointers in 2011-12 ranked him 113th in the league, and ranked him 38th among 42 NBA point guards.
Just like with his free-throw shooting, Rose must spend more time perfecting his outside shot and working to develop a more consistent release. Although it would be easy to suggest Rose take fewer perimeter shots, it would make him less of a scoring threat, which would ultimately hamper, not help his game.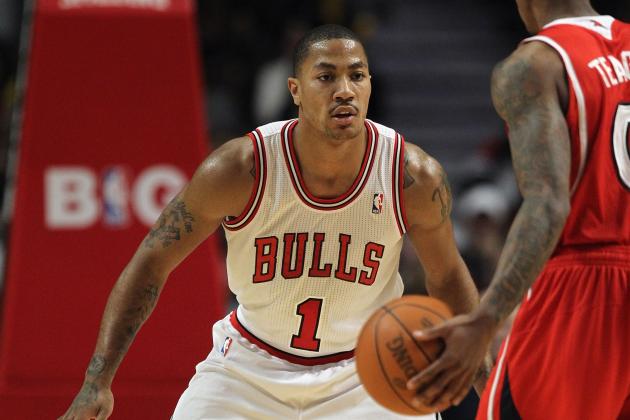 Jonathan Daniel/Getty Images

It's certainly difficult to improve awareness during the rehab process, but Derrick Rose's game can greatly benefit from better focus on the defensive end.
Rose averaged less than one steal per game last season, and ranked 89th among all NBA point guards in steals per 48 minutes, averaging just 1.2 over the course of a full game. To put that in perspective, fellow star Chris Paul was first among qualified point guards with a mark of 3.35.
The good news is that Rose ranked second among all point guards in blocked shots per game with 0.7. His athleticism played a huge part in that and should continue to as his career wears on.
Still, Rose will need to set the tone defensively for the Chicago Bulls on the perimeter when he returns to ensure that the team doesn't skip a beat on that side of the floor.
He has the athleticism to be an elite lockdown defender. The quickness and agility are both there; now it's up to Rose to increase his defensive awareness during his time away and to come back a better all-around player.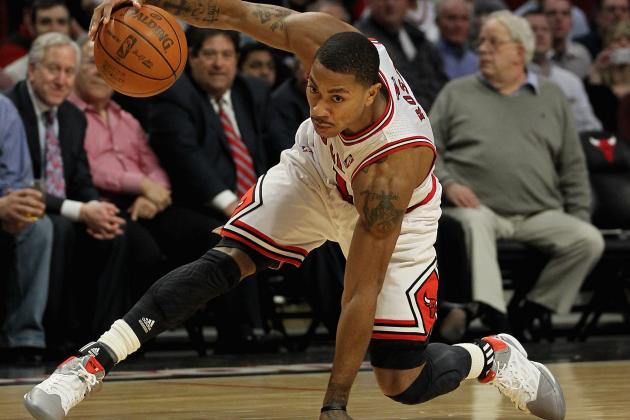 Jonathan Daniel/Getty Images

Rose's game is one built on explosion and pure athleticism, and that's what sets him apart from the majority of the league's star point guards.
Rose's ability to elevate in the paint and change directions on a dime make him an elite player. But in order for Rose to come back even better than before and more importantly, stay healthy once he returns, he must work during rehab to strengthen his lower body, especially his knees and ankles.
They say that our power comes from our legs and it couldn't be more true.
But after watching reruns of Rose's Adidas commercial, I'm convinced he's doing everything he can to strengthen his lower body, his source of power and explosion, which will be key for him in coming back and maintaining a high level of production over the course of an 82-game season and the playoffs.
Follow Bleacher Report Featured Columnist Patrick Clarke on Twitter.