Cowboys vs. Redskins: Final Game Grades, Analysis for Washington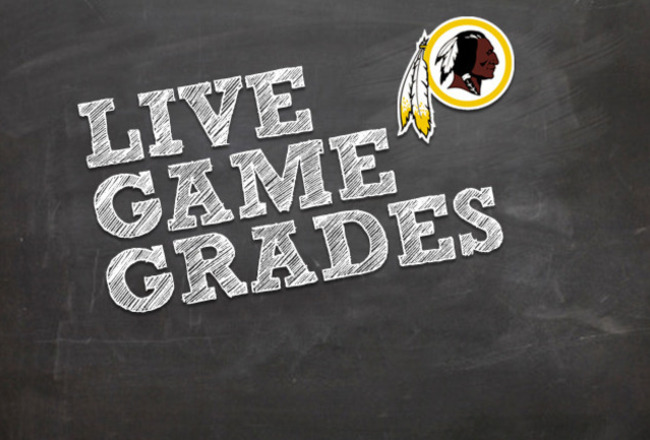 The Cowboys refused to give up, but the Redskins would eventually prevail and upset their rival in Dallas 38-31.
With the win today, the Redskins have a shot at the division lead, given the Giants lose to the Packers Sunday night and then take a second loss to Washington in Week 13.
Checkout the final game grades and analysis from the afternoon's game.
Robert Griffin III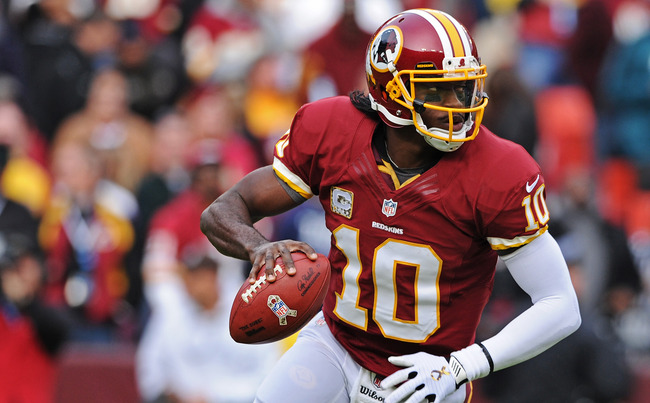 Patrick Smith/Getty Images
Robert Griffin III – A
Besides two throws (that I can remember), Robert Griffin III was simply brilliant for a second consecutive week, this time in one of football's greatest rivalries.
Not only was Griffin extremely accurate, but he developed a level of familiarity with the Cowboys defense in the second quarter and he was comfortable from there on out. As much as they were accurate, Griffin's pass placement was effortless and efficient throughout.
While taking hits is never a good thing for your quarterback, Griffin did demonstrate his toughness on more than a handful of plays. Whether it was scrambling under duress or suffering DeMarcus Ware body slams, Griffin didn't quit and remained strong in the pocket.
Griffin finished the game 20-of-28 for 311 yards, four touchdowns and an interception.
Pregame Analysis
After witnessing Robert Griffin III carve up the Philadelphia Eagles last week (my column, here), the rookie takes to Dallas for the first time in his young NFL career. And while the Redskins may be 0-6 against the Cowboys on Thanksgiving Day, these two teams have never faced off with a quarterback like RG3 playing for the burgundy and gold.
Griffin can expect a slightly better secondary than he faced last week, as the Cowboys allow just over 210 passing yards per game and they bring one of the best pass-rushers in DeMarcus Ware. That said, the Cowboys aren't necessarily making opposing quarterbacks pay, ranking last in the league with just four interceptions.
If Griffin can protect the football as we've seen him do for most of the year, and put on his best improvisation shoes (displayed last week), then there's no doubting this young man will have another big outing.
Backfield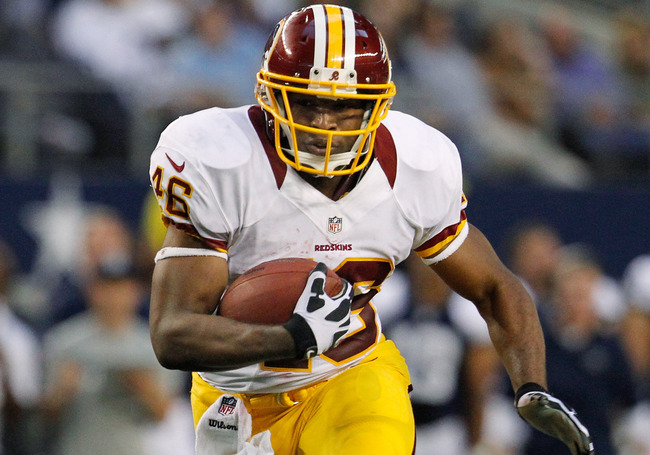 Tom Pennington/Getty Images
Alfred Morris – A
Aside from his statistics, rookie Alfred Morris is downright impressive as a runner. He's smart in choosing his lanes, he hits the hole with explosive power, and he's arguably one of the hardest running backs in the league when it comes to bringing him down.
Morris finished the game with 113 yards on 24 carries and a touchdown.
Receivers & Tight Ends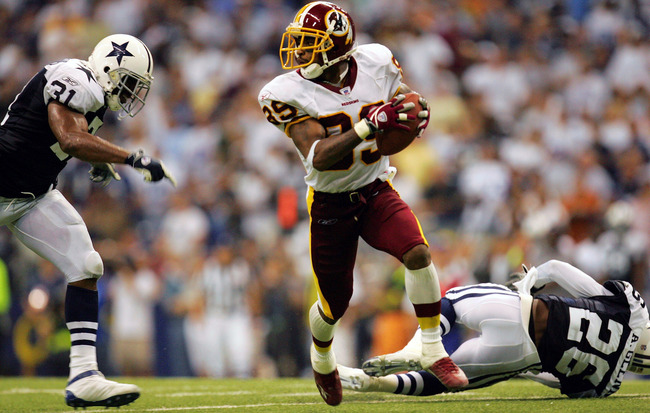 Ronald Martinez/Getty Images
Josh Morgan – B
It's never the type of game that blows the doors off, but Josh Morgan turned in another solid performance in today's game, finishing with five catches for 48 yards.
Morgan is a valuable guy in short workings. His hands have been reliable this season and he's a sizable target that isn't necessarily an easy tackle.
Pierre Garcon – A
With the plantar plate tear that kept him out of most of this season, Pierre Garcon seemingly put ideas to rest about whether or not he'd ever get his explosion back. His 59-yard touchdown catch was a play that I never thought we'd see from him following the injury this season, but he turned and burned like we saw him do in New Orleans in Week 1.
Garcon finished the game with five catches for 93 yards and a score.
Santana Moss – B
Finishing the game with five catches for 48 yards, Santana Moss was most impressive with his 17-yard touchdown just before halftime in which he brought in a back shoulder throw and toe-downed a score.
Aldrick Robinson – B
One target. One catch. One touchdown.
Not a bad stat line for Aldrick Robinson--putting his speed on display today when he hauled in the 68-yard bomb. His ability to get behind opposing defenses is a valuable feature in this Redskins offense.
Niles Paul – B-
With a down game for fellow tight end Logan Paulsen, Niles Paul stepped up today and added a 29-yard touchdown on a third-and-inches call that allowed him to creep behind the secondary.
Pregame Analysis
"It was one of the greatest moments in sports for me."
That's how former Redskins coach Joe Gibbs described the rivalry game against the Cowboys seven years ago when Washington scored 14 points in the last 3:46 of the game by way of 39- and 70-yard Santana Moss touchdowns to beat Dallas, 14-13.
We could all go without the late-game theatrics, but another game like that out of Santana Moss would sure be nice. After watching the veteran come up with a touchdown hail in double coverage last week, he should have all the momentum necessary to rekindle a little Dallas flame this Thursday.
As I mention each week, the Redskins need to establish their ground game and remain committed. This offensive line is far better in the run game than it is in pass protection, and the Cowboys are averaging 106 rushing yards allowed on 26 carries.
Offensive Line
Al Bello/Getty Images
Trent Williams – B+
Kory Lichtensteiger – C+
Will Montgomery – A
Chris Chester – B
Tyler Polumbus – C+
Tyler Polumbus and Kory Lichtensteiger struggled today, but that's far from surprising. Will Montgomery had the best game of any Redskins lineman, sealing off some vicious blocks and doing a good job of limiting penetration in the middle.
Defensive Front-Seven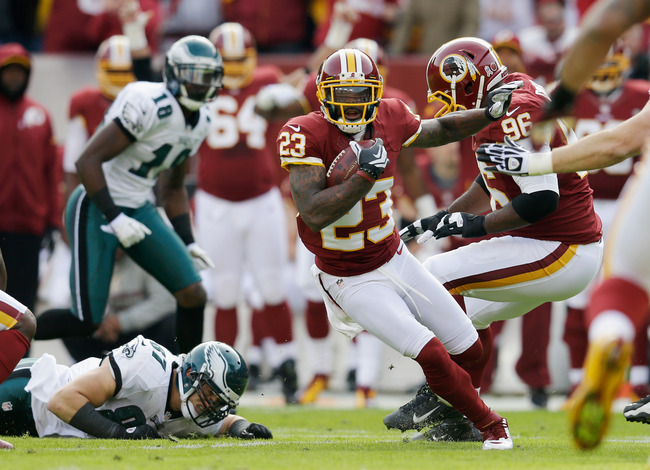 Rob Carr/Getty Images
Stephen Bowen – B+
Stephen Bowen turned out another good game today, even coming down with a sack. His intelligence is an often overlooked trait in his game.
Barry Cofield – B
No one is calling it superb, but Barry Cofield got good push at initial contact. He's still a guy that demands attention due to his combination of speed and size.
London Fletcher – A
Leading up to the game, London Fletcher was questionable to start. Following the game, we're talking about London Fletcher as arguably the Redskins best defensive player in today's game. He was all over the field, plugging gaps, coming up huge in coverage, and even hauling in an interception.
Perry Riley – B
Seven tackles today for Perry Riley, which is great. Wasn't crazy about him in pass coverage today, however.
Ryan Kerrigan – B
Ryan Kerrigan had a pass deflection at the line—an aspect that he's basically perfected at this point—but remained pretty quiet until late in the fourth quarter when he brought down Tony Romo for an 11-yard loss.
Pregame Analysis
Regardless of what the statistics say, the Dallas offense is threatening. Tony Romo, as hated as he is, somehow finds a way to make something out of nothing, Dez Bryant is one of the most talented wide receivers in the game, and Jason Witten is a top-tier player at his position.
However, given the Cowboys' current injury status on offense, the Redskins could find themselves with an advantage.
According to reports, starting running back DeMarco Murray is doubtful, backup running back Felix Jones hasn't practiced all week with two sore knees, wide receiver Kevin Ogletree is likely out with a concussion and starting left tackle Tyron Smith has been limited all week with a high ankle sprain.
Although you never want to flatten a team at their weakest, this Redskins defense needs it. Despite a decent outing last week against the Eagles, it's hard to believe the Redskins miraculously found a way to apply pressure and cover in the back end.
This Cowboys team is better than the Eagles. Their current health could play a key in the Redskins' potential success.
Secondary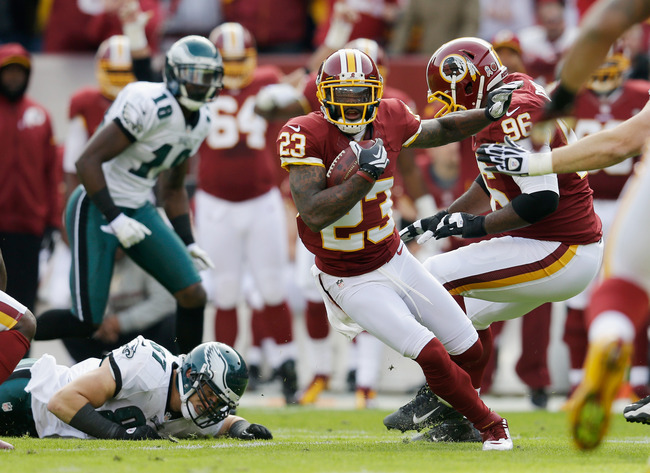 Rob Carr/Getty Images
DeJon Gomes – B
Finishing the game with five tackles and a fumble recovery, DeJon Gomes was decent today. When it comes to coming up into the box and tackling, I enjoy Gomes. But when it comes to coverage, he's still not completely trustable.
DeAngelo Hall – A
For the second consecutive week, DeAngelo Hall turned in an awesome game and pulled in another interception. Like last week, Hall was good in coverage, came up to make wrap-up tackles, and played intelligent football throughout.
Josh Wilson – C
Everyone will talk about Josh Wilson playing decent coverage on Dez Bryant in the endzone, but that late game score falls solely on Wilson. Decent coverage? Sure. But if you don't know about Tony Romo and the Dez Bryant back shoulder throw, you need to watch more tape.
Special Teams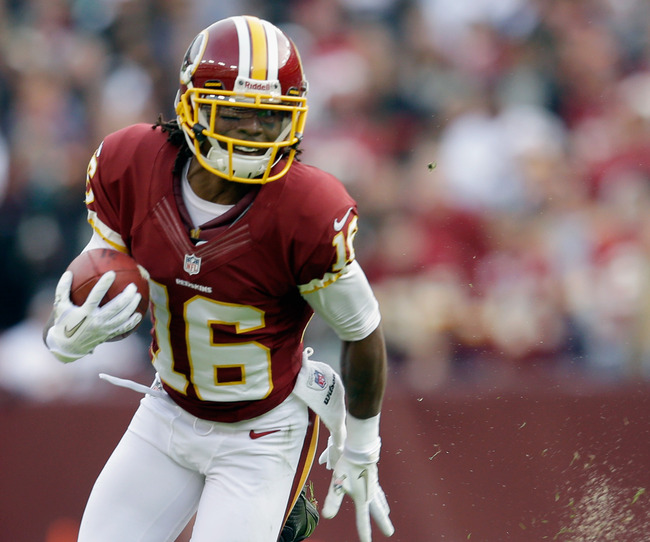 Rob Carr/Getty Images
Kai Forbath -- A
Other than chipping in those delightful extra points, Kai Forbath connected on a clutch 48-yard field goal late in the game to extend the Redskins' lead to 10. That's right. I said "clutch."
Brandon Banks -- D
The return game hasn't been anywhere near what it needs to be this season and Brandon Banks catching a punt in the endzone and deciding to come out today was enough to throw a remote.
Pregame Analysis
If there was ever a time for Brandon Banks to show up this season and prove his roster spot, Thanksgiving prime time would seem like the place.
Although young kicker Kai Forbath and his accuracy on kicks has served as a bright spot amidst the special teams success, the Redskins have yet to see any flash or spark in the return game. With punt coverage playing well and Forbath doing his thing, it's only natural that we start banging the table for something out of Banks.
Coaching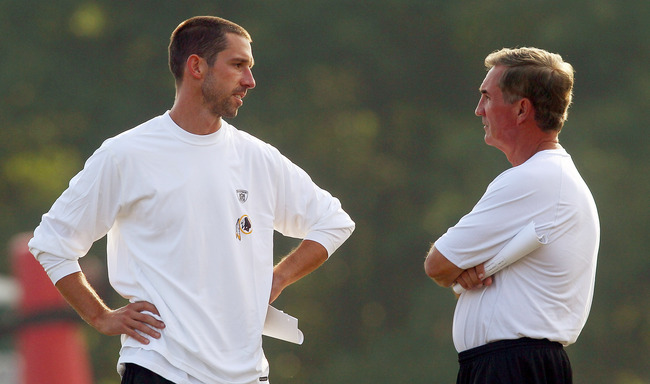 Win McNamee/Getty Images
Jim Haslett -- C
Considering the heart attack football to close the game and the 28 points in the second half by the Cowboys, Jim Haslett will continue to receive criticism for his workings with this defense. I don't hate him for this game, but it's out there.
Kyle Shanahan -- B-
Loved Kyle Shanahan in the second quarter and he really had the Cowboys defense off balance with full potential from the playbook. But in the third quarter, Kyle got conservative and let his foot off the gas. That kind of stagnant offense for an entire quarter isn't a storm that can be weathered by a team like the Redskins.
Pregame Analysis
For most of the season it's been defensive coordinator Jim Haslett who's received a bulk of the coaching criticism. And for good reason. But over the course of the past three games, offensive coordinator Kyle Shanahan has drawn up plays here and there that have fans (and probably players) scratching their heads.
As entertaining as it is to see RG3 take his shots downfield, Shanahan's play-calling on crucial third and fourth downs hopefully improves as the team jumps into the crunchiest of crunch times.
Meanwhile, Haslett doesn't get off scot-free. Although the play-calling and the defense was better last Sunday, the Eagles offensive line is atrocious, and it was Nick Foles' first NFL start.
Haslett should sustain last week's pressure this week and take advantage of either an injured Tyron Smith or some backup that shouldn't be able to slow down Ryan Kerrigan.
For ranting and raving, follow along on Twitter, @BetBigDC.
Keep Reading

Washington Redskins: Like this team?