3 Easy Fixes for the Orlando Magic's Struggles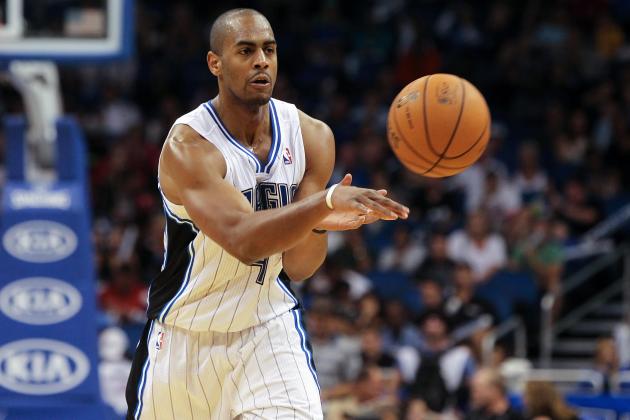 Kim Klement-US PRESSWIRE
Arron Afflalo
Even though the team possesses a dismal 3-7 record, the Orlando Magic franchise is only a few minor changes away from being considered a challenging opponent for any team, in my opinion.
Too often, teams in the Association don't take all 82 regular season games seriously, which results in upsets. The Orlando Magic have already shown they can handle their own against contenders for playoff berths, beating the Denver Nuggets (Nov. 2), Phoenix Suns (Nov. 4) and narrowly losing to the Chicago Bulls (Nov. 6.)
While this is an impressive feat for a team that just lost the most dominant center of the last decade, it is more a testament to how hard the roster plays every single night than the sheer talent the rotation holds.
In Jacque Vaughn's first year, the new head coach has already proven he belongs in this league as a leader, as his team is always ready and competing hard in games. However, there are a few alterations that could turn this team a little more dangerous, especially on offense.
Statistics and record are accurate as of November 20, 2012.
Begin Slideshow

»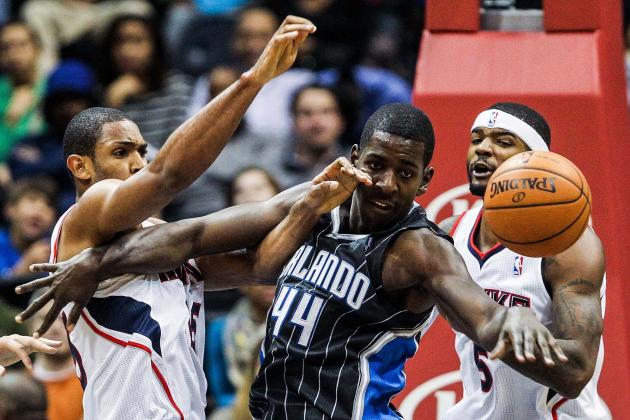 Daniel Shirey-US PRESSWIRE
Andrew Nicholson
The Orlando Magic have their far share of talented rookies this season in Norfolk State's Kyle O'Quinn, St. Bonaventure's Andrew Nicholson, Miami's DeQuan Jones and St.John's Maurice Harkless. Even though, none of these players are ready to start in the league, all of these first-year players deserve an expanded role.
If you look into advanced statistics, specifically PER (Player Efficiency Rating), it is clear to see that Nicholson and Harkless are two of the team's most productive and efficient players. There efficiency ratings of 14.9 and 14.8, respectively, beat out starting shooting guard Arron Afflalo (12.5), who has been shaky this season, and Jameer Nelson (11.5), who recently returned from injury.
So, the consistency in play is there for these two rookies, but the consistency in minutes is sadly not. Neither player is considered locks in the rotation, despite their early success on the court. Harkless is only playing 16 minutes per contest, while Nicholson can only muster up 12 minutes of court time.
Vaughn, however, has shown great confidence in DeQuan Jones, who has already started three times this season. Jones, though, doesn't even log major playing time when he starts, as he is usually taken out before he can even start finding a groove. Jones is only seeing around 15 minutes per night.
Kyle O'Quinn has only played garbage minutes this year, but his production during that time warrants him the spot of backup center in the rotation.Gustavo Ayón has been horrid this year, often looking confused on the hardwood. O'Quinn is a fighter and would bring energy and hustle to a team that desperately needs both qualities.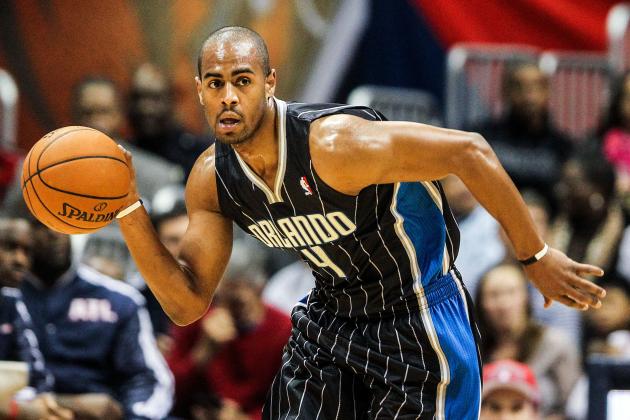 Daniel Shirey-US PRESSWIRE
Arron Afflalo
The Orlando Magic have struggled to produce points this season, as the organization ranks 29th in points scored this year. Only putting up 88 points per night, changes need to be made to the offense if the Magic want a shot of becoming a tough competitor.
One alteration the Magic could do is call more isolation plays, specifically for Arron Afflalo and J.J. Redick. Before the Dwight Howard trade, Orlando had been searching for a go-to perimeter scorer for half or a decade to pair with their franchise cornerstone center.
Now, the team has two, and it needs to take full advantage of their scoring prowess.
Afflalo, who was brought in during the trade, is more known as a defensive stopper and has only been 42 percent from the field, but the former Denver Nuggets star has the ability to take his man off the dribble.
J.J. Redick, on the other hand, has become arguably the team's most dangerous weapon, and has even added the isolation play into his offensive arsenal. Redick, who is also a great passer, could also command the attention of help defenses and find open shots for his teammates.
The Magic run a lot of backdoor screens and pick-and-rolls, but a few more isolation plays would do a lot more in raising that horrid points per night average.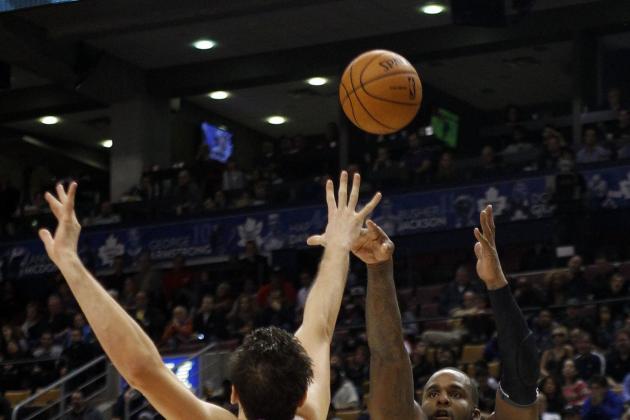 John E. Sokolowski-US PRESSWIRE
Glen Davis
The Orlando Magic have done a nice job in recent games cutting down the number of attempts Glen Davis takes from the mid-range. At the start of the season, Davis couldn't resist pulling the trigger on every single open jumper.
Now, Davis's shooting percentages have slightly risen, as he is shooting a low 43 percent from the field. While this number isn't ridiculous, the Magic would love for him to start becoming even better at shot selection, as Davis is averaging a team-high 16 field goals per contest.
This may be only a small change, but it could go far in overall team success.