The Miami Heat are winning at a 72.7 percent clip so far this season. Through 11 games, as of Tuesday night, they are 8-3 overall.
Last season the Heat won at a 69.7 percent rate. The year before that, LeBron James and Chris Bosh's first in Miami, they won 70.7 percent of their games.
By season's end, I expect this year to be Miami's best in terms of winning percentage during the Big Three era.
In setting the over/under on the Heat's win total, based purely on who is currently included on their 2012-13 payroll, I am projecting that Miami will win at their current pace all season.
The winning percentage of 72.7 percent, when applied to an 82 game season, projects out to 59.61.

Which is where I'd set the over/under for the Heat's win total this season—59.


Free Agents Ray Allen and Rashard Lewis Improve the Heat's Roster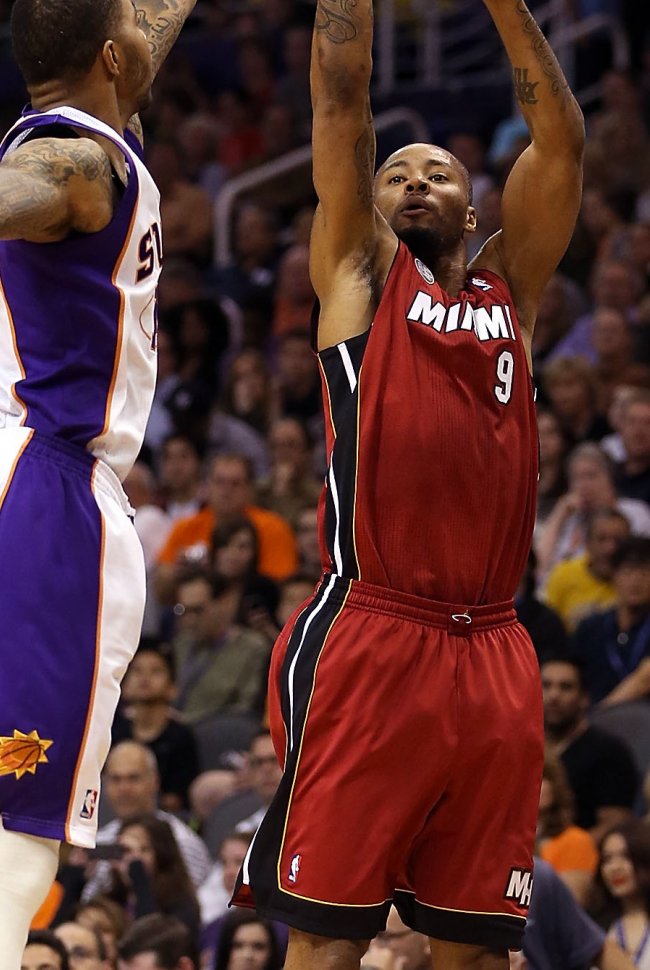 Christian Petersen/Getty Images
James, Bosh and Dwyane Wade will combine this season to occupy over $52 million of Miami's payroll.

Mike Miller, Udonis Haslem and Mario Chalmers then combine to make over $13 million more after that.
Even still, the Heat were able to bring in Ray Allen at just over $3 million this season and Rashard Lewis at over $1.35 million.
Those two new additions, while moderately priced in terms of NBA talent, should be enough to help the Heat improve slightly throughout the course of the 2012-13 regular season.


The Heat are a better three-point shooting team this year
Ray Allen spaces the floor for Heat and makes them more effective
Allen and Lewis are combining to score 19.3 points per game this season. They are each shooting 51 and 53 percent, respectively, from three-point range.
This is allowing the Heat to become more effective as a team from the perimeter. It is also creating more space for LeBron, Chris and Dwyane to operate closer to the basket.
As you can see in the highlight above, the defense is collectively focused on LeBron in this particular play. As LeBron moves away from Allen, who is spaced out on the opposite side of the court, the defense goes with him.
Allen makes them pay for that decision and will continue to do so as this season goes on.


There are still questions about Bosh and Wade right now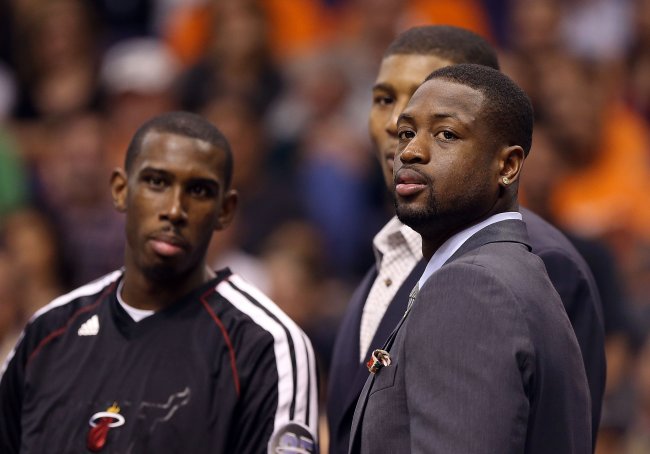 Christian Petersen/Getty Images
We've seen Dwyane in suits like the one he's pictured wearing above during three games so far this season. He's only scoring 16.9 points per game in the eight he has played too.

That's not what we've come to expect from Wade.
Bosh will also be asked to match up with bigger, more powerful centers like Dwight Howard as the season goes on. I believe he will continue to be effective as the Heat's center, but the questions about how he'll perform in matchups like that are fair to ask at the moment.
Those would be two reasons why I'd be hesitant to bet "Over 59" in terms of total wins for the Heat.


LeBron might still be the MVP, though
LeBron races out and goes up for an emphatic finish.
As he is on this particular play, LeBron is racing out to an explosive start this season.
Over/Under 59 Wins for Heat This Season?
He's rebounding at a career-high pace right now, averaging nine per game through 11. He is also scoring 24.5 points per night to go along with 6.5 assists.
Just like last season, he is leading the Heat in all three of those statistical categories. The last time he did that, the 2011-12 season, the Miami Heat won the NBA championship.
If you wanted to bet over those 59 wins, he would be the main reason why you'd do that.