Jon Jones Has Everything to Gain and Nothing to Lose by Fighting Anderson Silva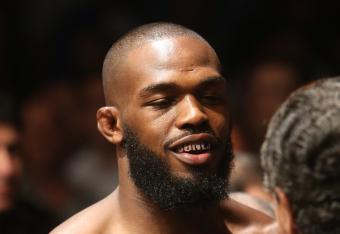 Tom Szczerbowski-US PRESSWIRE
Superfights are a rare thing in the world of combat sports. Dominant fighters of any era can spend years circling each other before they finally meet...if they ever do.
Managers and promoters pick fights carefully creating an aura around an athlete, hoping that one day they'll cash in on that undefeated run with a marquee fight making millionaires out of everyone.
Few men are in a position to have written cheques big enough to cash in with a superfight at the end of their careers this way.
In the sport of mixed martial arts, Anderson Silva has managed it at the age of 37, at the end of a 15-year career during which time he's demolished every contender in the UFC's middleweight division several times over.
The UFC's indomitable welterweight champion is another superfight contender. At 31, Georges St-Pierre's been fighting professionally since 2002 and has defeated everyone that has crossed his path (including legends like Matt Hughes and BJ Penn) twice.
It's remarkable then, and almost ludicrous, that at just 25 years old, in only four years in the sport, that light heavyweight champ Jon Jones is not only a man considered worthy of a superfight, but someone who is already being considered one of the greatest of all time.
But there's a problem with anointing someone so young with such high approbation. As remarkable and devastating as his rise has been, placing Jones on such a lofty perch takes away his right to make mistakes: to learn, grow and reinvent himself.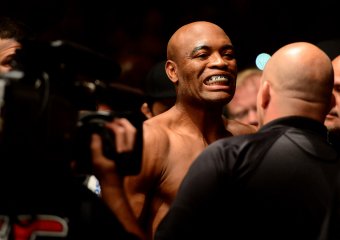 Mark J. Rebilas-US PRESSWIRE
Such an attitude lends too easy to critics who think any slip up now could destroy his hopes of being considered the greatest mixed martial artist of his generation.
Those critics would see him skewer his reputation on a fight against the likes of Silva, or even heavyweight Junior Dos Santos, and take away all the plaudits he's won at such a young age.
The reality isn't like that for Jones, not in the same way that it is for Anderson Silva.
It's true, Jones has defeated some of the biggest names in the sport, but even if he had lost any one of those matches, he still has another decade to rectify his slip and re-establish himself as the most dominant fighter of his era.
Men like Silva, counting down the clock until retirement, don't have that luxury.
After defeating Stephan Bonnar at UFC 153 in October, Silva began gunning for St-Pierre's head.
A superfight between the two had been hyped for years, and now that the Sonnen's and Condit's are out of the way, the Brazilian sees no reason not to cash the biggest payday of his career.
However, there are many reasons why fans would rather see Silva take on Jones.
Jones is much closer to Silva's size. They are similarly long-limbed, rangy fighters and appear a much closer match than Silva/GSP.
Besides, a Jones/Silva match offers a much more compelling narrative of the young lion against the old lion.
Silva, as things stand, will not have anything to do with a fight against Jones.
He's too old, he says. He has too many friends in Jones' division and GSP is easier.
But what are Jones' excuses?
In previous interviews, the 205-pound champ has said that it's a "lose-lose" situation for him to fight Silva.
That thinking makes no sense. There's plenty for him to win. He'll demonstrate categorically that the new generation of MMA athletes, spearheaded by him, has evolved beyond what an aging Silva can compete with. He'll have made the case of himself as the greatest fighter of all time in his mid-20s and comprehensively resolved the pound-for-pound debate.
If he loses, he'll simply brush himself down, like St-Pierre did after losing to Hughes and Matt Serra, and reflect that he has a long enough career to fix all the inequities that have befallen him and reassert himself however he chooses.
Follow me on Twitter: Follow @khurramaziz1981
This article is
What is the duplicate article?
Why is this article offensive?
Where is this article plagiarized from?
Why is this article poorly edited?