Celebrity Doppelgangers for NBA Stars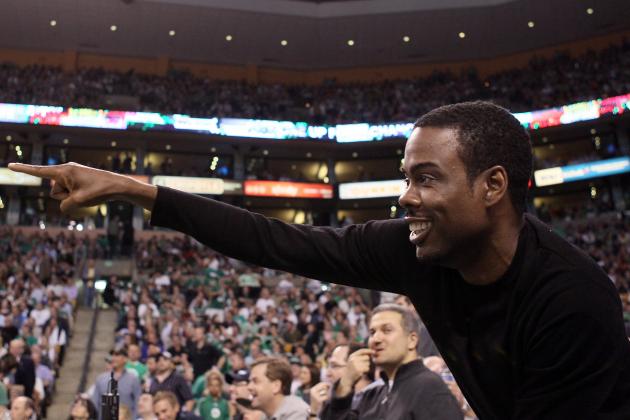 Elsa/Getty Images

Have you ever been asked if you have a twin sibling?
Throughout my college years, this has happened to me entirely too often. At least once a semester, people will come up to me and ask if I have a twin, then swear they saw someone on campus that looked exactly like me.
Well, I don't have a twin and neither do the following NBA stars (neither Brook/Robin Lopez nor Markieff/Marcus Morris make the list).
Instead, the following NBA players have celebrity doppelgangers. If you're unfamiliar with the term, it's a German word for a lookalike or walking double.
So what celebrities could be mistaken for NBA stars (ignoring height, of course)? Read on to find out.
Begin Slideshow

»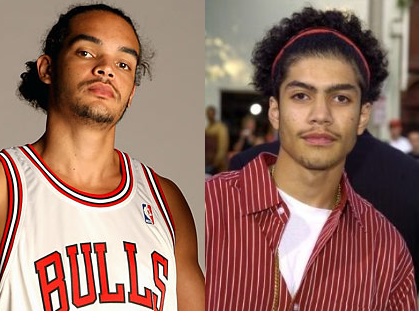 Photos via: Gary Dineen/Getty Images and IMDB.com
Basketball fans may recognize actor Rick Gonzalez from the film Coach Carter. A movie which, ironically enough, is about basketball.
In the movie, Gonzalez plays the role of the troubled Timo Cruz. Although Cruz is a sharpshooting guard in the movie (just about the polar opposite of Joakim Noah), the facial similarities are quite similar between the NBA star and the actor.
Noah is perhaps one of the most difficult NBA players to find a doppelganger for due to his... we'll say "unique" appearance. Even so, I think Gonzalez provides for a solid lookalike.
Noah may be best utilized as a post player on the Chicago Bulls, but his finger-waving antics after made shots may hint that the former Florida Gator has an inner shooting guard persona.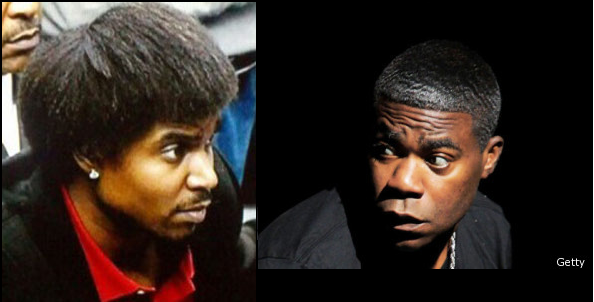 Photos via YardBarker and Getty Images.
I'd be terrified of Andrew Bynum's mop top hairdo also, Tracy, don't worry.
Kidding aside, Andrew Bynum and Tracy Morgan look extremely alike. It's almost as if Morgan could be Bynum's long-lost father.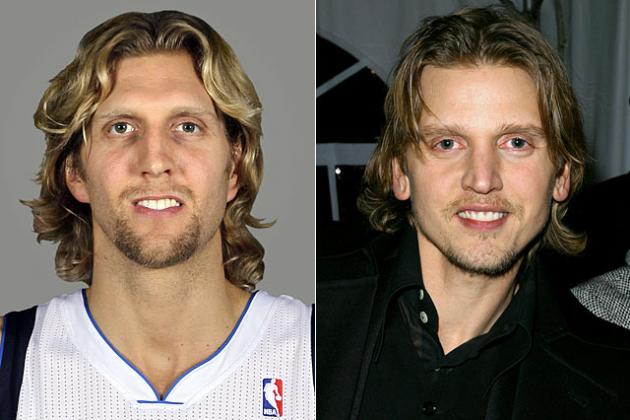 Photo: James Devaney/WireImage
You'd have to be foolish to underrate the talent of former NBA MVP award winner Dirk Nowitzki. The German-born power forward has been a mainstay on the Dallas Mavericks for years and even led Mark Cuban's club to an NBA championship.
Barry Pepper, on the other hand, may be one of the most underrated actors in recent memory.
He's portrayed a World War II sniper in Saving Private Ryan, an unruly cowboy named Lucky Ned Pepper in the recent True Grit remake and even delved into the sports world with his acting. Pepper has played the role of New York Yankees' legend Roger Maris (in the film 61) as well as the late Dale Earnhardt (in the film 3: The Dale Earnhardt Story).
Pepper certainly is not an actor known to be typecast. He's played a multitude of different roles and seems to always give knockout performances.
It's somewhat fitting that Pepper and Nowitzki look alike, because they're both among the best of the best in their respective craft.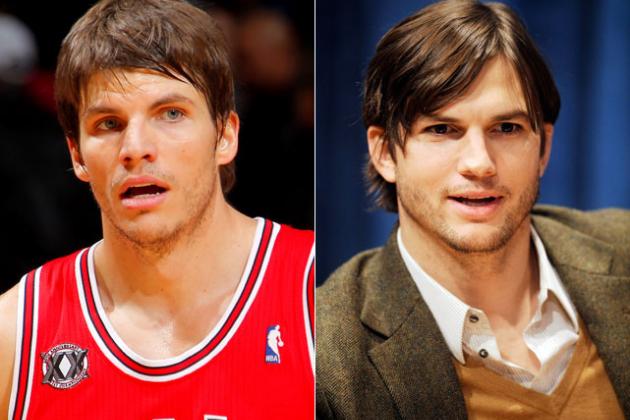 Photo: Rocky Widner/Getty Images
Sharpshooter Kyle Korver has drawn comparisons to his celebrity doppelganger, Ashton Kutcher, since he first entered the NBA. It's odd to think that 10 years later, we're still making that comparison.
There are certainly some similarities between the two, but it's not an overwhelming "twins separated at birth" scenario.
Even so, whenever my Dad and I attend NBA games and he sees Korver out on the floor draining threes, he says, "Oh, Ashton Kutcher."
Perhaps this doppelganger is just ingrained in our memories at this point.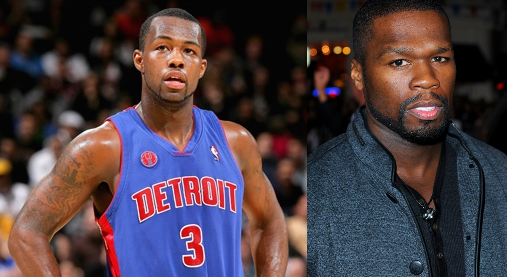 Photo: Rocky Widner/Getty Images and Getty Images
We might as well start calling Rodney Stuckey "Rodney Cent," because he looks as if he could be Curtis "50 Cent" Jackson's brother.
Jackson (or 50 Cent, whichever you prefer) is a rapper, promoter, entrepreneur, investor and actor. He's known for having survived a May 24, 2000, shooting incident, during which Jackson was shot nine times including in the hand and face. He rehashed the incident on an episode of Oprah.
Although Stuckey doesn't have quite the life story Jackson has, he's still a solid NBA player (although he's struggled mightily this season).
In 2010, Stuckey averaged a career high 16.6 points per game while starting 67 games. He's played for the Detroit Pistons his entire career.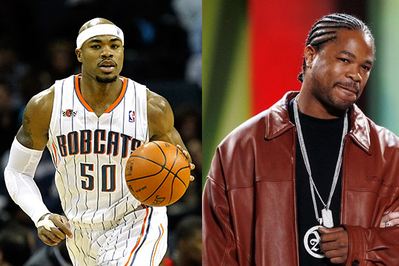 Photos by: Getty Images and Kevin Winter/Getty Images
Sticking with the trend here of having Detroit Pistons players with their celebrity (in this case rapper) doppelganger.
In addition to the facial similarities between NBA journeyman Corey Maggette and rapper Xzibit is their hair. Both started their respective careers with corn rows, but have since gone with the shorter cropped hair as they age.
While Xzibit has adapted his rapping career to hosting the popular television show Pimp My Ride and having a prominent role in the EA Sports video game NFL Street 2, Maggette has fallen into NBA obscurity.
Maggette spent last season with the lowly, seven-win Charlotte Bobcats. During the offseason, he was traded to Detroit for shooting guard Ben Gordon.
The 6'6" forward who played collegiate basketball at Duke University has always been one of the best in the game at drawing contact near the basket and getting to the free-throw line. He's shot more than 5,500 free throws in just 812 games played.
Unfortunately for Maggette, a multitude of injuries has prevented him from ever playing in all 82 regular-season games in a season. He was once a 20 point-per-game scorer, but those days seem to be behind him.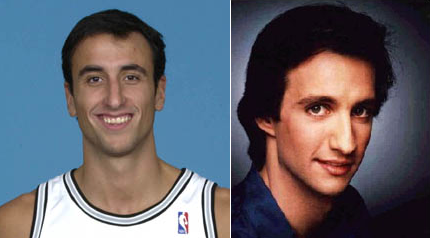 The similarities between NBA star Manu Ginobili and actor Bronson Pinchot were certainly more prominent during their younger years. Nevertheless, the two celebrities will always be considered each others' doppelgangers.
Pinchot is best known for the TV series Perfect Strangers, which ran from 1986-1993. He's also made appearances on more recent TV shows including Law and Order: Special Victims Unit, Chuck and Hawaii Five-0.
Perhaps Ginobili earned some acting tips from Pinchot before his NBA playing days, because he's notorious for being one of the league's most egregious floppers.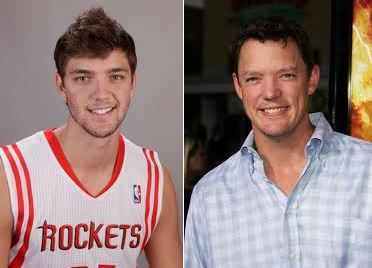 Chandler Parsons could probably be associated with a lot of celebrity lookalikes, but I think the doppelganger comparison to actor Matthew Lillard works well.
The 24-year-old Parsons is in his second year with the Houston Rockets, on pace to set career highs in points, rebounds, assists, minutes, three-point percentage and free-throw percentage in the early parts of the season.
Lillard is perhaps best known for voice acting and live acting the role of Shaggy Rogers from Scooby Doo, but he's also been in films like SLC Punk, The Descendants and Without a Paddle.
You can't tell me that Lillard doesn't look like Parsons in this photo.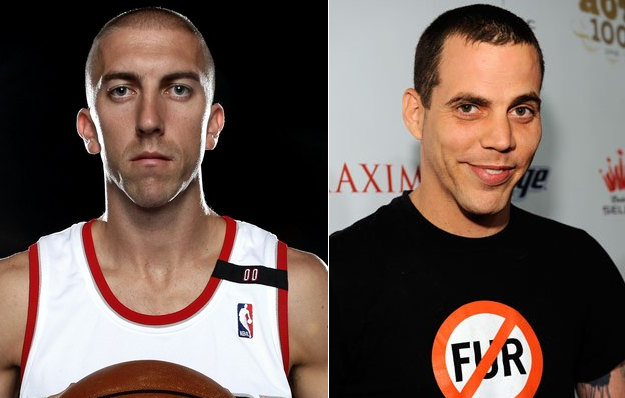 Photos by: Jonathan Ferrey/Getty Images and Charley Gallay/Getty Images
So maybe NBA point guard Steve Blake and notorious wild man Steve-O wouldn't be mistaken for twins, but I think both Steves have a similar jawline and bone structure. So maybe that's what forced my brain to make the comparison.
While Blake isn't quite the kooky personality that Steve-O is, he's certainly trying to get in the running.
Blake's foot injury prior to the season, which he sustained by stepping on a spike strip in a parking lot (h/t ESPN), seems more like a stunt from the Jackass movies than a viable reason to get hurt.
In addition to that bizarre injury for the ages, Blake snapped at a courtside fan earlier this season in a game against the Los Angeles Clippers.
According to Bill Plaschke of the Los Angeles Times, not only did the Lakers point guard receive a $25,000 fine for the incident, but Blake's heckler is the son of Steve Jackson. If you don't know, Jackson is a footwear mogul who's known for buying up eight courtside seats to every Lakers home game.
That's not exactly a wise person to pick a fight with.
Steve-O has certainly done stupider things in his lifetime, but hey, at least he's not getting fined for it.
What's that? He gets paid to do stupid things? Well played, Steve-O, well played.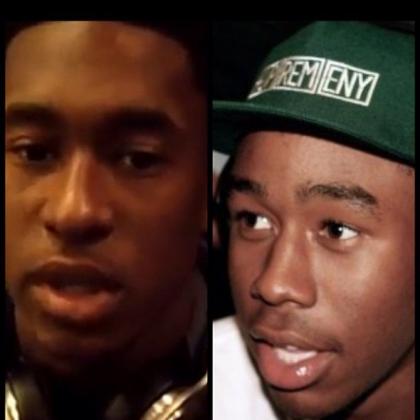 Photo: businessinsider.com
MarShon Brooks resembles people in the sports world as well including NFL star Ted Ginn Jr. and his own head coach Avery Johnson. For the sake of keeping all of the doppelgangers celebrities not relating to sports though, we'll make the comparison to Tyler, The Creator.
Tyler, The Creator is a bit of an oddball. He's a member of the alternative hip-hop group Odd Future, has a show on Adult Swim called Loiter Squad and he even won the award for Best New Artist at the 2011 MTV Video Music Awards. So I think it's fair to say he's all over the map, but hey, he's been very successful (love him or hate him).
Brooks would like to emulate Tyler, The Creator's success level out on the basketball court, but a big dip in minutes this season is preventing him from doing so.
Perhaps Brooks can get back on track and live up to his billing as a 2013 Sixth Man of the Year candidate.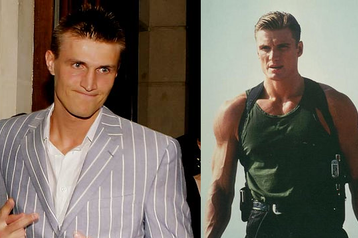 Photos courtesy: Francois Durand/Getty Images and listverse.com
Although the slim frame of Andrei Kirilenko would have to gain about 100 pounds of muscle to be an exact replica of actor Dolph Lundgren, the similarities are hard to ignore.
Following a year playing basketball in Russia, Andrei Kirilenko returned to the NBA for the lucrative contract offered by the Minnesota Timberwolves. He's a difference-maker on both ends of the court, racking up plenty of stocks (steals plus blocks as coined by Grantland.com's Bill Simmons). He'd be an asset to any NBA team for his defensive prowess and under-valued offensive capabilities.
Lundgren is best known for his 1980's movie roles portraying He-Man and Ivan Drago in Rocky IV. More recently, he's starred in The Expendables and The Expendables 2.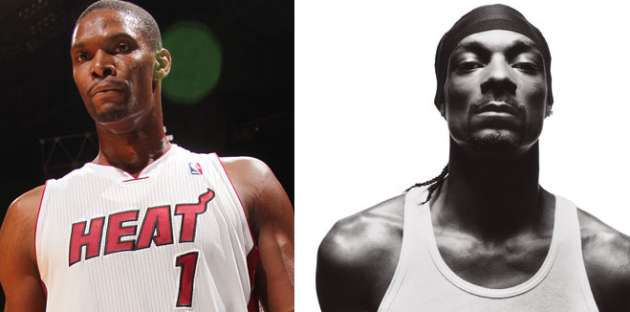 Photos: Getty Images
I know, you were expecting me to take the easy pot shot at Chris Bosh at some point during this slideshow. Whether it would be by comparing him to his well-known "celebrity" doppelgangers like an ostrich or one of the velociraptors from Jurassic Park, chances are you expected it.
Well, that's just not my style. It's been done before and you can go to just about any meme generator web site to get your fix. Instead I'll be comparing Bosh to a real celebrity—in this case, rapper Snoop Dogg.
If you can get over the fact that Bosh truly does look like something out of the late Cretaceous period, the similarities to the longtime rapper are evident.
While Snoop Dogg has developed a persona as one of the juggernauts in the world of hip-hop, Bosh has been overshadowed in Miami by the likes of LeBron James and Dwyane Wade.
Even so, Bosh is one of the best power forwards in the game and a major reason why the Heat are championship favorites once again.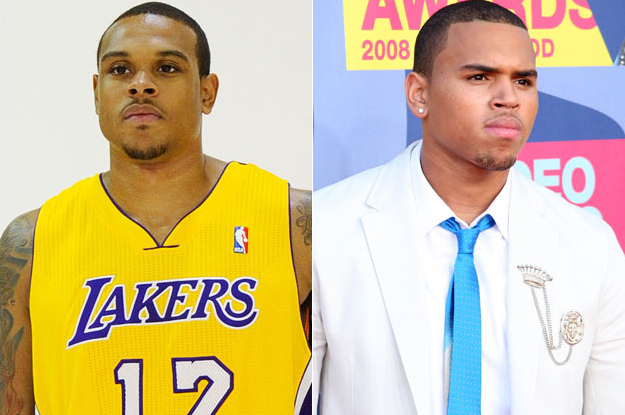 Photos by: Kevork Djansezian/Frederick M. Brown Getty Images
It's ironic that Shannon Brown and Chris Brown share the same last name, because they truly could pass as brothers.
While some doppelgangers on this list require you to turn a blind eye toward the differences between both parties compared, Brown and Brown have similar haircuts, facial hair, bone structures, mouths, noses—the whole nine yards.
While Chris Brown has been under fire lately for a controversial tattoo (h/t Meena Hart Duerson of the New York Daily News), Shannon Brown is busy having what could be a career year for the Phoenix Suns.
Although Brown is shooting just 41.4 percent from the floor as of Nov. 21, he's sporting a career high 13.4 points per game.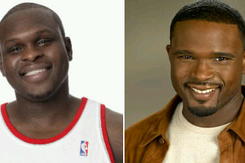 Photo courtesy: twicsy.com
If you ask me, it's actually somewhat creepy how similar Zach Randolph and actor Darius McCrary are. If you told me that the two were cousins or even brothers, I'd believe you in a heartbeat.
McCrary played the role of Eddie Winslow on the popular television show Family Matters (think Urkel). The show ran from 1989-1998.
It's a good thing that McCrary doesn't have the temper of Randolph (h/t Dan Devine of Yahoo! Sports), otherwise he'd have a hard time finding work.
Although Randolph sometimes gets in trouble when his temper flairs out on the court, he's one of the best big men in the NBA when healthy.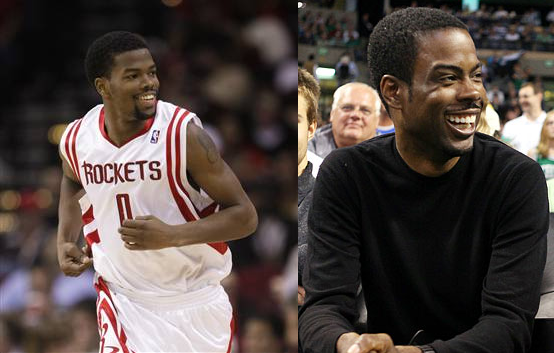 Photos by: Getty Images
When there's a meme on the Internet like this, you know you have a celebrity doppelganger.
As a Phoenix Suns fan, I can say with confidence that I'm a bigger fan of Chris Rock than I am of Aaron Brooks.
A couple seasons ago, Brooks was acquired by the Suns in exchange for upstart point guard Goran Dragic and a first-round pick. In my opinion, this was one of the more bone-headed trades by Suns management.
That point got hammered home when Brooks decided to play the lockout-shortened season in China. As a result, the Suns had literally nothing to show for a trade in which they gave up Dragic and a first-rounder.
Anyway, Brooks is now "Log No. 4" in the Sacramento Kings' logjam of a backcourt. Despite having a multitude of guards on the roster, the Kings rank dead last in the NBA this season in assists, which is certainly not a good sign.
But hey, at least Brooks can cheer up the 2-8 Kings with his comedy... oh wait.