Predicting 2013 Stats for Every Toronto Blue Jays' Starting Pitcher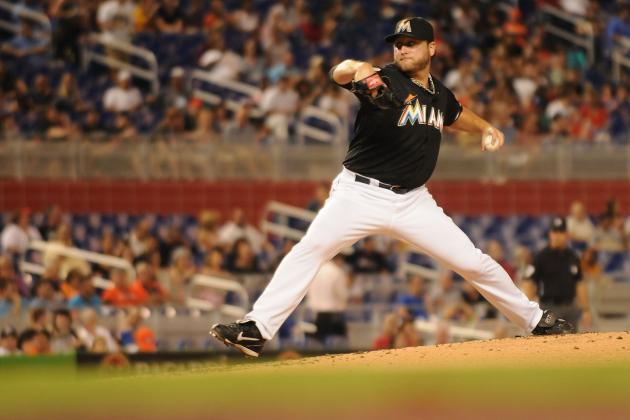 Jason Arnold/Getty Images

The Toronto Blue Jays made headlines last week when General Manager Alex Anthopoulos traded for starting pitchers Mark Buehrle and Josh Johnson. The move had enough of an effect to shake up the 2013 rotation to the point that their 2012 opening day starter, Ricky Romero, moved down to third on their official depth chart.
Toronto now potentially boasts one of the strongest rotations in baseball and a solid bullpen to back it up. Expectations are as high for next season as they have ever been in the Anthopoulos era but there is a long time before opening day.
All that time off means we can look into our crystal ball and predict how the Blue Jays pitchers will fare this season. These are just my predictions, and I am in no way a fortune teller. Have your say in the comments section below.
All stats courtesy of baseball-reference.com
Begin Slideshow

»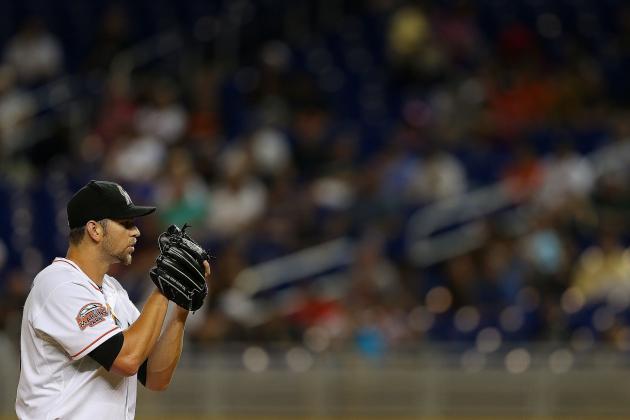 Mike Ehrmann/Getty Images

As one half of the pitching tandem acquired from the Miami Marlins, Josh Johnson has his work cut out for him.
Coming off of shoulder surgery is never an easy task for a pitcher, and the slider Johnson relies on is a notoriously tough one to regain after a surgery like the one he had in 2010.
Assuming last year was an off year for Johnson and he can regain the control on his slider, he could be in line for a very big year. In a contract year, with a new team his motivation will never be higher to record some quality numbers.
When effective, Johnson has been able to keep his losses down, and a quality Blue Jays' bullpen will help him get out of games a little early and maintain his wins.
With a hard slider, Johnson should be able to rely on it all season and rack up the strikeouts. His season high is 191 and I would not be surprised to see him get near that mark again.
As a result his base on balls may see a slight peak this season, causing him to leave games earlier with a high pitch count and will lead to less innings pitched.
If the slider returns, so too does Johnson's ability to retire Major League batters:
IP: 177
W/L: 16 - 6
ERA: 3.88
SO: 188
BB: 59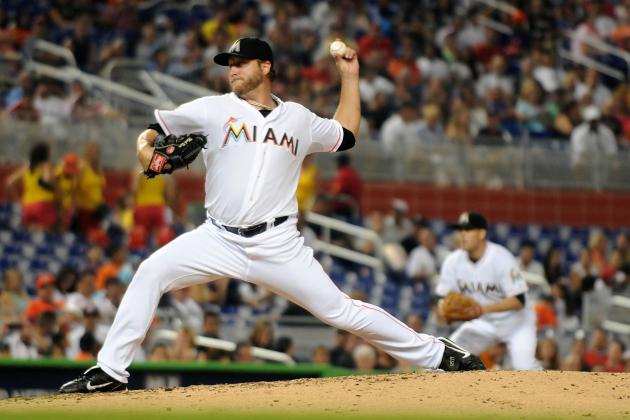 Jason Arnold/Getty Images

I don't expect a large change in Mark Buehrle's numbers this year. He has been a workhorse for any team he has pitched for and there is no reason to believe that should change in Toronto.
Look for Buehrle to break the 200-inning plateau, just as he has in each of his full seasons in the Majors.
Buehrle has always looked to the strikeout as a means of an out and has broken the 100-strikeout mark ten times out of his 12 full seasons. For comparison's sake, the two seasons he failed to get there he recorded 98 and 99 punch-outs.
There is no reason to think he can't continue his strikeout numbers and record near 120 strikeouts.
The only stain on Buehrle's otherwise reliable stat line is a poor showing against the AL East. In his career, the Boston Red Sox have hit .300 against him and the Yankees have hit .333.
As he is relied upon near the top of Toronto's rotation, he'll have more games than usual against these tough opponents—and that may cut into his stats.
Playing in a tough division is something all Toronto pitchers deal with and should not be looked at as a huge disadvantage to an otherwise impressive pitcher.
Buerhle has also fielded his position extremely well in his career and is appearing to get better with age. He has won a Gold Glove in each of the past four seasons and I predict he will make it five straight in 2013.
Look for Buehrle's stat line to look like this:
IP: 217
W/L: 15 - 11
ERA: 3.88
SO: 121
BB: 54
Awards: Gold Glove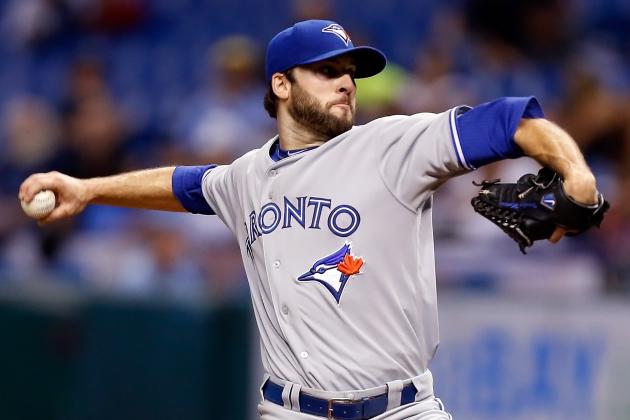 J. Meric/Getty Images

Before the blockbuster trade with the Marlins, Morrow was the odds-on favorite to start the season as the Opening Day starter due to his strong performance when he was healthy last year.
Even with these new additions, he should be able to contribute to a strong pitching staff if he can stay healthy. Morrow has had either 10 or 11 wins in each season with Toronto and he should continue to post similar numbers.
Morrow posted a career high 2.96 ERA in an injury shortened season last year, but he has the talent to keep his ERA around the 3.00 mark this year as well. After returning from the DL last year, Morrow went 5-3 and appeared to be past his injury.
IP: 170
W/L: 13 - 7
ERA: 3.11
SO: 169
BB: 71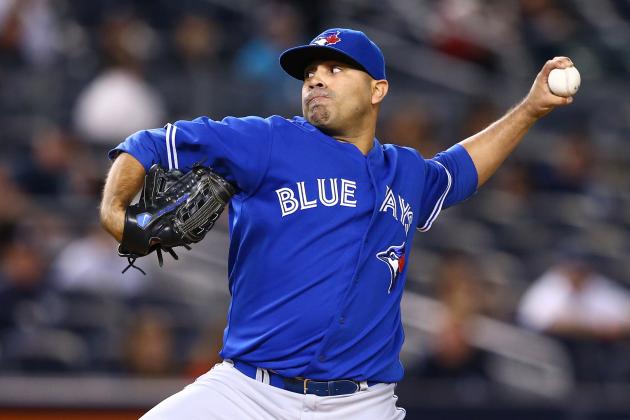 Al Bello/Getty Images

What a difference a year makes for Romero. In 2010, Romero had a 15-11 record with a 2.92 ERA. Last year he was relied on as the ace of the staff and finished 9-14 with a dismal 5.77 ERA.
Although no one has been able to pin point the exact reason for Romero's struggles, there are two theories that are the most popular amongst fans.
Either Romero was injured, or he couldn't handle the pressure of being the Blue Jays ace. No matter what theory you subscribe to, it appears both problems are fixed.
Off season arthroscopic elbow surgery on his throwing arm should have Romero back to full strength by the start of the 2013 campaign.
The pressure of being the ace is also lifted with the acquisitions of Johnson and Buehrle. Romero should be an effective starter out of the four spot in the rotation.
IP: 199
W/L: 12 - 8
ERA: 3.72
SO: 159
BB: 81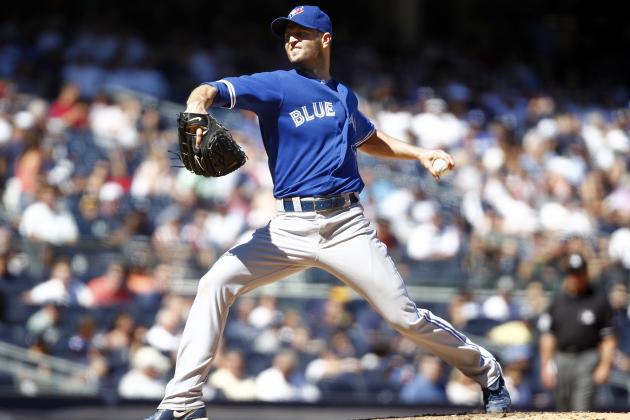 Jeff Zelevansky/Getty Images

The fifth starter's job in Toronto is up for grabs, and your guess is a good as mine. For what it's worth, if there are no more trades and the starting pitching staff stays as it is, I think J.A. Happ will earn the spot coming out of spring training.
Happ is a veteran arm that would be a nice fifth starter for the Blue Jays. At his best, Happ posted a 12-4 record and is very capable of quality pitching.
I don't expect Happ to experience a tremendous amount of success, but he should be serviceable.
If there's every a situation to skip a start, Happ will be the guy to take that fall so his innings pitched will suffer, but he should be able to record some quality starts for the Blue Jays. I'd be surprised if he starts and finishes the season as the fifth starter though.
Look for Happ's stat line to look something like this:
IP: 137
W/L: 9 - 11
ERA: 4.66
SO: 62
BB: 33