College Football's 50 Best Tailgating Sites of 2012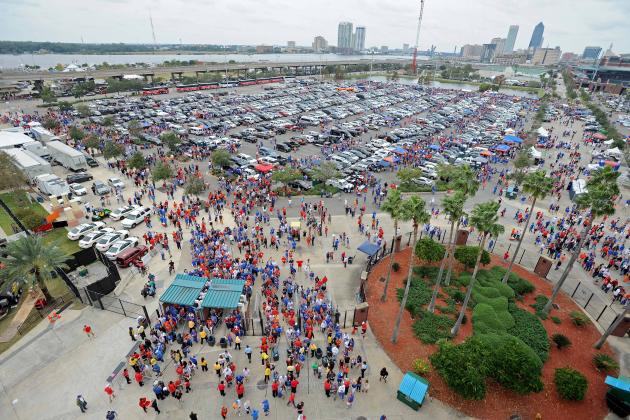 Kevin Liles-US PRESSWIRE
No other tailgating experience can compare to the World's Largest Outdoor Cocktail Party
Rivalry weekend is always one of the most anticipated weekends of every college football season. Late-season matchups between two longtime heated rivals stir up special types of emotions in fans.
That's why rivalry games are usually home to some of the best tailgating experiences in college football. The fans' passion and dislike for the opponent is what creates a special pregame setting.
There will be plenty of great tailgating festivities this weekend at big rivalry games such as Florida-Florida State, Notre Dame-USC, Auburn-Alabama and Oregon-Oregon State. However, there have already been plenty of great games for tailgating this season.
Here's a look at the 50 best college football tailgating sites of 2012.
Begin Slideshow

»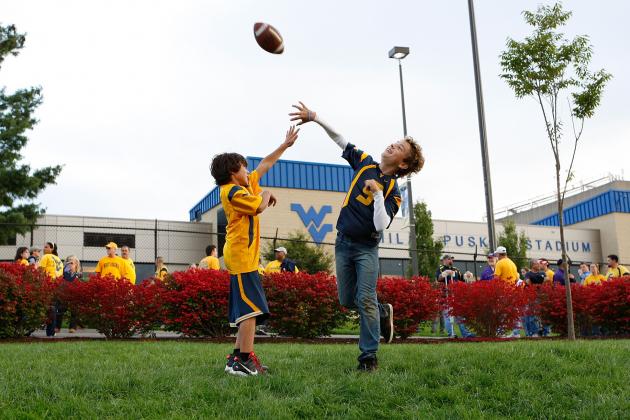 Jared Wickerham/Getty Images

West Virginia fans spent all summer talking about the move to the Big 12. Needless to say, when the first conference game of the season against Baylor rolled around, they were extremely excited.
After a good morning full of pregame fun on a beautiful, sunny September day, fans were treated to one of the greatest offensive shows in the history of college football. The Mountaineers and the Bears totaled 1,507 yards of offense and 67 first downs in a game that West Virginia hung on to win 70-63.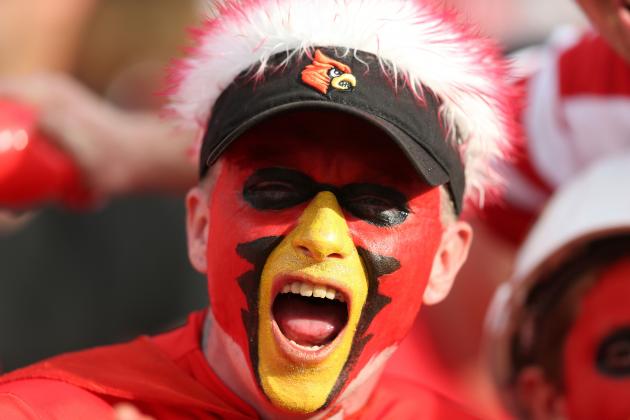 Andy Lyons/Getty Images

This Friday night Big East battle pitted a 7-0 Louisville team against a 5-1 Cincinnati squad.
It's been awhile since the Cardinals started the season with seven straight wins, so, obviously, the 53,000 fans at Papa John's Stadium were ready to celebrate such an important nationally televised game.
The fans got to celebrate both before and after the game, as Louisville went on to win a thrilling 34-31 overtime shootout.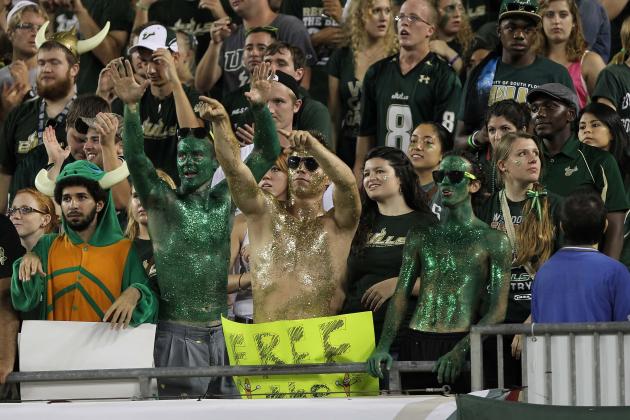 Kim Klement-US PRESSWIRE

Florida State fans flocked to Tampa to see the Seminoles play their first road game of the season against South Florida.
69,000 fans from across the state of Florida packed Raymond James Stadium and helped contribute to one of the funnest and most festive atmospheres ever for a South Florida home football game.
The Seminoles won the intrastate contest 30-17.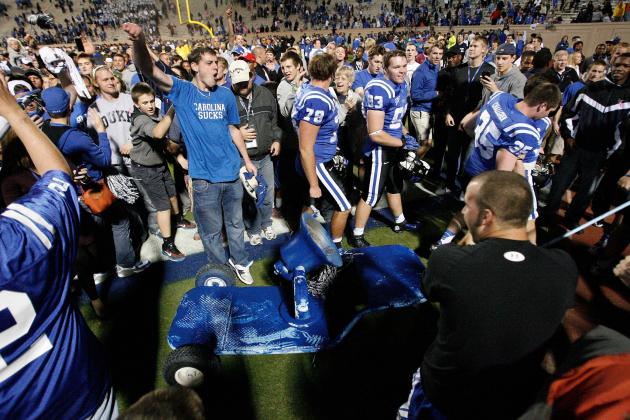 Mark Dolejs-US PRESSWIRE

Duke football games haven't exactly been the place to be in recent years, but this season, there was finally a reason for Blue Devils fans to get excited about an important home game.
Not only did the team have the chance to become bowl eligible for the first time since 1994, it also had the chance to beat rival North Carolina to get that important win.
When the Blue Devils beat the Tar Heels 33-30, the fans in Durham had the chance to celebrate both Duke's sixth win of the season and the team's first win over North Carolina since 2003.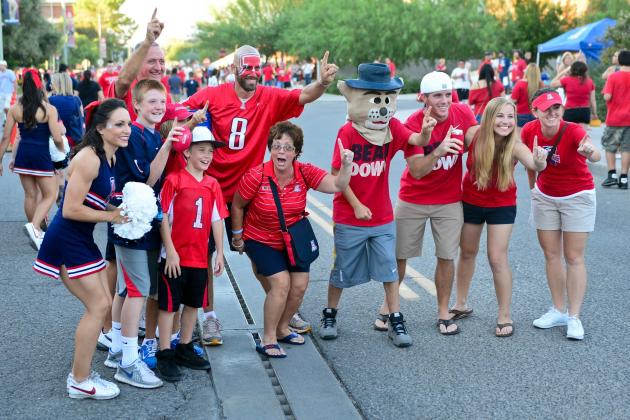 Matt Kartozian-US PRESSWIRE

Who said Arizona was a basketball school?
46,000 Wildcats fans came to Arizona Stadium on Oct. 27 hoping for a huge upset over USC—and that's just what they got.
Rich Rodriguez got the signature victory of his first season when Arizona toppled the Trojans 39-36.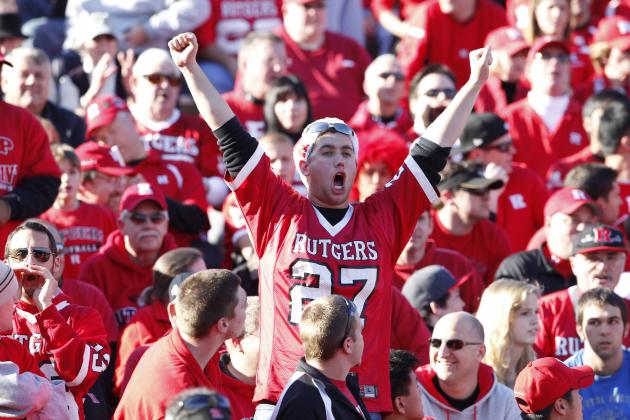 David Butler II-US PRESSWIRE

This Thursday night game on Nov. 29 is setting up to basically be the Big East championship game.
The Rutgers fans stepped up their enthusiasm in a big way when these two teams were undefeated for a Thursday night game in 2006, and it paid off in a big way, as the Scarlet Knights won 28-25.
It will be interesting to see if they can create a similar type of atmosphere this year.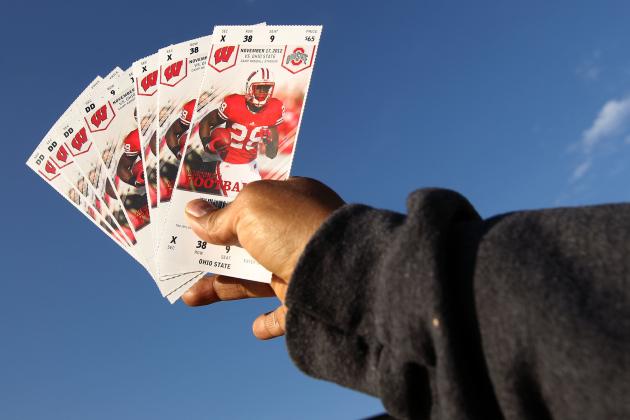 Mike McGinnis/Getty Images

Wisconsin fans were pumped to get a chance to see one of the greatest players in school history, RB Montee Ball, possibly break college football's touchdown record. It also helped that the Badgers were playing an undefeated Ohio State team.
The fans were hoping to see Wisconsin get revenge for last year's last-second upset in Columbus. But instead, the Buckeyes extended their win streak with a 21-14 win in overtime.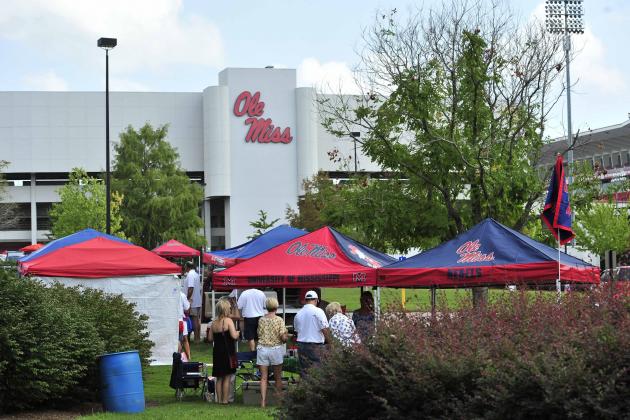 Jim Brown-US PRESSWIRE

Ole Miss fans were riding high after a 2-0 start, and the famous "Grove" was rocking when Texas came to Oxford on Sept. 15.
The warm Saturday night was a perfect setting for the Rebels and the Longhorns to duke it out.
Unfortunately for the home crowd, it was Texas who ended up having most of the fun that night. Mack Brown's squad rocked the Rebels 66-31.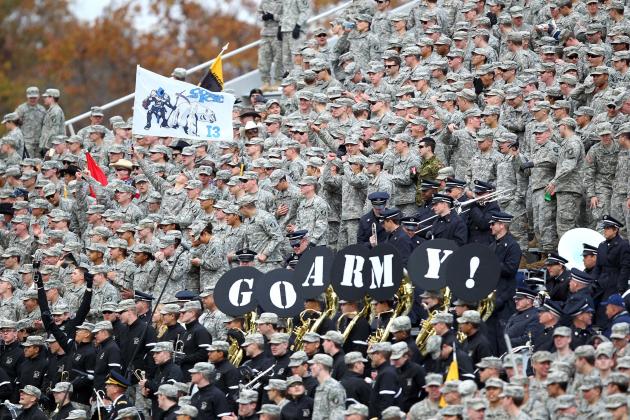 Danny Wild-US PRESSWIRE

Army may have only had one win when Air Force came to town on Nov. 3, but Black Knights fans were still charged up to face the fellow service academy.
The picturesque Michie Stadium provided a perfect backdrop for all the pregame pageantry and festivities.
The Knights were able to feed off the energy of the crowd and upset the favored Falcons 41-21.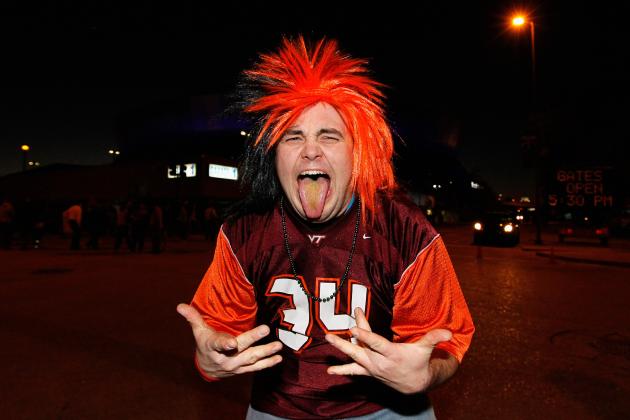 Kevin C. Cox/Getty Images

Georgia Tech and Virginia Tech squared off on Labor Day night in what many originally believed to be the possible deciding game in the ACC Coastal division race.
Hokies fans were excited to see how their team would fare after making it to a BCS bowl game last season. Virginia Tech looked far from perfect, but the team got the job done in the end, winning 20-17 in overtime.
What Hokies fans didn't realize at the time was that win would be one of the few highlights of an otherwise massively disappointing season.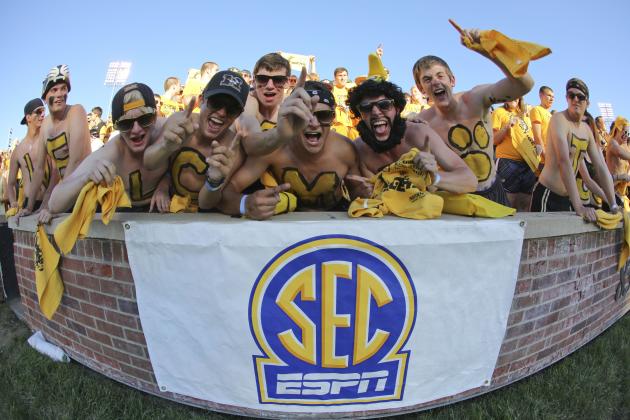 Ed Zurga/Getty Images

Missouri fans were pumped up for the team's first-ever SEC football game against Georgia on a Saturday night back in September.
The Tigers were hoping to create the type of electric environment similar to the one that swallowed up Oklahoma back in 2010. But the Bulldogs were able to quiet the crowd in the second half of the game, scoring 17 unanswered points in the fourth quarter to prevail 41-20.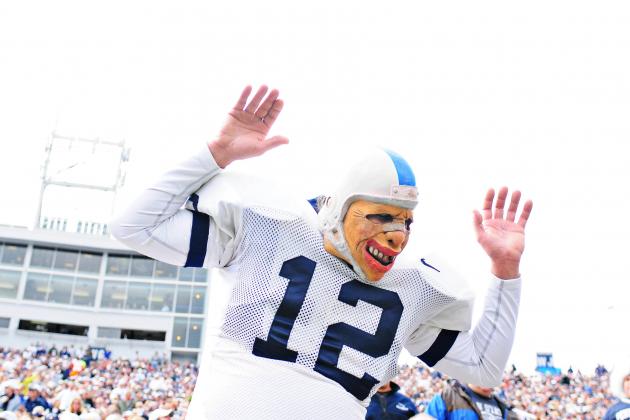 Evan Habeeb-US PRESSWIRE

This will be Senior Day for a Penn State team that is currently 7-4. But it's a team that won't have a shot at a bowl game due to an NCAA postseason sanction.
It's sure to be an emotional day for the 100,000-plus Nittany Lions fans who will show up in Happy Valley to say goodbye to many of their favorite players.
Wisconsin better be prepared for a battle, because Penn State will be playing very inspired and motivated.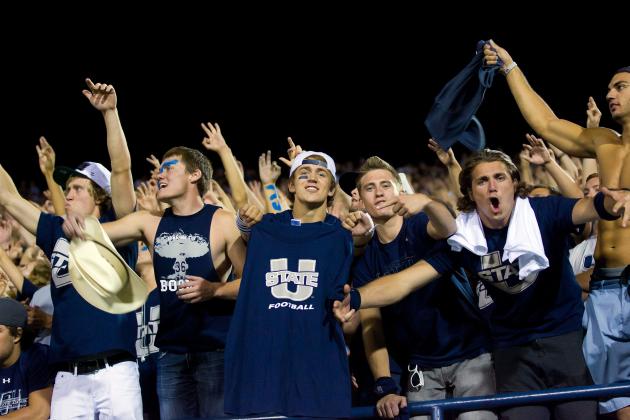 Russ Isabella-US PRESSWIRE

Utah State just picked up its most important win of the season when it beat Louisiana Tech 48-41 in overtime. However, you can argue that the Week 2 victory over instate rival Utah was equally as important in terms of being a confidence and momentum boost.
Romney Stadium was sold out for the Friday night showdown. The Aggies were able to give their home fans some joy by beating the Utes 27-20 to snap a 12-game losing streak in the series.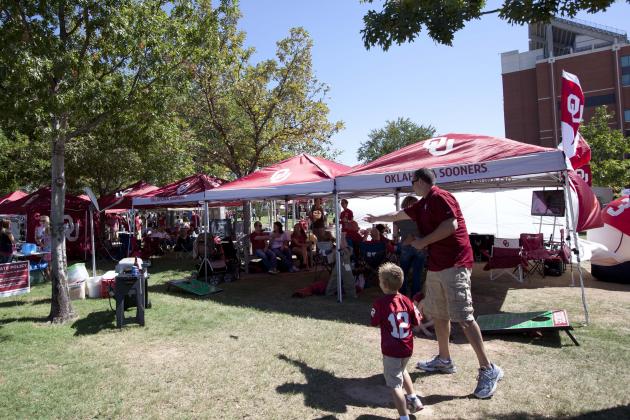 Richard Rowe-US PRESSWIRE

Oklahoma fans will have revenge on their mind when they're tailgating for the annual Bedlam game against Oklahoma State on Nov. 24.
The Cowboys embarrassed the Sooners 44-10 in last year's matchup, and Oklahoma fans surely aren't happy about that.
It should be a hostile atmosphere on Saturday.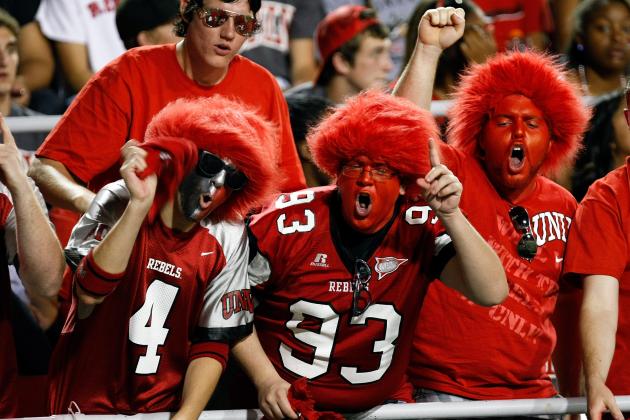 Ethan Miller/Getty Images

UNLV has one of the most underrated tailgate scenes in college football. The problem is that the Rebels have been such a non-factor in recent years, and the fans haven't had much to truly get excited about.
That certainly wasn't the case on Nov. 3, however, as fans had plenty to get excited about for homecoming weekend.
The Rebels ended up playing their best game of the season in front of a juiced-up crowd, beating New Mexico 35-7.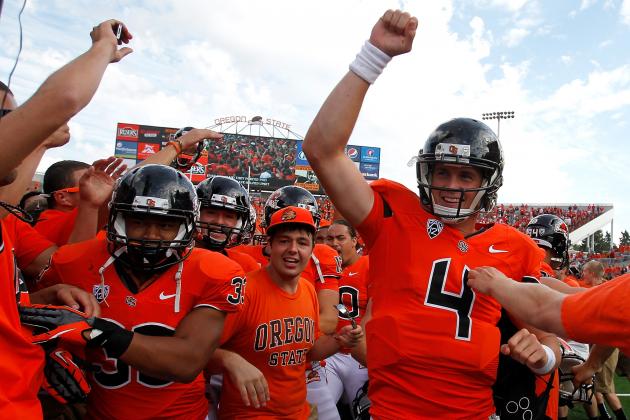 Jonathan Ferrey/Getty Images

Oregon State had its season-opener against Nicholls State postponed, so fans had to hold over all their excitement to the following weekend's game against Wisconsin.
The Badgers came to town ranked No. 13 in the nation. But there was a special type of confidence already permeating throughout Corvallis when they arrived.
The Beavers ended up pulling off a huge 10-7 win to show fans and onlookers that they certainly weren't the same team that won just three games in 2011.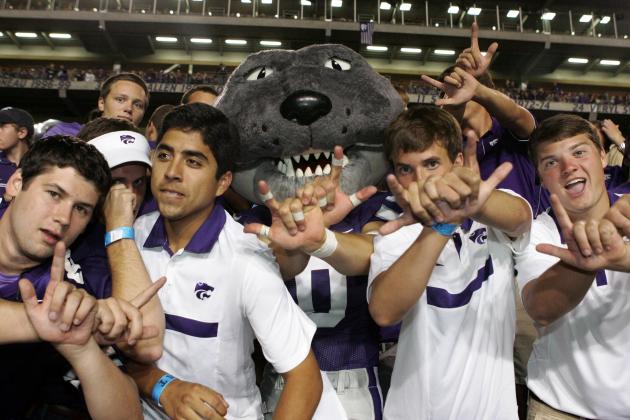 Scott Sewell-US PRESSWIRE

Kansas State may have blown its shot at a national championship with a loss to Baylor last week. However, Wildcats fans should still be excited to see their team potentially win its first Big 12 championship since 2003.
Texas will be looking to make a statement and show that it can win a big conference road game, but the Longhorns will have to deal with a great opponent and a raucous crowd.
Matt Cashore-US PRESSWIRE

62,000 fans came to Chicago's Soldier Field to see the renewal of the Miami-Notre dame rivalry on Oct. 6.
Irish fans could be spotted all around the city in the week leading up to the big game. As it turned out, however, all the sights they saw around town were probably a lot more interesting than the actual game, which Notre Dame dominated, 41-3.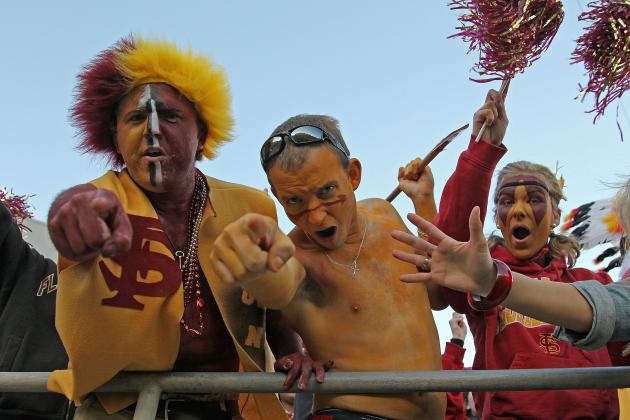 Mike Ehrmann/Getty Images

Florida and Florida State both have die-hard passionate fanbases, and they just so happen to have a whole lot of fans who like to party on game day.
Seminoles fans, along with the visiting Gator faithful, will surely create a wild pregame environment in Tallahassee on Saturday.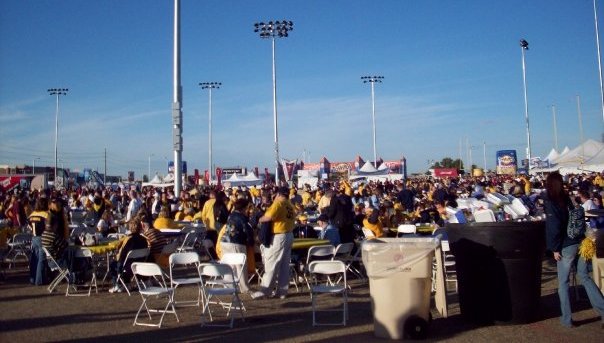 One of the best bowl games to tailgate at every year is the Fiesta Bowl.
Above is a picture I took when I was at the 2008 Fiesta Bowl, a game in which West Virginia beat Oklahoma 48-28. Before the game, thousands of Sooners and Mountaineers fans attended the fan celebration outside of the stadium.
There may not be much to do in the city of Glendale in the days leading up to the game, but once that day finally arrives, the beautiful January Arizona air creates a perfect environment for two big fanbases to mingle.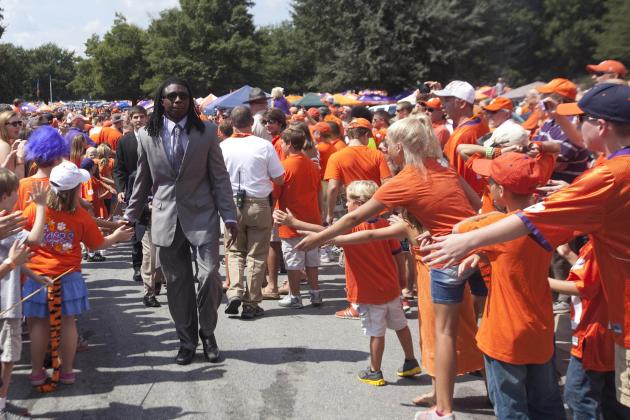 Joshua S. Kelly-US PRESSWIRE

The South Carolina-Clemson rivalry has grown into one of the most bitter and competitive series in the sport.
The team's two coaches, Steve Spurrier and Dabo Swinney, have an obvious disdain for each other, which seems fitting, considering how much the two fanbases don't like each other.
There should be plenty of trash-talking in the parking lots between the home-standing Tigers fans and the visiting Gamecock supporters when these two teams meet on Saturday.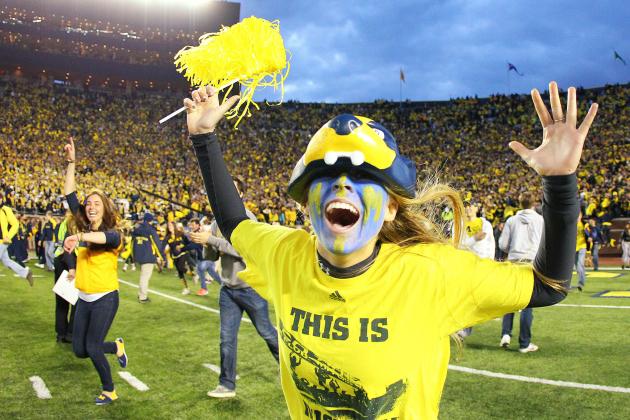 Mike Carter-US PRESSWIRE

Michigan fans had tempered optimism going into the game against instate rival Michigan State. The Spartans had beaten the Wolverines four years in a row, but the 100,000 maize and blue-clad fans wanted to make sure that wouldn't happen again.
They helped turn the Big House into a thunderous environment, and their cheering worked. Michigan was able to pull out a much-needed 12-10 victory.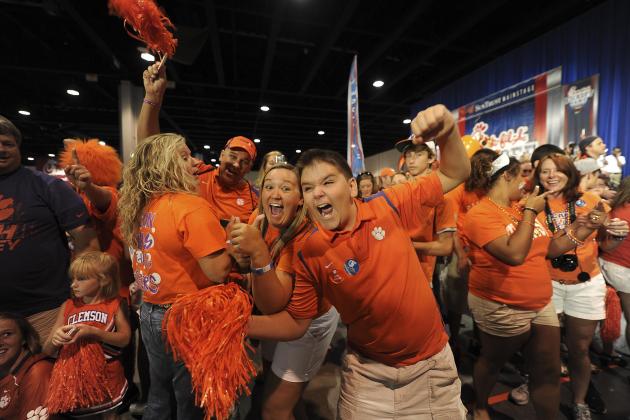 Paul Abell-US PRESSWIRE

Auburn and Clemson both had high hopes going into the 2012 season, and you could sense that feeling from both fanbases in the days leading up to their meeting in the Chick-Fil-A College Kickoff game.
75,000 fans traveled to Atlanta to support their teams, and it made for a fun tailgating environment.
Ultimately, Clemson ended up winning 26-19. That loss sent the Tigers on a downward spiral that they would never recover from.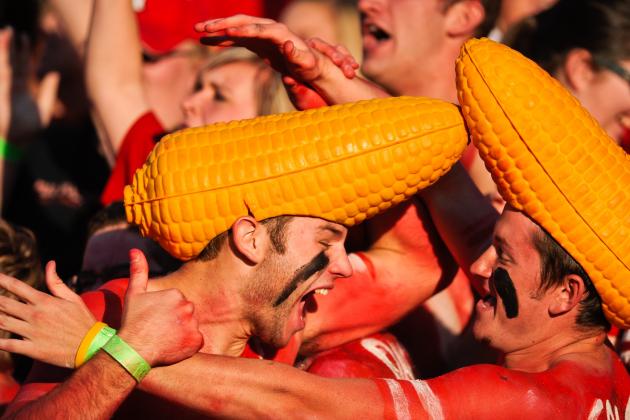 Eric Francis/Getty Images

Nebraska fans are some of best tailgaters in the country, and they pulled out all the stops for a big Saturday night game against Wisconsin.
The Sea of Red took over Lincoln and helped cheer the Cornhuskers on to victory. Nebraska avenged last year's lopsided loss in Madison, beating the Badgers 30-27.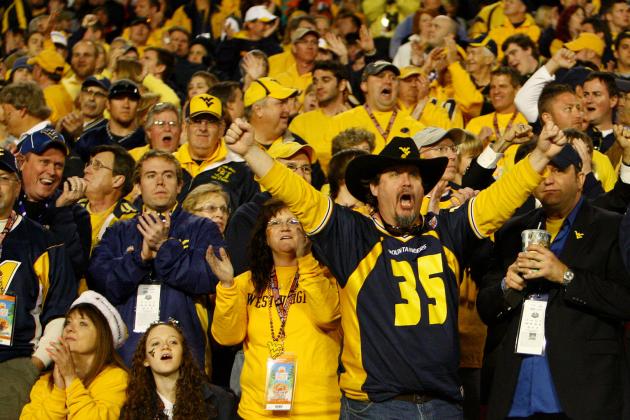 Robert Mayer-US PRESSWIRE

West Virginia fans showed their true spirit and loyalty by packing the parking lots surrounding Mountaineer Field for the big Saturday night game against Oklahoma, even though the team was dealing with a four-game losing streak.
Fans were rewarded with one of the most entertaining games of the season and an exciting offensive shootout. However, in the end, the Mountaineer faithful left disappointed after the Sooners came from behind in the final minute to win, 50-49.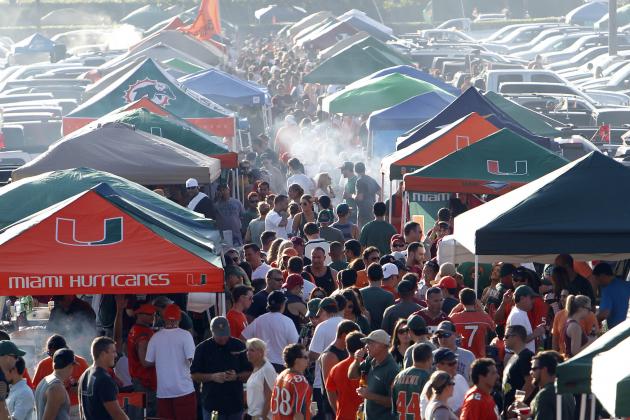 Robert Mayer-US PRESSWIRE

Since moving from the Orange Bowl to Sun Life Stadium back in 2008, Miami has usually played in front of thousands of empty seats at homes games. However, there weren't many empty seats when Florida State came to town for a big rivalry game.
Thousands of Seminoles fans traveled to support their team. If you looked around the parking lots before the game started, you probably would have wondered who the home team actually was.
Ultimately, the Florida State fans who made the trip were rewarded with a 33-20 victory.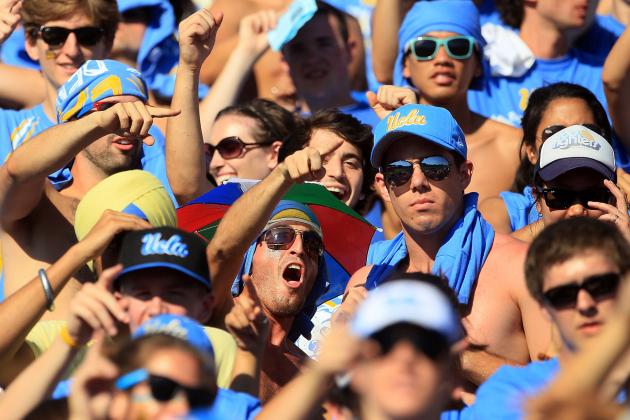 Jeff Gross/Getty Images

Prior to Saturday's game, UCLA had lost 12 of its last 13 games against crosstown rival USC. However, there was still a surprising sense of optimism among the Bruins fan base during the few hours before the game.
The team fed off that positive energy and managed to pull off a huge 38-28 victory in the Rose Bowl.
The postgame celebration that ensued was even more fun than the pregame tailgate.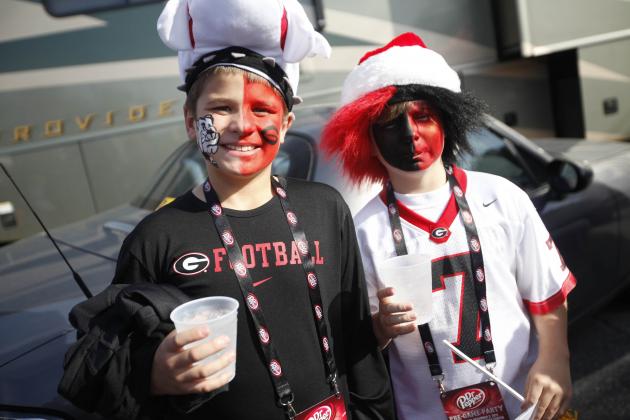 Josh D. Weiss-US PRESSWIRE

Georgia has already sealed up a spot in the SEC championship game, but the Bulldogs certainly won't be resting up this weekend. Instead, they'll be battling it out with instate rival Georgia Tech in Athens.
The Bulldogs fans love to pick on the Yellow Jackets, and there are sure to be plenty of taunts flying around in the parking lots at Sanford Stadium on Saturday.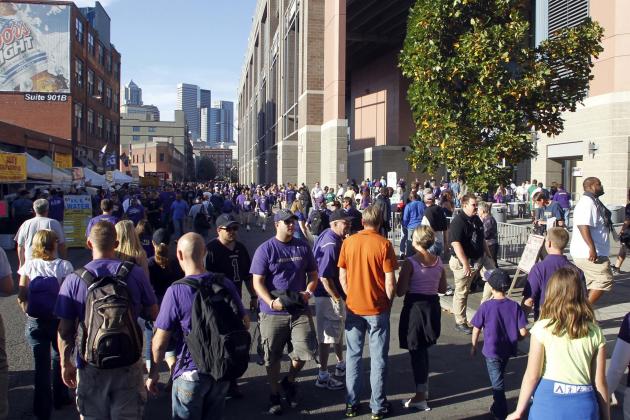 Joe Nicholson-US PRESSWIRE

Washington has one of the most unique tailgating experiences in the country. That tailgate was taken to another level in September for an important Thursday night game between the Huskies and Stanford.
The Cardinal had plenty of confidence, as they were coming off a huge upset win over USC the week before. But Washington fans banded together and created the "Blackout of the Century" to try to intimidate the Stanford players.
The black shirts must have worked, because the Huskies pulled off a 17-13 upset win.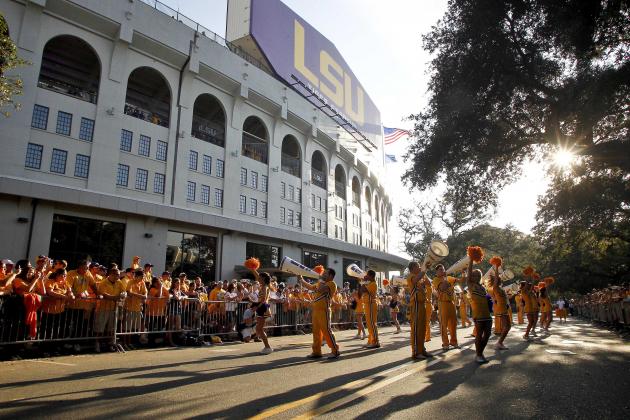 Crystal Logiudice-US PRESSWIRE

LSU may have been coming off a loss to Florida the week prior to hosting South Carolina in Baton Rouge, but that didn't seem to dampen the mood of the Tigers fans who showed up for the Saturday night tussle.
Death Valley was rocking as usual for the SEC matchup, and the noise level obviously had an effect on the Gamecocks.
The Tigers ended up winning the game, 23-21.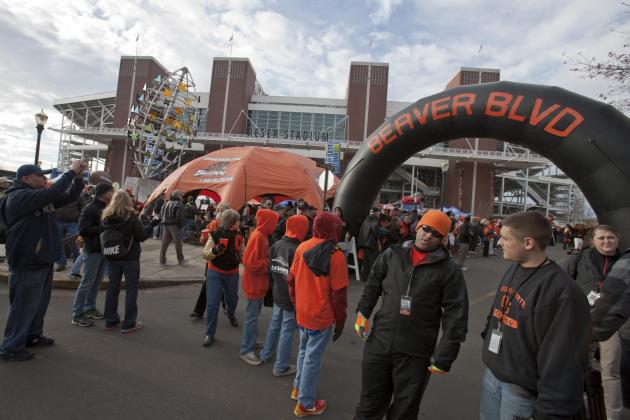 Jason O. Watson-US PRESSWIRE

The Civil War between Oregon State and Oregon has always been one of the most underrated rivalry games in sports. However, fans who have actually been to one of the games know exactly just how tense and competitive it really is.
This year, the Ducks will have to travel to Corvallis for the Saturday showdown on the heels of a tough loss to Stanford. You can bet that 40,000-plus screaming Beavers fans will be waiting for them.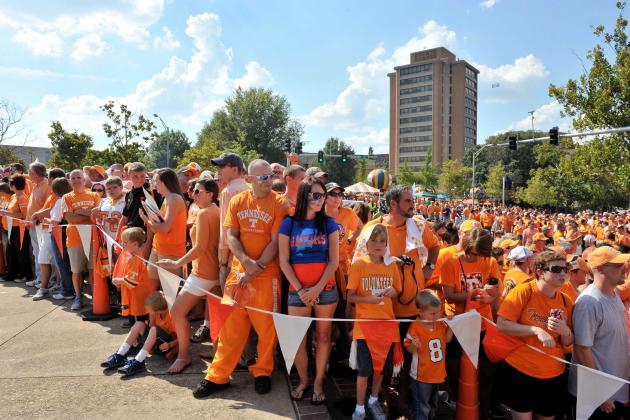 Jim Brown-US PRESSWIRE

After a long absence, ESPN College GameDay finally took a mid-September trip down to Knoxville for an SEC East matchup featuring the Vols and the Florida Gators.
The day-long pregame tailgate was full of excitement, and hopes were high before kickoff, but the Gators squashed all the good vibes when they beat the Vols 37-20.
It turned out to be the beginning of Derek Dooley's demise.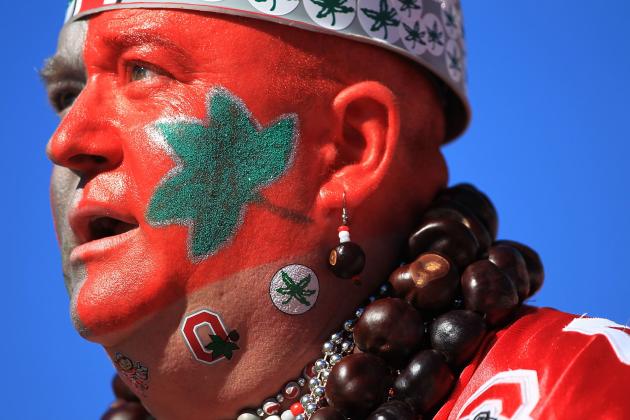 Scott Halleran/Getty Images

Ohio State fans were revved up for an Oct. 6 meeting with Nebraska, especially since it was a prime-time Saturday night game.
The Buckeye faithful spent all day getting prepared to help the team avenge last year's loss in Lincoln, and they did just that. Ohio State won 63-38.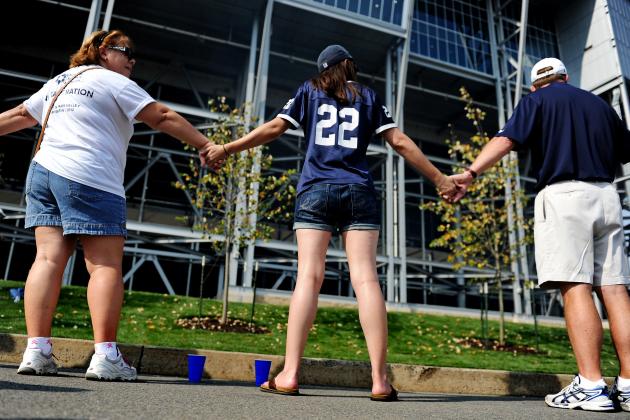 Patrick Smith/Getty Images

Penn State's season opener against Ohio provided one of the most unique tailgating experiences of the season. The fanbase was searching for a way to properly move into the future following the death of Joe Paterno and the sexual abuse scandal that rocked the entire community.
"We Are...Penn State" chants could be heard from every corner of Happy Valley all day long, but the 100,000-plus screaming fans weren't enough. The Nittany Lions lost 24-14.
Fortunately, Bill O'Brien's squad has bounced back and compiled an impressive and unexpected 7-4 record.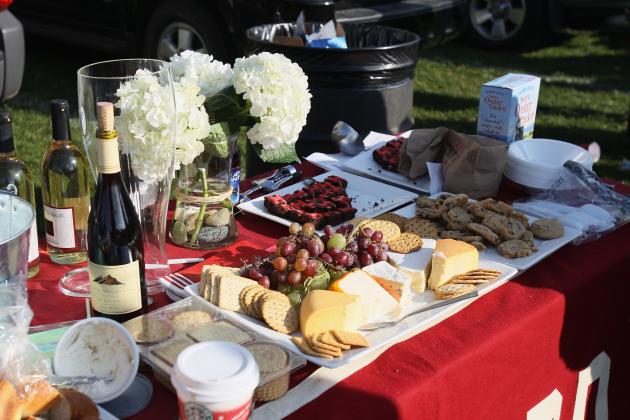 Elsa/Getty Images

If you prefer a more upscale tailgating environment, then the Yale-Harvard game is the place for you.
Instead of bud lights and burgers, the folks in the Ivy League enjoy fine wine and cheese.
The Crimson won the 129th meeting between these two schools, 34-24, on Nov. 17. It was Harvard's sixth straight victory in the series.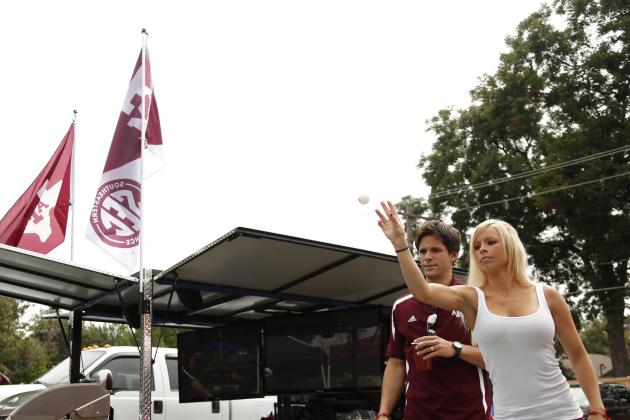 Thomas Campbell-US PRESSWIRE

Texas A&M was always looked at as the little-brother program in the Big 12, which is why Aggies fans wanted to show what the team was really made of in its first SEC game against Florida.
Led by then-unknown freshman quarterback Johnny Manziel, Texas A&M fought valiantly. But ultimately, Florida outlasted the Aggies, winning 20-17.
Obviously, though, that loss didn't deter Kevin Sumlin and his players, as they went on to win eight of their next nine games.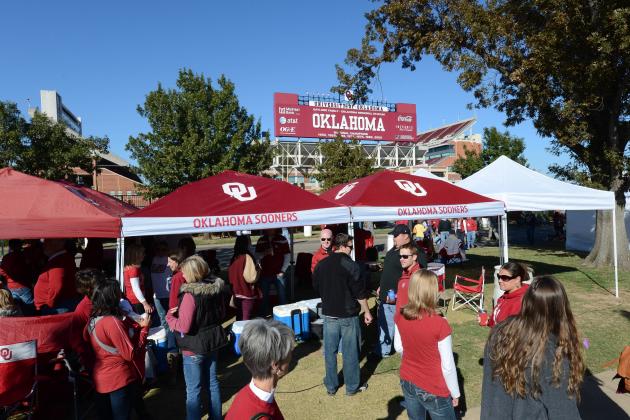 Matthew Emmons-US PRESSWIRE

ESPN's College GameDay paid a visit to Norman back on Oct. 27 for the big battle between two Top 10 teams, Oklahoma and Notre Dame.
Sooners fans had all day to get pumped up, and they let plenty of Boomer Sooner chants out leading up to the game. But the Irish quieted them in the second half, as they went on to win 30-13.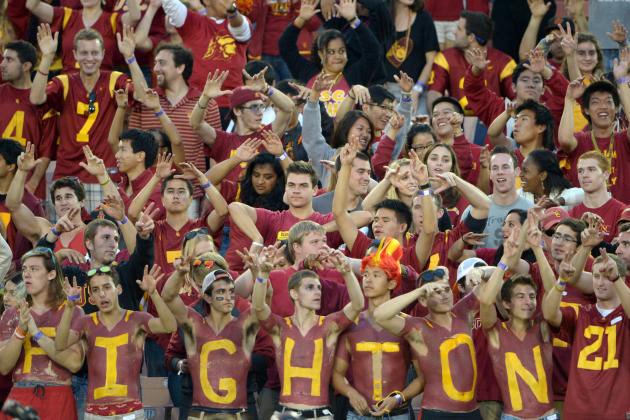 Kirby Lee-US PRESSWIRE

USC may have already had two losses going into the much-anticipated showcase game against Oregon. However, Trojans fans still had plenty of reason to be optimistic, and many were expecting an upset win.
That optimism quickly faded, however, once Oregon's offense kicked into full gear and never slowed down. The Ducks handed USC its third loss of the season, winning an offensive shootout 62-51.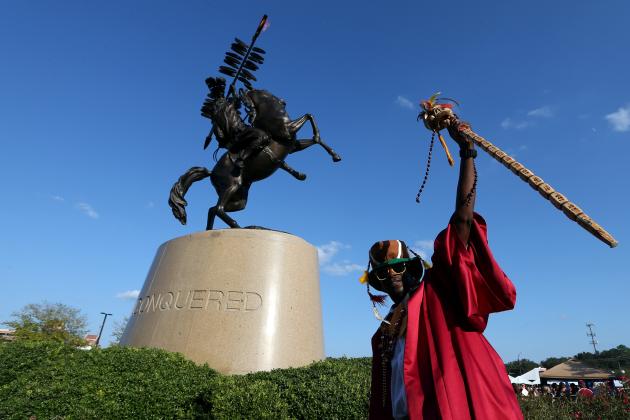 Streeter Lecka/Getty Images

The critical conference showdown between Clemson and Florida on Sept. 22 was the most anticipated game on the ACC schedule. Seminoles fans knew that they couldn't let their team blow another big home game like they did to Oklahoma last year. So they grouped together and gave the team tremendous support.
It ended up paying off, as Florida State rallied from a halftime deficit and won the game 49-37. The crucial victory turned out to be the deciding game in the ACC Atlantic division race.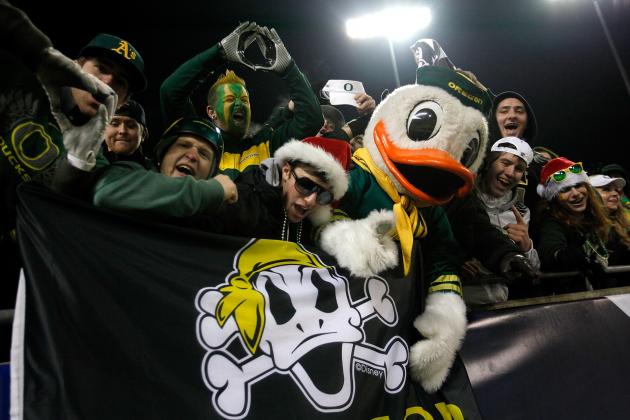 Jonathan Ferrey/Getty Images

Oregon fans had plenty of reasons to celebrate last Saturday morning. The Ducks were undefeated, and they appeared headed to the BCS championship game. Plus, ESPN College GameDay had rolled into town to cover their big game against division foe Stanford.
Autzen Stadium was rocking as usual, but the chaos wasn't enough to shake freshman Stanford quarterback Kevin Hogan, who led the Cardinal to a 17-14 upset victory in overtime.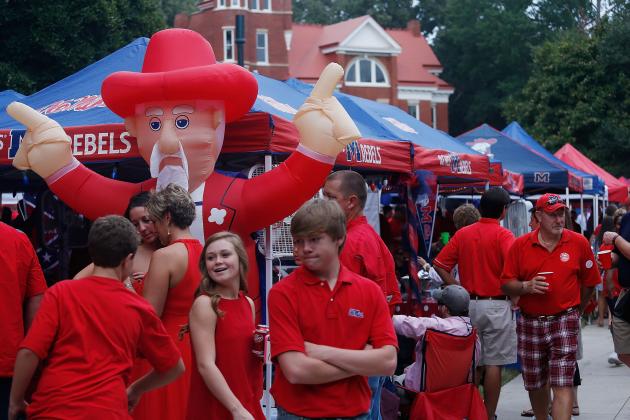 Scott Halleran/Getty Images

Every pregame tailgate for Ole Miss football games is a monumental event, but that's especially true when in-state rival Mississippi State comes to town for the Egg Bowl.
The Bulldogs will come to Oxford on Saturday for a pivotal game that will decide whether the Rebels will make it to a bowl game or not.
The fans will surely be fueled up and ready to chant "Hotty Toddy" all night long.
John David Mercer-US PRESSWIRE

The Iron Bowl is one of the greatest rivalries in all of college football. No matter what the records of the two teams may be, this game is always a much-anticipated affair on both sides.
This year, Alabama has the clear advantage, and it appears that the 3-8 Auburn Tigers might be in store for a long day. You can bet that the 100,000 Tide fans that show up on game day will be hoping for a big blowout to brag about for the next year.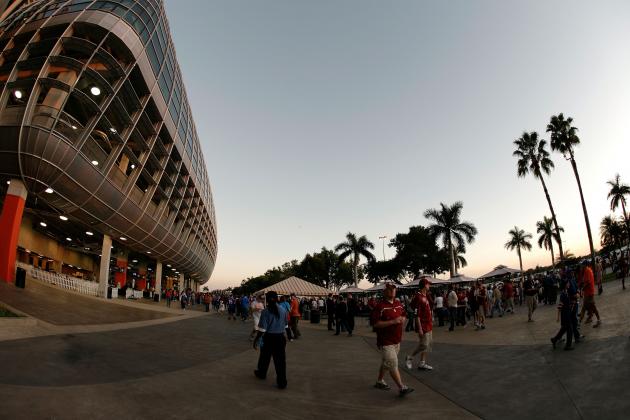 Doug Benc/Getty Images

The greater Miami area will be the center stage of the college football world in early January.
This year's BCS championship game has a chance to be one of the most anticipated title games in years, and there should be a great buzz in the city.
It will be interesting to see which two fanbases get the chance to invade South Beach.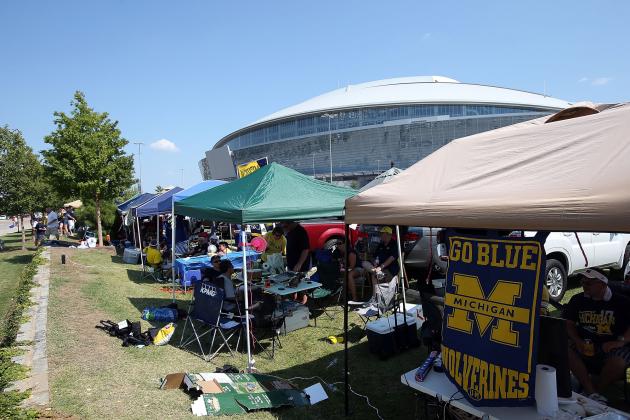 Ronald Martinez/Getty Images

The highly-anticipated marquee matchup between Alabama and Michigan, two of the most prestigious programs in college football history, turned out to be a complete dud of a game. The Tide completely obliterated the Wolverines, winning 41-14.
Still, the tailgate was a big success.
90,000 fans from across the nation surrounded the massive Cowboys Stadium, creating a giant sea of maize, blue and crimson.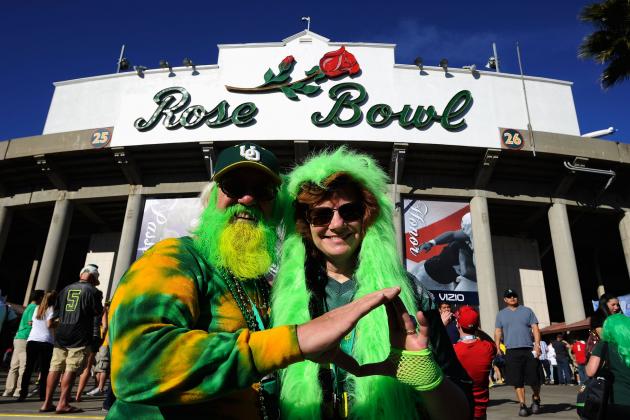 Kevork Djansezian/Getty Images

There are plenty of great bowls to tailgate at, but the best one is, of course, the "Grandaddy of them All," the Rose Bowl.
There's a lot to love about the scene in Pasadena on New Year's Day, whether it's the parade, the beautiful weather, the pageantry or the 90,000-plus fans who come together to see the historic bowl.
The Rose Bowl is a true bucket-list trip for any real college football fan.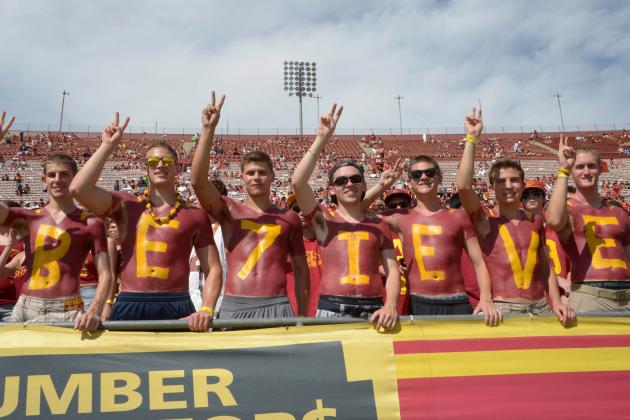 Kirby Lee-US PRESSWIRE

USC won't have QB Matt Barkley for this weekend's huge game against No. 1-ranked Notre Dame. But the Trojans are sure to have plenty of support from a fanbase that's dreaming about a big upset in the Coliseum.
Very few teams in college football get USC fans fired up like the Irish do, which means it's sure to be a wild atmosphere in Los Angeles on Saturday, especially with ESPN College GameDay coming to town.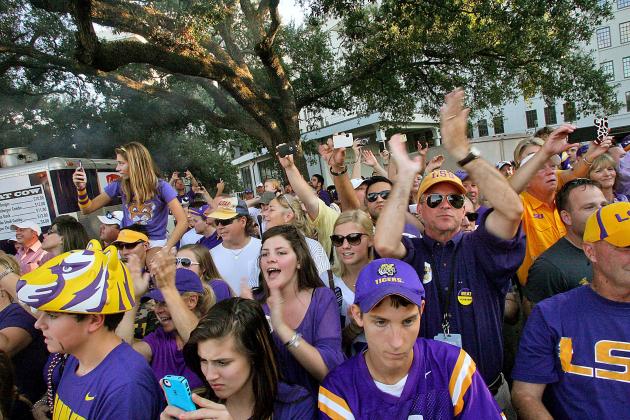 Crystal Logiudice-US PRESSWIRE

The biggest game of the 2012 season, Alabama vs. LSU, just so happened to take place in one of the greatest settings in college football: a Saturday night game in Death Valley.
This made for an absolutely monster day of tailgating.
It looked like Tigers fans were going to have plenty to celebrate after the game as well, but it was former LSU head coach Nick Saban who got the last laugh, as the Tide pulled out a last-minute 21-17 win.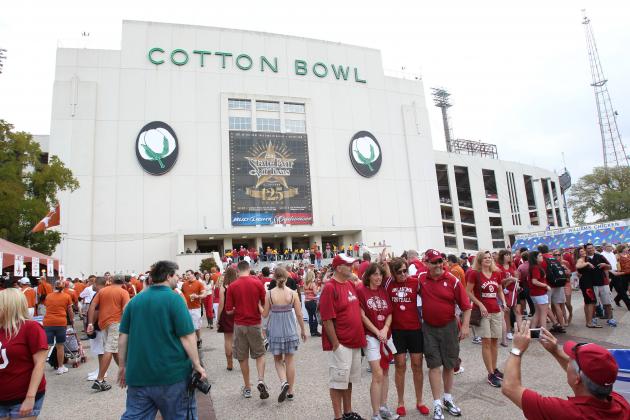 Matthew Emmons-US PRESSWIRE

The Red River Rivalry game between Big 12 powerhouses Oklahoma and Texas features one of the best tailgating experiences in all of college football.
The evenly-split crowd of Sooner fans and Longhorn fans get to enjoy the State Fair of Texas before heading into the Cotton Bowl to watch the two teams square off.
This year, Oklahoma embarrassed Texas 63-21. It was the Sooners' third straight victory in the series.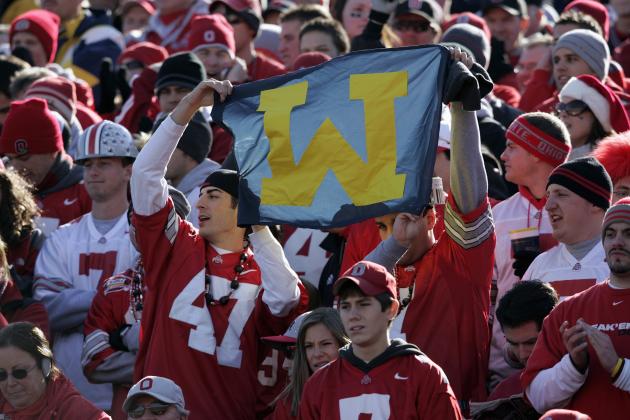 Tom Pidgeon/Getty Images

There are many sports fans who believe that the Ohio State-Michigan rivalry is the greatest rivalry in all of sports. They probably formed that opinion after going to one of the many epic battles between these two teams over the years.
The Buckeyes and the Wolverines are two of the proudest and most prestigious programs in all of college football, and their fanbases just flat-out despise each other.
Every year, 100,000-plus fans gather to create a pregame atmosphere that is largely unparalleled in the world of sports.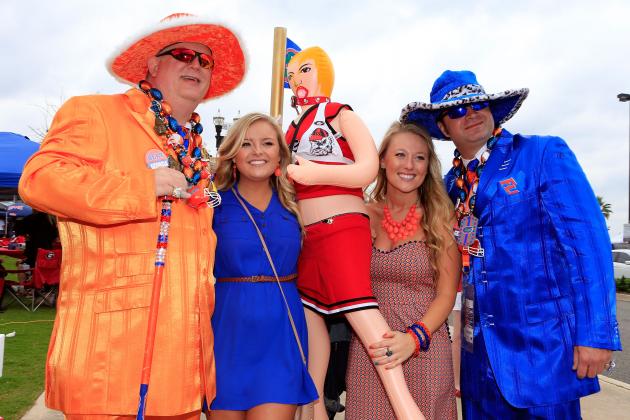 Sam Greenwood/Getty Images

Football, booze, sex, BBQ, palm trees, sunshine, nice swampy-smelling Jacksonville fresh air—there are a lot of ingredients that make the Georgia vs. Florida rivalry game college football's ultimate tailgating experience.

The World's Largest Outdoor Cocktail Party features 85,000 of some of the most rabid SEC fans indulging in great food, good company and every type of alcohol you could possibly imagine.

The SEC East division was on the line when these two met back on Oct. 7. Georgia ended up prevailing in a hard-fought, physical, 17-9 battle. Although, the pregame fight between two fans ended up getting just as much media attention as the actual game.