8 Reasons Why Blake Griffin Can Lead L.A. Clippers to an NBA Title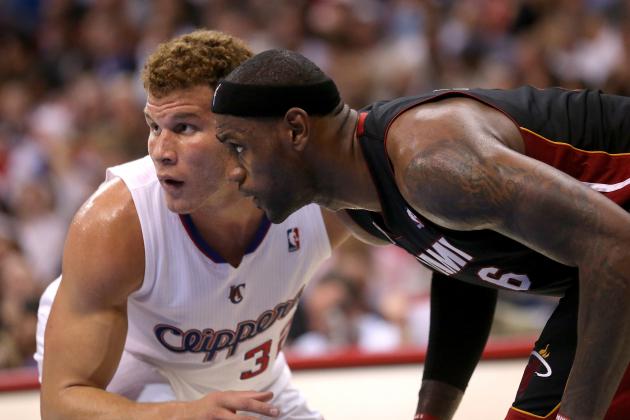 Stephen Dunn/Getty Images

For the first time in the history of the franchise, the Los Angeles Clippers actually look like viable contenders for an NBA Championship.
Top to bottom this team is loaded with talent and the perfect blend of youthful athleticism and veteran leadership. The been-there-done-that veterans like Matt Barnes and Jamal Crawford are working nicely alongside homegrown products DeAndre Jordan and Blake Griffin.
It all starts at the top for the Clippers, specifically with budding superstar Blake Griffin and all-world point guard Chris Paul.
Ultimately, the Clippers will live and die with the success of their point guard, but that is not to say that Griffin is incapable of taking L.A. to the Finals
Here are eight reasons why Blake Griffin can lead the Clippers to an NBA title.
"Statistics used in this article were accurate as of November 19th, 2012."
Begin Slideshow

»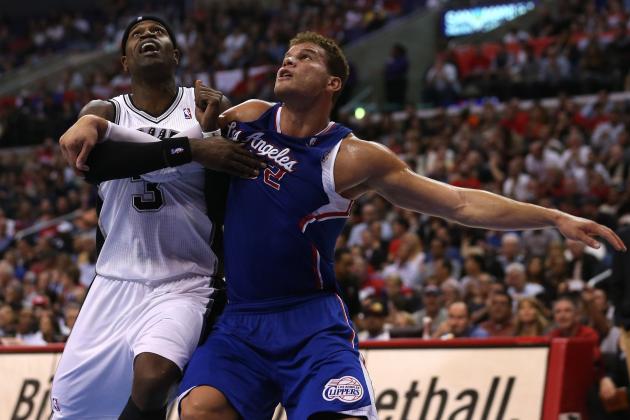 Stephen Dunn/Getty Images

At just 23, Blake Griffin is only beginning to realize his tremendous potential in this league.
The big man is embarking on what should be a long career of devastating opposing big men in the post and from the perimeter. Griffin's career scoring and rebounding averages of 21.4 PPG and 11.4 RPG already put him in elite company.
Despite his success, Griffin has had his humbling moments.
During the last postseason, dominant big men Zach Randolph and Tim Duncan blitzed Griffin. This offseason saw him have to miss all of the 2012 London Olympics due to a knee injury.
Entering this season there appears to be a new found maturity and poise to BG's game. Capitalizing on this progression will only make him better.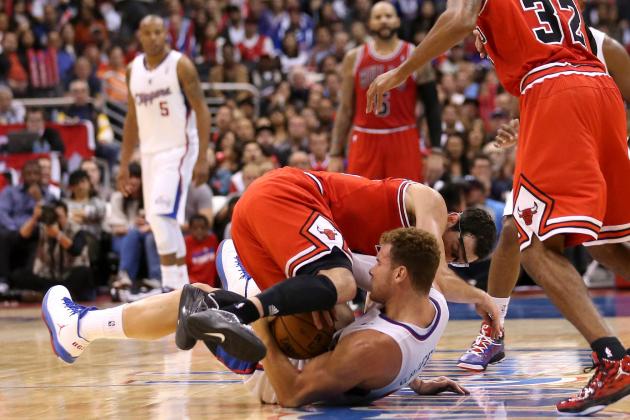 Stephen Dunn/Getty Images

At this point in his career, Blake Griffin is not nearly as good of a defender as he should be.
While Griffin is among the most athletic bigs in the game, he is yet to act on his raw talent and become an enforcer around the rim.
Griffin is at an inherent disadvantage—his arms are not nearly long enough for him to become an imposing shot blocker akin to Serge Ibaka.
Instead he will have to rely on his quick hands and foot speed in order to handle opposing big men. Mentally, Griffin appears to be turning a corner as well, as his rotations and backline communication with DeAndre Jordan are much improved.
More time playing under the same system with the same personnel will yield positive results and eventually transform BG into a defensive force.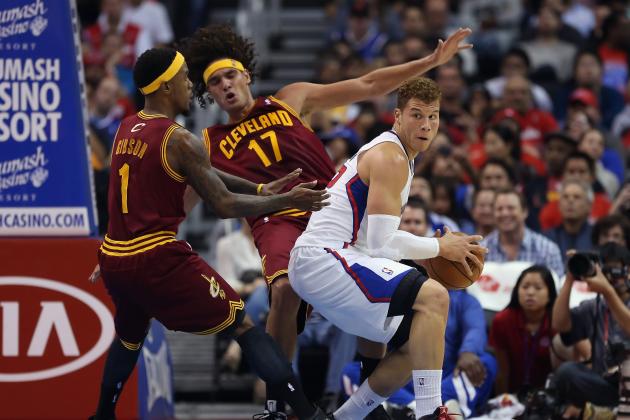 Jeff Gross/Getty Images

With the amount of weapons on the Clippers roster, Blake Griffin can afford to play fewer minutes and do less of the heavy lifting on a nightly basis.
Compellingly, Griffin is starting to take on more of an emphasis as a facilitator.
While his numbers do not indicate any profound change in playmaking, Griffin's game is taking on a patient quality that will make him a dynamic offensive force. Rather than go directly into his post move, Griffin is more cognizant of what the defense is doing.
He is looking for cutters and finding shooters on the perimeter. His new found patience and budding chemistry with his teammates will only make him a better facilitator as his career moves forward.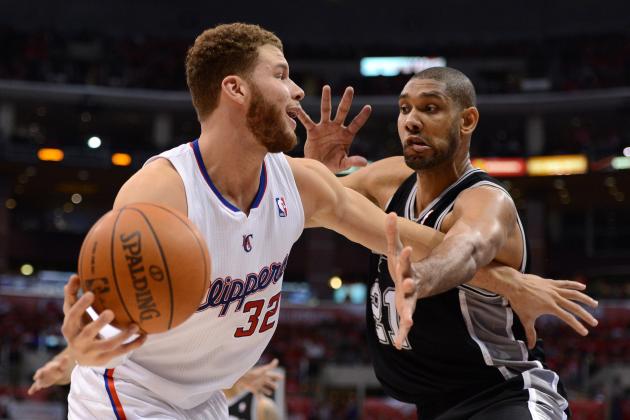 Harry How/Getty Images

The youth movement is ushering in a changing of the guard in the hyper-competitive Western Conference.
The ageless San Antonio Spurs and Kobe Bryant's Los Angeles Lakers will not be around forever, and the Oklahoma City Thunder and the Los Angeles Clippers appear to be at the forefront of this change.
Everywhere out West, teams are changing their trajectories.
Although he is still dominant, Tim Duncan is already 36 and entering the twilight of his career. In Dallas, the 34-year-old Dirk Nowitzki has been sidelined by injury.
Enter Kevin Durant and Blake Griffin, the rising stars of a new order out west.
Headlined by Griffin, the youth of the Clippers roster will keep Lob City in the hunt for years to come.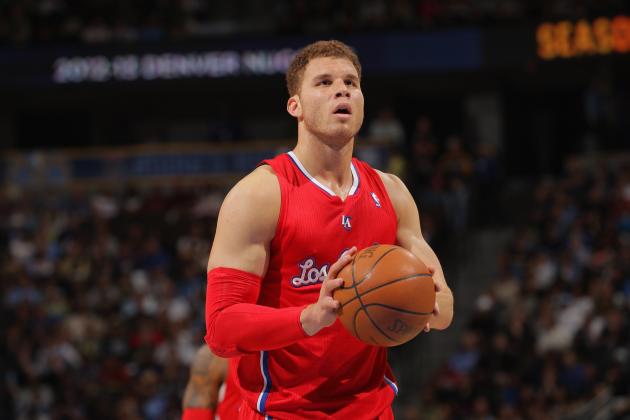 Doug Pensinger/Getty Images

Blake Griffin is still figuring out his effectiveness from the perimeter and from the line, but the differences between this season's Blake and last season's Blake are already making an impact.
Last season, Griffin shot a woeful 52.1 percent from the foul line. Through ten games, Griffin's free throw percentage is up to about 62 percent.
While that number is still far below what Griffin is capable of, it is a nice start.
Aside from Griffin's 0-4 performance in San Antonio, the big man had actually converted 10 of his last 13 attempts in the Clippers three previous games.
From the perimeter, Griffin's numbers are also improving.
Per NBA.com, the Oklahoma product is converting a decent 37 percent of his outside shots.
As a barometer, the Memphis Grizzlies sweet shooting Zach Randolph is converting a comparable 36 percent of his midrange jumpers.
If Griffin can consistently knock down about 70 percent of his free throws and about 42 percent of his mid-range jumpers, then he will add another effective weapon to his offensive arsenal.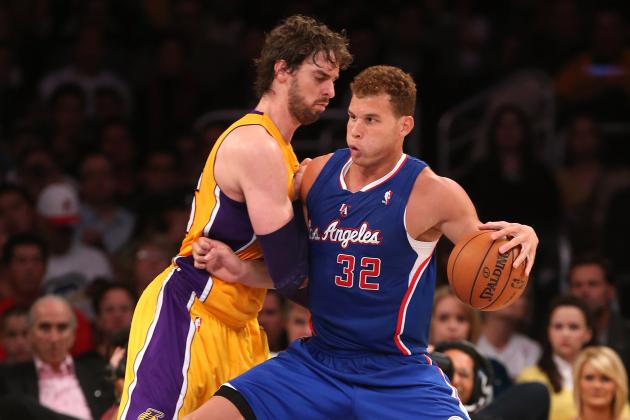 Stephen Dunn/Getty Images

As Blake Griffin continues to improve his game, he will start to refine small nuances that will make him a bona-fide superstar for years to come.
From improving footwork to better ball handling, Blake Griffin is developing into the type of dynamic player that will be in All-NBA team discussions for years to come.
Griffin's combination of foot speed, size, athleticism and court vision have him among the most precocious young guns in the game.
This season, Griffin has already demonstrated that he can put the whole package together, corralling a rebound against the Grizzlies big frontline and taking it coast to coast for a dunk in traffic.
Griffin is the workhorse that the Clips need and the adjustments that he makes in his game will result in more wins for the team and a greater shot at a title.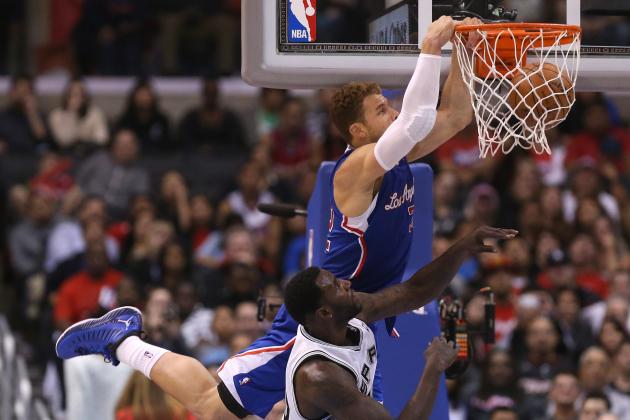 Stephen Dunn/Getty Images

While Chris Paul drops all the dimes, the substance behind Lob City is really Blake Griffin.
Lob City is more than a flashy nickname for the league's most exciting team. It is a state of mind that demonstrates when the Clips are at their best.
No player on the team's roster is more capable of igniting his team and fans than Griffin.
Routinely, Griffin's big plays result in sustained runs for the Clips. His offensive energy has a quality that permeates through the rest of the roster, energizing his teammates.
The Clippers are at their best when they are chasing down loose balls, and running and gunning the other way. Lately, Griffin has been leading by example, as the Clippers are off to a hot start.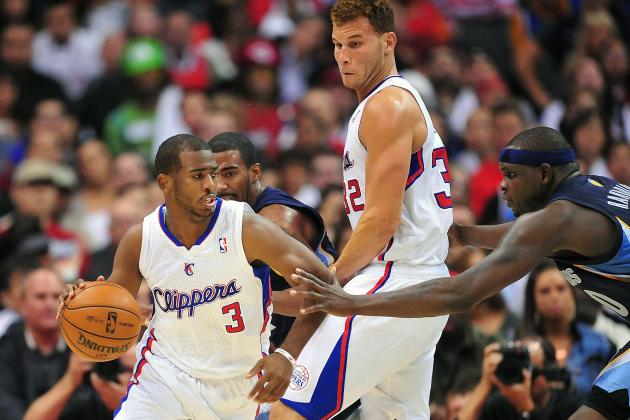 Gary A. Vasquez-US PRESSWIRE

Last season's acquisition of Chris Paul has really taken a lot of pressure off Griffin.
BG's rookie season was marred with organizational instability as the Clippers limped to a 32-50 record and another lottery season.
Once the Clippers brought in Chris Paul, however, Blake Griffin was relieved of some of his heavy lifting duties. Although Griffin still might be the most popular player in Lob City, there is no denying that this is Chris Paul's team.
Accordingly while Griffin is capable of being the franchise player and No. 1 option, he does not have to be the guy every night of the season.
The breakdown for the Clippers is not as simple as a No. 1 option and a No. 2 option. The combination of Paul and Griffin lends itself to a different strategy, something like No. 1 and No. 1A.
Having that sort of luxury makes Griffin and this Clippers team among the most formidable in the league.